Off the Atlantic coast of the Florida Keys lies the third-largest barrier reef in the world, which provides for world-class diving over the 100-mile length between Key Largo to the north and the southernmost point at Key West.

While she is acquainted with diving in the other Keys and has spent time there, our writer Micki Browning was inspired to create her dive mystery set in the Keys by the dive sights in Key Largo. In the pages of Adrift and Beached, two of the Mer Cavallo Mysteries, the marine scientist main character, Mer, travels to several of them. If you want to get the best scuba diving in Key Largo experience, continue to read this.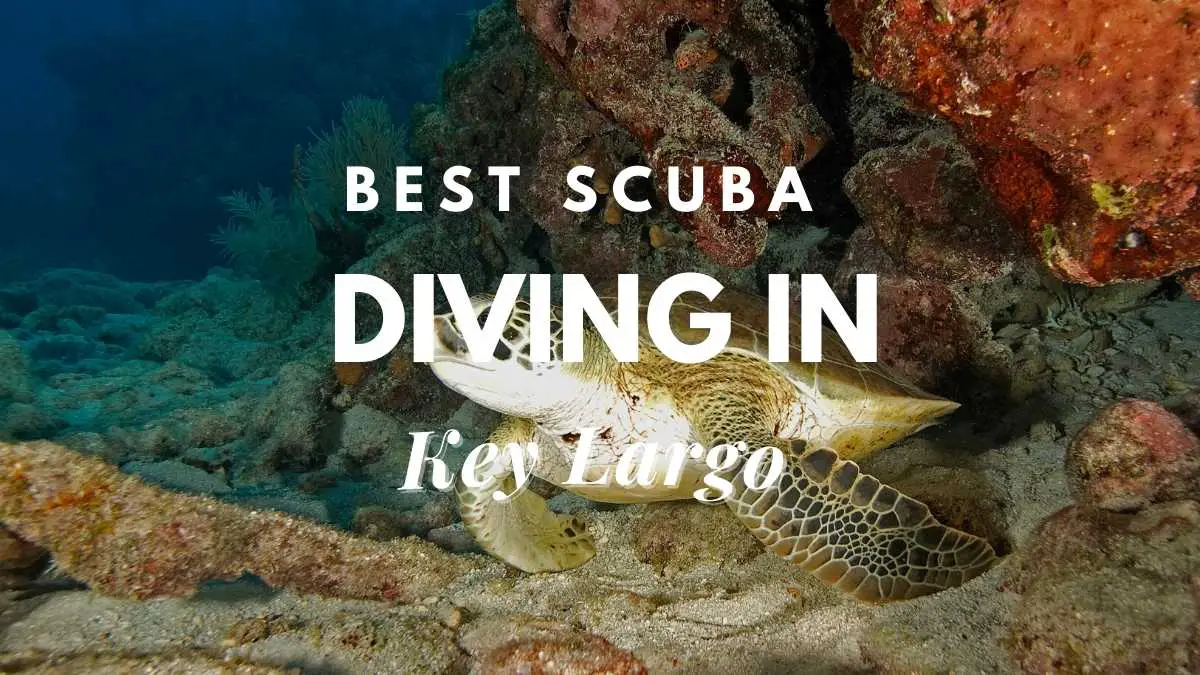 What are the best places for scuba diving in Key Largo?
Mer's preferred diving spot is the USS Spiegel Grove. It is a huge ship that spans 510 feet from head to stern and 84 feet across the beam. The wreck has seven mooring balls on it. Divers reach the superstructure at around 65 feet below, where it is submerged in 135 feet of water.
Between 85 and 90 feet is the main deck. As a result, the plunge is progressed, and the current could be powerful. There are several swim-through tunnels, but it's risky to enter the wreck. The Spiegel is located approximately 5 nautical miles offshore and is where almost all commercial charters depart from. In one of the internal swim-throughs, look for the "Spiegel Beagle" insignia, which is painted on the floor and features Snoopy on an alligator.
Looking for a shipwreck in shallow water? Take a look at the Benwood. One night in 1942, both the merchant marine ship and the other ship were blacked out in order to evade German U-boat detection. In water that is between 25 and 45 feet deep, The Benwood is situated between French Reef and Dixie Shoals.
The Christ monument is a must-see location and is regularly captured by both amateur and professional photographers. The dive is shallow and is part of the John Pennekamp Coral Reef State Park. This is ideal if you are traveling with non-divers, but it makes for a very busy site most days. Additionally common are night dives, particularly in August and September around the full moon when the coral spawns.
Key Largo's top reef dives
Key Largo's several reefs are as diverse as the people that inhabit the island. Each one seems to have an own personality and to have its own undiscovered gems (sometimes literally). Since several of these reefs have been marine sanctuaries for more than 20 years, there are plenty of tropical species there. There are places where the coral is suffering, just like everywhere else.
The Coral Restoration Foundation has invested a lot of time and energy in establishing plants at many of these reefs and teaching our guests the value of protecting our oceans. This, together with the fact that the majority of dive crews now have reef-safe sunscreen on their boats and actively work to prevent clients from using hazardous sunscreens, has unquestionably had a good effect on the ecology. In many places, there is new growth, and the reefs that were badly impacted by Irma recovered extremely rapidly.
With almost 15 distinct kinds of parrotfish alone, Key Largo is a fish nerd's paradise in terms of fish variety. Eagle rays spend late spring through autumn roaming the reefs, whereas sharks, turtles, and southern rays live there all year round. Even hammerhead sharks have sometimes been seen. A lot of swim throughs may be found in French Reef. Most dive companies stay on the shallower parts of this reef, which are no deeper than 45 feet. Another reef where a guide is strongly advised is this one.
Do a boat check at the midway point of your dive if you don't have a guide since this reef's spur and groove creation doesn't follow any logical pattern. Consider the movie Labyrinth with hogfish hiding around every corner in place of David Bowie. "If you haven't gotten lost on French, you haven't dived French," the Key Largo dive teams like to remark.
Among the diving teams, Molasses Reef has also developed its own slogan. "Molasses delivers every time!" Even while seeing marine life is never certain, it's uncommon for someone to spend an hour in the water without seeing at least one shark, ray, or turtle.
The reef sharks are so used to divers that they may sometimes "hang around" in the same location for extended periods of time, provided the diver isn't attempting to pursue them. In addition, there are more than 600 different types of plants and animals, and the enormous spur and groove formations are physically amazing.
This reef is a popular for divers of all abilities because to its immense size. Its length and width both exceed one mile. The deep side features a steep slope that drops down to 90 feet, while the shallow side, which is more commonly visited, is 45 feet deep at its deepest point. Although the currents may sometimes get strong, this spot is great for drift diving both deep and shallow!
Read: Is Traveling A Hobby? The Ultimate Guide To An Exciting Way Of Life Learn about the Downsides Of Traveling As A Hobby

Getting the most out of best scuba diving in Key Largo
The only coral reefs in the country are in Florida, and some of the nicest ones are off Key Largo. Since the reefs are shallow, two of the more well-known ones are Molasses Reef and French Reef, which are suitable for divers of all experience levels. At one time, Molasses was marked by 32 mooring balls, while French Reef was split by 17, but Hurricane Irma stole a few of them.
On both reefs, divers will encounter an abundance of marine life. The reefs are home to a wide variety of colorful tropical fish, including snapper, spadefish, porcupine, and nurse sharks, reef sharks, and sometimes hammerhead sharks, rays, and many sea turtles. Search for little animals as well! On sea fans, nudibranchs and flamingo tongue may be found, while eel gardens often appear in the sandy regions.