While you are exploring Ashville with kids, you will come across the need to discover the best kid friendly restaurants to visit. This will not be an easy thing to do since there are numerous restaurants available for visit. That's why we thought of making the life easy for you by sharing a list of top kid friendly restaurants in Ashville. All you have to do is to take a look at these restaurants and pick the best one out of them.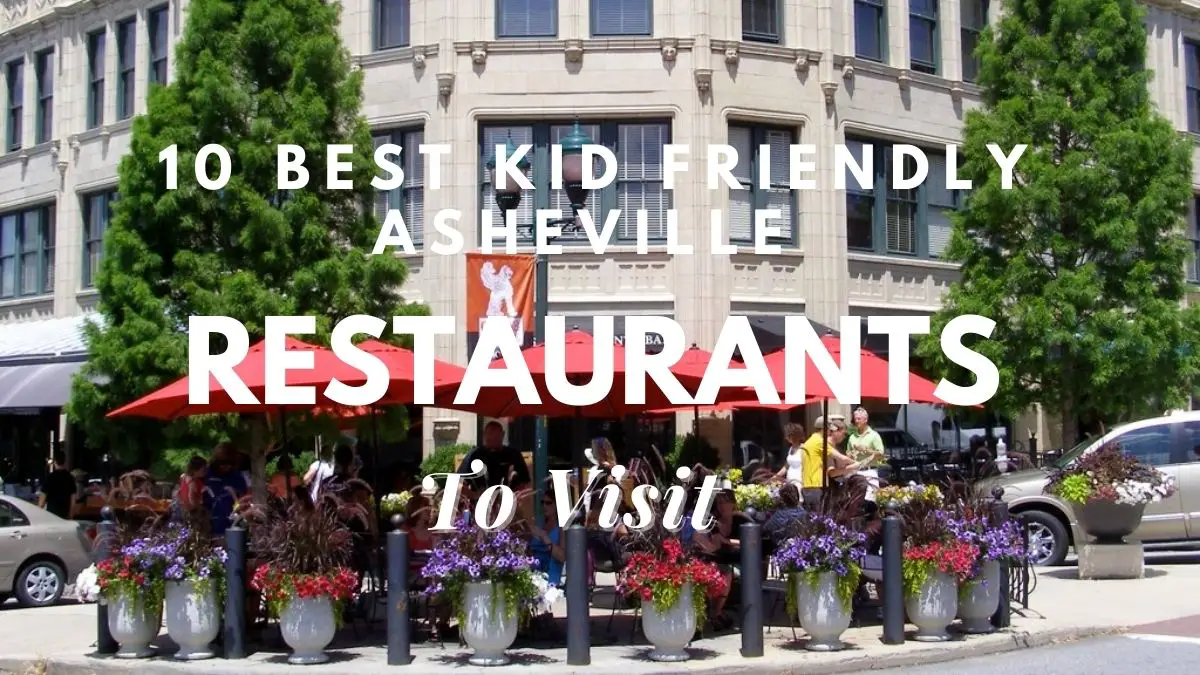 Can you find any good kid-friendly restaurants in Asheville?
Yes, it is possible for you to discover a large number of kid-friendly restaurants scattered all around Asheville.
You will need to keep in mind that the most prominent restaurants out of them are located in downtown.
Asheville has a long and illustrious history dating back hundreds of years.
In fact, the downtown section of Asheville is included on the National Register of Historic Places.
If you're looking for shopping or dining in the city, you'll be able to find both!
Downtown Asheville is a fantastic area for family to visit and explore!
Asheville is a fantastic shopping destination with a variety of unique local stores and boutiques, art galleries, and restaurants to pick from, and there are many fun activities to do in Asheville with kids.
Check out the Grove Arcade, an old-fashioned indoor mall with a variety of stores and restaurants…perfect for keeping the kids occupied before lunch!
In Asheville NC's downtown area, there are numerous family-friendly restaurants to choose from, including several that provide kid-friendly menus.
Continue reading for our list of kid-friendly restaurants in Asheville.
If you're visiting Asheville with children during the summer, don't miss Splashville.
The interactive splash pad at Pack Square Park, in the center of downtown, is a hit with kids who want to get wet and cool down.
There are multiple amazing restaurants to explore around this.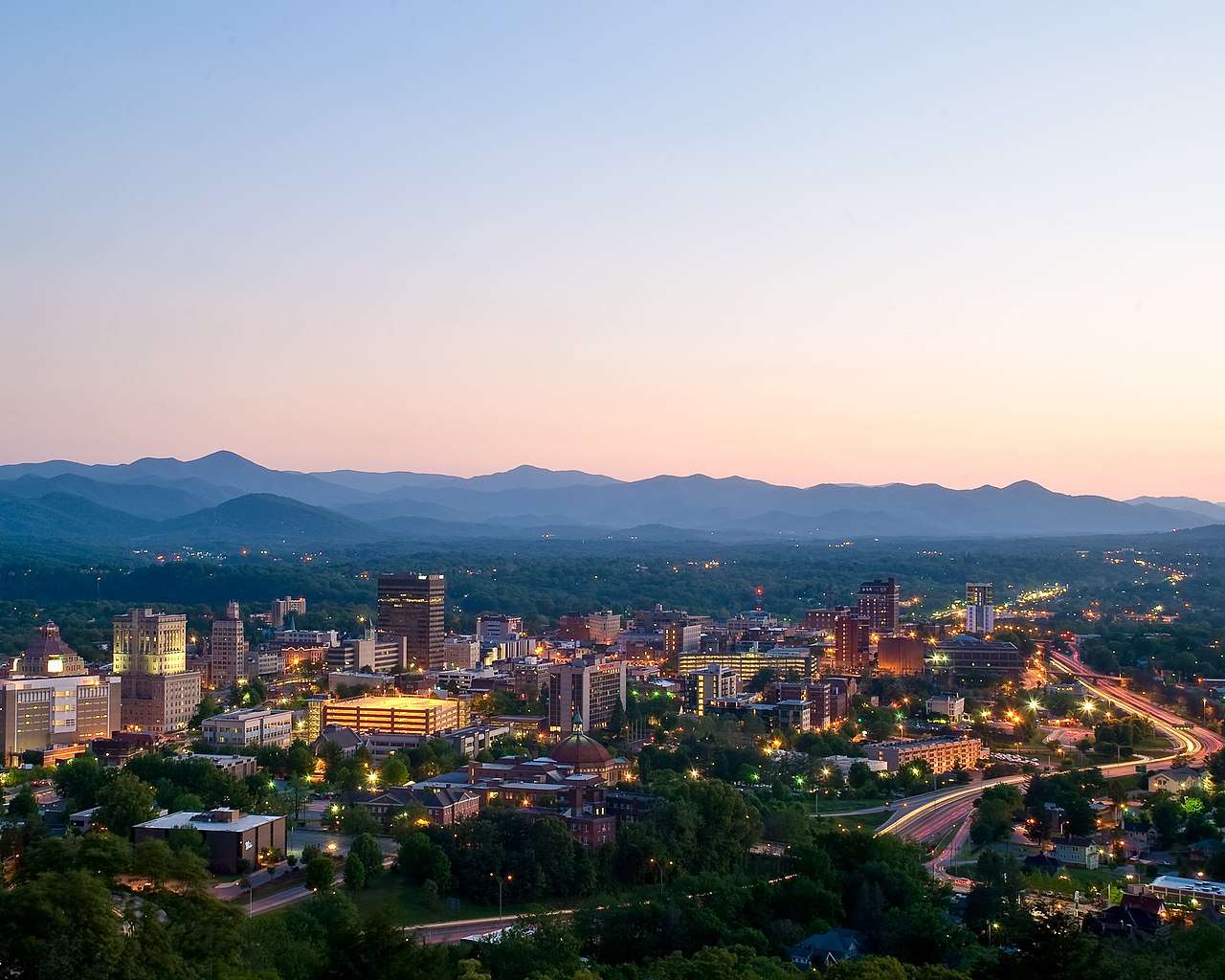 Read: Is Traveling A Hobby? The Ultimate Guide To An Exciting Way Of Life Learn about the Downsides Of Traveling As A Hobby

Top kid-friendly restaurants in Asheville
Let's have a take a look at 10 of the most prominent kid-friendly restaurants that you can discover in Asheville as of now.
You may go through the list of all the restaurants and pick the most appropriate restaurant available out there.
1. Sierra Nevada Brewing Company
The family-owned Sierra Nevada Brewery has been around since the 1980s, producing authentic and unique beers that changed the course of craft brewing in the United States.
With seven locations in North Carolina (and many more across the US as it comes from California), the family-owned Sierra Nevada Brewery has been around since the 1980s, producing authentic and unique beers that changed the course of craft brewing in the United States.
On weekends, the brewery hosts live music and tours that are suitable for children.
If you are looking forward to visiting this restaurant with kids, you need to do it on a weekend.
Then you can allow them to have a great time at the restaurant and enjoy all moments that they spent.
Bigfoot beer and several barrel-aged beer alternatives are among the best-selling items in the brewery's online shop, which ships to many US states.
When it comes to cuisine, many people come here for the wings!
You may also take self-guided or guided tours of the brewery, participate in tastings, and much more.
Therefore, keep an eye on the website for upcoming activities.
You will never be disappointed with the decision that you take to come to this restaurant and get the perfect dining experience offered.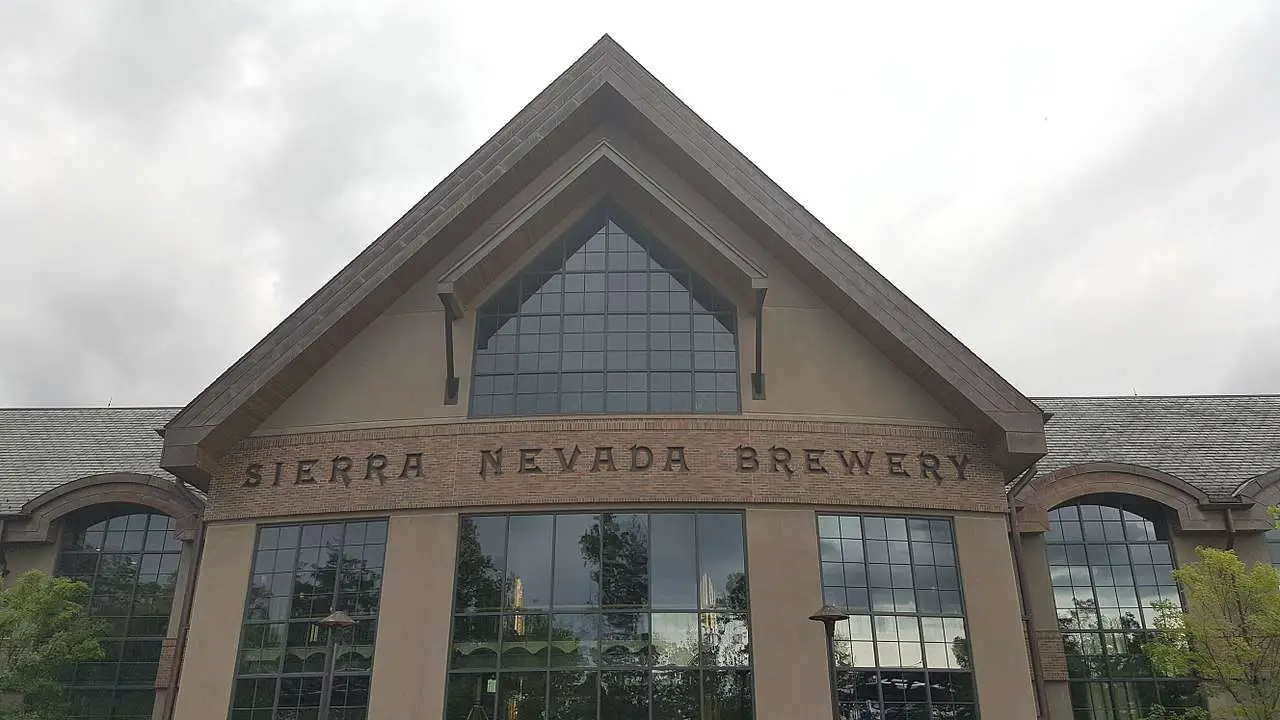 2. White Duck Taco Store
The White Duck Taco Store's name has a unique origin: the moniker 'La Pata Blanca,' which means White Duck, was given to the head cook when she became enthusiastic while speaking, and the shop was named after her.
With many sites around North Carolina, you're likely to find one near to your destination!
The cuisine of White Duck Taco Shop is particularly well-known, featuring black bean, jerk chicken, hot buffalo chicken, and fish tacos, as well as soups, snacks, desserts, and sides like black beans, watermelon, and kimchi.
Everything is built to order, and the rates are quite reasonable!
If you are coming to this restaurant with your kids, you should take a look at all the different kid-friendly dishes that are available.
Then you will be able to figure out the different options that you have and pick the most appropriate option based on the preferences.
Your kids will fall in love with the great dishes that are served here in this restaurant.
3. Curate
Curate, a renowned Spanish restaurant in Asheville, North Carolina, also sells Spanish specialty items, cookbooks, gift cards, and apparel.
The fact that this Asheville restaurant has a big range of Spanish wines is also a plus.
Check out their gift boxes, samplers, charcuterie, cheese, and other offerings.
In a nutshell, this is your one-stop shop for all your favorite Spanish dishes!
You may even purchase special Easter bread from Spain.
Bacalao, aceitunas, butifarra, and carabineros are among the restaurant's most popular dishes.
Apart from these dishes, you may also take a look at the kid-friendly dishes available.
They are also paired along with great prices.
On the other hand, atmosphere that you can discover within this restaurant is a great one as well.
Hence, you will not have to think twice before heading to the restaurant along with your kinds.
This is one of Asheville's most popular restaurants and a must-see for anybody visiting the area!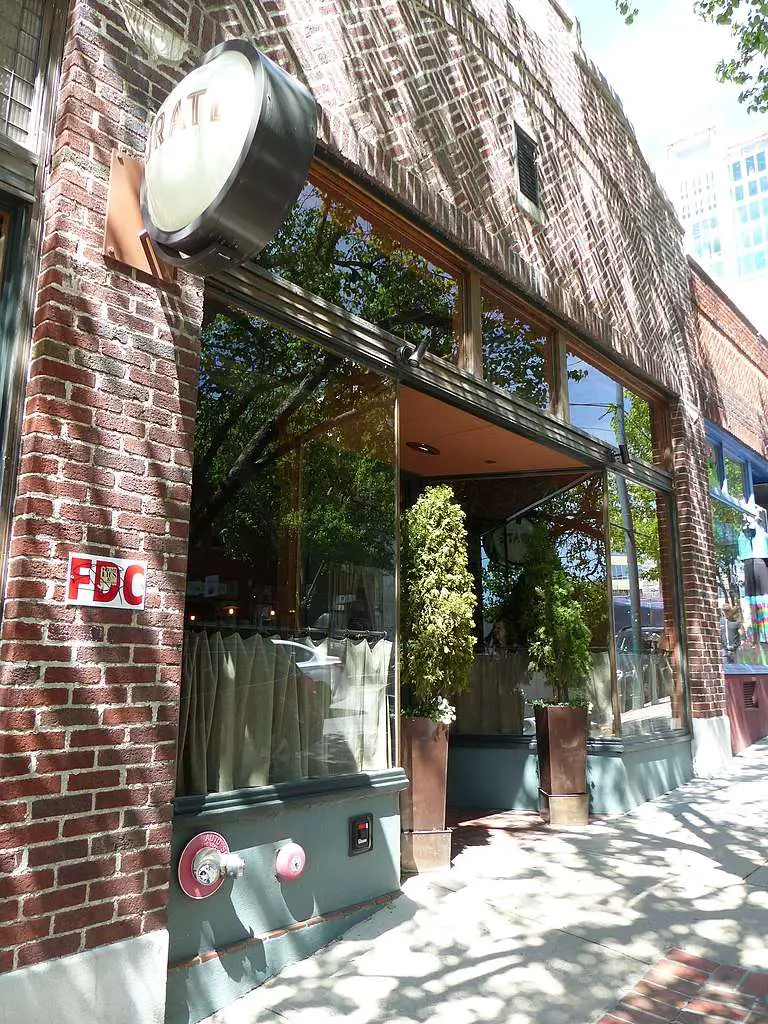 4. Biscuit Head restaurant
What about some delectable Southern fare? Don't say anything else!
Breakfast, lunch, and everything else Southern-style may be found at the family-owned Biscuit Head restaurant.
With several locations around North Carolina, you'll be able to discover the ideal place to get a bite to eat or order takeout.
The restaurant's biscuits, which come in a variety of shapes and sizes, include pulled pork biscuits, country ham biscuits, mimosa fried chicken biscuits, and buttermilk biscuits, are the restaurant's most famous item.
If you're dining with a group, you might want to look into any of their meal kits.
There are family-friendly meal kits, which include dishes that are designed for kids.
That's the main reason on why we thought of including this restaurant in the list of best kid-friendly restaurants located within Asheville.
You will need to go through the different dishes and make a reservation at this restaurant to visit with the kids.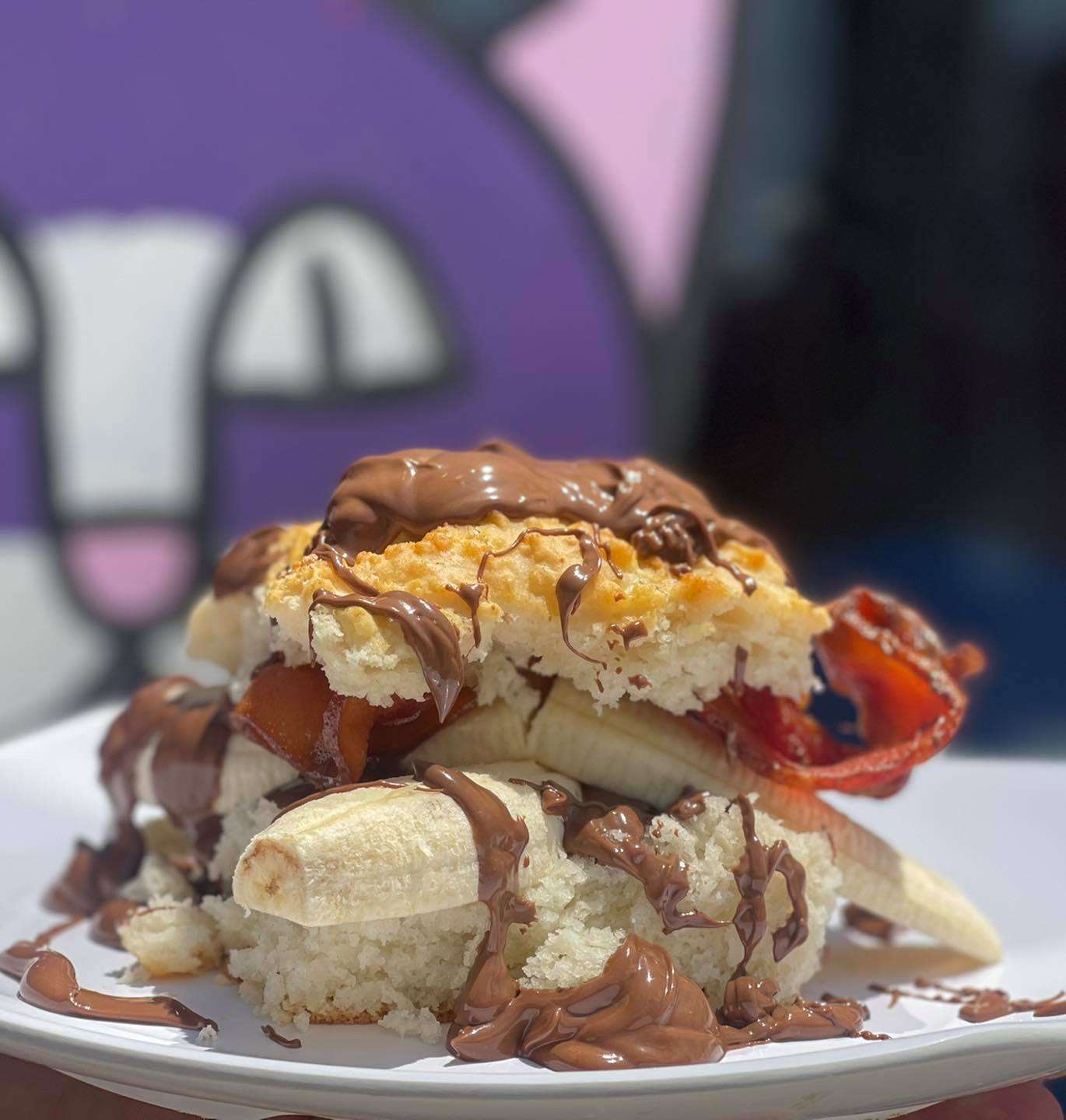 5. Buxton Hall BBQ
If you want delicious Southern BBQ, Buxton Hall BBQ in Asheville, North Carolina is a fantastic spot to stop and have a bite to eat.
Visitors may dine at the picnic tables outside the restaurant, which is presently only available for takeaway and delivery.
Buxton, which is owned by two friends, mixes modernism and tradition to give tourists a taste of North Carolina's barbecue legacy.
The overall atmosphere within this restaurant is a family-friendly one.
Hence, you may think about visiting here with the loved family members.
They will be impressed with what is being served to them here at this restaurant.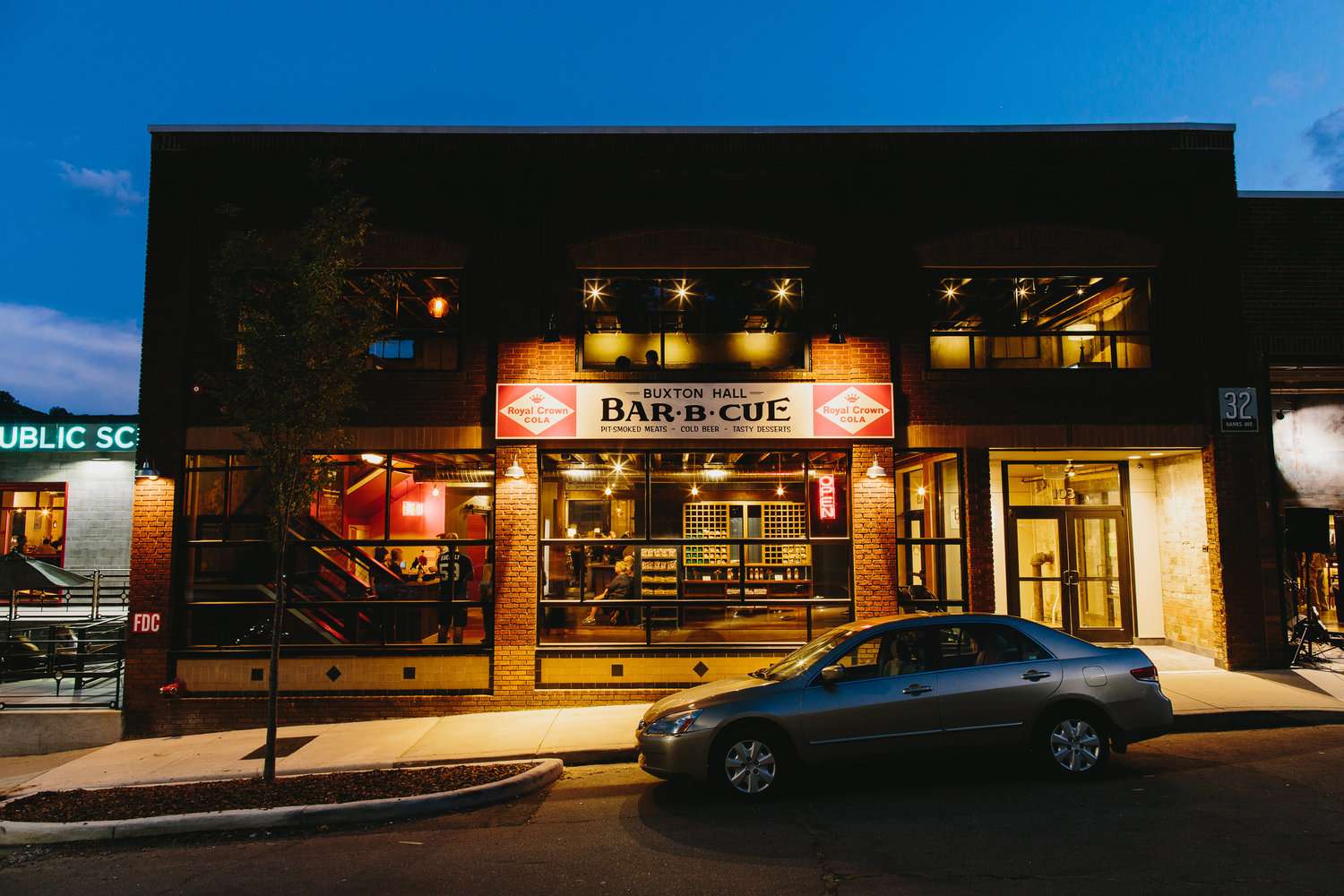 6. Ben's Tune Up
Ben's Tune Up is located on Asheville's South Slope.
It's a sake brewery with a beer garden and an Asian fusion restaurant that brings together all of your favorite things in one place!
It has an urban beer garden, full-service restaurant, sake brewery, and sake tasting room that is open every day in the afternoons and nights.
On the other hand, you can discover a family-friendly atmosphere inside the restaurant.
This will help you to enjoy the dishes that are available along with your kids.
You will be able to get a perfect dining experience for all family members here at Ben's Tune Up.
Dumplings, eggrolls, wings, and kimchi brat are among the most delectable items on the menu.
Also, check out the large selection of sakes, all of which are produced on-site and are unlike anything else available in the United States.
It also includes a retail store and a cookbook with some of the proprietors' favorite dishes, such as smoked catfish, slow-cooked collards, chicken bog, and more!
Don't forget to support this local company on your next trip to North Carolina!
You can discover some kid-friendly items here in this retail store as well.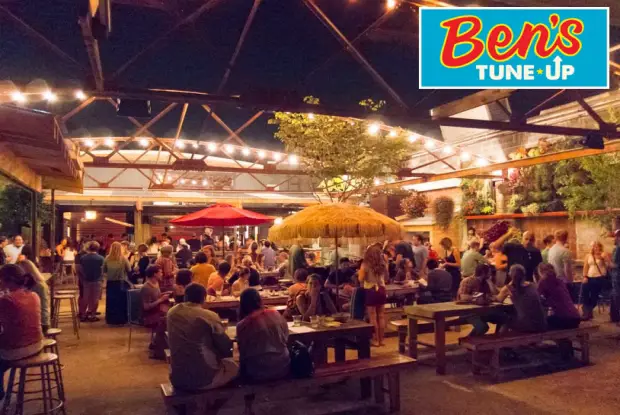 7. Glass Onion
We're being a little sly here, but Glass Onion is one of the greatest restaurants in the Asheville region.
Glass Onion is technically located in Weaverville, North Carolina, which is only a 10-minute drive from downtown Asheville.
Glass Onion is a great dining choice in Asheville that is both sophisticated and informal.
We strongly advise making reservations, especially for a special occasion.
You may also think about visiting here along with your kids.
They are guaranteed to have an amazing dining experience.
Order excellent beet appetizers and generously portioned meat and fish entrées, which are a little more costly.
The ambiance and blown-glass décor are described as "global Italian."
Food intolerances and allergies are not a problem with Glass Onion.
They also have a lot of gluten-free choices.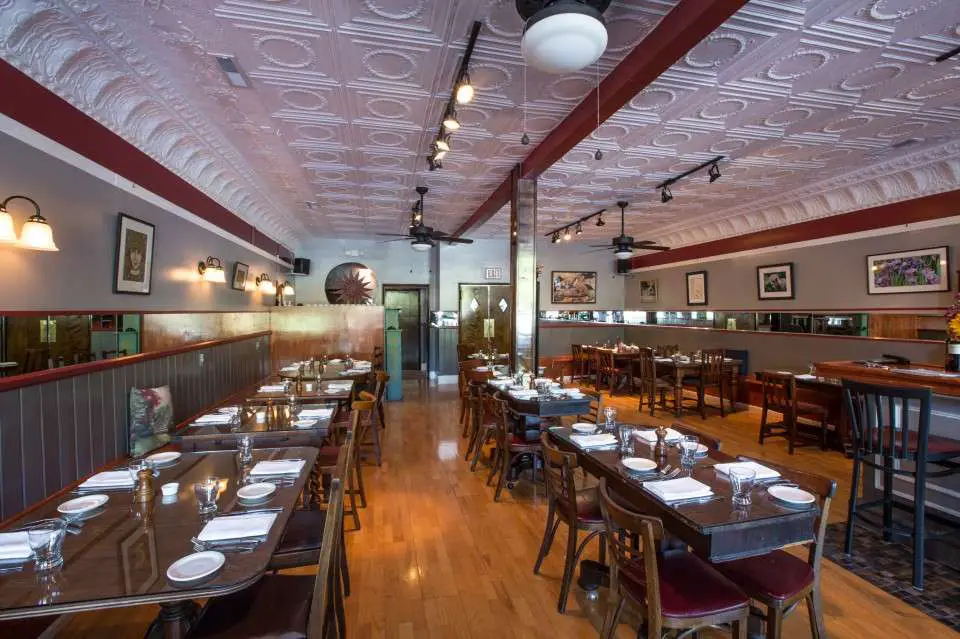 8. Tupelo Honey Cafe
Tupelo Honey Cafe, a fan favorite for in-store and patio eating, is one of Asheville's top eateries.
The restaurant has brought back delectable Southern cuisine and customs from North Carolina's past.
All of the dishes are created using ethically sourced products, resulting in nutritious and tasty meals for visitors.
Breakfast, lunch, and supper are all available at the Asheville restaurant.
Biscuits, southern chicken BLT, fried chicken, griddle, cast iron pork, glazed meatloaf, and many more Southern classics are among the greatest dishes on the menu!
Hence, you can call this a kid-friendly restaurant.
Brunch is especially popular, with breakfast bowls, chicken & biscuits, pancakes, and French toast among the top menu options.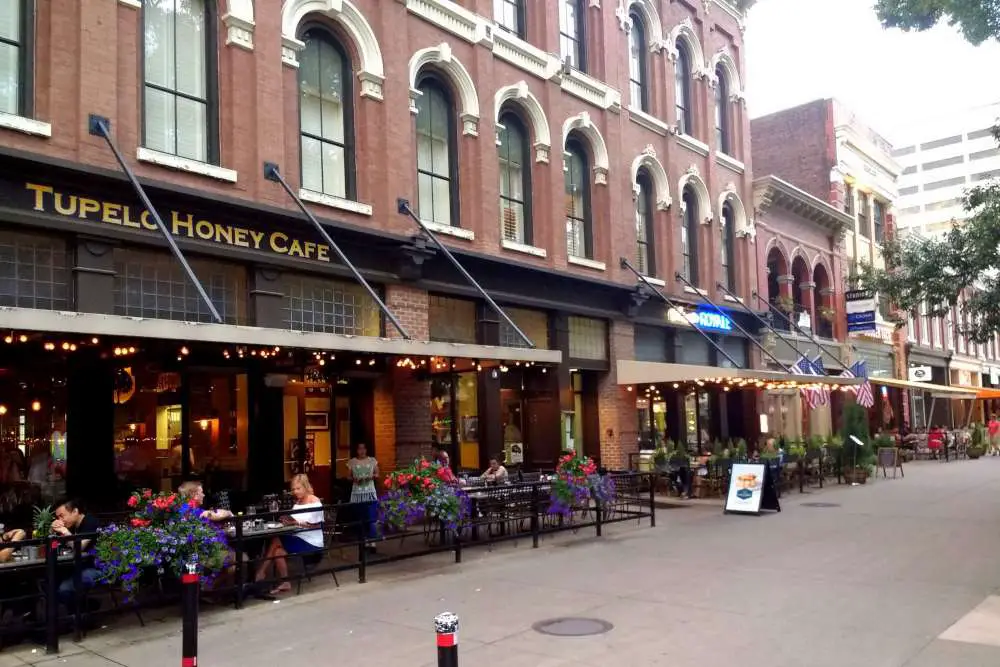 9. Asheville's Market Place restaurant
At Asheville's Market Place restaurant, American farm-to-table cuisine is brought to life.
On the menu, you'll discover healthful, locally sourced foods, making this one of the most genuine stops in the state.
It's the ideal location to refuel before chasing some of Asheville's most spectacular waterfalls!
Every day of the week, the restaurant is open for dinner, as well as brunch on weekends.
It has been a significant attraction in downtown Asheville since 1979, and it has only grown in popularity since then.
Chicken skewers, sea scallops and pork belly, Sunday gravy, pork shoulder, eggs benedict, scallops and grits, and biscuits and gravy are just a few of the delectable selections on the restaurant's delicious supper and brunch menu.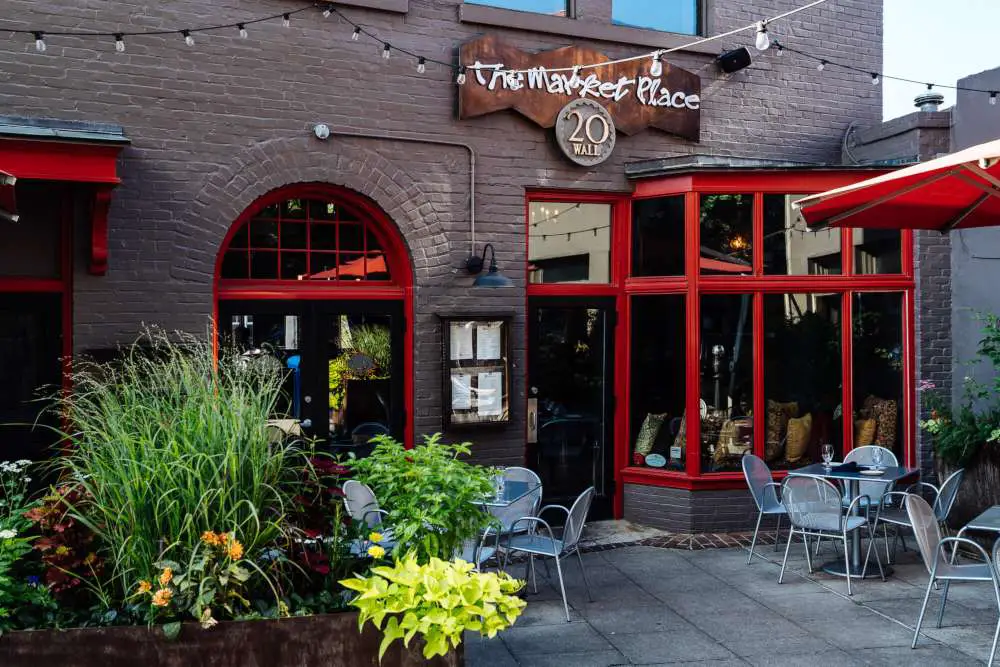 10. Foggy Mountain Brew Pub
The Foggy Mountain Brew Pub in Asheville serves high-quality, freshly prepared dishes.
Every week, check the website for exciting activities taking place every day. However, this offers a great dining space for your kids as well.
The restaurant also has a dog-friendly terrace and a relaxed ambiance where you can enjoy your drink and cuisine.
The proprietors, who are originally from Wisconsin, want to give tourists with a warm and welcoming environment while enjoying great, handmade meals.
The Brew Pub is well renowned for its award-winning wings, which are consistently praised by guests.
Burgers, gyros, sandwiches, salads, and even mac & cheese are among the other delectable menu items.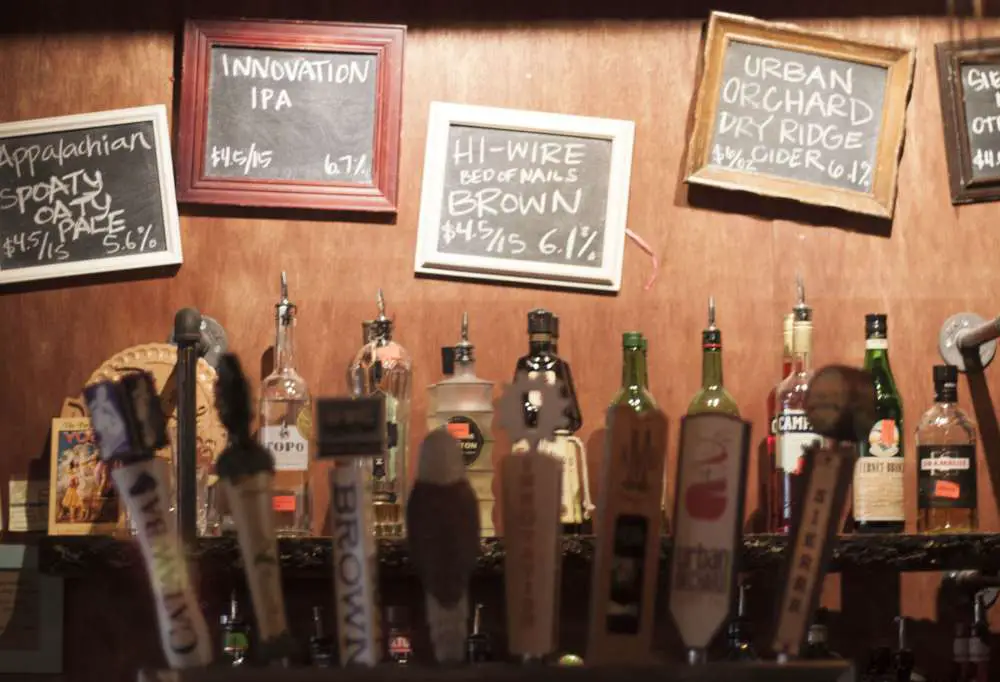 11. The Wicked Weed Brewing Pub
The Wicked Weed Brewing Pub is a restaurant, tasting room, 15-barrel brewery, and bottle shop situated in downtown Asheville.
Check out the ancient brewery's top floor, which has upgraded pub food, a wide selection of beers, and delectable drinks.
You'll be able to sample 25 of the beers available in the tasting room, including several special editions.
You may also think about visiting here along with your kids for securing an unforgettable dining experience.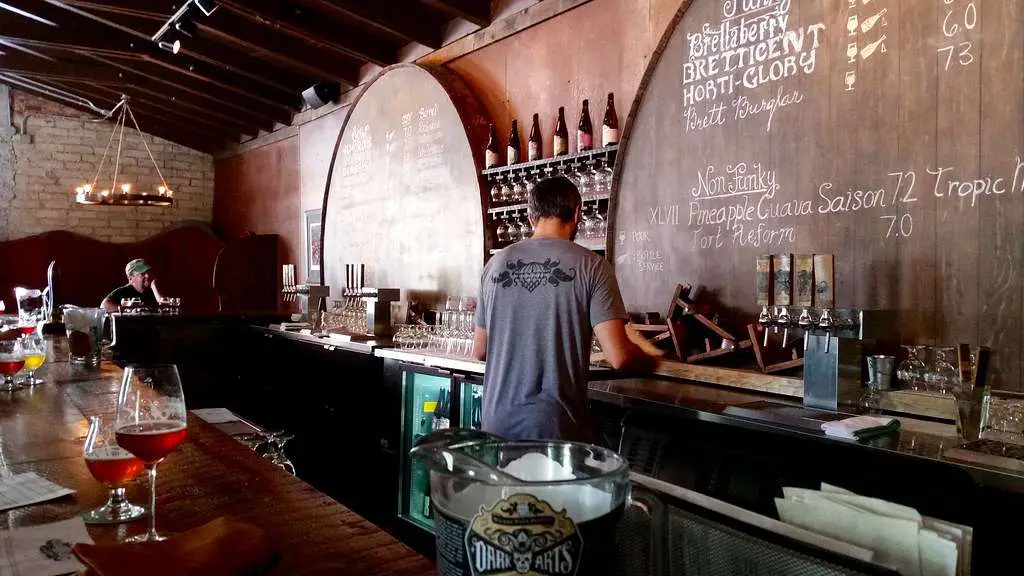 Final words
Now you have a solid understanding about the best kid-friendly restaurants located within Asheville. Take a look at all these restaurants and make sure that you visit the best one for an unforgettable dining experience. There is plenty of outside seating available, which is also dog-friendly, so you can have a great day. Also, keep an eye on the website for special events!