Looking for fun things to do in Ellicottville NY? Ellicottville is located in Cattaraugus County on the west side of Ellicottville, New York, and offers a variety of exciting attractions. If you're looking for an experience that you won't soon forget, Ellicottville should be on your list of holiday destinations. Hikers will enjoy the several hills that give breathtaking views of the base area. There are also adventure parks where you and your family may enjoy enjoyable activities. There are restaurants where you may fill your tummy with delicious cuisine, beverages, and snacks. You may plan the ideal trip from our extensive selection of things to do in Ellicottville. Let's get going.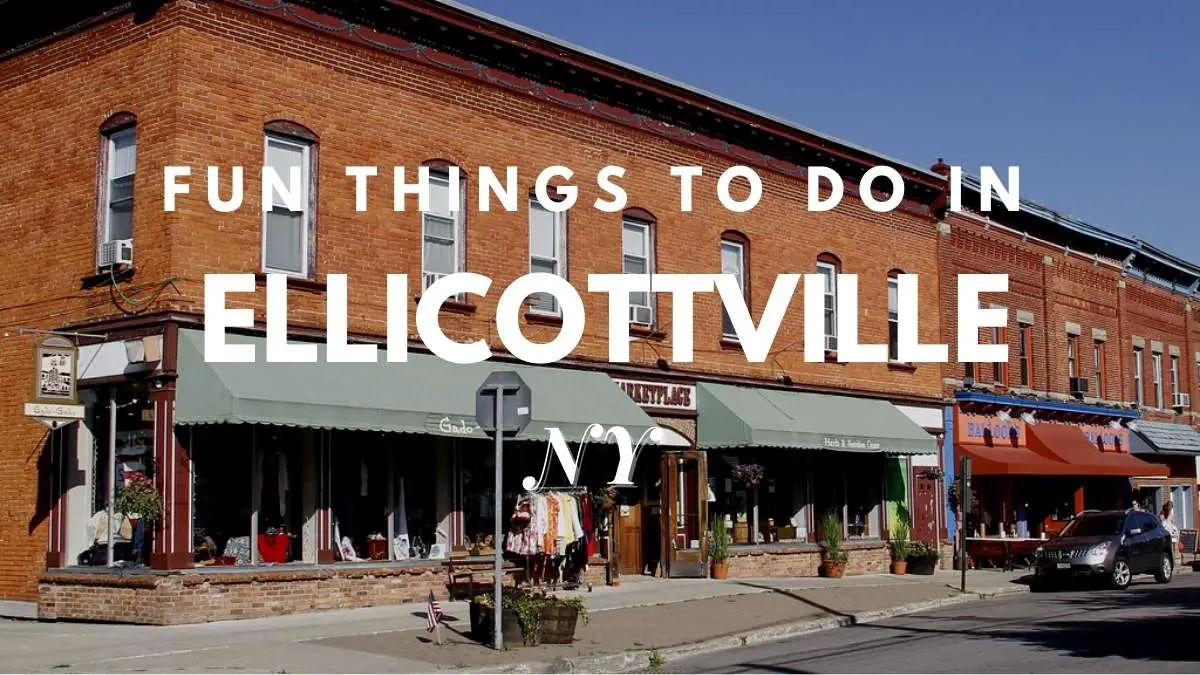 1. The Nannen Arboretum
The Nannen Arboretum is the first thing on our list of things to do in Ellicottville. This attraction contains all nature has to offer, making it a great spot for nature lovers. The Nannen Arboretum Society looks for this location and it is open to the public every day. The location is situated on an eight-acre plot of land with various sorts of gardens.
A defined route is accessible for tourists to have a pleasant walk while seeing the exquisite arrangement of trees around the region, with signs providing information on the plants' origins. This location provides an engaging setting for taking high-quality Instagram images. There is also the option of taking a tour to understand more about the park's history and how the garden got established.
Read: Is Traveling A Hobby? The Ultimate Guide To An Exciting Way Of Life Learn about the Downsides Of Traveling As A Hobby

2. Holiday Valley Resort
In the Holiday Valley Resort, golf has never been more enjoyable. Enjoy a lot of golfing here, and if you're a golf enthusiast, this is the place to be. It should be on your list of fun things to do in Ellicottville. From recreational activities to five-star hotels, the Holiday Valley Resort has something for everyone.
Plan to come during the winter season to enjoy their many snowboarding and skiing alternatives, but they also provide a variety of exciting activities to keep you entertained throughout your stay during the summer. The majority of the summer packages include a chair lift ride to Spruce Lake or a round of golf on a private course. Biking and hiking routes are offered on the resort, as well as additional programs. After participating in all of these activities, you can unwind in their large pool or indulge in a spa treatment in the spa.
3. Wyndham Ellicottville Wingate
Windgate is located on Route 219 in the heart of Ellicottville's hamlet. Sky High Adventure Park, Holiday Valley, and Hilimont are all within a mile of their building. Visitors may participate in Ellicotville's annual Fall Festival. The complimentary delicious buffet breakfast will start your day off well.
The motel is pleasant, and guests may easily reach different McDonough attractions from there. Check out the Holiday Valley Golf Course if you like golfing. Allegheny State Park, Sky High Adventure, Nannen Arboretum, Sky High Adventure Park, and many more attractions are all close by. The Windgate provides everything you'll need to have a wonderful time in Ellicottville.
4. Watson's Candies
Chocolate has never tasted as good as what you'll find at Watson's Chocolates, so stop by and take advantage of their fantastic selection. The business has been established for 75 years and has eight locations around the state; you can be guaranteed to obtain the tastiest sweets at this location.
The primary item in this business is sponge chocolate. You'll find the greatest chocolates here, with a variety of chocolates to select from, including chocolate turtles, caramels, buttery crunchers, and more.
5. Oasis Spa in Ellicottville
After a long day of sightseeing in Ellicottville, you'll undoubtedly need a spot to unwind and de-stress your whole body. The Tamarack Club in Holiday Valley is surrounded by the spa. If you're looking for the ultimate R&R experience in Ellicottville, the Oasis Spa is the place to go. Visitors may book therapeutic services like nail therapy, body waxing, facials, sports massage, or their hot stone massage, among other things.
Before leaving, visitors may buy additional packages such as Xtreme Lashes, Shellac CND, Eminence Organic Skin Care, or FarmHouse items. The Spa is open Monday through Saturday from 9:30 a.m. to 5 p.m., and Sunday from 10 a.m. to 4 p.m.
6. The Boardroom Snowboard Shop
The Boardroom Snowboard in Ellicottville, New York, is the area's finest snowboard shop, with everything you'll need to have a great day snowboarding. There are daily and seasonal ski and snowboard rentals available, as well as a large number of parking places. Holiday Valley lift tickets may also be purchased at a site outside of town.
The firm has supplied exceptional service and goods to its clients via partnerships with numerous brands like as Lib Tech, Jones, Salomon, Giro, Smith, Roxy, Quicksilver, 686, and Anon.
7. Attack Ratchet Hatchet with Axes
In the United States, ax throwing is a rapidly growing sport. And if you've ever wanted to toss an ax, Ratchet Hatchet is a great place to do it and should be on your list of things to do in Ellicottville. The sport involves throwing axes at a large dartboard to get points. Attempting to strike the bullseye as near as possible earns points.
The Ratchet Hatchet also features a bar and lounge that is open for guests from Thursday through Sunday by appointment only. Please visit their website to make reservations for the lounge. Their crew is well-trained to assist guests in hitting the target. This is the place to go if you're searching for something unusual to do this weekend.
8. American Hawkeye
If you like nature, birds, hunting, or photography, the American Hawkeye has a lot to offer, and this should be at the top of your list of interesting things to do in Ellicottville, NY. The American Hawkeye is located in Ellicottville, New York, among the Allegheny Mountains' low slopes. It is just a short distance from the famed Niagara Falls in the United States of America and Buffalo, New York.
The American Hawkeye is an excellent area for birding because of its position. Visitors may view a variety of birds floating in the sky. You may want to bring your cameras so you can shoot beautiful images to publish on Instagram.
Visitors may learn how to fly live birds by enrolling at the American Hawkeye School of Falconry. There are both single and multi-day group trips available.
9. HoliMont Ski Club
The Holimont Ski Club is one of the numerous things to do in Ellicottville. It is a sports enthusiast's paradise and should be on your list of Ellicottville NY attractions. The Holimont Ski Club is New York's biggest ski resort, featuring 50 routes and slopes as well as a halfpipe. You can be certain that you will have a great time here.
On weekends, the resort is open to the public, but on some days, it is only open to club members. The museum provides group tours and courses for anyone interested in learning more about the museum. The resort provides qualified teachers to provide superior service to tourists.
10. The Purple Doorknob
Visitors should have a unique keepsake to take home for their families to make their trip complete, and the Purple Doorknob is the place to go for the greatest souvenirs. This business stands out due to the fact that it solely sells socks. It is well-known for stocking a wide range of unique socks that can be purchased online or in-store.
The shop is pet-friendly, whimsical, imaginative, outdoor-friendly, astrological, and bright. With burgundy, light purple highlights, and yellow, the building is purple.
11 Washington St
Sky Adventure and Park should be high on your list of things to do in Ellicottville if you like hiking and skiing. The park around Holiday Valley is the third-largest park in the country and provides a variety of activities for guests.
As the park progresses from thirteen treetop courses to forty-three ziplines, there are several entertaining activities to keep you and your family entertained. If you want to bring the kids with you, keep in mind that children under the age of seven are not permitted to climb the course. There are, however, kid-friendly activities such as gem mining, where kids may dig out riches, gemstones, fossils, and jewelry in a sluice.
12. Art expeditions
The Artventures in Ellicottville is one of the best sites to visit. It has an air of artistic nature, as the name says, and should be a must-see for you. Visitors at Artventures may make their own mementos rather than purchasing one from the shop. Their studio only accepts appointments and does not accept walk-ins. Check out their website to discover which of their services best suits your needs.
Visitors may participate in a variety of creative activities at the studio, including canvas painting, stoneware painting, ceramic painting, mosaics, and glass fusing.
In addition to art-related activities, the studio hosts business meetings and birthday parties. You may purchase some of their one-of-a-kind handmade things, such as glow-in-the-dark pottery and paint, home accessories, and presents.
Final words
Now you are aware about 12 fun things to do in Ellicottville NY. While keeping these things in mind, you can make a plan and get the most out of time you spend within the city.