One of the more accessible primitive hot springs in the lovely state of Colorado is Piedra River Hot Springs, also known as Sheep Creek Hot Springs. It's ideal for a fast afternoon getaway since it's far enough from Pagosa Springs' center to avoid becoming too congested. You may have the Piedra River Hot Springs to yourself if you visit during the week and outside of peak travel times. There are many of pools along the river to help disperse people even if there are others nearby. Continue to read this Piedra river hot springs guide, and you will be able to learn how to get the most out of your vacation.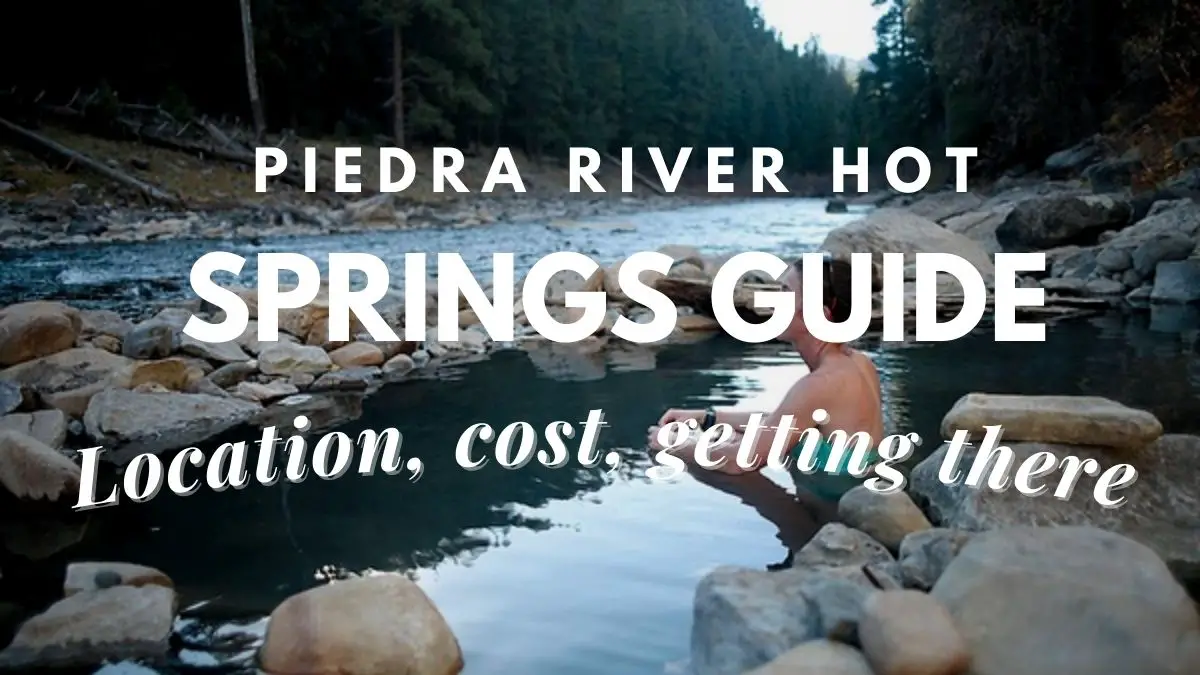 Where can you find Piedra River Hot Springs?
From the center of Pagosa Springs, go west on Highway 160 for approximately 22 miles. Turn right onto USFS route 622 just before you bridge the Piedra River (a dirt road). From here, take 622 for 6.8 miles as it winds its way up the mountain. Then you should travel to Piedra River Hot Springs via a dirt road. The road is passable for practically any automobile to drive on when it hasn't been raining, as you can see from the photo above, although I'll confess it is not as pleasant as Piedra Road beyond Turkey Springs. Towing is not recommended on this route due to the tight bends and lack of a rail or shoulder.
Read: Is Traveling A Hobby? The Ultimate Guide To An Exciting Way Of Life Learn about the Downsides Of Traveling As A Hobby

Parking lot for the sheep creek thermal springs
The parking area at the Piedra River Hot Springs trailhead may be found on your left after 6.8 miles. If you are unfamiliar with the region, I advise you to download the city of Pagosa Springs on your Google Maps App since there is no service after you are on route 622.
Peak Hiking Season at Piedra River Hot Springs
June – May: This path begins to gain in popularity on the weekends after road 622 opens in late April. The Piedra River is often still high in late April, concealing most of the hot springs and making the ones that are visible not particularly hot. You won't have as many people or flies, if any at all, to share your pool at this time of year, which is a plus.
July through September: More hot springs will become apparent, some of which may become quite hot, as the Piedra River begins to calm down. I would advise going during the week or early in the morning since this is the greatest time of year to go. Horse flies and mosquitoes are more common during this time of year, which is a negative.
Unfortunately, this path is not accessible from November to April since road 622 is blocked because of the significant amount of snowfall.
Back and forth
The trailhead is where the trek really begins. The whole distance is around 2.8 miles. This is a misleading trek since the first mile is all downhill. You begin at about 7,500 feet and descend to 6,880 feet, where the springs are. The trip to the springs shouldn't take more than 45 minutes.
Up until you get to the river, the route is a component of the Sheep Creek Trail. There are a few places where, if you're not cautious, you may get lost. You'll reach a point around halfway through when it seems like you should go straight. Look instead for the sticks and cairns that have been laid out on the ground to direct you to the right.
Over the following quarter mile, you'll encounter several difficult switchbacks before emerging onto a meadow next to the river. You'll arrive to a charming small area for a campfire if you continue straight. The Sheep's Creek Trail continues from this point for another four to five kilometers. But instead of going via this little camping area, you will again detour to the right to reach the hot springs.
From this point on, continue for another half a mile parallel to the Piedra River. After a little hike, you'll reach a region that is wide and bordered by tall trees. The Piedra River Hot Springs are along the river on your left. And from there, you may choose from a variety of pools whose temperatures are determined by how much river water is flowing into them.
Hot Springs at Piedra River
Piedra River Hot Springs' pools aren't deep anymore. However, you may simply lie down in them and have the hot water totally cover you. The weather is really pleasant and perhaps even too warm. You will undoubtedly experience some hot places while relaxing in the pools, as the rocks and muck underneath are quite warm.
The pools that are farthest from the river are, however, often in the low 100s. As you go closer to the river, the temperature soon dips into the 80s and even the 70s. Which feels extremely pleasant after relaxing in the warmer waters. Of course, the Piedra River is a great place to cool down.
The waters of Rainbow Hot Springs are not as clean as these ones. There are many boulders, and the water is often cleaner, with less debris and muck. In several of these pools, you can even see the bottom.
Spending time at Piedra River Hot Springs
The rubbish is the only negative feature of this place. I saw old bikinis, towels, and of course, candy wrappers and beer cans. So just follow the "pack it in, pack it out" rule! Maintain the natural beauty and cleanliness of this place. Nobody wants to see your garbage. Please treat nature with care!
Remember how much downhill it took to get to the Piedra River Hot Springs when you're resting there. It's time to go climbing once you clean up and put your clothes back on. To return to the trailhead, there is really an elevation gain of more than 600 feet. The majority of the elevation rise happens in a little more than half a mile. Just be sure you are capable of handling this sort of walk. It is unquestionably brief. However, at times it is steep and will undoubtedly cause you to huff, puff, and sweat.
Piedra River Hot Springs hike
In late April, we set out on our walk right after leaving work at five o'clock and finished it with plenty of time to spare for the climb and a 45-minute bath in the hot springs. The trail's beginning will be clear once you arrive at the parking area. At the absolute least, make sure you have water, insect repellant, and a towel.
Sheep Creek Hot Springs' trailhead is located at Piedra River Hot Springs.
The first mile of this path is a direct descent, unlike other treks. I really like to start uphill walks with fresh legs but getting to the Piedra River Hot Springs won't be possible.
This downward descent is very simple because to the many switchbacks, but I believe these same switchbacks grow considerably higher on the way back upwards. Save some water for the journey back to your vehicle, without a doubt!
Dogs are welcome on the route and are not needed to be on a leash as long as you have sufficient control over them, as you can see from our photos. For the first mile, it is very simple and apparent to remain on the right track, but as the switchbacks finish and you descend to the river, you'll notice a fork in the trail. Keep right at the fork (see illustration below) and continue walking beside the Piedra River for an additional half mile.
Once you descend to the river, stay to the right at the fork. Although the last half mile is mostly level and you may be tempted to turn around for the side paths that go left toward the river, stay going if you want to find the greatest hot springs! You may also discover this trek on the All Trails app under the name "Sheep Creek Hot Springs," where you can follow the navigational instructions to ensure you arrive at the proper hot springs.
You should reach a pleasant meadow of green grass after 1.5 kilometers of trekking, and if you turn to your left and gaze downwards, you'll see the many hot spring pools along the riverbed. The top hot springs may still be relatively cold in temperature if you visit in the spring or early summer since the lower hot springs may be buried by the fast-moving Piedra River. The higher hot springs may be entirely deserted in the summer and autumn, but the hot springs that are open will be significantly warmer. It doesn't matter when you visit—any time of year when the Piedra River Hot Springs are open is a terrific opportunity to do so!
Soaking in the Piedra River's higher hot springs.
There are few things that can compare to the serenity and calmness of taking a break in one of nature's wonders while listening to an electric river's steady flow. It may induce a very contemplative state of mind. Please bear in mind that these are natural hot springs and avoid applying any oils or lotions to your body before bathing, moving the rocks, or leaving any food or garbage behind. If there are a lot of mosquitoes, we normally take a Murphy's incense stick to light up next to us so we won't have to use DEET or other insect repellents.
The trail's switchbacks
If you want to go in the evening like we did, I suggest attempting to return to your vehicle with at least an hour of daylight remaining. This provides you enough time to descend the twisting road a sufficient distance before the sun totally sets and climb back up that high hill.
The Piedra River Hot Springs are undoubtedly one of Pagosa Springs' greatest free hot springs and natural wonders, so I hope you enjoy them as much as we do.
Advice for Traveling to Hot Springs
Please exercise respect and do your share to preserve the therapeutic waters for future generations.
Do not bring any glass items.
Drink lots of water since dehydration is more common when you soak (similar as in a sauna).
So that you won't have to trek back in soggy clothes, pack a change of clothes (chafing)
People often go nude to enjoy secluded hot springs.
Remember that hot springs are a peaceful setting and not a place to party.
Pack it in and pack it out; leave no trace in the wild.
Which hot springs are the best?
1. The Hippy Dip in Pagosa
The hippie dip, the most easily accessible hot spring on our list, ought to be your first stop on your free hot springs tour! In the center of Pagosa Springs' city, directly on the San Juan River's bank, this pool may be found adjacent to the Hot Springs Boulevard bridge.
The hippie dip is a fantastic location to soak in warm mineral water and is open to the public at no cost. The Hippy dip Hot Springs, which are accessible in the summer, autumn, and winter, will leave you feeling refreshed for many months of the year. The discharge of hot spring water from Healing Waters Hot Springs Spa is what creates the hippie dip in the heart of Pagosa Springs, which has been since I was a child. The sole pool is around knee deep.
Turn west onto Hot Springs Blvd. from Main Street in the center of Pagosa Springs, then cross the bridge. Take the parking lot on your first left, which is the one that is next to the tourist center. Two hot springs pools made of river rock are visible if you descend approximately 50 feet to the river.
2. Nathans Hippy Dip Hot Springs
Some of Pagosa Springs' nicest free hot springs may be found at Nathan's Hippy Dip. There are five other pools to soak in that are significantly hotter than the original hippie dip and were constructed with river rock within the past two years. With breathtaking views of the San Juan River and the Hot Springs Resort, the natural mineral water provides a soothing and refreshing experience. The pools all have temperatures between 100 and 106 degrees F.
Sunrise is a lovely time if you want to have the greatest chance of enjoying Nathan's hippie dip hot spring to yourself. Visitors may unwind and take in the region's natural beauty as the hot springs come to life as the sun rises over the mountains. The solitude of the early morning hours also offers the ideal setting for thinking about what is ahead.
Right off the Riverwalk in the center of Pagosa Springs, take Main Street and park in the free lot on the one-way street. Take a stroll to the river on the Riverwalk, which is around 100 yards away. They are difficult to overlook in the winter since you can see the steam rising off of them.
3. Sheep Creek
The Piedra River Hot Springs, which are my personal favorite on this list, are situated on the Piedra River's banks one hour west of Pagosa Springs. This Hot Spring is a great spot to unwind and is free and accessible to the public.
How to go from Pagosa Springs to Piedra River Hot Springs After traveling 20 miles on US 160, turn right onto First Fork Road (FS 622), which runs beside the Piedra River. Once you see a sign for the Sheep Creek Trailhead, drive another 7 miles and park there.
The walk is 2.8 miles long and descends steep switchbacks to a meadow before turning to the right and following the river until you reach the hot springs, which are on the other side of the Piedra River on the left. There are many pools to choose from, and each one has a different temperature. It is simple to lie down and have the water cover you.
Camping next to Piedra Hot Springs is one of the most unusual experiences you can have. You may set up a tent and spend the night camping in the woods with no shortage of open spaces to do so in the San Juan National Forest close to the mineral baths.
4. Rainbow Hot Springs
Colorado's Rainbow Hot Springs is a lovely hot springs destination that is tucked away in the Weminuche Wilderness Area. This hot spring is also the farthest away on the list. It is quite remote yet provides some breathtaking vistas without charging any money or requesting any licenses. Dogs are permitted at the hot springs, but they must be leashed at all times.
Drive 15 miles north on Highway 160 in the direction of Wolf Creek Pass. For West Fork Campground, turn left (CR 648). To get to the parking area at the West Fork Trailhead, drive about 7 kilometers. Be ready for a strenuous 10.2 mile out and back walk as you set out on your adventure to Rainbow hot springs. Although the 1,000 feet of elevation rise will be difficult due to the height, the vistas are worthwhile. It should take 6 to 8 hours to complete this trek.
You are on private land for the first mile of the journey. To respect the landowners, please remain on the path and keep your pets on a leash. The route to Rainbow hot springs winds through forests on the mountainside after it has passed the private property. The bulk of the trip passes through areas where the consequences of a wildfire in 2013 have left their imprint on the landscape.
You can tell you are coming near to the hot spring when you cross three bridges and start to see campsites where many hikers pitch their tents for the night. The path takes a left turn and descends into a valley where a hot spring is perched on the edge of a river.
5. Springs Resort and Spa
The Springs Resort and Spa, a premier resort offering a magnificent vacation for those wishing to unwind with an afternoon massage or enjoy in natural hot springs, is located in the mountains of southwest Colorado. There are 25 therapeutic hot spring mineral pools available at the resort, each offering a distinctive experience.
The Mother Spring, the deepest geothermal hot spring in the whole globe, organically feeds all of the pools. As a result, they are always filled with hot, fresh water, giving them the ideal setting for relaxation.
The normal day admission for adults is $49 and grants entry to 20 of the 25 pools. There is no need to make a reservation in advance for the day pass. The pools are accessible to hotel guests 24 hours a day, a day that runs from 9 am to 10 pm.
However, a reservation is necessary if you want to use any of the 25 pools, including the adult-only relaxation deck. The all-access package is $110 for each adult and includes free towels and robes. The Springs Resort offers plenty to offer, whether you're seeking for a therapeutic retreat or a relaxing vacation. It's understandable why the Springs Resort is regarded as one of Colorado's top hot springs resorts.
6. Healing Waters Resort & Spa
Healing Waters Resort & Spa has an expansive outdoor swimming pool with hot mineral water along with inside hot baths for those looking to enjoy the advantages of a hot springs resort without breaking the budget. The Healing Waters gives unrestricted access to its mineral-rich waters to visitors just across the street from the Springs Resort. The resort also has a full-service spa with massage and facial treatments.
A day ticket with locker access is provided when you spend the day bathing at Healing Waters Resort. While you use the facilities, you may securely keep your items there. You're also allowed to bring non-alcoholic drinks and food if you become hungry. Use only plastic or metal containers; do not use glass.
The Healing Waters Resort & Spa is open every day from 11 a.m. to 10 p.m., and admission is $20 for individuals, $15 for kids and active duty service members, and $17 for seniors.
Final words
This is a fantastic small location all around. It is quite easy to reach. Also, the mood is really laid back. There were perhaps eight other individuals at the springs with me when I went there on a Sunday in early November. They were all quite amiable residents of Pagosa or Durango. Although it's not required, everyone I saw was wearing either a swimsuit or underwear.