If you visit Fall Creek Falls State Park on a hot summer day, you'll have your pick of various places to cool down. A big pool of water near the campsite is the Fall Creek Falls swimming area. On hot southern days, you'll notice a lot of people here. Can you swim in Fall Creek Falls? Continue to read and you will figure out answers to your question.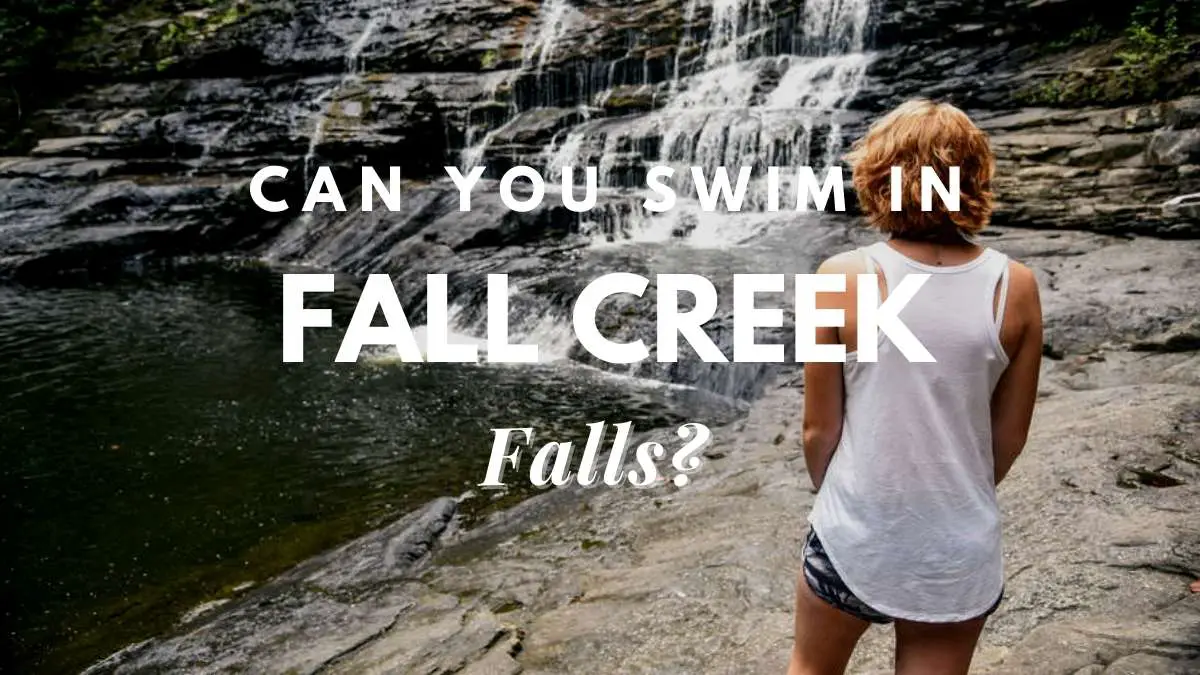 Can you swim in Fall Creek Falls?
A little beach is nearby, where parents may watch their children enjoy fun. People may also be seen leaping into the ocean from a big rock structure. This pool has a maximum depth of 7 feet and a minimum depth of 3 feet. If you prefer to go somewhere more private, visit the wading ponds near the Cane Creek Gorge viewpoint. Except for the odd hiker, it nearly seems like there is no one else around. The gorgeous and pleasant water is perfectly clear.
The Cascade Waterfall bathing area is another popular destination. The Betty Dunn Nature Center is nearby. Instead of crossing the suspension bridge, turn right and down the stairs. You can play right beneath the waterfall and jump off the cliffs into the cool water. The Cane Creek Gorge pool, located at the foot of the falls, is the finest for last. This pool is quite large and packed with fun. Because this spot requires a short climb to access, it's a good idea to bring a change of clothing and shoes for both the trip and the swimming. You can see the steep cliffs that sweep above this location once you are snuggled in the water. It's a stunning sight to see from that vantage point. Hopefully, your trips to this park will keep you coming back.
Read: Is Traveling A Hobby? The Ultimate Guide To An Exciting Way Of Life Learn about the Downsides Of Traveling As A Hobby

What is Falls Creek, exactly?
Visit Fall Creek Falls, Tennessee, and you'll find yourself in a breathtaking paradise of natural beauty just waiting to be discovered. This family-friendly paradise is the ideal spot to get away from the hustle and bustle of daily life, with 6 gorgeous waterfalls and over 40 miles of hiking paths.
Fall Creek Falls State Park is nestled inside the Cumberland Plateau and is close to Nashville, Knoxville, Chattanooga, and Tri-Cities, so most of Tennessee can experience all the park has to offer in just a day or weekend trip.
Ropes courses, swimming pools, and other family-friendly activities are available in the park. Poles, playgrounds, golfing, and much more can be found here! Plan the perfect day of outdoor adventure right here in Tennessee with our comprehensive family guide to things to do in Fall Creek Falls (below).
What should you keep in mind when you are swimming?
Gorge Hole is a designated natural swimming area located between the park entrance and the campgrounds. A grassy beach area with concrete steps leading into the water is included. The water begins at about 3 feet deep and deepens as you travel further out.
A huge swimming pool is also available in the park, which is accessible seasonally. The Falls Creek Falls pool has a huge main pool, a small kiddie pool, a bathroom, a snack bar, lounge chairs, and a picturesque view of the lake.
Many people also go swimming in the natural pools at the foot of the waterfalls, as well as the streams and rivers that meander through the park. While drowning may occur everywhere, the danger is increased in certain areas for many reasons. Extreme water temperatures, powerful currents, and unattended seas are the most dangerous dangers. If swimming in any of the unattended natural places, use great care.
What other activities are available for you to try?
When you are at Falls Creek Falls, you will also notice that many other great activities are available for you to engage with. To make your life easy, we will be sharing a list of such activities.
Beautiful Fire Tower
Climb this renowned fire tower for spectacular 360-degree views of Fall Creek Falls State Park. The nicest thing is that you just must walk a half mile to get there. Unfortunately, getting to the trailhead will require navigating a small gravel road in poor condition.
While most automobiles should be able to make it, if you're concerned about your vehicle's capacity, it's usually better to skip this attraction. Instead of driving, you may walk along the gravel road, which would add roughly 5 miles to your trek.
Events and Festivals
Fall Creek Falls State Park has an unending number of festivals and events. Yarn spinning courses, guided walks, foraging lessons, and stargazing parties are all held on a regular basis. Annual special events include 5K races, the Halloween Spooktacular, a July 4th Celebration, a Christmas celebration, and more!
Falls Creek Falls State Park Tennessee Restaurant and Snack Bars Breakfast. On-site eateries are available in the state park. The main lakeside restaurant is presently undergoing renovations and is expected to reopen in 2021. There are also three snack bars with equally delicious but smaller menus.
One snack bar is on the golf course, another is near the pool, and still another is near the camp shop. Breakfast sandwiches, as well as a limited lunch and supper menu with pizza, chicken tenders, burgers, and other quick-cooking menu items, are available at the snack bars.
Boating
This picturesque 350-acre lake is surrounded by mountains and has many entry locations. You may hire kayaks, paddleboards, paddle boats, Jon boats, and pontoon boats at the boat dock. Lakeside cottage rentals are offered for individuals who want to wake up to a beautiful view. The park is also constructing a resort and full-service restaurant with a view of the lake. It'll be stunning!
Fishing
Rent a boat and go fishing on the lake or try your luck in one of the park's numerous streams. Inside the park, all Tennessee fishing license restrictions apply. The following are some of the most popular fish in this area:
Courses with Ropes
Two separate ropes courses are available at the park. Adults may do the Canopy Challenge course, while children can take the Junior Canopy Challenge. The self-guided Canopy Challenge course lasts around 2.5 hours and involves zip line, tree climbing, bridge crossings, and over 70 aerial obstacles. In the event of an emergency, staff personnel always stay close to oversee from the ground.
The Junior Canopy Challenge course is designed for children aged 4 to 8. Climbing, swinging, balancing, leaping, crawling, and more are all required!
Golf on the Tennessee Golf Trail
A beautifully picturesque 18-hole golf course covers more than 20,000 acres at Fall Creek Falls State Park. On-site amenities include golf carts, restaurants, and housing.
Horseback Riding at Fall Creek Falls
Just beyond the park are the Fall Creeks Falls Riding Stables. Guided trail rides, overnight boarding, birthday celebrations, and more are available at this top-notch equestrian center.
Final words
As you can see, it is possible for you to swim in Fall Creek Falls. Make sure that you take care of your safety when you are exploring the falls. This will help you to end up with getting the best possible experience out of your stay as well.