Do you like to swim in a waterfall? Then you should take a look at the list of best waterfalls in Florida that you can swim in. It will provide you the opportunity to enjoy your stay in Florida and end up with getting a bunch of amazing experiences.  Would you want to take a relaxing excursion to a natural spring while listening to the sound of flowing water? Check out these waterfalls in Florida!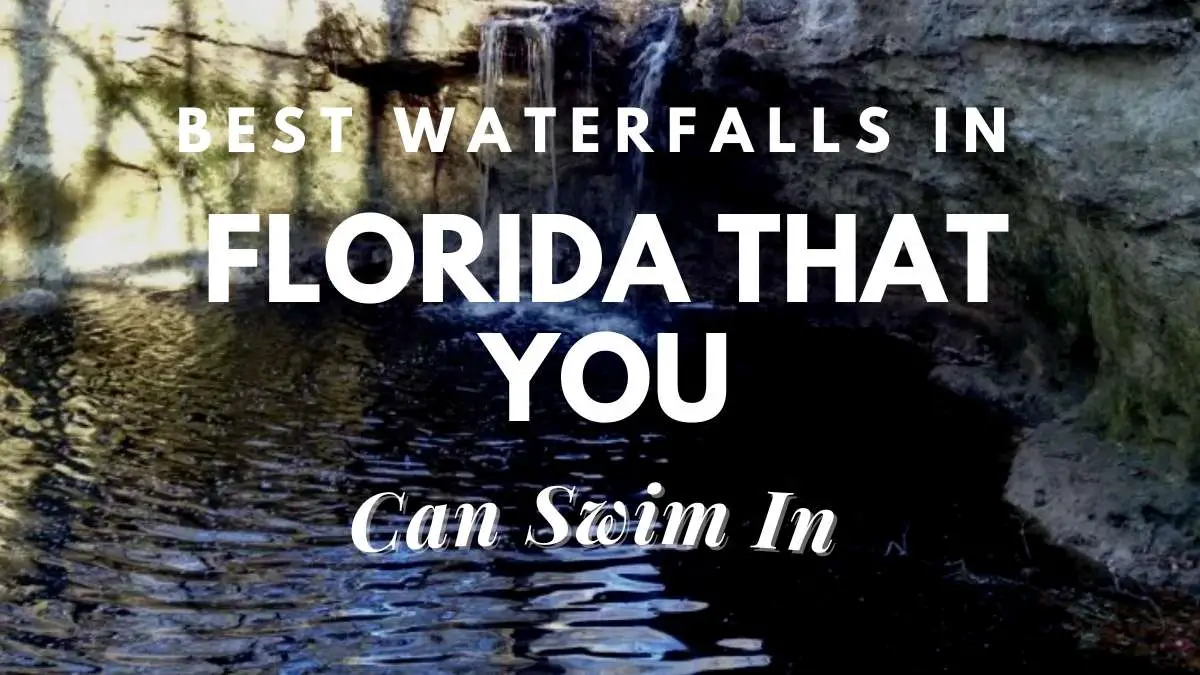 Why should you think about swimming in a waterfall in Florida?
Natural waterfalls in Florida are a fantastic way to catch some fresh air. Nothing compares to the sights and sounds of the natural world. The sound of a waterfall rushing down in front of you is one of nature's most beautiful sounds. This is particularly true with Florida waterfalls, since no two are same, exactly like snowflakes. They don't sound the same, and they certainly don't look the same!
While Florida's natural waterfalls are undoubtedly spectacular, there are also some fantastic man-made ones! With their imaginative additions to what nature has already supplied, these Florida waterfalls will inspire you. In any case, experiencing these Florida waterfalls will be a once-in-a-lifetime experience you won't soon forget!
Read: Is Traveling A Hobby? The Ultimate Guide To An Exciting Way Of Life Learn about the Downsides Of Traveling As A Hobby

1. Falling Waters
Falling Waters State Park is in the Florida Panhandle, a few miles south of Chipley. The park is 171 acres in size, or around a quarter mile. Falling Waters State Park is home to one of Florida's most beautiful natural waterfalls. It is also the tallest of all the Florida waterfalls, towering 73 feet tall!
The state park, like so many others on this list, demonstrates how to turn lemons into lemonade. Don't worry, we'll explain everything. It's not simply a waterfall at Falling Waters State Park. It's a succession of sinkholes, one of which is so big and deep that it's turned into a natural waterfall. Sinkholes may have previously been thought of as terrifying or hazardous, but when they are protected inside this state park, they become a wonderful natural phenomenon to behold.
Falling Waters' waterfall cascades into a 100-foot-deep, 20-foot-wide depression. The waterfall continues down into a vast cave after it hits what looks to be the bottom of a sinkhole. We strongly suggest seeing it out just after it rains since a rainbow often accompanies the flow of the water. One of the most enjoyable aspects about Falling Waterfalls is that you can really feel the water's spray! If being so near to water or a sinkhole is too much for you, you may always see the waterfall from a distance and keep dry!
You may spend the night in the state park's campsite if you prefer camping. If that wasn't enough to persuade you, Falling Waters also features a huge lake that is ideal for swimming and is encircled by a beautiful white sand beach. Falling Waters, one of Florida's most beautiful natural waterfalls, with blue water pouring down to the bottom of a sinkhole.
2. Lake City's Falling Creek Falls
Falling Creek Falls is one of Florida's most accessible natural waterfalls. It is conveniently located just north of Lake City, on Interstate 10. One of Florida's most notable features is its large amount of limestone. This sort of rock is found in the majority of Florida's waterfalls.
The falls of Falling Creek are no exception. The waterfall, which cascades down a limestone cliff and onto limestone stones, is little over 10 feet tall. There are a few additional notable attractions at Falling Creek Falls. Make careful to get a good look at the bottom of the waterfall if you arrive after it has rained.
Rain often causes bubbles to develop in this location, which adhere to the limestone rocks below. It like a huge natural bubble bath! Another intriguing feature is the hue of the water. Because of its caramel color and the bubbles at the bottom, it's frequently compared to root beer. Hiking paths and a gorgeous boardwalk are available at Falling Creek Falls, allowing you to capture stunning images of the cascade and surrounding forest.
3. Devil's Millhopper Waterfall
Devil's Millhopper is the last but not least of Florida's natural waterfalls. Devil's Millhopper is a Florida State Park near Gainesville's northwest corner. Devil's Millhopper is a fantastic getaway. It's peaceful and lush with greenery and wildlife, and it's sometimes referred to as a little rainforest! Devil's Millhopper, like the waterfalls above, was created by limestone crumbling into a sinkhole. What makes Devil's Millhopper even more interesting is that the state park enables visitors to enter the sinkhole. It is about 120 feet deep and 500 feet broad.
This sinkhole has revealed more than 100 feet of rock strata, making it an exceptionally unusual sight, even in Florida. Not just limestone, but also quartz and other minerals, as well as petrified bones and shark teeth, may be found in the rock strata. Anyone interested in learning more about the geology and history of Devil's Millhopper may take a guided tour. You may learn about the area's rich ecology of plants and animals, as well as witness some of the fossils discovered by experts (you may even find a fossil of your own). The fossils discovered at Devil's Millhopper have been very useful to geologists because of the vast strata of exposed limestone.
To get to the bottom, you'll have to go down a long flight of wooden steps, so be prepared for a trek. There are many observation platforms along the route if you feel weary (but we encourage checking them out even if you aren't tired)!
4. Dunnellon's Rainbow Springs
Rainbow Springs is a lovely Florida resort situated north of Dunnellon on the west coast of the state. Rainbow Springs' water is just stunning!
The water seems brilliant turquoise blue from afar, but it is so clear up close that you can see straight to the bottom. It is mandatory to swim in one of Florida's springs. Rainbow Springs is the state's fourth biggest spring, but that isn't what makes it special. You may swim in spring water beneath not one, but six waterfalls at Rainbow Springs! This is an opportunity not to be missed.
Rainbow Springs also has a plethora of fun activities such as tubing, kayaking, snorkeling, hiking, wildlife excursions, and more! Tubing is a popular activity, and although you can't take your tubes to Rainbow Falls, you may use them on the nearby lazy river! Because the lazy river has two ends, you may use it for a long or short trip! On a tube, the lengthy journey takes roughly four hours while the short journey takes about an hour and a half. The lazy river is just $20 for the whole day, including the tube. They also provide a shuttle service from the river's end to your parking lot.
The price of a lazy river ride is reduced by a few bucks if you bring your own tube. Park entry is simply two bucks if you only want to swim in the spring with the waterfalls!
Final words
You can come all the way to Florida and swim in these waterfalls. Make sure that you learn how to ensure your safety while swimming, so that you will not run into any problems.