A 1,780 foot frozen toboggan run in Pokagon State Park, located in the northeastern part of Indiana between the beaches of Lake James and Snow Lake, is a winter activity I've heard about since I was a little boy. I was able to finally see my mother and her spouse in winter of 2021 to find out what all the fuss was about. Continue to read and you will be able to get to know about all the best things to do at Pokagon State Park.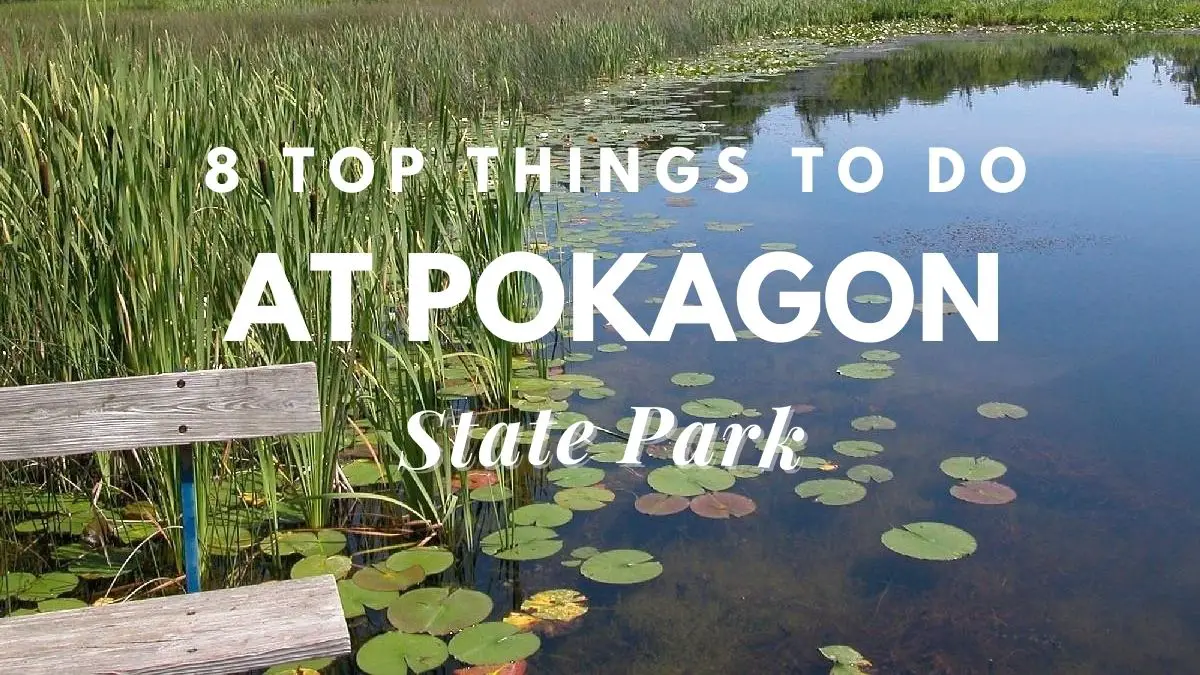 How to reach Pokagon State Park
Pokagon State Park is conveniently located along I-69 just west of Angola, Indiana, making the trip from Indianapolis quite simple. There are many outdoor activities in the neighborhood since it is also close to the Trine State Recreation area.
The Potawatomi Inn, the top of the toboggan hill, and a few other locations throughout the park all provide free parking on-site.
Read: Is Traveling A Hobby? The Ultimate Guide To An Exciting Way Of Life Learn about the Downsides Of Traveling As A Hobby

Top things to do
The park's quarter-mile toboggan slope is perhaps its most well-known feature, although there are many other attractions as well. In the winter, it's permissible to do sledding, ice skating, cross-country skiing, camping, and ice fishing provided the lake is sufficiently frozen. In the summer, you may hire boats and spend the day on the lake, or you can go fishing, swimming, hiking, riding a horse, or exploring with an interpretive naturalist who can give you more information about the ecosystems.
1. Sightseeing around the park
Pokagon, one of the state's first parks, offers a variety of enjoyable outdoor activities. A suggested place to visit is a unique creation by the Civilian Conservation Corps, which included lovely stones and wooden constructions that blanketed the park's environment. James Lake and Snow Lake, which surround the park, provide possibilities for boating, swimming, and fishing. A twin-track toboggan run is also available, and it runs from Friday through Sunday.
2. Go ahead with a day trip
Pokagon State Park, located in northeast Indiana, offers a lot of exploration opportunities. There is rarely a finer spot to get lost in nature than this expansive park. Your vacation will be more enjoyable if there is a lot of animals, hiking or biking routes, or any combination of the three. Start out by taking part in a twin-track toboggan run. After that, skiing is also an option since excellent cross-country ski rentals are available. In addition, you have the option of renting rowboats, paddle boats, or pontoon boats. In addition, Pokagon is surrounded by lakes that serve as a haven for several fish and bird species.
3. Try camping
When visiting the region, camping in Pokagon State Park is unquestionably a once-in-a-lifetime event. A few nights spent in the park provides you the chance to observe a lot of animals. Here, you'll discover pleasant people, lovely trees around it, and pure air. Fortunately, the campground may also be reserved through the Pokagon state park website.
The weather is something to consider when visiting a park. It will be extremely chilly in the autumn, so make sure you arrive at the correct time. Additionally, certain lakes' blue-green algae concentrations will be high throughout the summer, so keep your distance. Pay heed to the red diamond sign; this indicates that the beach is not suitable for swimming due to the presence of toxic algae. Additionally, swimming is prohibited for kids with weakened immune systems.
4. Stay at a hotel
One of the best locations to stay close to Pokagon State Park is Potawatomi Inn. The park is within a 7-minute walk from this beautiful 3-star hotel. There is a restaurant, gym, sauna, hot tub, lounge, and garden there. In addition to offering a BBQ, this facility has a handy room. Hiking, fishing, and cycling are all enjoyable pastimes that may be had nearby. You may go to Comfort Inn if you want a less expensive accommodation. The state park is about two miles away. The motel offers a flat-screen TV and a kitchenette to make your stay as comfortable as possible.
The Potawatomi Inn is the ideal place to stay for convenient access to all the outdoor activity since it is situated within Pokagon State Park. There are also campers available if you want to be even more in contact with nature. Reservations may be made for up to 14 nights straight.
There are several additional motels available outside of the park. The prices of the Ramada Inn, Holiday Inn, Travelers Inn, and American Inn are all around the same. In most circumstances, a room costs between $65 and $95 per night.
The Potawatomi Inn is superior to the other choices since it has a lot more history, is located near to the park's attractions, and supports a State Park rather than a hotel chain. Additionally, the park hotel's location is just next to a lake and toboggan runs, so you'll enjoy beautiful scenery right outside your door!
5. Learn more about the history of the park
Leopold and Simon Pokagon, a father and son team who were prominent Potawatomi chiefs who formerly ruled these areas, gave their name to Pokagon State Park. In honor of those who arrived here initially, the hotel takes its name from the Potawatomi people. However, before they changed their minds and chose to recognize the rich culture of the Native American Potawatomi peoples, it was formerly known as Lake James State Park.
It is one of the first parks in the state, and you can still see signs of the "Civilian Conservation Corps," or CCC, who resided there from 1934 until 1942. Thanks to their precise workmanship, they are left behind beautiful stone and granite constructions that have weathered the elements.
The area where Pokagon presently stands was formerly covered by a massive glacier that blanketed much of Indiana and ultimately melted 10,000–15,000 years ago. Because of this, Steuben County, where the park is located, has the most lakes in the whole state.
The whole year is the finest time to explore Pokagon State Park! No of the season, there are always a ton of possibilities for outdoor entertainment.
6. Dine in at one of the restaurants
In a relaxed setting, enjoy exquisite dining at 6 Autumns Food & Spirits. Just 1.3 kilometers separate this restaurant from the park. The restaurant offers you a fantastic taste of American food with a choice of meals sourced from nearby farmers. You may also choose from a wide variety of domestic wines and beers to go with your meal. Caruso's is an additional choice. It's a lovely restaurant with reasonably priced Italian food.
7. Take a picnic
Pokagon State Park is a beautiful location for a dinner outside. The park is filled with picnic spots that include tables and charcoal grills. At the Black Cherry Picnic Area & Shelter, there are a lot of picnic spots. Playgrounds are often nearby. You can cook yourself a tasty supper on the grill with the aid of Pokagon.
A modest, partially covered structure with a few picnic tables and drinking water, Spring Shelter makes an excellent picnic spot. It is always open first-come, first-served and does not accept reservations.
The Main Pokagon State Park Map, which you will get when you enter the park, features the Picnic Areas. There are 5 shelter huts at Pokagon State Park that may be reserved for daytime usage from 9 am to 11 pm. A single reservable recreational building is furthermore open for daytime usage from 8:30 am to 10 pm.
No usage overnight is permitted. Free first-come, first-served shelters are provided if reservations are not made one day in advance.
8. Go on fishing
Fishing on Lake James for bass, bluegill, walleye, crappie, catfish, northern pike, and other species is available to Pokagon State Park visitors. A state fishing license is necessary to fish at Pokagon State Park.
Make arrangements at the Potawatomi Inn front desk to hire a fishing boat or another kind of boat. There are no boat launching facilities, however courtesy slips are provided if you prefer to use your own boat. Visit INHuntFish.com to acquire a fishing license before visiting Pokagon State Park. If you don't already have one, you must establish an Access Indiana account. A printer is also required in order to print your license. Contact Access Indiana customer service at 1-866-960-3023 if you are having issues utilizing the internet to buy your license.
What is the best time to visit the park?
Pokagon State Park is most enjoyable from April through September. You may enjoy perfect weather and a lovely environment throughout those months. Come here from June through August to experience the hottest months.
With occasional extended hours during the holidays, the toboggan is only accessible on weekends from Thanksgiving (the fourth Thursday in November) to February. Before coming, I'd suggest double-checking the state park website, particularly during COVID when conditions are still prone to change.
Nov. through Feb. are your best options if you want to take advantage of the winter activities. Although snowfall has been patchy lately, these are your best chances to witness any images from a winter wonderland in the park.
The optimum season to visit during the warmer months is from Memorial Day, which falls on May 31 this year, through Labor Day, which falls on September 6. The warmest months are often July and August, which is also the ideal period for water activities.
The Pokagon toboggan run: is it worthwhile? Things to be aware of
Yes! Visits to the Pokagon toboggan run are unquestionably worthwhile. People of all ages, both with and without kids, were enjoying the rush of speeding down an ice track on a piece of wood at speeds of more than 30 mph! This is a distinctive attraction since there aren't many toboggans runs of this length and speed elsewhere in the globe, particularly in the Midwest.
What is the cost of trying tobogganing?
Toboggan rentals from Pokagon are necessary and cost $13/hour per toboggan. A single toboggan may hold up to four people, making it an affordable exercise.
Only one of the two toboggan runs was available due to COVID, and the park was only able to accommodate a very small number of visitors. There were only 25 toboggans available for rental at once, and they fill up rapidly! To obtain your name on the list, it is important to arrive as early as possible in the morning.
On Saturday about noon, the toboggan slope was completely booked for the day. Since we were staying at the nearby Potawatami Inn, we were able to arrive an hour and a half early the next morning to sign up. You place your name on the reservation list and provide a phone number, at least for the time being. They'll text you when they open and have toboggans available. The toboggan rental hut is where you deposit your driver's license, fill out a toboggan permission form, and pick up your equipment. You have 10 to 15 minutes to get there.
What to pack if going toboggan?
You should also be aware of what to pack when you are going ahead with toboggan. Bring the driver's license indicated above (just one per rental). To avoid having your belongings fly out of your pocket during the toboggan ride, just pack warm weather clothing and leave the rest at home.
You will need to have masks and gloves to proceed with renting a toboggan. The gloves give much-needed protection between the tracks and the wooden fences beside you, so you don't unintentionally scratch yourself on the short trip down. It's for your own safety since the toboggan tracks aren't very big.
Masks are now compulsory in the park and will remain so indefinitely. You cannot hire a toboggan without both of them, and before allowing you ride, they make sure that everyone has the necessary equipment. After receiving your toboggan, you queue up and wait for your chance to ride. At the top, there are employees who can assist you securely board and send you hurtling down the rails.
Also remember to pack some warm clothing! We had snow boots, snow trousers, a thick coat, gloves, a scarf, and a hat since it was snowing when we went. None of it made us regret traveling with it.
Can kids toboggan on their own?
When you're ready to return your rented toboggan, you'll need to lug it back up the slope to the top for your next trip. The toboggans are hefty, so beware. around 20 to 30 pounds. People of legal age can carry themselves, however having two adults assist us carry one was incredibly useful. You shouldn't assume that kids can carry their own.
You are allowed to park in the lower lot close to the toboggan track and then drive your toboggan back to the top for your subsequent runs if your vehicle has room for a toboggan in the trunk or on top.
Very small children were riding with parents, and there were no obvious age limitations on the toboggans. Since there is no toboggan lift or employees to assist, it's probably not practical for youngsters to do it alone until they are strong enough to carry the toboggan alone.
Final words
Now you are aware about the best things to do at Pokagon State Park. Keep these facts in mind and proceed with enjoying your stay at the park. You will surely fall in love with all the amazing adventures offered in here.