Arizona must have some of the nicest sights to see when driving. Furthermore, you don't even need to go very far to get some amazing sights! Phoenix is a good example. You are rewarded with a view that quickly changes from cityscapes to saguaro-lined hills to miles and miles of desert brush to finally, seemingly out of nowhere, to a cascade of red rocks, each one bigger than the next and emerging from the landscape like crawling giants during the brief 2-hour drive from Phoenix to Sedona. We will also help you to understand how far from Sedona to Phoenix that you have to travel and how to get the most out of your experience.

Supposedly, this drive is even more aesthetically magnificent than Route 66 (you decide), but I won't argue with that. But what good is a road trip without some enjoyable pit stops? Even with the quick 2-hour drive, there are several interesting, stunning, and even quite bizarre locations worth seeing. Here are 5 places you should stop on your journey from Phoenix to Sedona.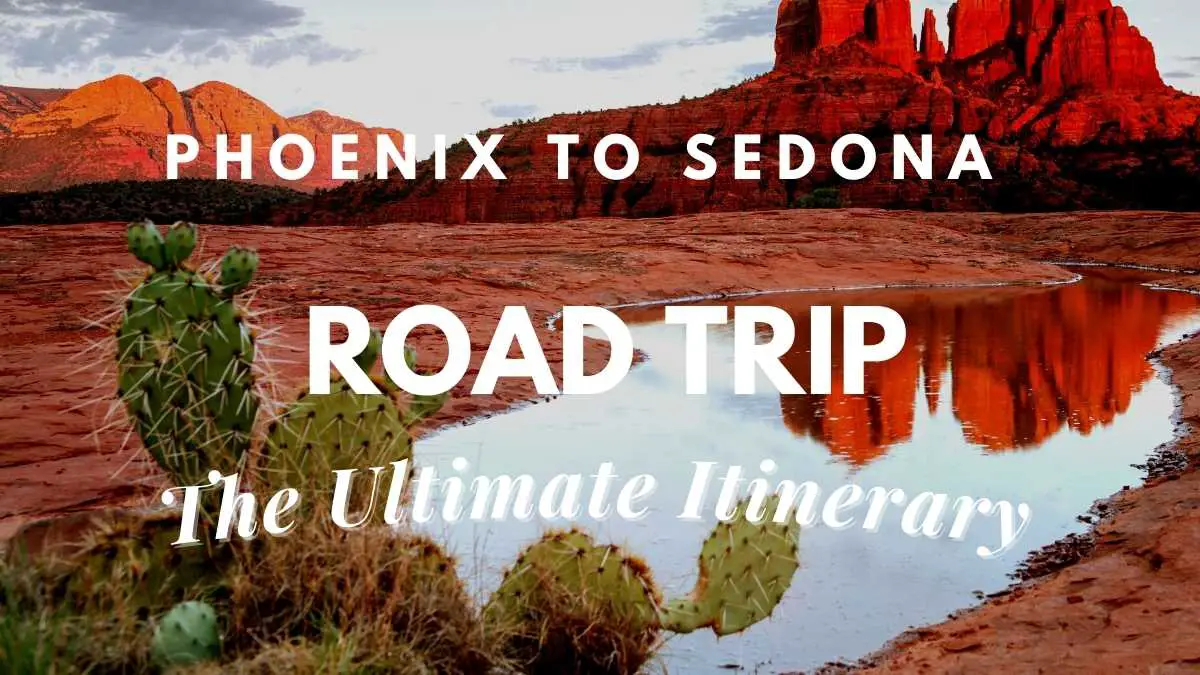 1. Rock Springs Cafe
The oldest privately owned restaurant that is still open in Arizona, Rock Springs Cafe calls itself one of the state's "great wonders."
But this isn't a great pit break just because it's unusual. Oh no. The renowned pies are here!
You name it: apple bourbon, banana cream, blueberry, key lime, cherry, rhubarb, pecan.
When you could need a pick-me-up, signs for Rock Springs suddenly appear after some time spent driving with nothing in sight.
I don't believe you'll regret stopping to have a cup of coffee and a piece of pie!
My favorite, the banana cream, really felt like reminiscence combined with sweet, sweet, creamy sweetness packed into every mouthful.
I should clarify that they also have a restaurant that is open for non-pie-related breakfast, lunch, and supper since I'm a bit obsessed with the pie portion of this trip.
Every day from 7 am to 10 pm, the café is open.
Read: Is Traveling A Hobby? The Ultimate Guide To An Exciting Way Of Life Learn about the Downsides Of Traveling As A Hobby

2. Arcosanti
On my trip to Sedona, my closest buddy from Scottsdale suggested that I make a stop at Arcosanti.
In a nutshell, Acrosanti is an experimental town built on the idea of arcology, the study of how to combine the natural world with the buildings required for human life.
Theoretically, a society based on arcology would enable people to live in harmony with the natural world.
The neighborhood, designed by Italian architect Paolo Soleri in the 1970s, resembles a scene from a science fiction film.
The structures are spherical, the external walls are decorated with geometric designs and circular windows, and the colors utilized are a combination of rust, grey, and off-white.
It seems to have been unattended for a while and is at once welcoming and rather unsettling.
Since it has, in a sense.
Despite the fact that the project has been underway for more than 40 years, Arcosanti is the forward-thinking city that is still under construction.
I know, interesting stuff.
In fact, Arcosanti continues to serve as an example of what communities centered on sustainability and harmony with their environment may look like in the future.
Annually, more than 50,000 visitors take a tour, spend the night, or attend an arcology class at Arcosanti.
If you visit, make sure to see the famed Soleri bells on exhibit in Arcosanti.
Daily hours for Arcosanti are 9 am to 5 pm.
Visitation is free, but a one-hour tour, which is available every hour except at midday, costs $15 per person.
3. The National Monument of Montezuma Castle
Are you interested in how high-rises appeared a few centuries ago?
Look no farther than Montezuma Castle National Monument, which is conveniently positioned 95 miles north of Phoenix on the road to Sedona.
The name Montezuma Castle is a misnomer since the building has nothing to do with Montezuma and is unquestionably not a castle.
However, it is among the best-preserved cliff homes on the whole continent.
The Sinagua tribe constructed Montezuma Castle in the 12th century as a part of a larger settlement that they called home before finally emigrating from the region.
The building's 20 rooms were presumably home to multiple families living there simultaneously.
Although you cannot enter the building, the small walk that around the property allows you to obtain a wonderful close-up look of the residence.
If you want to understand more about Arizona's history, this is a great stop.
Unless you are going to stop here for a picnic, you probably won't need more than 30 to 45 minutes to examine the monument since the walk leading there is short.
Daily hours for the monument are 8 am to 5 pm. If you have a National Parks Pass, entry is free or costs only $10 per person.
4. Rachel Off Duty
I wasn't expecting a wine trail to exist outside of Sedona, but it does—and it's becoming bigger every year!
Currently covering 450 square miles, the Verde Valley Wine Trail passes directly through Cottonwood, a little town west of Sedona with a population of 12,000.
The wine route here lacks the same opulence that comes before other, more well-known wine-centric locations like Napa.
Instead, it made me think of Valle de Guadalupe in the Baja; it was unpretentious, unhurried, and very much about bringing people together over a good glass of wine.
5. Jerome
Who enjoys a nice ghost town visit on a western-themed road trip? Jerome checks every item off the list.
If you haven't heard of Jerome, it was once among the wealthiest cities in the whole nation.
Over 15,000 people lived in Jerome little over a century ago when it was the state's top producer of gold, copper, and silver and the place where people went to establish themselves.
With less than 500 residents, Jerome is now the biggest ghost town in the nation.
For a brief trip back in time, stop by one of the town's many museums, monuments, old hotels, or taverns.
Why Go to Sedona
Sedona is regarded as one of Arizona's top destinations for travel, leisure, the arts, and much more.
But what is it about Sedona that attracts so many visitors each year?
Sedona's red rock formations have an undeniable natural beauty that will definitely fascinate your eyes and astound you.
Apart from that, Sedona has gained notoriety as a center for spiritual wellbeing due to the many energy vortexes that many people think encircle the area.
Here are some more justifications in case you need them if you're still not sure why you should book that vacation to Sedona:
Sedona is the ideal destination for anybody interested in outdoor activities.
It features some of the most incredible hiking routes in the whole globe.
Sedona offers several hiking and trail activities, not to mention breathtaking vistas that will nourish your eyes.
If, however, hiking is one of your least favorite activities, you may want to look into various trips that will provide the best experience.
In Sedona, there are helicopter flights that let you fly over and take in some of the area's rock formations.
Sedona is a haven for lovers of the arts and history if you're a history buff.
You may explore Sedona's more than 500 artists as well as its 80 distinctive stores and galleries.
Additionally, they sell a variety of specialized goods, mementos, and artwork, including Kachina dolls, handcrafted ceramics, sculptures, Native American jewelry, and much more.
Due to all these reasons, you can go ahead with your road trip without keeping any doubt in mind.
How to get between Phoenix and Sedona
Phoenix is two hours north of Sedona.
The trip is 115 kilometers long and travels north on a highway.
If you are driving, it typically takes 2 hours to get to Sedona from Phoenix if you use State Route 179.
You might also think about joining a guided Sedona tour and simply use the day to relax and unwind.
What to see and do between Phoenix and Sedona
Here are some well-known places to make whether you decide to drive yourself or hire a vehicle to get to Sedona:
46 miles separate Black Canyon City from Phoenix.
With its gorgeous setting, including Bradshaw Mountain along the Agua Fria River, Black Canyon City offers you a taste of Arizona's environment at its best.
Aside from that, Black Canyon City also has a fascinating past.
Did you know that the Black Canyon region was a military halt between Fort Whipple and Fort Verde during Arizona's colonial days as well as a stage stop on the Phoenix to Prescott route in the late 1800s?
Don't forget to sample the pies at Rock Springs Cafe after providing your eyes with some vitamins with the picturesque beauties of Black Canyon.
There are four different cream pies, seven different fruit pies, 10 different specialty pies, and they also provide filling dinners!
Since it first opened 90 years ago, this diner has established itself as a landmark in the dining scene.
67 miles from Phoenix: Agua Fria Monument
The 71,000 acres of pristine natural splendor that make up the Agua Fria National Monument.
Here, you'll discover a vast mosaic of ancient sites etched into the rocks and semi-desert environments that date back more than 2,000 years.
You may engage in a variety of outdoor activities in the region, including hiking, camping, four-wheeling, birding, and hunting, in addition to learning about history.
Additionally, Agua Fria is an excellent location for seeing and photographing animals including antelope, mule deer, javelina, bobcats, and many others.
94 miles from Phoenix: Montezuma Castle
It is said that Montezuma is the most impressive of Arizona's well-preserved ancient homes.
It has 20 rooms and is a 5-story building that was carved out of a white limestone rock approximately 70 feet above the ground.
Accommodations in Sedona
Weekend getaways to Sedona are wonderful.
Being outside, breathing clean air, and taking in the landscape are all very excellent for the spirit.
I advise spending a few nights, and if you want to reward yourself, choose a cabin with a spa pool for evening relaxation.
In Sedona, there are several outstanding Airbnb.
Because there are so many lovely locations to stay, you may spend the most of your time exploring Sedona.
The best-rated Airbnb in Sedona, this is a terrific spot to stay with friends. The Amara Resort & Spa was where I stayed.
One of the greatest hotels in Sedona, with fantastic facilities and a great location.
Remember to secure a vehicle in advance with rentalcars.com if you are planning a road trip.
Restaurants in Sedona
The Red Rock Cafe is regarded as Sedona's top eatery.
They use only the freshest ingredients in their extensive menu.
They soon established themselves as a neighborhood favorite for breakfast and lunch, and those who come here to eat usually have a good time.
Additionally, you must sample their legendary huge cinnamon roll and all-day breakfast.
Only breakfast is offered every day from 7:00 am to 10:00 am at Casa Sedona Restaurant.
Additionally, you may need to make a reservation in advance if you are not staying at their inn.
At Casa Sedona, you may have a meal outside while seeing the spectacular red rocks in the early morning sunlight.
Their customers gush about their filling trademark breakfast meals made with the best local and organic ingredients.
Eggs Benedict made in the Sedona way, scrambled eggs with truffled brie, and savory waffles with signature cinnamon are just a few of the dishes you shouldn't miss trying.
One of the most well-liked dining establishments in Red Rock Country is the Coffee Pot Restaurant.
The restaurant's general atmosphere is relaxed and welcoming. Their comprehensive breakfast menu includes Eggs Benedict, Belgian waffles, Huevos Rancheros, and a choice of 101 omelets, among other delectable delicacies.
Final words
Now you have a clear idea on how to go ahead with your Phoenix to Sedona Road trip and get the most out of it. Keep these facts in mind and plan your tour, so that you can get a perfect experience at all times.