Are you bored of your hectic life and need a well-deserved break? If so, travel to Anna Maria Island in the Sunshine State. Enjoy the numerous magnificent characteristics of this barrier island during your next trip. You'll find pristine sand beaches, turquoise ocean, lovely piers lined with eateries, and more. Enjoy some of the top things to do in Anna Maria Island, FL. Any person who is looking for family things to do in Anan Maria Island may go through this list and secure the most out of travel adventures available.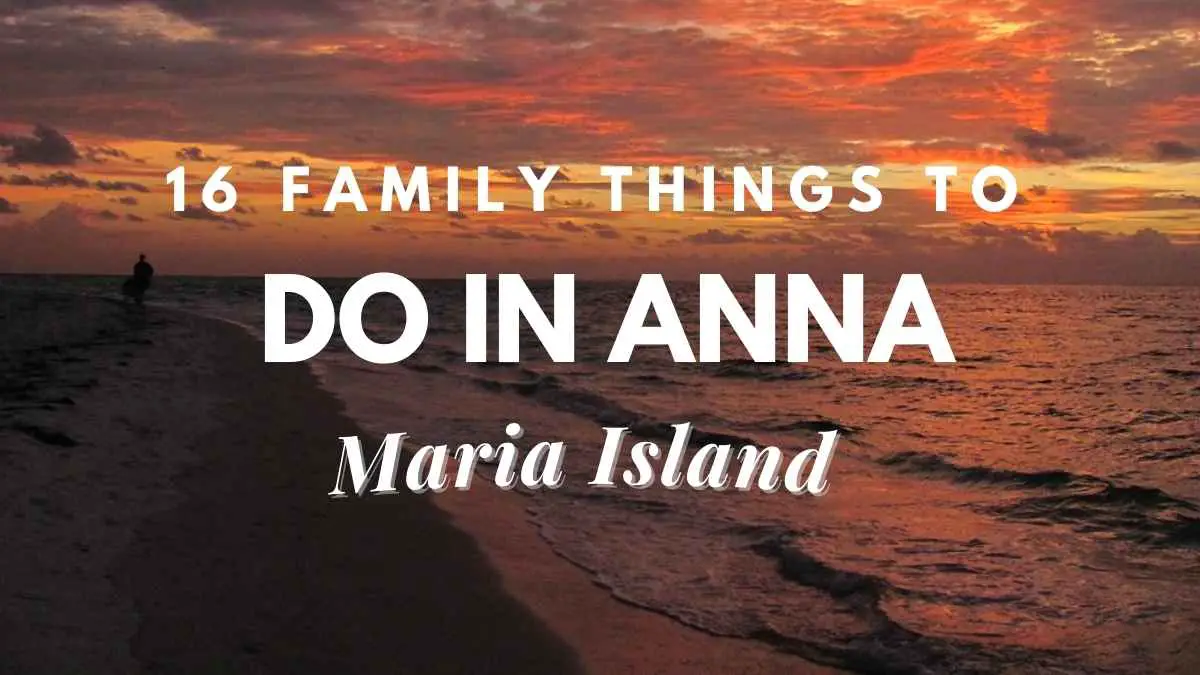 1. Visiting the Holmes Beach
Holmes Beach is a barrier island jewel, with beautiful beaches, unique shops, and other attractions. Begin your stay at one of Anna Maria Island's most picturesque attractions, Holmes Beach. Local guides provide thrill-seeking water sports and beachside villas for rent. It also has a free, ADA-accessible, air-conditioned trolley that runs throughout the city.
Spend the day enjoying the delights and beauty of Holmes Beach with your friends. Enjoy a lazy morning on a sandy beach tanning, building sandcastles with your kids, and swimming. Enjoy its picturesque streets while sampling the local food and shopping for antiques, jewelry, and souvenirs.
Read: Is Traveling A Hobby? The Ultimate Guide To An Exciting Way Of Life Learn about the Downsides Of Traveling As A Hobby

2. Spend time at the Coquina Beach
Coquina Beach is a 22-acre public beach with diamond-white sand, dazzling water, and lush foliage. Enjoy a fun-filled beach day with your friends, family, or partner this weekend. It has free parking, beach wheelchair rentals, playgrounds for the kids, and more.
Onsite dining options include Belgian waffles, bagels, sandwiches, fresh seafood meals, and more. Enjoy a day on the beach and water at Coquina Beach with your friends and family. Go snorkeling or swimming, or sunbathe, make sand sculptures, or relax at the café. Play a competitive game of beach volleyball with your friends.
Read: Anna Maria Island VS Siesta Key- What's The Difference?
3. Exploring the Bradenton Beach
Bradenton Beach, founded in 1952, is a charming seaside town in the south of the island. Explore one of Anna Maria Island's most popular and scenic destinations, Bradenton Beach, with your travel companions. Beautiful parks, luscious white-sand beaches, busy retail districts, art galleries, museums, and more await you in this pleasant seaside city.
Enjoy a day out with your family or friends exploring this gorgeous city's many fantastic tourist sites. Visit the Anna Maria Island Historical Society to see relics and learn about local history or go to an art museum to see stunning exhibitions. You may also visit a beach and participate in water sports, beach activities, or guided tours.
4. Visit the Bean Point Beach
Bean Point Beach lies on the barrier island's northernmost point. It has great views of the Gulf of Mexico and a more intimate feel due to less tourists. Do you wish to relax away from congested areas and busy urban districts? Don't forget to bring your sunscreen and other essentials to this peaceful beach today. This beach is less well-known than others in the vicinity and provides a more rustic experience.
Enjoy a quiet moment alone or with your lover, friends, or family on this serene beach. Here you may work on your tan, relax, and enjoy a romantic sunset with your loved one. You may also have a nice picnic, assist your kids build sandcastles, and play in the cold waters.
5. Manatee Beach explorations
Manatee Public Beach is a 7-acre stretch of stunning beachfront on Holmes Beach. It features pure white beach, turquoise sea, and plenty of facilities. One of the best things to do on Anna Maria Island with kids is to visit Manatee Public Beach. It boasts the right balance of sun, sand, and sea, plus numerous facilities to make your stay more enjoyable. So, there are always vigilant lifeguards watching over you and your family, and volleyball courts for enjoyable activities.
Create memorable experiences with your kids at this gorgeous beach. You may bury them in the sand, build sandcastles, hunt for seashells, and more. Its tranquil, soft water is perfect for swimming with your kids.
6. Visit Palmetto Avenue Beach
Palmetto Avenue Beach is located towards the north. It has a more private setting and unlimited Gulf of Mexico vistas. Looking for free activities to do on Anna Maria Island to save money? I really suggest Palmetto Avenue Beach. It has miles of lovely white sand beaches, clear blue sea, and no pushy salespeople.
Sunbathing, exploring for rare seashells, swimming in the pleasant and clear water, picnics, and more may be done here with your vacation partners.
7. Coquina Beach Market
The Anna Maria Island Coquina Beach Market is also known as the Beach Market. It's a seasonal retail neighborhood full of economical items and local crafts. Enjoy the sea air while shopping at the seasonal Beach Market at Coquina Beach. Hundreds of booths and dealers provide unusual treasures, souvenirs, and other stuff at reasonable prices.
Spend an hour or two browsing the seaside market's hundreds of products. Among the products available for purchase are local arts and crafts as well as gourmet foods. Among the best family things to do in Anna Maria Island, this attraction holds a prominent place.
8. Pier on Bridge
The Bridge Street Pier, also known as the Historic Bridge Street Pier, is an early 1900s monument and pier. Bridge Street Pier is a must-see on any Anna Maria Island sightseeing trip. It is a popular tourist destination with stores, seafood restaurants, a fishing pier, and other local enterprises.
Visit the Bridge Street Pier with your friends or family for a wonderful day out and plenty of photographs. Aside from great picture opportunities, you may go shopping, eat fresh seafood, witness a beautiful dawn, or go fishing.
9. The Bradenton Beach City Pier
The Bradenton Beach City Pier, on the shores of Sarasota Bay, is a local and tourist favorite. It's a great place to fish. If you like fishing, there is no better spot to come than this lively pier. There are several fishing areas, chairs to enjoy the bayfront views, and an on-site café. Also, it is near to public transit and gorgeous beaches.
When the weather is nice and the sky are clear, go fishing at the Bradenton Beach City Pier. It's also a great area to relax and take in the stunning views of the bay. Its restaurant serves delicious seafood meals including oysters with a refreshing pint of beer.
10. Leffis Key Park
Leffis Key Preserve has 1500-foot-long twisting boardwalks. It is well-maintained and provides a lovely setting for outdoor vacations. This stunning wildlife preserve is ideal for nature lovers wanting a good outdoor experience. Enjoy picturesque pathways, a well-maintained environment, wetlands, dune vegetation, and magnificent views.
Enjoy Leffis Key Preserve away from massive skyscrapers, concrete surrounds, and brick structures. Take photos of the stunning scenery, wander through thick greenery, fish, and enjoy the panoramic views of Sarasota Bay and the Gulf of Mexico.
11. City Pier Grille
Anna Maria City Pier Grille is a restaurant and bait and tackle business built in 1911. It is an island landmark and a popular tourist destination. Consider this seaside restaurant while planning your evening on Anna Maria Island. Among family things to do in Anna Maria Beach, this attraction is holding a prominent place as well. It has a fantastic cuisine with excellent sweets including handmade pie and sundaes and gelato.
After a fun-filled day, relax with your travel companions at Anna Maria City Pier Grille. Enjoy a drink of wine or beer while sampling delicious foods including fresh shrimp, flavorful chicken wings, salads, and more.
12. Fishing Pier
Rod & Reel Pier, established in 1947, is a popular seafood restaurant on the Gulf of Mexico. If you're looking for something to do with your friends, try eating at this popular cafe. Enjoy a delicious lunch, munchies, and beverages while admiring the stunning ocean views. It is a family-friendly and warm ambience.
Enjoy a wonderful supper with your loved ones or friends at Rod & Reel Pier. Enjoy fresh seafood, grilled chicken, handmade buttermilk pancakes, sandwiches, and more.
13. Try the Donut Test
The Doughnut Experiment is a beloved donut store with an excellent selection and custom-made possibilities. Are you fatigued after travelling or from a day at the beach? Do you want to refuel with a sweet treat? Then I highly suggest this doughnut store. Choose your own frosting, toppings, and drizzles to create your ideal doughnut.
Take a break from touring the island and visit the Donut Experiment for some of the best doughnuts around. You may mix and match tastes like key lime and sriracha.
14. Go for shopping at the Pine Avenue
Pine Avenue is a popular retail and entertainment strip on Anna Maria Island. If it's rainy or freezing and you can't go to the beach, go shopping on Pine Avenue. Aside from shopping, there are several cafés, restaurants, historical sites, community gardens, and other tourist attractions.
Tour this lovely neighborhood with your lover, friends, or clan. You may go shopping, eat local cuisines, and more. It also has museums and historical sites, including a 1927 jailhouse.
15. The Happy Paddler
Happy Paddler Kayak Tours & EcoVentures is the full name. It is a reputable company that offers several water trips. When searching for interesting things to do on Anna Maria Island, Florida, schedule your trip with this local service. Tour the island's greatest natural areas with friendly, qualified guides and instructors. It also provides courses for all ages and equipment rentals for those who don't want to bring their own.
Enjoy a memorable excursion with your family, spouse, or friends. Depending on your booking, you may kayak around the coast, mangroves, or fish. You may also witness animals such as manatees and dolphins.
16. Visit the Real Beach Horses
The Real Beach Horses, founded in 2007, is a renowned travel operator offering a wide range of programs. Do you and your husband finally have a romantic vacation schedule? Are you seeking for romantic activities for couples on Anna Maria Island? So, call the Real Beach Horses immediately to book your holiday.
There are various different packages to choose from, depending on whether you want to go on a date on land or in the sea. Book a tour with this local organization to create new memories. Take a romantic beach horseback ride or a moonlit paddle among the mangroves. There's also kayaking, SUP, manatee encounters, fishing, boating, dolphin viewing, and more.
Final words
Now you are aware about the best family things to do in the Anna Maria Beach. No matter why you visit this beach, you will be provided with a great environment to enjoy your stay. Hence, all you have to do is to think about securing the most opportunities that this beach would offer and get the most out of what it delivers.