Port Angeles and Port are two of the most popular towns among tourists. If you are looking forward to visiting this region, you will come across the need to figure out which one is the best. Then you can pay a visit there and get the most out of experiences offered on your way. In this Port Angeles vs Port Townsend comparison, we will be able to help you in finding the right option available out of the two.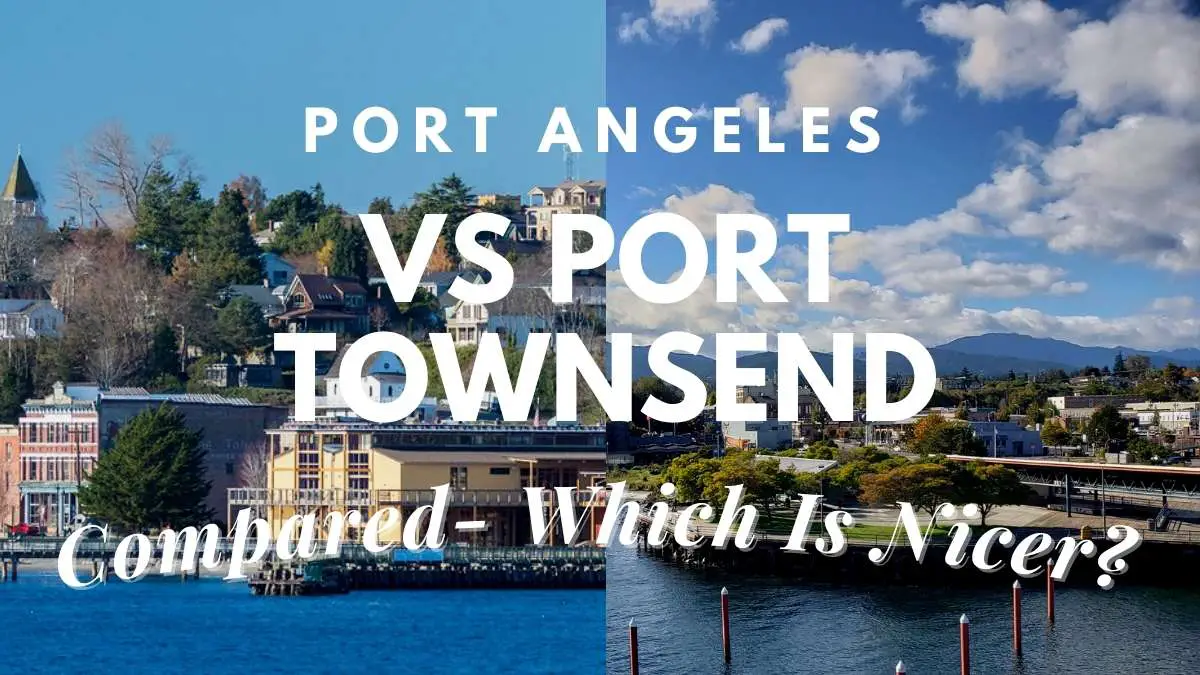 What are the major differences?
PT has a variety of lovely, even opulent, hotel options. The town's gorgeous Victorian buildings have been maintained, and many of them are now fancy B&Bs or small hotels. There are also a few good, reasonably priced hotels.
Port Angeles provides everything a budget traveler might want in terms of lodging, from fleabags to bare-bones-but-clean motels to two-star hotels. It only has one chain hotel, the two-star Red Lion, which has a fantastic waterfront location but terrible accommodations and staff. It isn't horrible, but it isn't outstanding. Colette's, the Inn at Rooster Hill, Lost Mountain Lodge, and Domaine Madeleine are just a few of the beautiful, if pricey, B&Bs in the neighborhood. All these locations have gorgeous gardens and rooms; however, they all book up early in July and are somewhat expensive.
Finally, there are some fantastic vacation properties in Port Angeles, including some located on the San Juan de Fuca Straits. The ones on Lake Crescent are probably already booked, but the PA Chamber of Commerce website has several of options for all budgets.
Read: Is Traveling A Hobby? The Ultimate Guide To An Exciting Way Of Life Learn about the Downsides Of Traveling As A Hobby

What offers the best food?
PT wins hands down owing to the abundance of options. Bakeries, French restaurants, Italian restaurants, Japanese restaurants, brew pubs, and wine bars may all be found here. There are locations where you can obtain wonderful ice cream, coffee, and chocolate. There are also some tourist traps to beware, but a decent guidebook or TripAdvisor should help you avoid them.
There are many restaurants in PA, but none are as amazing as PT's. Alder Wood Bistro, in Sequim, is the greatest restaurant on the North Olympic Peninsula. It takes twenty minutes to get there from PA. At Cedar creek, Sequim also boasts a fantastic bakery. The quality is outstanding.
Both PT and PA have outstanding local vegetable and fish markets. If you rent a property and like cooking, you may enjoy some of the world's best veggies and seafood. The food co-op in PT is fantastic. Farmers' Markets are fantastic in both locations. At Pennsylvania, the Farmers' Market is held in the Courthouse Parking Lot on Saturday mornings from 10:00 a.m. until 2:00 p.m. It's also hosted on Laurel Street in downtown Philadelphia on Wednesdays from 3:00 to 6:00 p.m.
Read: Is Port Townsend Worth Visiting?
What town offers the best cultural activities?
PT wins in terms of cultural activities. PT boasts a fantastic art house cinema, the Rose, as well as other music venues, galleries, shops, and intriguing architecture. There are music and art events at different periods. There is also a winery in town.
PA has some fantastic local music and numerous adjacent vineyards, but the closeness to Olympic National Park is the biggest lure. It's about twenty minutes from Lake Crescent and located at the foot of Hurricane Ridge. You may simply drive out to all the beautiful beaches, the Hoh Rain Forest, Sol Duc Hot Springs, Deer Lake and Potholes hikes, and so on… Hikers and kayakers will find it to be Heaven on Earth. PA is also the starting point for trips to Victoria and Vancouver Island. If a journey to British Columbia appeals to you, the boats depart directly from the downtown pier.
Read: 7 Fun Things To Do In Port Townsend In 2023
Where should you go?
Because Lake Quinault is located south of the Hoh rainforest and Ruby Beach, you will be returning to them on one of your days off. You'll want to go to the beach while the tide is low. The beach is just a short distance away. Allow 10 minutes to walk from the parking lot. For good reason, Ruby Beach is the most photographed location in ONP. Natural beauty combined with accessibility.
One of the highlights of your vacation will be the short Hall of Mosses trek. If you like hiking, the Hoh River trek up to 5 mile island is fantastic.
What else should you remember?
Everyone has given you excellent counsel. PT is a fascinating and unique village. PA is odd, to be sure, but its own mother, if it ever had one, would hardly describe it as charming. It's fairly straightforward. In between PT and PA, there's Sequim. Sequim is a nice town with an excellent motel, the Holiday Inn Express, and a fantastic restaurant, Alder Wood Bistro, that caters to locavores.
The distance from the PT ferry pier in downtown PT and the entrance of Hurricane Ridge Road is 1 hour and 15 minutes. The time it takes to reach Hurricane Ridge's peak varies depending on how comfortable you are driving a well-engineered mountain road and how many pauses you choose to make at views.
To get the most out of beach excursions, you'll need to be aware of the tides. Then go to http://www.visitonp.com to see my new website. It contains a software that can calculate driving and trekking hours to different locations so you can arrange your itinerary, as well as a schematic map of your route. If you attempt to do too much, it will warn you. This site is currently in beta; thus, it doesn't have much information on the park's southern half, but it does have a lot about the northern half.
Look at the Elwha River walks if you're in or around Port Angeles. The short 4.8-mile round trek to Olympic Hot Springs, a wild hot spring with multiple pools in the forest, is one of them. Whiskey Bend Road also leads into the mountains through various canyons that lead to streams and the gorgeous small Lillian River, or down to the huge Elwha itself.
The Spruce Railroad Trail and the Mary mere Falls Trail are two excellent treks that may be found around or near Lake Crescent. The Sol Duc Valley, just beyond the western tip of Lake Crescent, is home to a network of excellent trails. The most popular and simplest trek is to Sol Duc Falls, but if the weather allows and you want to take a true mountain walk, climb 1600 to 2400 feet above the falls all the way to Deer Lake and The Potholes. These are very stunning locations. The trails are well-built and safe, although they may bike exhausting.
Finally, Ruby Beach is little, despite its beauty. There isn't much hiking to be done there. Second and Third Beaches, on the other hand, are as lovely and provide much more intriguing trekking. You could trek for days from Third Beach if you wanted to. As Ray S. pointed out, it's vital to come during low tide since you can see so much more when the water recedes from the rock formations and pools that make the Pacific Northwest beaches so eerily beautiful.
Final words
The Victorian seaside town of Port Townsend is beautiful. It would be a wonderful area to stroll about, dine at one of the many superb restaurants, and stay the night in accommodations ranging from waterfront hotels to fairy castles. It would take around 1 hour 50 minutes to drive from Port Townsend to the top of Hurricane Ridge. Port Townsend is roughly a 15-minute drive from Portland.