There could be more alluring places to visit—maybe Istanbul? Cinque Terre? —but few can rival the outdoor accessibility and ROI of Kanab. (And if you have red-rock fever, you will at all costs choose Zion over the Blue Mosque.)

Kanab, which is located midway between St. George and Lake Powell on the southern border, serves as the starting point for a variety of Utah activities that are equally as enjoyable (or maybe better?) in the winter. Simple access to Zion's arid washes and clear sky or Bryce Canyon's evergreens and snow-capped hoodoos.

Kanab is the ideal location to base yourself while checking things off your bucket list, whether you're traveling to Utah or have lived here for years but feel terrible about the attractions you haven't visited. While keeping that in mind, let's explore what to do in Kanab in the winter.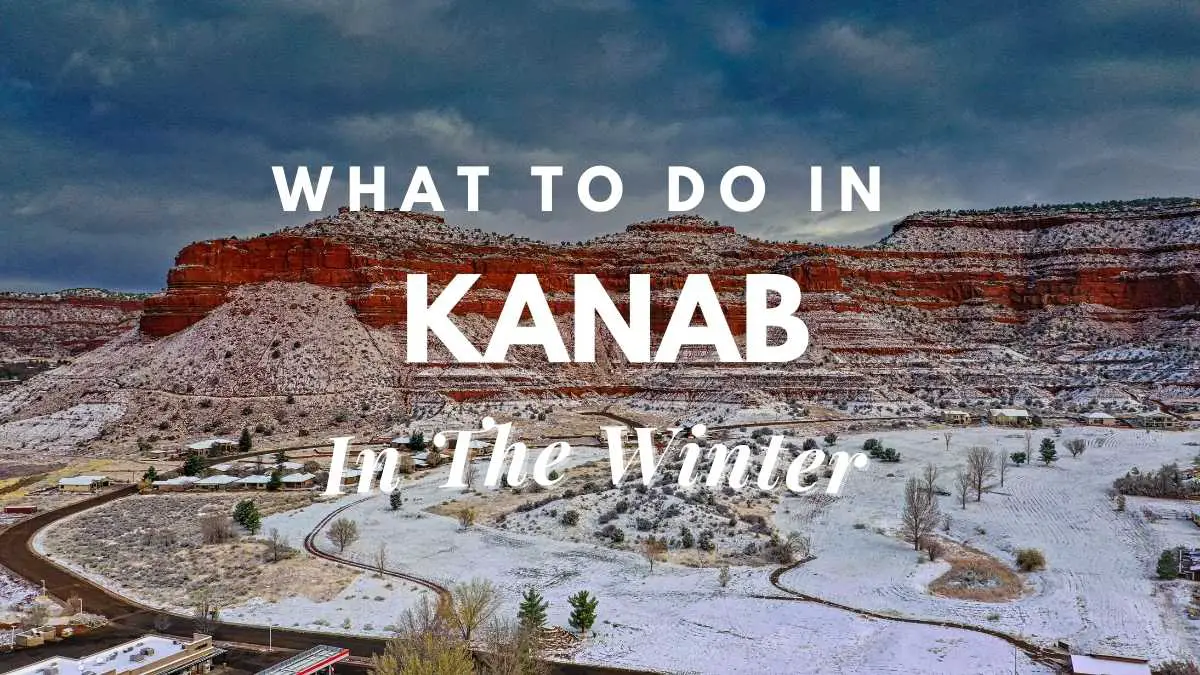 Why should you visit Kanab in the winter
First of all, the weather is pleasant, bright, and sometimes there is even a coating of snow to offer contrast to your previously enjoyed vistas. All ideal for outdoor exploration. While the days may be shorter than in July, they are actually more usable in winter since no one should be outside down here from 11:00 a.m. to 4:00 p.m. in the summer aside from high school wrestlers trying to make weight. In March, February's 50s climb firmly into the 60s (balmy for slushy, inverted Northern Utahns).
Speaking about daylight, you can take different pictures in the winter than you do in the summer. The most pleasing light is created during daybreak and twilight, which are also lengthened by the low arc of the winter sun.
Next, winter implies fewer pests since less people are hiking and because snakes are hibernating, bugs are doing what they do in winter, and there are fewer snakes. the path is all yours.
Lastly, you may get inexpensive lodging during the off-season when hotels reduce their prices to entice the sparser, more savvy winter guests. Therefore, Kanab is a win-win-win before the spring equinox if you like money, warmth, snapping photographs, and the lack of adders.
Read: Is Traveling A Hobby? The Ultimate Guide To An Exciting Way Of Life Learn about the Downsides Of Traveling As A Hobby

Visiting Kanab in the winter
Or, if you want your monoliths high up, get a room at Ruby's Inn and visit Bryce Canyon. Since the park's hoodoos and paths are a mile above sea level, snow covers them throughout winter. For a trip through a snowy desert contradiction, grab your cross-country skis or snowshoes from Ruby's and pack an umbrella and sunscreen.
In addition to snowshoes and cozy, affordable lodgings, Ruby's also has an ice skating rink and horse-drawn sleigh rides. They're just outside the Bryce Canyon gate, so you'll be in an excellent location to explore the park (Navajo Loop is a fantastic winter trek) or the groomed trails at Ruby's Nordic Center right outside. Bring your snowmobiles and explore miles of national forest if walking isn't your thing.
What to do in Kanab in the winter
1. State Park at Coral Sand Dunes
Coral Sand Dunes State Park should be first on your list. ATVs and other tourists often overcrowd the area in the summer. However, this location is beautiful in the winter. There were just 2 other groups there when we visited on a December night to see the sunset.
Find a location in the sand and climb up there; there are no pathways here. Remind yourself that sunset is the ideal time to visit! You may bring your dog with you to Coral Sand Dunes since it is pet-friendly. Just make sure they are under control, and don't forget to clean up any garbage or feces. Running up and down the sand dunes was so much fun.
2. Kodachrome State Park
Near Kanab, there is also the Kodachrome State Park, which is dog friendly. Here, the rock formations are bizarre and seem to have an ombre or filter applied to them. I've never seen anything like that before, and I'm surprised it isn't more well-known.
Since the park isn't very big, you may spend three to four hours there. I highly suggest trekking the 1.5-mile Angel's Palace Trail, which offers a fantastic panoramic view of the nearby hoodoos, as well as the 3-6-mile Panorama Trail.
3. Bryce Canyon National Park
Bryce Canyon is a fantastic park, especially for its magnificent hoodoos. Back a few summers, I went there (see my summer trip report for Bryce Canyon here). I had seen pictures of the park in the winter, and I was really looking forward to going there. The Rim Trail is fortunately dog-friendly! There are views of all the amazing hoodoos from the paved route. Although it's short, it's an excellent place to stop by for some sightseeing with your dog.
Final words
By reading this article, you know what to do in Kanab in winter. Create your own travel itinerary based on this, and you can get an unforgettable experience during the stay.