Can you drive to Captive Island? Yes, it is possible. Sanibel and Captiva may be islands, but owing to the Sanibel Causeway, travelling to Captiva Island or Sanibel Island from Ft. Myers is just a short drive and $9 for most vacationers. Sanibel is less than an hour from the airport, while Captiva can be reached in under 90 minutes without stopping.

Your first step is to fly to Southwest Florida International Airport (RSW) in Ft. Myers, which has direct flights from more than 40 locations. In our page "Which airlines fly to Ft. Myers?" you may learn more about getting to RSW.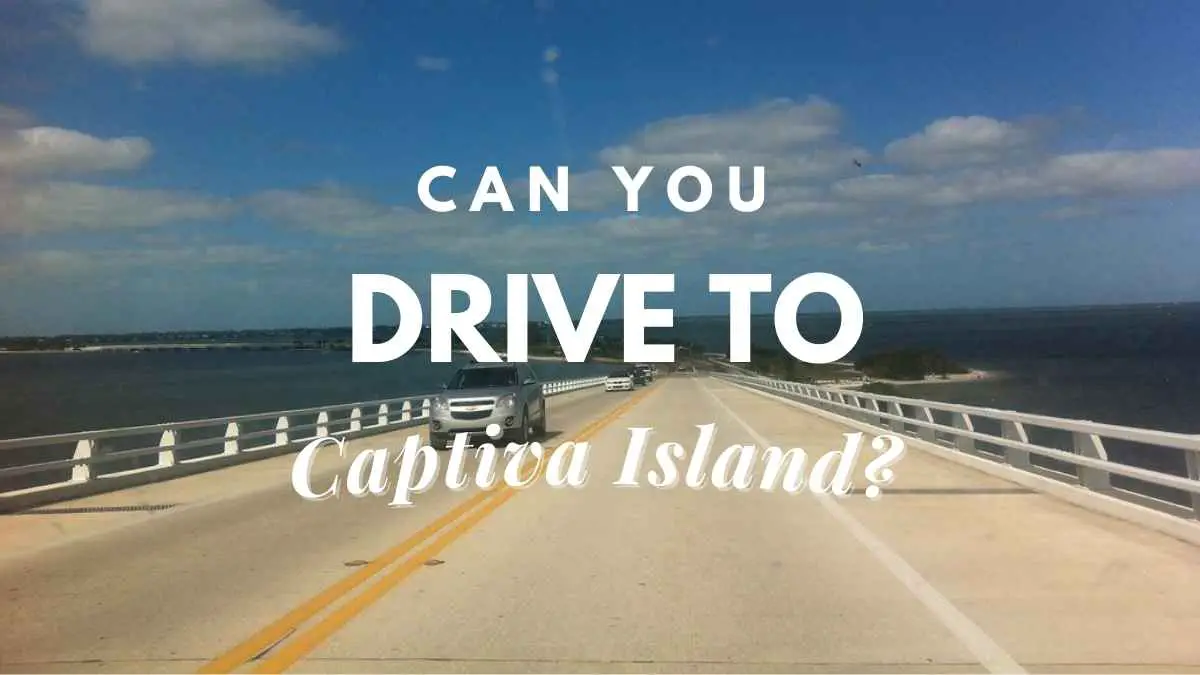 What is the best way to go to Captiva Island?
You have two major alternatives for getting to Sanibel or Captiva Islands from Southwest Florida International Airport (RSW). Both routes are little longer than 24 miles. Are you trying to figure out how to go to Captiva Island? Read our articles on RSW ground transportation choices and how to avoid the RSW rental car lineups.
Read: Is Traveling A Hobby? The Ultimate Guide To An Exciting Way Of Life Learn about the Downsides Of Traveling As A Hobby

Route to the South
The South route is the quickest and shortest, taking 40 minutes to complete the 24.1-mile journey. Take I-75 south out of the airport. Exit I-75 at Exit 128, turn right onto Alico Rd, and continue for 3.3 miles. Continue straight onto US-51 for 2.7 miles. Then, after 1.2 miles, turn left onto Gladiolus Rd. Continue on Summerlin Rd, which becomes McGregor Blvd, until you reach the Sanibel Causeway on the left.
Read: How To Get To Captiva Island ( Maps And Travel Information )
Route to the North
The North route is somewhat longer, taking 42 minutes to go 24.4 miles. Take I-75 north until you reach Exit 131. For 2.9 miles, follow Daniel Pkwy west. Follow 6 Mile Cypress Hwy for 2.9 miles on the left. Then turn right onto Gladiolus Rd. Continue on Summerlin Rd, which becomes McGregor Blvd, until you reach the Sanibel Causeway on the left.
Baseball lovers may like to use this route since it is close to JetBlue Park at Fenway South and the CenturyLink Sports Complex. If you've ever wanted to visit the Boston Red Sox and Minnesota Twins' respective Spring Training homes, a little detour on the Northern route will enable you to do so.
Read: Day Trip To North Captiva Island Itinerary
Causeway of Sanibel
The islands may be reached by automobile without using a ferry or hiring a boat to take you over Pine Island Sound, thanks to the Sanibel Causeway. This saves you time and money, as well as allowing you to drive throughout the islands.
The causeway between Sanibel and Captiva Islands is a toll road. The Sanibel Causeway Toll can no longer be paid in cash due to a recent change in Lee County regulation. LeeWay, a vehicle-based transponder system, handles all payments.
Tolls will be levied by license plate scan for cars without a toll transponder. Because most vacationers will not have a LeeWay transponder, anticipate paying an additional $3, bringing your total to $9. Toll payment information should be obtained from your rental vehicle agency since rental firms often add a service fee for tolls.
Sanibel Island to Captiva Island
Drive until you reach Periwinkle Way and turn right after crossing the Causeway. Periwinkle Way will lead you to Tarpon Bay Rd, where you will turn right at the stop sign. At Sanibel-Captiva Rd, you'll immediately come to another stop sign. Continue north on Sanibel-Captiva Rd. until you reach Captiva Island on the left.
Sanibel-Captiva Rd. becomes Captiva Dr., the island's major route, near Blind Pass, the tiny inlet that divides Sanibel from Captiva. As you travel along Captiva Dr., your final destination will be on your left or right.
Backlogs in traffic
Getting to Sanibel from the airport sometimes seem like just half the adventure. It doesn't take much for traffic in Sanibel to back up because it only has one major route. This is true in both directions of traffic. Traffic congestion may be caused by popular places, left-turning automobiles, and the odd traffic officer.
These are the places where you are most likely to observe a backup, from south to north:
Across the street from the bike route is Billy's Rentals. There may be a slight wait in this location due to cars turning into Billy's and bicycles crossing the street to reach the route. During high season, a traffic control officer is likely to be stationed at the junction of Jerry's Foods and Casa Ybel Rd.
Periwinkle Way comes to a T junction with Tarpon Bay Rd. Until you reach Andy Rosse Lane on Captiva, this is the only stop sign you'll see on Periwinkle Way, Sanibel-Captiva Rd, or Captiva Dr.  Turn right onto Palm Ridge Rd and travel north until it becomes Sanibel-Captiva Dr. to escape the probable Tarpon Bay Rd delay. Tarpon Bay Rd is a block away from Palm Ridge.
Getting ready to return to RSW
Simply follow these procedures in reverse while departing Captiva Island for RSW. Take one more glance at the Gulf of Mexico before traveling back to the airport. Schnapper's Hots on Sanibel is a fantastic location to stop for a quick lunch.
On Saturday mornings, the Starbucks queue outside the South Seas Island Resort may be long, with everyone getting their coffee fix before traveling to the airport. It's probable that Latte Da on Andy Rosse Lane will be a faster stop. Expect the same traffic jams on the way home, with one notable exception. If you're returning home, you'll need to turn left at Causeway Blvd to go back to Ft. Myers, so keep that in mind while traveling to the airport.