A little town called Whitmore Lake may be found in east Michigan, just west of Detroit. Whitmore Lake and two other smaller lakes are located close to the town. Independence Lake County Park is located just west of the city. The park offers both young and elderly a range of enjoyable outdoor activities. While there are some indoor activities at Whitmore Lake Michigan, most of the enjoyable activities center on the lake.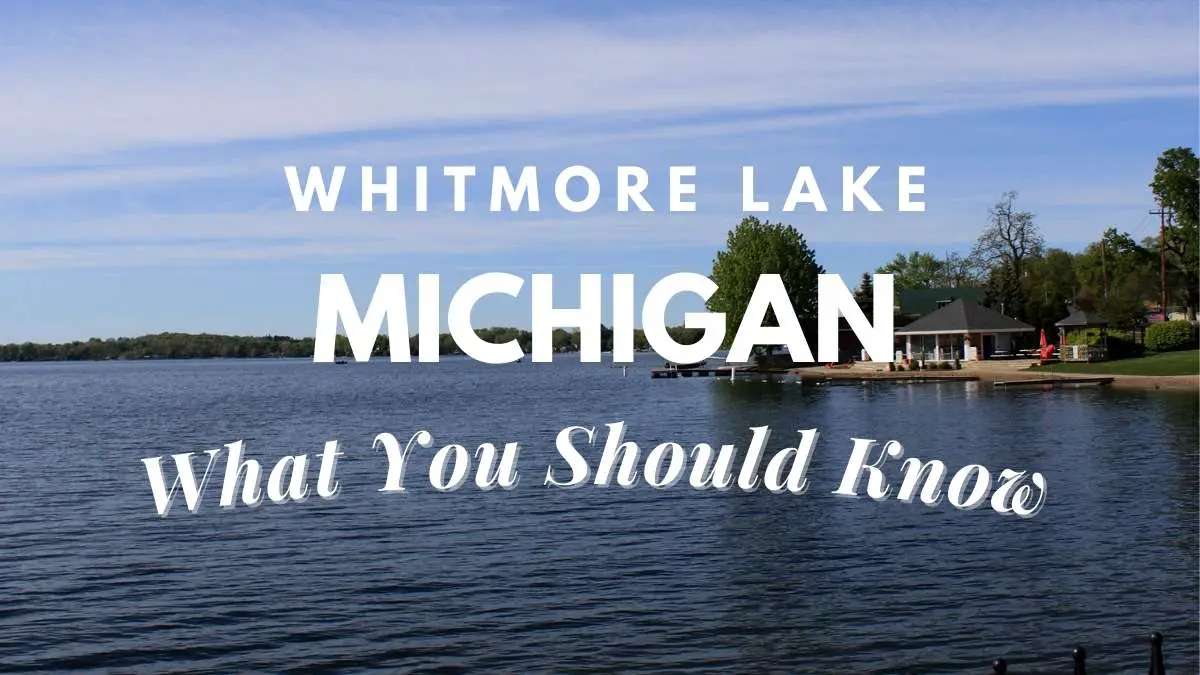 What is Whitmore Lake Michigan?
Have you ever been to a new location and experienced awe? Whitmore Lake is where it occurs for a lot of guests. Although Whitmore Lake may not be as well-known as other American communities, don't be deceived by that. Whitmore Lake is a newer, smaller, and lovely tourist site that is worthwhile seeing. You may be shocked by some of the unusual activities and locations you might discover in this undiscovered location.
It is possible to schedule a short detour here while on route to Detroit or Ann Arbor. You may want to go back there again sometime to take a break and unwind at Whitmore Lake.
Continue reading if you have travel plans to the US and are unsure if Whitmore Lake belongs on your itinerary. We've included some of the activities to do in and near Whitmore Lake in this list. If you include this city in your trip itinerary, we have a feeling you'll be glad you did.
Read: Is Traveling A Hobby? The Ultimate Guide To An Exciting Way Of Life Learn about the Downsides Of Traveling As A Hobby

Things to do at Whitmore Lake Michigan
1. The Spray Zone and Beach at Independence Lake
A sandy beach more than 300 feet long and clear water make Independence Lake County Park (ewashtenaw.org) a great place to swim and relax in the sun. Visitors may visit the beach every year from Memorial Day until Labor Day. There is a grassy space for picnics and lawn activities just beyond the sandy shore. The park has a Spray Zone water playground with geysers, sprayers, and sprinkler showers for children. The Spray Zone is open every day from 10 a.m. to 8 p.m. and is located close to the main beach.
2. Boating
Whitmore Lake has a variety of lakes, making it possible for locals and tourists to hire boats. Non-motorized boats provide a wonderful way to explore the water at Independence Lake County Park (ewashtenaw.org). Row boats and paddleboats may be rented in the park. On the lake, canoes and kayaks are also permitted. On Whitmore Lake's beachfront, Mac's Marina (macsmarina.com) rents out powered row boats, fishing boats, and pontoons. If you own a boat, Mac's also offers dock space for rent on Whitmore Lake.
3. Nature walk
Independence Lake County Park's (ewashtenaw.org) hiking routes meander through prairies, marshes, and woodlands. The three-mile walk is excellent for observing uncommon plants and birds. To see the animals in the wetlands, be sure to visit the observation tower there. The park also has a two-mile paved walkway that is better suited for bikes, strollers, or wheelchairs. There are accessible naturalist-led guided nature trips throughout the park.
4. Fishing
Fish including walleye, smallmouth and largemouth bass, pike, bluegill, crappie, carp, and catfish may be found in Whitmore Lake's waters. Anyone with a fishing license is allowed to go out into the water and use a rod and reel to cast their luck. Fishing is a year-round activity. Ice fishing is possible at Independence Lake County Park (ewashtenaw.org) throughout the winter. Bluegill, pike, and perch are a few of the more popular catches. The park holds an ice-fishing competition every February with rewards for the top three anglers in both the adult and youth divisions.
5. Golfing
Famous golf club Whitmore Lake Golf Links is situated in Whitmore Lake. The club is located on 254 acres and provides guests with access to an 18-hole golf course. While playing the sport here, you may also take in some breathtaking natural vistas. If you're a newbie, you may also enroll in one of the many instructional sessions to learn more about the game. There is a bar located here where you may choose from a variety of beverages. You have the option to host a variety of private events at Whitmore thanks to its 160-seat dining room, banquet hall, and dance floor.
6. Whitmore Lake's Jennings Athletic Complex and Park
Add the top Whitmore Lake hotels to your itinerary to make it even more memorable, such the Holiday Inn Express Hotel & Suites Brighton, Microtel Inn & Suites by Wyndham Ann Arbor, and Red Roof Inn Ann Arbor North University.
Things to keep in mind before you visit Whitmore Lake Michigan
Whitmore Lake is by far the most well-liked residential lake in the Ann Arbor region. This natural lake in Southeast Michigan has been a popular destination for seasonal and year-round racegoers who love to fish, swim, boat, waterski, tube, sail, and engage in other water activities for over a century. Despite being spring-fed and without any natural inlets or permanent outputs, the lake's level is kept at the permitted minimum of 895.8 feet thanks to a tiny water management weir. A canal from adjacent Horseshoe Lake was formerly built in order to increase the lake's water levels during dry seasons; now, water is pumped into the lake from the same source.
1. Tourist attractions in Whitmore Lake
Nearly the whole coastline of Whitmore Lake is home to year-round residences. There are no public parks or beaches on the lake, and the sole boat launch for visitors, operated by the Department of Natural Resources (DNR), requires a State Recreation Passport. Along with slip rentals and docking space, a commercial marina also provides a place for individuals to launch their own boats. Row boats, fishing boats, and pontoons are among the watercraft that may be rented. Whitmore Lake is one of the most often used water-skiing lakes close to Ann Arbor and Howell, hence the lake is frequently fairly crowded. The 667-acre lake is surrounded by a variety of "neighborhoods," a few condo buildings, and Whitmore Lake, a tiny unincorporated community on its western bank.
Whitmore Lake residents enjoy all the benefits of a close-knit community of friends and all the conveniences of small-town living without giving up access to Ann Arbor's lively nightlife, unique artisan stores, or international cuisine, which is located less than ten miles to the southeast. At the Institution of Michigan, Ann Arbor also has all of the recreational and cultural amenities of a big university. Less than 10 miles to the north are Howell and Brighton, which provide upscale shopping. About 30 miles separate you from Detroit Metro Airport.
2. Sports available at Whitmore Lake
A wide variety of sport fish make Whitmore Lake a popular place to go fishing. In addition to a few tiger muskie, anglers also catch bluegill, largemouth bass, northern pike, smallmouth bass, pumpkinseed, black crappie, redear sunfish, and yellow perch. For more than 60 years, the Michigan DNR has monitored the fisheries and tried out various stocking techniques. Northern pike and tiger muskie have both been routinely supplied in Whitmore Lake since 1969, although neither species has ever grown to be extremely common.
Many people think that the lake's heavy boat traffic prevents some of the bigger predators from thriving. However, both the bass and the panfish seem to be doing well. Many fishermen still enjoy a day on the lake despite the fact that some naturalists feel that the heavily built coastline leaves the pike with limited breeding territory.
3. Where to stay?
On Whitmore Lake, resorts and guest houses were previously widespread. The old-fashioned resort hotels are now gone, but some landowners still let out their houses or guest cottages to transient guests. In the village of Whitmore Lake and along the surrounding highway, US 23, there is a large chain hotel. Pinckney Recreation Area, Brighton Recreation Area, Island Lake State Recreation Area, as well as other Metroparks, are among the well-known state recreation areas that are close by. In addition to these outdoor leisure options, there are a number of tiny hotels, resorts, and campers that provide accommodation, sometimes on a small lake.
Independence Lake County Park, located just southwest of Whitmore Lake, has a public swimming beach, a spray park, picnic spaces, a boat launch for vessels under 10 horsepower, and paddleboat and rowboat rentals. Through marshes, forests, and grasslands, trails for nature observation provide room for bicycling, rollerblading, cross-country skiing, and snowshoeing in the winter.
4. Take a look at year-round activities
The community of Whitmore Lake provides a number of yearly activities and events that are enjoyed by both locals and tourists. The Whitmore Lake Water Ski Club puts on a weekend-long Fourth of July celebration complete with boat parades, fireworks, racing, and free "Movies Under the Stars" on the lakeside next to the library. In late September, there is a festival called Whitmore Lake Harvest. More odd events take place all year long in Ann Arbor in addition to the normal festivals and cultural occasions like the well-known Ann Arbor Art Fair.
Every year in Ypsilanti, at the Automotive Heritage Museum and National Hudson Motor Car Company Museum, the Orphan Car Show takes place. The event showcases cars from long-gone manufacturers like the Hudson, and for the enthusiast, it is perhaps their last chance to see these classic automobiles. Annual hovercraft races are held in Brighton Recreation Area, while the Smokin' Jazz & Barbecue Blues Festival is held at Brighton City Hall. There are always plenty of things to do in the region.
Leon Whitmore, who weirdly never resided near the lake, is the subject of the name Whitmore Lake. He spent the night camped close to the lake while out "land-looking" with a local surveyor from Ann Arbor Township. The surveyor took advantage of his right to do so in the morning and labeled the lake on his map as Whitmore Lake. The name endured. Whitmore Lake is now well-known across the region, and most people know someone who lives there. Real estate is often available and comes in a variety of pricing ranges. There isn't much available ground for construction, but there are already built houses in every possible arrangement waiting for a buyer. Whitmore Lake is a very desired location and a terrific spot to return home to since commuting to some of the wealthiest cities in Michigan is within a short distance. So first stop by for a visit before staying. Make Whitmore Lake your go-to lake for a residence.
Other tourist attractions around Whitmore Lake Michigan
Whitmore Lake is not a massive region, and you will not find a lot of tourist attractions here. This is why you should also be aware about the best tourist attractions available around for you to enjoy.
1. Mackinac Island
True island living! Locals and visitors to Michigan can't get enough of Mackinac Island, one of the state's top attractions. The number of seasonal employees and visitors more than make up for the fact that the permanent population is significantly below the 1,000-person threshold.
It should come as no surprise that this island draws visitors because of its stunning scenery and sceneries. Unwind on a gorgeous, isolated beach or fight the surf on a boat trip. Additionally, Mackinac Island is a fantastic place to go exploring! The island's state park is home to the well-known limestone arch known as Arch Rock. The arch surrounds the island in a stunning rainbow of blue and green, making it one of the most popular trails for both hiking and tourism.
Another impressive feature of Mackinac Island is its incredible collection of natural butterflies. Visit the Butterfly House and Insect World to explore the marvel or go to Wings of Mackinac. Not "what to do," but rather "what isn't there to do," is the issue with Mackinac Island.
2. Picturesque Rocks State Lakeshore
Pictured Rocks is really beautiful! One of Michigan's most spectacular locations to honor Mother Nature's beauties is here. It has stunning rainbow granite formations and is located on the beaches of Lake Superior.
It extends across countless acres of unspoiled wilderness and offers some of Michigan's greatest vistas. The rocks and formations that surround it only further enhance the breathtaking sight. The water is often that gorgeous blue-green mix. The Pictured Rocks National Lakeshore is open twenty-four hours a day. The usage of this park throughout the day is free. There are certain costs and passes to be aware of if you want to camp, however. Camping at a drive-in costs $20 per night.
The necessary permits, passes, and a $5 per person per night cost are required for backcountry camping. Visit the official Pictured Rocks National Lakeshore website for more information on the specifics of the fees and passes.
During the summer, the general public may also take tours. These trips, which are led by rangers from Wednesday through Sunday, cost $3 per person over the age of six. Tours are a fantastic way to view the park since rangers know exactly what is and isn't worth stopping for.
Rangers can also provide historical context and knowledge not else accessible. Pictured Rocks National Lakeshore invites you to embrace the wildness that calls to you!
3. The Henry Ford Museum
You may explore and learn about some of America's best and most ingenious inventions here. You will appreciate seeing the Presidential Limousines display if you prefer automobiles, and you will admire the Heroes of the Sky exhibit if you enjoy anything related to aviation and flying. The legacy of American inventors from the 18th to the 20th century will fascinate you as you go back in time.
4. The State House of Michigan
It's not necessary to go to Washington, DC, to visit an old government structure. Visit Lansing to visit the Michigan State Capitol instead. At the time of its opening on January 1st, 1879, the structure was regarded as a triumph of architecture. At the time, it was one of the first state capital buildings to incorporate a tall cast-iron dome. It now serves as a National Historic Landmark and welcomes more than 100,000 visitors annually. Visitors may enjoy nine acres of hand-painted art at the capital in addition to the architecture.
5. University of Michigan
This institution, which is the home of the mighty Wolverines, is among the best in the nation in several areas other than athletics. A Natural History Museum, the Power Center for the Performing Arts, the Kelsey Museum of Archaeology, the University of Michigan's Museum of Art, and the Matthaei Botanical Gardens are just a few of the many attractions on the 2,800-acre campus. At the University of Michigan, there is a lot to see and do, enough for a whole day of activities and engaging instruction.
6. Isle Royale National Park
Isle Royale is a location you should visit at least once in your lifetime if you have always liked camping and trekking. This untamed landscape is bordered by Lake Superior and provides even the most daring outdoor enthusiast an unforgettable experience. Among the many exotic animals that roams freely in the park are wolves and moose, which you may come upon when hiking the paths.
7. Lakeshore of Sleeping Bear Dunes National Park
Numerous rankings of the most stunning locations in America include Sleeping Bear. There are more than 70,000 acres of area to explore at this park in northern Michigan. It has dense woods, kilometers of sandy coastline, and breathtaking lakeside vistas that are unimaginably beautiful.
You may trek through the Maple Beach Forest for some of the most magnificent vistas, or you can pack your bag and climb the dunes or swim in the lake. The historic Glen Haven Village and South Manitou Island Lighthouse may also be found at Sleeping Bear.
8. Michilimackinac in Colonial Times
There is even some history on Mackinac Island, located in the likes of Colonial Michilimackinac. This fort from the 18th century doubles as a cutting-edge interactive museum. There are many historical exhibits to go over, and from its fortified castle lookouts, you may even get some fairly nice views.
Visitors are invited to put themselves in the shoes of genuine revolutionaries in 1776. The moment of American independence and the war that occurred. There are historical cannon and musket firings, as well as quite a few historical-themed activities for the younger people. The historic Fort Mackinac is the area's main claim to fame. It is one of the best attractions on the whole island, not just the complex!
Hours and entrance fees at Colonial Michilimackinac vary. The hours of operation from September 2 to October 4 are from 9 a.m. to 5 p.m. For up-to-date information, be sure to visit the official website since hours vary by season and are subject to change. Admission costs for adults are $12.50 on-site, and $12.00 online. Children (ages 5 to 12) pay $7.25 and $7.00 locally.
Live history instead than simply learning about it! You will be led by Colonial Michilimackinac through the highs and lows of the American Revolution to the current state of the American spirit.
9. Detroit Institute of Arts
Visit the Detroit Institute of Arts to sate your appetite for art and all the loveliest things in life. This museum, which boasts the biggest and most important art collection in the nation, is home to over 60,000 original and imaginative pieces that will astound and astonish you.
Some of the finest painters from Africa, America, and Asia have pieces in their collections. You may attend their drop-in workshops, Arts and Minds Lectures, and Drawing in the Galleries events if interactive exhibits are more your style.
Final words
Now you have a clear idea on what the Whitmore Lake Michigan is all about. Based on that, you can travel there, and you will be able to end up with getting an enjoyable experience. Make sure that you plan for the surroundings and identify the best activities that are available for you to engage with for getting the most out of the visit.