One of those off-the-beaten-path vacation spots that many people fall in love with on their first visit is Sheridan, Wyoming. There are plenty of open areas, breathtaking mountain vistas, Western heritage, and many of the conveniences you're accustomed to when vacationing in this area. Here are eight of our top things to do in Sheridan, whether you want to experience the real Wild West, get some exercise, or simply get a delicious drink. If you are searching for things to do in Sheridan WY this weekend, read this article and figure them out.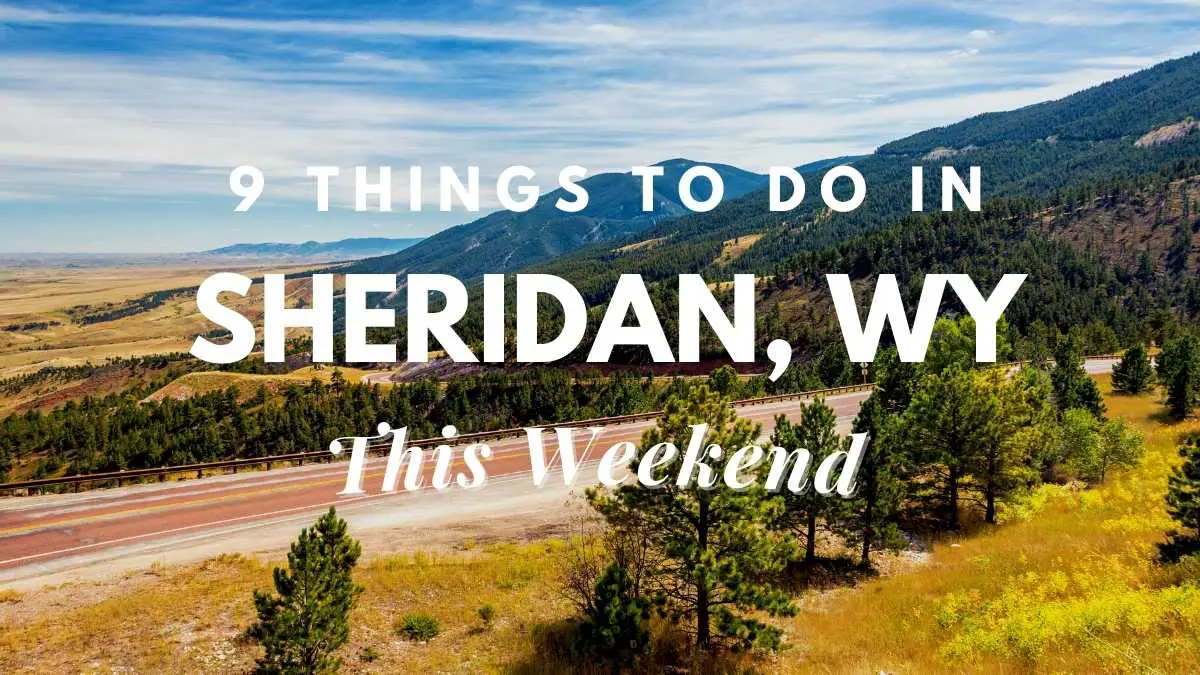 1. The Big Horn National Forest
The Big Horn National Forest and the Big Horn Mountains are two of this region of the country's main attractions. North-central Wyoming is a fantastic spot to enjoy the great outdoors. This is a well-liked road trip destination since it is a sister mountain range to the Rockies and is situated between Yellowstone National Park and Mount Rushmore. Here, the varied topography includes grasslands, mountain cliffs, glacier-carved valleys, and alpine meadows. The national forest has 30 campsites, four group campgrounds, a number of cabins, and picnic places. There are over 1,200 miles of hiking trails and 189,000 acres to explore here, making it a terrific spot to go trekking. And even better, there is no charge to enter the national forest. The cost of camping is also quite reasonable, ranging from $13 to $20 per night.
2. Shell Falls in Wyoming's Shell Canyon
Shell Falls is another fantastic natural place to check out while you're in this region of Wyoming. The falls here, which are a part of the Bighorn Mountains, release 3,600 gallons of water per second. Its name comes from the shell fossils that may be found close in the canyon walls. About 21 miles from Burgess Junction, there is a Shell Falls Interpretative Site that is accessible every day from 9:30 am to 5 pm. To discover more about the old granite and sedimentary stone, pay a visit to this tourist center. Shell Falls is open to the public for free.
3. Black Tooth Brewing Company
After a day of touring, stop by the Black Tooth Brewing Company for a pint of regional beer. Monday through Thursday, noon to 10 p.m., Friday and Saturday, noon to 11 p.m., and Sunday, noon to 7 p.m. are the hours of operation for the brewery. The Hot Streak IPA, Saddle Bronc Brown, Wagon Box Wheat, and Bomber Mountain Amber are year-round beers. On-site, you may also get beers that are limited in supply and seasonal. This brewery takes pleasure in being situated at the foot of the Bighorn Mountains in the untamed west. Although there are no meal options available at the brewery, you may still buy some amusing souvenirs while you're here.
4. Trail End State Historic Site
While in Sheridan, you should also pay a visit to the Trail End Historic Site to learn more about a significant time of transition in the town's history. This historic estate has several gardens and walking areas as well as a collection of family antiques and artifacts. For first-timers in the neighborhood, it's a gorgeous and enjoyable real home museum to see. Discover what it was like to live between 1913 and 1933, a time when technology and society saw a great deal of change. Between April 1 to December 14, this historic site is open, and admission is $2 for adults who are residents and $4 for those who are not. All minors under the age of 17 are admitted free of charge. Learn why the location is said to be haunted, take a self-guided tour, or sign up for a group tour with a guide.
5. Sheridan County Museum
The Sheridan County Museum is another fantastic location for learning about the American West. The museum was established in 1960 with the purpose of educating both residents and tourists by preserving and displaying historical objects. Black Diamonds in Sheridan County, Before Custer There Was Rosebud, and the Tongue River Tie Flume are examples of permanent exhibitions. If you're interested in history or the arts and cultures, there are a ton of additional things nearby as well. Some seasonal exhibitions have featured information about Sheridan County during World War I. On Thursday through Monday, this Sheridan Museum is open from 9 am to 5 pm, but it's closed on Tuesdays and Wednesdays. Youth and students pay $3 apiece, while adults pay $6 to enter.
6. Wyoming's The Powder Horn Golf Club
Sheridan is one of the best places to play golf in the American West, which may surprise you. If you like the sport, you should check out some of the area's well-known golf courses, such as the Powder Hole, Buffalo Golf Club, Hidden Ridge Golf Club, and Kendrick Municipal Golf Course. A championship course with 27 holes is The Powder Horn, for instance. The Kendrick features excellent vistas of the adjacent Bighorn Mountain range and is the most well-liked public course in the region. You may also start your round at the par-72 Hidden Bridge Golf Club, one of Wyoming's newest courses. It includes five sets of tees, 23 bunkers, and a rough topography.
7. Sheridan WYO Rodeo
Wyoming is not an exception to the fact that rodeos remain a significant aspect of life in the American West. The Sheridan WYO Rodeo has been running strong for over 90 years and usually takes place in the middle of July. Some of the best cowboys and cowgirls come here to perform, and it's a fun event for the whole family with a carnival, pancake breakfast, and pow-wow.
8. Ucross Foundation Art Gallery
The Ucross Foundation, a 20,000-acre ranch where artists live and collaborate to produce new works, is a wonderful location to check out while you're in the Sheridan vicinity. In order to support artists from all over the globe and across numerous disciplines, Raymond Plank founded this website as a charity in 1981. The enormous red barn on site is an art gallery open to the public where they may see the year-round shows featuring local artists. The gallery is normally open from 8:30 am to 4 pm on weekdays and from 10 am to 4 pm on Saturdays during the summer.
9. The historic Sheridan Inn
The railroad was given the blueprint for the iconic Sheraton Inn by Buffalo Bill. The hotel has 22 rooms, each of which is furnished with information on a well-known Wild West figure. The hotel may be hired out for special occasions. If you are looking for a unique accommodation in the region, this would be a great option to consider. The staying experience that you have in this inn will be completely different from all other similar experiences that you had in the past. Therefore, you don't have to worry too much about anything as you go ahead with this experience.
Final words
If you are trying to find things to do in Sheridan WY this weekend, you can refer to this as a reliable guide. We guarantee that you can end up with getting a bunch of outstanding experiences during your stay. All you have to do is to plan the visit accordingly.