When it comes to kayaking, Florida has a lot to offer, from twisting riverways to huge swampland and crystal blue water. Throughout the state, you may choose whatever form of kayaking best suits your needs. With that in mind, the greatest locations to kayak in Florida were picked from among these eight options. If you wonder where to kayak in Florida without alligators, you can take a look at the following list.

Best places for kayaking in Florida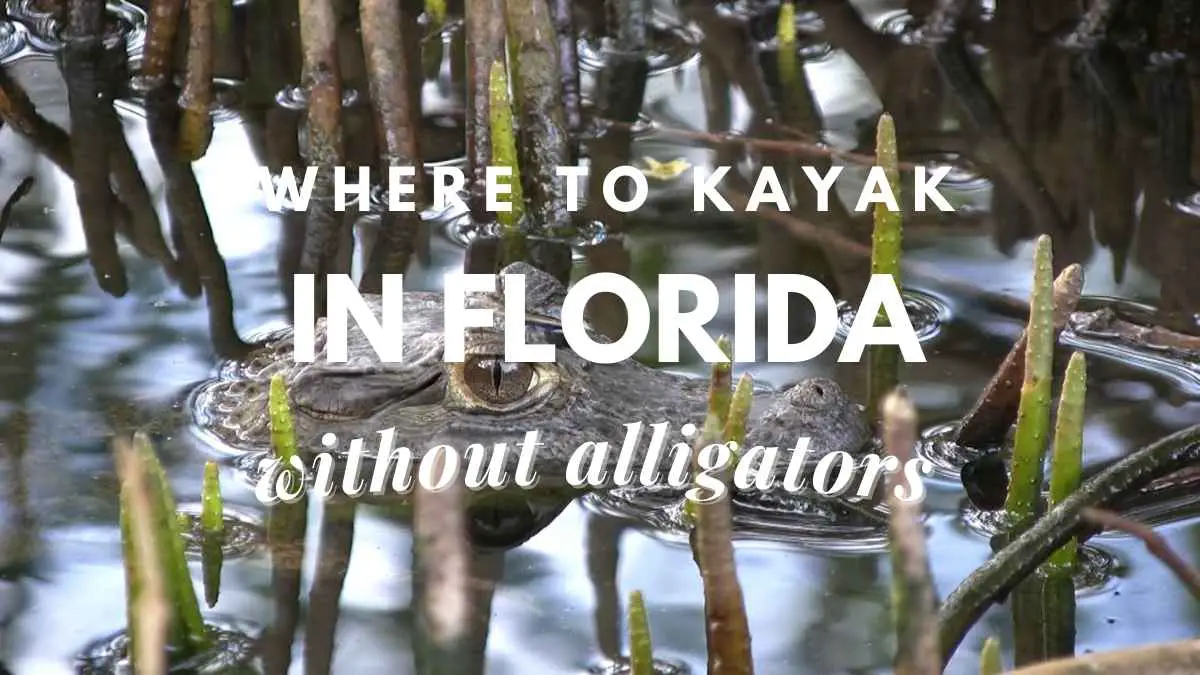 1. Suwannee River Wilderness
The Suwanee River is a 246-mile river that runs all the way from northwest Florida to the Gulf of Mexico. The Suwannee is perhaps Florida's most well-known river. This river is quite friendly for any paddler, with access stations situated along the river and at Suwannee River State Park.
The river is calmer, which is ideal for kayaking, and there are several sandbars along the way for regular pauses. Along the river, the Suwannee River Wilderness Trail has amenities. The path begins in White Springs and makes its way to the Gulf of Mexico approximately 171 miles.
The eight park "hubs" that border the river provide overnight lodgings along the Wilderness River Trail. Alternatively, if you want to remain along the river, there are a number of river camps that can only be reached by boat.
Before hitting the water path, check with any of the local outfitters to obtain a feel of the river's status. The river may be quite high at times, and extremely low at others, exposing shoals that need a kayak to be towed through.
Read: Is Traveling A Hobby? The Ultimate Guide To An Exciting Way Of Life Learn about the Downsides Of Traveling As A Hobby

2. Paddling Trail on the Calusa Blueway
If you haven't noticed, we like kayaking on water paths. Why? Water trails are designed with paddlers in mind, including facilities for multi-day journeys and route markers. The 190-mile Calusa Blueway Paddling Trail, which runs along the Gulf of Mexico in southwest Florida, is no exception.
The Calusa Blueway is also home to a variety of species. This is due to the trail's varied terrain, which includes walking across rivers, through islands, and along beaches. The Calusa Blueway is divided into three portions, the first of which takes the kayaker across Estero Bay, Pine Island, and Matlacha Pass, and then to the inland Caloosahatchee River. There is also a handy app that can be downloaded here to aid navigate, discover information, and resources on the Calusa Blueway.
Read: Guide To Kayaking Fernandina Beach In 2023
3. Weeki Wachee Springs
Weeki Wachee Springs, which is part of Weeki Wachee State Park, has turquoise water and miles of cypress trees bordering the riverbanks. The Weeki Wachee, located in west-central Florida, is ideal for kayakers of all skill levels who wish to enjoy the clean water and beautiful landscape. In fact, the water temperature remains constant at 72 degrees throughout the year, so if you're wondering what the ideal water temperature for kayaking is, here is it.
The Spring will take you roughly three hours to kayak through the twists and turns. Because the current is generally constant, you may paddle at a reasonable speed or just relax and enjoy the scenery around the lake. The river will come to a close near the Gulf of Mexico at Rogers Park. It is advised that you take a shuttle back to the Spring's beginning location.
Read: How To Kayak Pictured Rocks Without A Guide
4. Juniper Run
In the Ocala National Forest, Juniper Run is a kayak and canoe run. The river is small and meandering, carrying kayakers along a 7-mile length of coastline flanked with old-growth trees on both sides. To get to the waterway, be sure to come before 1 p.m.
At Juniper Run, kayaks, canoes, and other watercraft must be hard-shelled and not inflatable, as the laws are quite specific about vessel type, wrappers, containers, and other goods. Juniper Run is an intermediate to advanced skill level of difficulty, and the water is fast-moving. As the river narrows, the current may pick in pace, resulting in smaller rapids and impediments in the water to navigate around.
There are facilities and an outfitter at the take-out site, which is situated at Wayside Park. Turtles, deer along the coast, and even an alligator or two are common sights.
Read: 11 Best Kayaking Spots In Alabama
5. The Rio Grande de Santa Fe
The Santa Fe River paddling path is 26 miles long and runs from the wetlands of North Florida to O'Leno State Park in the west. The river will vanish at O'Leno Park, where it will run underground, until resurfacing three miles distant in River Rise State Park.
River water levels have been known to drop to dangerously low levels, making kayaking a bit more challenging. When the water levels are greater, however, the river runs freely, allowing a kayaker to explore a region that has been traversed by local people for over 14,000 years.
The river is also noted for its subterranean cave system, which is 180 feet below the surface and filled with water. After passing through different wetlands and forested regions, the river will finally link up with the Suwanee River.
6. Silver River
In Ocala, Florida, the Silver River is found inside Silver Springs State Park. Kayakers may start at the Fort King Waterway and continue the short path until it reaches the Silver River. Countless springs flow into the river from here.
The Silver River's current may be strong, causing the springs that run into the river to hurry up. The glass bottom boats that transport visitors along the canal may cause traffic on the river, which you must be aware of. Kayak rentals are offered at the park as well. However, since there are a limited number of kayaks available, arriving early to secure one is essential.
Read: Ichetucknee Springs Kayaking Guide 2023
7. Manatee River
The Manatee River, which runs along Florida's Gulf Coast for 46 miles, features vast rivers that reach all the way to Tampa Bay. The 9-mile Manatee River Paddling Trail is the primary attraction.
The trail itself contains various sandbars where you may stop for a picnic or just relax with your kayak for a while. The difficulty level is moderate, which makes it ideal for appreciating the river's forested borders. You may encounter a few obstructions in the river as it flows, but the water is largely open and free-flowing.
There is also a plethora of fauna. The region is home to turtles, herons, a variety of birds, and even alligators. Paddling against the current on the way back up the river might be a bit more challenging, but it's still doable.
Read: 3 Best Amelia Island Kayak Excursions
8. River Rainbow
The Rainbow River is noted for its crystal clear water, which adds to the excitement of kayaking the river, particularly when you can see the fish swimming under your kayak in the water.
When allowed, the water is usually a pleasant 72 degrees, making it ideal for kayaking and swimming. After roughly 6.5 miles, the river connects with the Withlacoochee River. There will be lots of bird sightings in the vicinity, but the pure water is really the primary draw here.
The kayaking season, which runs from autumn to spring, runs counter to the popular tubing season, allowing the river to be free of much of the congestion that occurs during the summer months.
Read: Can You Kayak On Lake Michigan?
In Florida, do alligators attack kayakers?
In Florida, there have been reported occurrences of alligators attacking kayaks. Alligators are territorial creatures that may be violent toward people, particularly during breeding season. Alligators attacking kayaks are uncommon in Florida. If you are faced with an alligator, though, there are several things you should do. The following are a few points to bear in mind:
It's not a good idea to attempt to feed an alligator.
If you see an alligator, keep your distance.
Keep out of their way.
Avoid being cornered by an alligator.
See this whole page for a complete list of things to do if you come across an alligator.
Is Kayaking in Florida Dangerous?
Alligators come to mind when most people think of Florida. So, is kayaking in Florida safe? It's a tough issue to answer clearly but kayaking in Florida is generally safe. Humans are typically avoided by alligators. However, they may and will attack humans or small animals like as dogs in certain circumstances.
Kayaking in Florida is generally considered safe. If you do chance to come into touch with an alligator, the hazards are still minor as long as you use common sense. Hornets, bees, and wasps account for an average of 56 animal-related deaths per year when comparing animal-related fatalities per year. Alligator-related deaths, on the other hand, occur roughly once a year on average.
Read: Washita River Kayaking Guide
Is a Kayak Permit Required in Florida?
Fortunately, there are no registration requirements for individuals kayaking with a paddle in hand in Florida. If you're going to use a trolling motor on your kayak, you'll need to register with the Florida Department of Motor Vehicles. The cost of registration is $5.50 for children under the age of 12 and $16.25 for those between the ages of 12 and 16.
Read: A Complete Guide To Kayaking Yellowstone Lake In 2023
Final words
The state of Florida is more than simply swamps and blackwater rivers. There are plenty additional things that may make kayaking here a memorable adventure. This is particularly prevalent on the state's western border, near the Gulf of Mexico. Take a look at the places on where to kayak in Florida without alligators and you will enjoy the experience that comes on your way.