Indiana is well-known for its basketball players, automobile sector, and maize production, but there is much more. The state of Indiana is also recognized for its amazing off-road parks. Whether you're going off-roading with your Jeep, ATV, UTV, or dirt bike at the Badlands Off Road Park in Attica or the motocross track in Haspin Acres, Indiana has plenty of alternatives. Find more about some of Indiana's top off-road parks.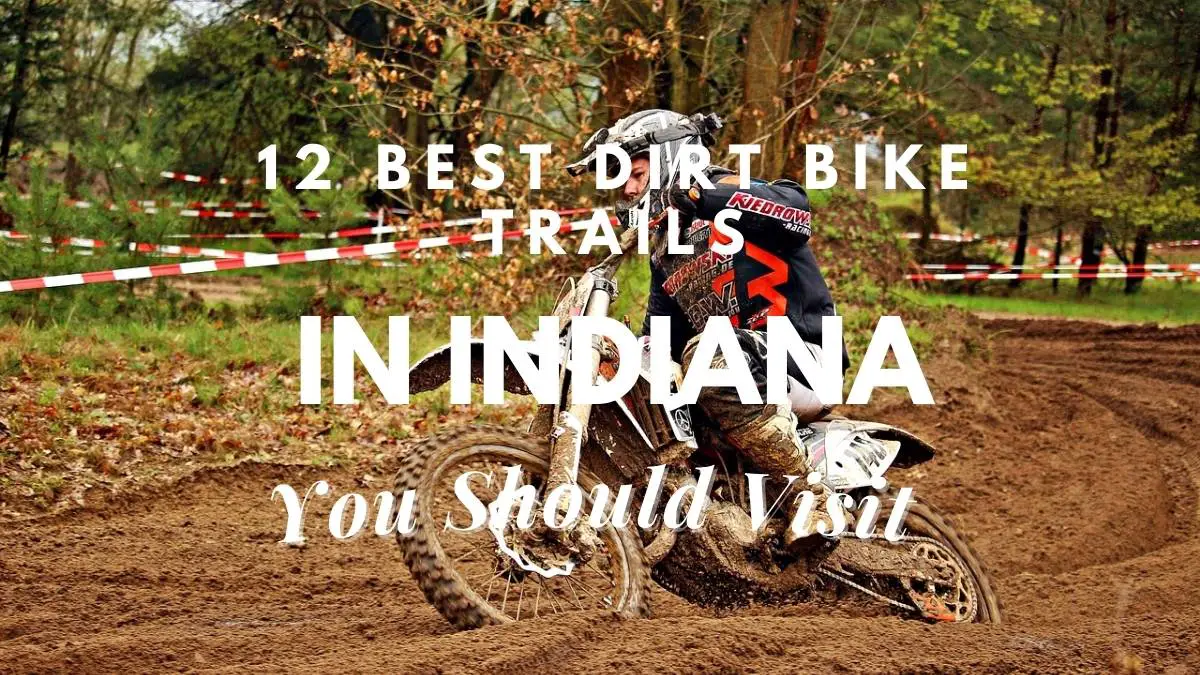 1. Badlands Off-Road Park
More than 800 acres of dunes, pea gravel hills, mudholes, and precipitous drop-offs, as well as many dedicated ATV riding zones, make up this amazing off-road park in Attica. The Rock Quarry/SUV Park zone is recommended for SUV/4×4/SxS riders, while the MX Track zone is recommended for ATV or bike riders. Extreme rock crawling or driving over water and stream crossings are available to daring adventurers.
It is an excellent place for families because of the safety precautions and tight drinking laws. The admission prices are inexpensive, especially for younger riders. For additional information and a calendar of events, see their website.
Read: Is Traveling A Hobby? The Ultimate Guide To An Exciting Way Of Life Learn about the Downsides Of Traveling As A Hobby

2. Haspin Acres
Haspin Acres is a motocross track and off-road zone located in the midst of rural Indiana. There are Jeep paths, mud bog pits, and drag strip locations spread out across 750 acres. This ATV park is so lovely that it attracts both quad enthusiasts and newlywed couples. If you prefer a serious ceremony with your family and close friends, Haspin Acres is the perfect wedding setting.
Pre-registration is necessary; therefore, guests must go online before visiting the park. All motorcyclists under the age of 18 are also obliged to wear a helmet. On their website, you can find park standards, shelter rents, and contact information.
3. Redbird State Riding Area
This 1,400-acre off-road park in Indiana, which was once an abandoned coal mine near Linton, has been devoted to off-roading activities since 2003 and rewards off-roaders with unique and different experiences. The trails are divided into three categories, from simple to difficult, and are only accessible by motocross motorcycles, ATVs, and off-road Jeeps. The Indiana Department of Natural Resources suggests that people bring off-road tires, winches, and travel in a group with recovery capabilities while visiting Redbird SRA since the trails become more challenging during severe weather.
You may go mushroom hunting, fishing, hiking, non-motorized or electric boating, and mountain biking in addition to ORV activity. Patrons, both residents and non-residents, pay low admission prices. Visitors must adhere to all property restrictions at all times, including the requirement that all vehicles be registered or licensed (street legal). Non-registered out-of-state ORVs may buy an annual Out-of-State Trail Utilize permit, which allows them to use the Interlake and Redbird trails but not county highways.
4. Lawrence County Recreational Park
The Lawrence County Recreational Park (LCRP) has 400 acres of trails, rolling hills, and meadows, as well as more than 60 miles of beginner to expert trails for all ability levels. ATVs, UTVs, and dirt motorcycles are the only vehicles allowed, giving riders an added sense of protection. For those staying overnight, the location has an RV park where you may spend the weekend with your loved ones.
5. Interlake State Recreation Area
This park near Lynnville offers 3,550 acres of terrain for a variety of usage, including off-roading. It has 50 miles of trails for hikers of various abilities, including beginning paths in the center. Mountain bikes and ponies are likely to be seen along the road. ATVs, dirt bikes, and custom-built equipment are all allowed.
6. Brown County eXplore
Nashville, Indiana is another fantastic location for an outdoor experience. eXplore Brown County was designated one of the top trail networks in North America by Bike Magazine. It contains 30 miles of ATV and four-wheel-drive routes, as well as a roughly 30-mile mountain biking path with a 2,432 foot elevation gain. Its single track has berms, tight trees, rock gardens, and steep turns, among other features. There are also 15 world-class zip lines, hiking, and a fantastic paintball setup in the country. Camping/picnics, swimming, and fishing are some of the other recreational activities available.
7. Maumee Riding Park
Maumee was formerly an abandoned mine that has been converted into an off-road park. It is now family-owned and run, with plans to expand the 400-acre site to add mud bogs, mud drags, and other attractions. This newer park is ideal for green riders who like trail cruising. Some of the riding sections include concrete slats, heavy equipment tires, and logs, which provide for some really difficult climbs. It also has a number of events scheduled through September.
8. Wildcat Creek MX
What began as a home practice track more than a decade ago has grown into Indiana's Premier Racing Facility? Wildcat is one of the few spots in the world where everyone may enjoy motocross. The tracks are designed to be user-friendly and rider-friendly, and they are watered and prepared before each planned practice or racing event. It also features a diverse topography, with lengthy stretches and multiple step-ups and step-downs. This 100-acre riding facility is open to both dirt motorcycles and ATVs and has a wide, grassy viewing area. If you wish to race, you must be a member of the GLMX.
9. Foxx Lake Outdoor Adventure and Campground
This pleasant campsite and ATV riding facility is located near Portland. This 50-acre property, once known as Old Man Potter's Farm, is great for folks who want to go out and enjoy life. You may camp here, stay in one of their equipped cabins, go fishing (they have a stocked pond), or go horseback riding to forget about your concerns. From April 15 to November 1, Foxx Lake is open, and the charges are relatively reasonable. Throughout the season, the off-road park holds unique events such as mud bogs, live music, and corn hole competitions, all of which are sure to make your stay a fun!
10. FMX Paradise MX Park
Quads, two-stroke motors, and dirt bikes/motorcycles are welcome at this 40-acre property near Medaryville. It attracts largely amateur riders and offers three distinct types of motocross circuits for peewee, novice, and professional riders. Inside the property, advanced riders will discover a specialised freestyle area with two 8-foot ramps. Small doubles, huge doubles, triples, straights, and everything in between are available, with the proprietors changing things up every week to keep the facility fresh. Before going to the park, check the weather and phone FMX to see if there are any available practice slots.
11. Hangtime MX Park
Hangtime MX Park near Akron offers a 135-mile course featuring tabletops and whoops for organized contests. There are also specific sections for novices. The park has plenty of camping space as well as a small pond where fishing is allowed. This land is often used for motocross and other races, making it only accessible for riding on certain occasions. Spectators will be charged $5, while riders will be charged $20. All of Reads Racing Unlimited motocross and quad racing venues, including Trojan Raceway, Fulton County MX, and D&D Motorsports, as well as Hangtime MX Park, are excellent grounds that promote motocross and quad racing across Indiana.
12. Prairie Creek Reservoir
The White River is roughly five miles south of the Prairie Creek Reservoir near Muncie. Hiking, biking, ATVs, dirt bikes, and equestrian riding are all available on the 750-acre trail system. The ATV paths are small, with mud puddles and a gravel pit. Although it may not be the best place for more experienced off-roaders, green riders will have a great time here. Near the reservoir, there are additional camping and boat ramps.
Useful tips to get the most out of dirt biking experiences
Learn how to use the brakes
Utilizing the front brakes is considerably simpler and frequently safer, although lightly using the back brakes is also suggested. When you apply too much rear brake, it may lock up, which can be dangerous, but it can also result in better track times.
Excessive front brake application, as well as catching it too quickly, might send you flying over the handlebars. Slowing down too gradually, on the other hand, is counterproductive for fast flowing endure circuits and competitive racing.
The challenge is to identify a spot where you can stop fast while still keeping control. You'll get an excellent sense of sensation and control by repeatedly stopping forcefully in a straight line in an open and level location.
Use Your Knees to Grip Your Dirt Bike
New dirt bike riders often use their hands in a death-grip posture. That was a bad decision! This will rapidly exhaust you, and you'll be out of the game in less than an hour.
Riding a dirt bike vs, a mountain bike is a totally different experience. A dirt bike has a huge space in front for the gasoline tank, and we always advise newcomers to grip with their knees. Grips are integrated into modern dirt bike pants specifically for this reason. Use your knees for grip so that your arms are free to effectively manage the bike. Your arms should be fairly relaxed, and you should gain confidence in being able to ride one-handed if necessary.
Master Throttle Control on Your Dirt Bike
Learning to throttle out effectively means that you can truly accelerate and get the most out of your motorcycle's complete rev range. You'll want to change gears when it's appropriate for the present circumstances and the forthcoming climb, descent, or turn, and you'll want to do it as smoothly as possible.
Good throttle control may not only help you increase your speed, but it can also help you slow down your dirt bike by reducing gear compression. If you're optimizing for speed, make sure you're properly 'revving out' without crossing the red line.
Knowing how quickly you go in each gear and how aggressively you accelerate is essential for improving your riding skills. Lower gears are where you'll receive the most intense acceleration and need to shift up rapidly on most dirt motorcycles.
Practice and make modifications as required to master those gear ratios. If your riding area is open countryside and you're a speed demon rather than a tight woodland rider, you may want to update your rear sprocket to give you a little more 'extra' on the throttle with wider ratios.
Knowing your gears is also best accomplished by listening to your engine rather than the rev range. To practice, choose a large open location where there are no other dirt motorcycles so you can hear when you're revving out and ready to shift into the next gear.
Stick to Pre-Existing Riding Lines
It's usually advisable to follow current riding lines with new ruts and lines whether you're racing or just taking part in an organized dirt bike ride. Other riders have worked out where to put their front tyres, and experienced riders are always in the lead.
Instead of establishing a new path to seem cool, bikers should follow where others have gone before them. Take note of how they rode up those slopes as well. Did they just keep the lights on or did they turn them off in select areas? Did they stand in the offensive stance or did they just sit and ride it out?
Existing riding lines with compacted earth are also included. Nothing is more frustrating than getting your dirt bike stuck or falling over in a muddy stretch when everyone else took the same path. There are hints left behind by successful people.
Develop the Eyes of a Pack Predator.
You must be very vigilant out there in order to prevent any incidents that may harm you or other riders. It's critical to be aware of what's coming up on the track and what's going on around you. Take a look at those eyes. This cyclist is well-informed about his destination.
Pack predators in the animal world search for their prey as well as their dangers. We often witness cyclists who have tunnel vision and are only concerned with the next challenge. Wherever they gaze, their handlebars follow. That was a bad decision!