Isle Royale National Park, situated in the center of Lake Superior, is an isolated island wilderness. It can only be reached by ferry, seaplane, or private watercraft, which is, of course, what you'd look for when planning an extravagant National Park excursion! Isle Royale is not going to let you down! If you wonder how long it takes to get to Isle Royale, continue to read. We will share some useful facts, which will assist you with clarifying all the doubts that you have in your mind.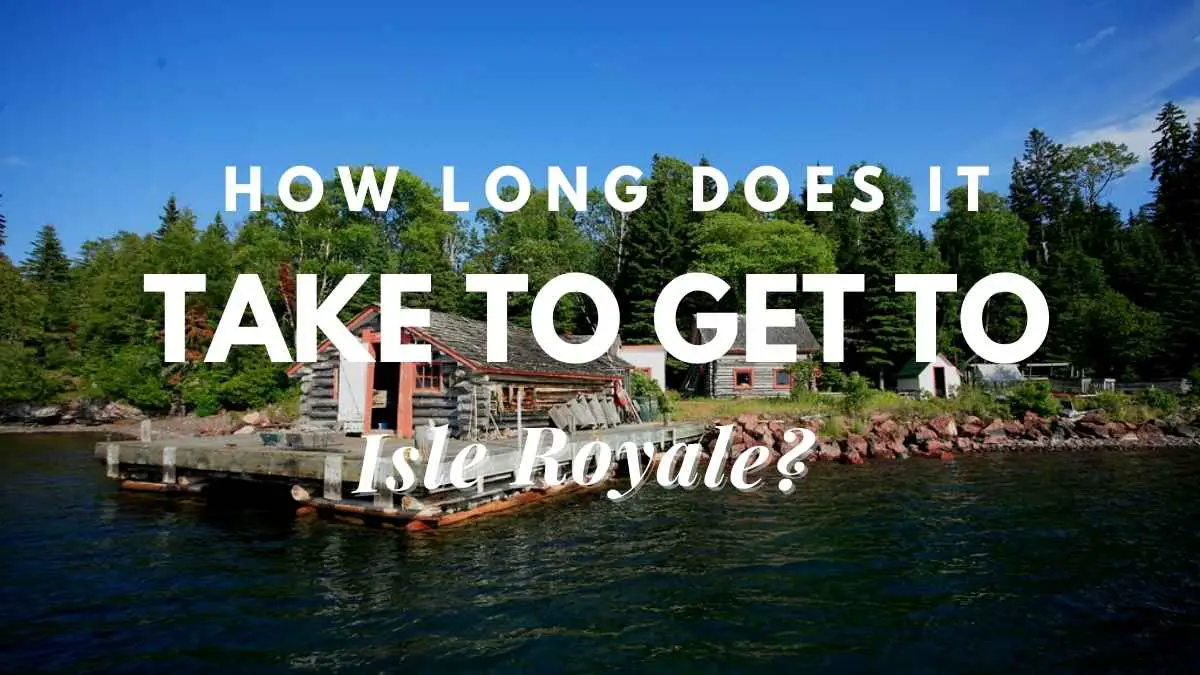 What is the location of Isle Royale?
Isle Royale is a small island off the coast of Michigan, west of Houghton and Copper Harbor. On the map below, look for the red star. Map of Isle Royale National Park's location Isle Royale National Park is located on the island of Isle Royale.
Read: Is Traveling A Hobby? The Ultimate Guide To An Exciting Way Of Life Learn about the Downsides Of Traveling As A Hobby

Is Isle Royale accessible all year?
Isle Royale and its neighboring islands are closed to all tourists from November 1 to April 15 each year. If you have any questions, call the Isle Royale Houghton Visitor Center at (906) 482-0984. 800 E Lakeshore Dr, Houghton, MI 49931 is their address.
Houghton, Michigan is your Isle Royale entry point.
If you're wondering how to travel to Isle Royale National Park, the best place to start is Houghton, Michigan. If you're staying in the UP for the night before your excursion, we suggest staying in Houghton for a better, more diversified selection of hotels, restaurants, and supplies.
You can drive and come here. If you don't stop, it takes around 9 hours to drive from Detroit to Houghton, Michigan via N I-75. In actuality, allot 11-12 hours since you'll want to stop for lunch, have a picture stop at the Mackinaw Bridge, and stop along the UP's coastline to soak in the breathtaking vistas. There are several smoked fish stores, pasties, and excellent eateries in the area. You don't want to rush and lose out on the adventure!
You may alternatively travel via Chicago and Green Bay, Wisconsin, but this would significantly lengthen your journey. You'll also miss the Mackinaw Bridge.
What is the best way to go to Isle Royale National Park?
Houghton County Memorial Airport is the closest airport by plane. Calumet, MI 49913, 23810 Airpark Blvd Suite 113 CMX is the airport's designation. Expedia or your preferred booking site is a good place to start.
Sawyer International Airport is located in Sawyer, Alaska. Gwinn, MI 49841, Airport Designation: MQT. 125 Ave G, Gwinn, MI 49841, Airport Designation: MQT. Houghton is around 2 hours and 15 minutes away. However, any pauses should take roughly 3 hours. At the airport, you may hire a car.
Both Houghton and Calumet have taxi services that go to Copper Harbor. Greg's and Neil's Taxi services may be found online. Between Houghton and Calumet, Copper Country Limo provides transportation to and from the Houghton County Airport (CMX).
What are the airports located within Isle Royale?
Windigo is a small island off the coast of Isle Royale. Washington Harbor is home to Windigo. A tiny dock is available at the landing area. Several camper cabins, portable water, showers, a camp shop, and a campsite are available to visitors visiting Windigo. You may also call this as the most popular airport that you can find in Isle Royale as of now. Hence, finding a seaplane to come to Windigo Seaplant Dock would not be a challenge.
Seaplane Dock at Rock Harbor
Tobin Harbor, on the northeast edge of Isle Royale, is home to Rock Harbor. Tobin Harbor is a short walk from the Rock Harbor area. A hotel and cottages, as well as a campsite, restaurant, and basic shop, are available to visitors visiting Rock Harbor.
Final words
Visitors to Isle Royale National Park – located inside Lake Superior and accessible from Michigan and Minnesota (and very near to the Canadian border) – will find enough to do once they arrive, despite the fact that it is only accessible by boat or seaplane. Isle Royale National Park was established in 1940 "to safeguard a superb example of North Woods Wilderness," and was later classified as part of the National Wilderness Preservation System in 1976 and an International Biosphere Reserve in 1980. The moose, gray wolves, red fox, beavers, mink, and many other animal species that call the park home, as well as the visitors (just over 18,500 in 2015), are sure to enjoy the park's conservation efforts.
Isle Royale is a destination that you should not miss out. However, make sure that you fully understand how long does it take to get to Isle Royale, so that you can secure the best experiences coming on your way.