Snowmobiling paths in Colorado let you experience the Continental Divide like never before. With vistas of the whole Winter Park Ski Resort and the Fraser Valley, tours reach their highest point at about 12,000 feet. There are tours available for all skill levels, from novice to expert. Discover a wide variety of landscapes outdoors, and maybe even a moose! Continue to read this article and we will be sharing more details with you on how to get the most out of the winter park snowmobile trip.

Our crew of qualified guides understands how to "maximize" your snowmobile and Colorado experience by tailoring each trip to the circumstances and the group. All of our guides have had thorough training in first aid, CPR, and backcountry snowmobiling. Our tour guides are quite knowledgeable about the region.

Our rentals and technical personnel have the most modern mountain performance and opulent touring sleds available for the more experienced snowmobile rider. Before your departure, we will go through machine operation, map orientation, and safety advice with each group.

Winter Park, a tiny town in Colorado's Rocky Mountains, receives some of the state's greatest recreational snowfall since it is nestled up against the Continental Divide. In Winter Park, snowmobiling is not only a way of life for locals but also a thrilling winter activity for both residents and tourists. Numerous trails, snowmobile rentals, and guided excursions are available at Winter Park.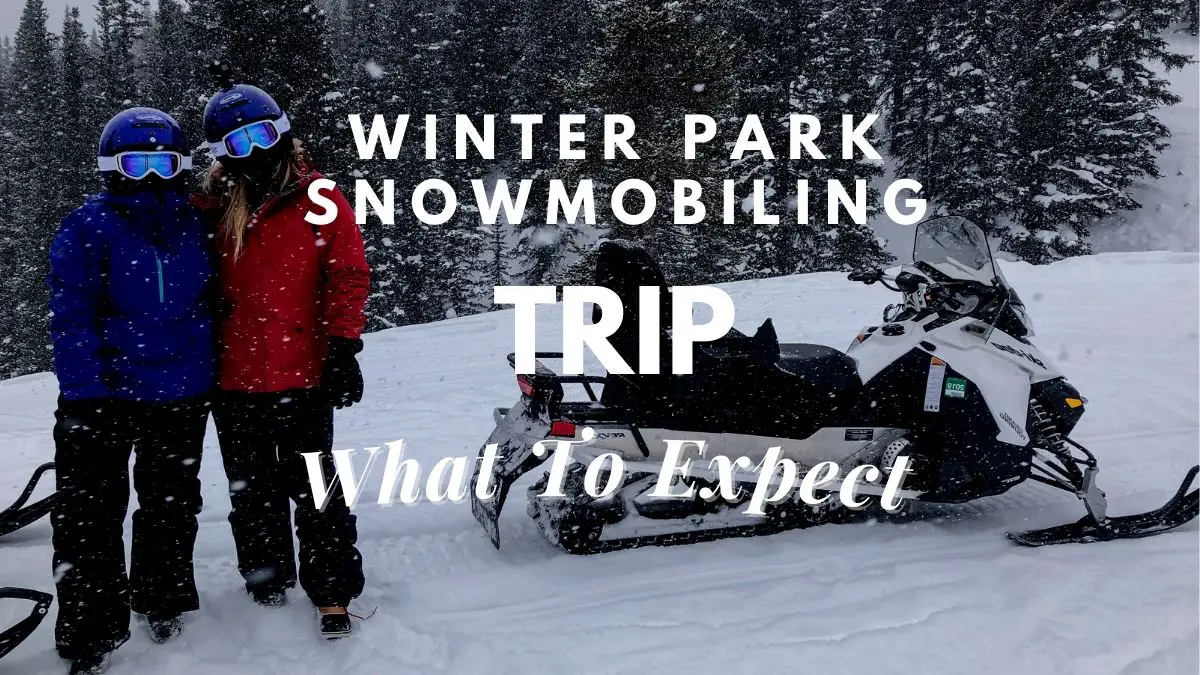 Geography at the winter park
Only 69 miles northwest of Denver, in the heart of the Rocky Mountains, Winter Park is encircled by the Arapaho and Roosevelt National Forests. Snowmobile routes at Winter Park are mostly found in the Arapaho National Forest. The 727,744 acres of forest that encircle the Continental Divide provide breathtaking vistas of the Colorado high country from snowmobile paths that are above the tree line.
Read: Is Traveling A Hobby? The Ultimate Guide To An Exciting Way Of Life Learn about the Downsides Of Traveling As A Hobby

Conditions at the winter park
The highest point of the Winter Park Ski Resort's annexed area is 12,060 feet above sea level, while the town's heart is located at 9,100 feet, hence the resort often receives 365 to 375 inches of snow every year. Storms often strike Winter Park from all four directions, which may result in significant weather changes as well as lots of deep snow and new powder for snowmobiling. When the sun sets, temperatures drop much more rapidly, so it's critical to have the right snowmobile equipment for warmth and moisture management. Dress in layers to account for the temperature difference.
Rentals
Anyone with a valid driver's license may hire a snowmobile at Winter Park, however minors under the age of 18 must be accompanied by an adult. Only two individuals with a combined weight of 400 lbs are permitted to ride on a machine according to standard rental policy. Never let a minor drive alone; always ride with an adult. Due to safety concerns, rental firms demand that two snowmobiles go together. An authorization charge is imposed when hiring a vehicle for independent exploration, and visitors should review the insurance policies of their rental agency.
Tours at the winter park
Tours are a terrific method for those who are new to the Winter Park and Arapaho region, are traveling with children, are novices, or are just unaccustomed to the trails and terrain of Winter Park. A tour may be tailored to your group's needs and skills with the assistance of knowledgeable guides. With hundreds of miles of trails in the area of Winter Park, a tour eliminates the guesswork so you can focus on riding rather than finding routes. First aid and back country snowmobiling are taught to snowmobile guides, and they also communicate via radio with their tour headquarters. The trip operator often provides boots and helmets. For its visitors, several of Winter Park's resorts provide snowmobile trips.
Dangers at the winter park snowmobiling
Snowmobiling, like any other backcountry activity, may be dangerous if basic safety measures are not implemented. The trails at Winter Park weave through the Arapaho Forest, where individuals who are unfamiliar with the area run the risk of becoming lost if they stray off the roads and marked trails. Carry a GPS or a good compass since it is simple to lose your bearings, particularly in an open section of a forest called a "bowl." Riders run the risk of approaching regions with stated restrictions or unmarked land, which increases the likelihood of an avalanche.
In the mountains, avalanches often happen as a result of the rapid temperature changes and shifting snow cover brought on by storms that approach from all sides. Avalanche awareness training is continuously available at Winter Park Resort. Any outdoor activity may be dangerous due to hypothermia; thus, athletes should become knowledgeable about its causes and emergency treatments.
What to anticipate at snowmobiling
Off-the-beaten-path snowmobiling is one of the most daring ways to explore our amazing natural surroundings. Grand Adventures offers a variety of tours with experience for every skill level, from novice to expert. Snowmobiling in Colorado allows you to experience an adventure unlike any other as you cross the Continental Divide.
Snowmobiling will bring you outside into the fresh air with breathtaking vistas, whether you need a break from skiing or aren't in the area to ski. If you enter the woods, you will be miles from everyone. Winter tourists may encounter fantastic adventures and wonderful experiences by snowmobiling. One of the most tranquil activities in Winter Park, Colorado, is walking over the gorgeous mountain terrain while admiring stunning sights in more isolated nature.
You have the exceptional chance to choose from a broad range of snowmobile sports. Grand Adventures makes every effort to provide a secure and satisfying experience. In order to optimize your experience while riding a snowmobile and experiencing the great outdoors, they have well-trained, experienced guides that design each trip depending on the weather and group. It could be simpler for travelers who are brand-new to snowmobile to learn in a group with a knowledgeable guide. With prior bookings, Grand Adventures provides guided excursions. A 2 or 4 hour unguided trip is also an option, allowing you to explore the region at your own speed. Here you may find details about seasonal prices and bookings for both single individuals and groups.
Snowmobiling is enjoyable for winter enthusiasts of all ages. After a long day of hiking, you can unwind in one of our luxurious Winter Park vacation apartments that are only a 15-minute drive from the excursions' starting and ending points. Here is a list of the rentals we have available along with a handy map to assist you in making travel arrangements.
How to be safe with winter park snowmobiling
Snowmobiling may be thrilling and enjoyable during the winter, but it can also be quite dangerous if the right safety measures are not implemented. We've developed a list of crucial snowmobile safety advice to keep you safe.
1. Attend a course on snowmobile safety
A snowmobile certificate is required in several states, and each state has its own laws and guidelines. You may learn the regulations and how to ride safely and responsibly by taking a snowmobile safety course. It is particularly crucial for novice drivers and riders. You will pick up riding skills that will make it easier for you to drive a snowmobile and stay safe.
2. Verify the trail conditions and the weather prediction
To prepare, it is wise to examine the weather and the state of the trails. You should postpone your ride if the track is iced, the wind chill is too low, or a storm with whiteout conditions is predicted. You may choose the appropriate outfit for the day by consulting the weather.
3. Dress appropriately and use safety equipment
Keeping warm and dry will make your journey safer and more pleasant. Put on a snowmobile suit, which typically consists of an insulated jacket and bibs. Layer your clothing underneath your snowmobile suit. Avoid using cotton since it can freeze if it gets wet. To help your body wick away sweat, use polyester mixes. Additionally, if you don't have a full-face helmet, use goggles or a face shield, cotton-free socks, waterproof gloves, a winter hat, a face mask, and winter boots. Always put on a DOT-approved helmet to stay warm and safeguard your head from harm. Ensure that youngsters have a helmet that fits them appropriately.
4. Before going for a ride, check your snowmobile
Before hitting the trail, make sure your snowmobile is in good working order. For added security, it is a good idea to have your owner's handbook close to hand when driving. To keep it maintained and functioning properly, it's crucial to adhere to the suggested maintenance plan. Check the batteries, brakes, drive belt, skis, throttle, handlebars, headlights, and taillights before each ride. Additionally, be sure to let your snowmobile at least a minute to warm up before you take off.
5. Bring a companion
It's enjoyable and safer to ride in a group or with a companion, particularly when exploring new paths. If your snowmobile breaks down or if you are in an accident, someone else can assist you. In case you become stuck, it's also a good idea to let a friend or relative know your intentions and the route you'll take. Remember that cellular service isn't always available in outlying places.
6. Always have a first-aid, emergency, and repair kit on hand
In case of accident, have a basic first-aid kit in the snowmobile. Disinfecting wipes, bandages, hand sanitizer, gauze, adhesive tape, and Band-Aids need to be included. Carry an emergency supply pack as well, which should include waterproof matches, a torch, a compass, a map, a blanket, water, food, and a knife. The following items should be included in a repair kit: tools, duct tape, a spare belt, a tow rope, spark plugs, and a pry bar.
7. Stay vigilant
Being aware of your surroundings and keeping an eye out for potential hazards including rocks, fallen trees, barbed wire fences, ditches, open water, other snowmobiles, snow banks, animals, hikers, and skiers is essential.
8. Prevent using frozen rivers
Ice cannot be measured in terms of thickness. Ice underneath your snowmobile is prone to cracking and giving way.
9. Don't go too fast
Maintaining a steady speed while driving will give you time to respond to unforeseen events and prevent collisions. There are posted speed restrictions on a lot of paths.
10. Continue on the path
Because they have been prepared for you and are less likely to include risks, marked paths are safer. Getting off the beaten path puts you on uncharted ground, which might lead to mishaps. Additionally, a lot of 'public' paths pass via private land. Stay on the designated path unless you have the landowner's permission. In the future, the path may be closed to the public if this is not done. Ride safely according to the specified signage and path markings.
11. The driver must be at least 16 years old
The American Academy of Pediatrics likewise strongly advises against the use of snowmobiles by anybody under the age of 16. This is because kids may not have the driving abilities necessary to drive the car safely, and because of their size, they are more vulnerable to injury.
12. The American Academy of Pediatrics recommends that children under the age of six never travel as passengers
A strong individual is needed to hang on tightly, particularly over extended periods of time, since the snowmobile may ride rough. Children under the age of six lack this power.
13. Avoid packing your snowmobile too full
Check your manufacturer's manual to see how many people and how much weight it is permitted to transport. A heavier load or an extra passenger beyond these limits might increase your risk of accidents and injury.
14. Never drive after drinking
Operating a snowmobile while intoxicated might result in delayed reactions and accidents, much as when driving a vehicle.
15. Never drag anyone behind your snowmobile on anything
Snowmobiles are not designed to tow sleds, skiers, or saucers, and doing so is very dangerous. We wish you a happy and safe ride with these snowmobile safety advice. Your snowmobile requires insurance protection beyond what your vehicle or house insurance may provide in order to give additional security. To fulfill your specific demands, Markel provides specialist snowmobile insurance coverage.
Final words
Whether you are a novice or a seasoned rider, you can get the Colorado snowmobiling trip you want right here! There are outfitters and service facilities all across the county, and there are miles of terrain to explore on your own or with a guided trip, so bring your own or rent a machine to travel the picturesque backcountry. With 146 inches of snowfall annually, more than 1,000 miles of snowmobile routes, and locals who trade up their vehicles for snowmobiles in the winter, it is clear why Grand County is known as the "Snowmobile Capital of Colorado".
Now you know how to get the most out of your Winter Park snowmobiling trip. Keep these facts in mind and you will be able to get the most out of your adventures.