La Isla de San Marco, also known as the barrier island in the Gulf of Mexico, is home to several picturesque sights and fun-filled activities that will make your trip to this city worthwhile. The city of Marco Island is a tourist hotspot that showcases the magnificent environment and landing sites that engulfs the town, from vast white sandy beaches, marinas, and famous locations to its rich history, lively culture, and plentiful wildlife. If you wonder free things to do in Marco Island, you can read this. We will be sharing the list of free things, and you just need to plan your tour accordingly.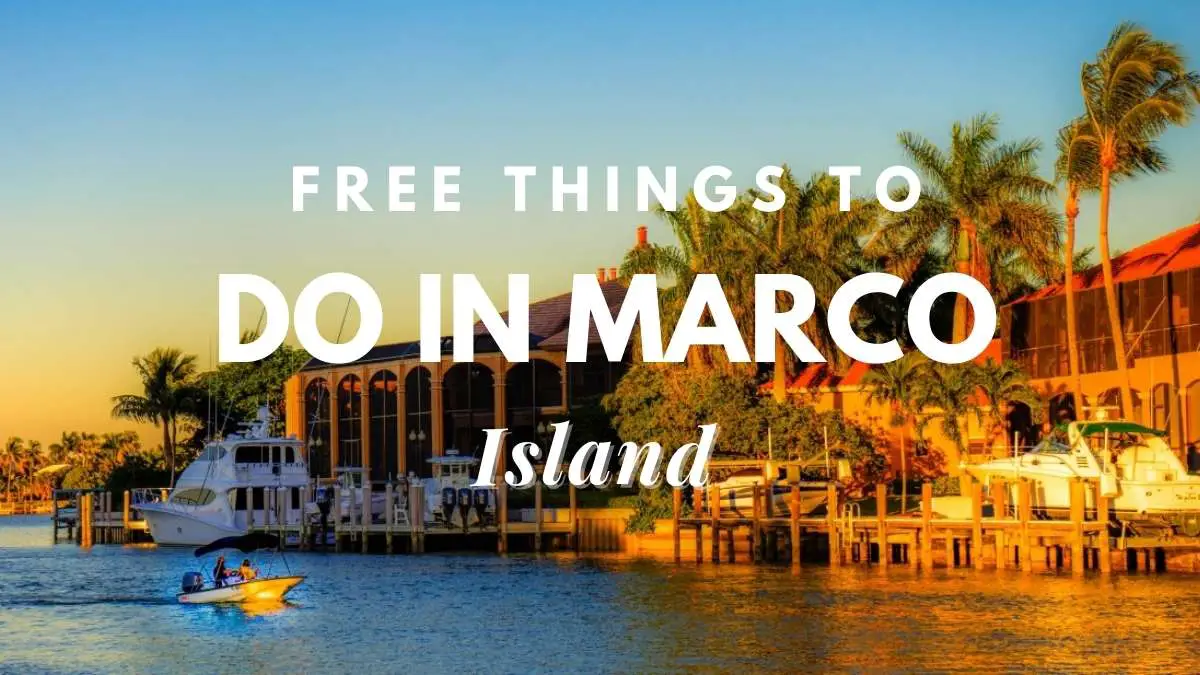 1. Visit the Keewaydin Island
So, get ready, set sail, and jot down some getaway ideas from our hand-picked list of the greatest things to do on Marco Island, FL, a trip away from the hustle and bustle of city life! If you're searching for something exciting to do in Marco Island, Florida, a cruise to Keewaydin Island will give you a peek of the plentiful fauna and panoramic views that this area has to offer.
Keewaydin Island is an 8-mile long island that is part of the picturesque Rookery Bay Reserve and will make your Marco Island vacation one to remember. This area will not disappoint, with miles of unspoilt white sandy beaches and several local animal species, so be sure to visit.
Bring your food, beverages, and other supplies to Keewaydin Island, such as beach chairs, coolers, and other items. If your meal isn't enough, the location also has a boat concession stand with a variety of culinary basics to make your journey more enjoyable.
Read: Is Traveling A Hobby? The Ultimate Guide To An Exciting Way Of Life Learn about the Downsides Of Traveling As A Hobby

2. Tigertail Beach Park
Tigertail Beach Park is one of the greatest locations to visit on Marco Island since it offers a thrilling and exciting trip that will capture the heart of any birdwatcher. This landing spot features a one-of-a-kind trip that will leave you speechless. What's not to appreciate about Tigertail Beach Park, with its beautiful sunsets and vistas, fun-loving activities, conveniently accessible conveniences, and a bird-watching tower?
There's still a lot to see and do at this landing spot, so pack your bags and make it a point to stop by on your Marco Island vacation. You may enjoy sports like jet skiing, paddle boarding, tidal pool exploration, and shelling in addition to viewing the stunning sunsets, panoramic vistas, and interesting feathery companions. At this location, the pleasure never ends.
3. South Marco Beach
This weekend, are you searching for a once-in-a-lifetime vacation? Consider going to South Marco Beach and relaxing on the white sand beach while basking in the sun. Why Should You Travel to the South? Marco Beach is a public beach with beautiful beach walks, shell searching, and stunning blue waves that will take your breath away. Furthermore, the beach is home to a diverse range of species, including birds and, on rare occasions, dolphins.
If you decide to visit the location, be aware that parking will be difficult since it is a popular tourist site. So be sure to prepare ahead and rent a beach property. Rest certain that your weekend stay at this location will be rewarding.
4. Cape Romano
Do you wish to go on a fantastic journey to a picturesque location in this city? For adventurers, one of the things to visit on Marco Island is Cape Romano, a gem that allows you to get a unique view of what this city has to offer.
Why Should You Go Isolated on Florida's gulf coast, Cape Romano will transport you to a thrilling journey at the edge of the earth? From the distinctive dome residences and pristine beaches to the exotic landscape of both flora and animals, this place rich in natural beauty is a dream come true, so be sure to include it in your itinerary. Take in the views and antique dome residences on offer at Cape Romano. Additionally, keep an eye out for migratory birds, since this location is a popular stopover for these feathered companions.
5. Farmers Market on Marco Island
If you're searching for something to do on your Marco Island vacation, check out the Marco Island Farmers Market and sample the fresh food on sale. The Marco Island Farmers Market is a seasonal market with a wide variety of fresh and delicious foods. Marco Island Farmers Market offers a variety of fresh fruits, veggies, and other items, as well as freshly prepared meals and baked goodies.
In this wonderful spot, there are numerous culinary choices to select from, but make sure to check out the craftsmen on the market as well. Their goods are on par with the cuisine at this location.
6. Frank E. Mackle Park
Frank E. Mackle Park is one of the city's most enjoyable parks, with a variety of activities to keep your visit to the gorgeous park exciting. Frank E. Mackle Park has top-of-the-line park facilities that you will be able to use to enhance your park experience in the city of Marco Island, from several sports courts and fields to picnic sites and fishing places. So, make a point of stopping by!
Frank E. Mackle Park is one of the greatest free things to do on Marco Island, so take a walk around it, relax, and take in the environment.
7. Historical Museum of Marco Island
Are you planning a trip to Marco Island and want to take a historical tour? The Marco Island Historical Museum is one of the best attractions on the island, as it transports you back in time to experience the city's history firsthand.
This attraction allows tourists to immerse themselves in the subtropical paradise's history. These aspects alone make Marco Island Historical Museum worth visiting, from bringing bygone civilizations back to life to instructive exhibitions about Florida's Calusa Indians. What to Do Take Instagram-worthy shots of the location and pay a visit to the Key Marco Cat, a remarkable find that helped make the museum on the map.
8. Goodland Boating Park
Do you want to live in a friendly neighborhood surrounded by beautiful scenery? Then go to Goodland Boating Park for the best of both worlds in terms of beauty and engagement. The 5.22-acre Goodland Boating Park, known for its delectable seafood specialties and welcoming community, provides an experience worth noting on our list. A two-way boat launch ramp and other rentals are also available at the park, which may spark your curiosity.
Regardless, you will undoubtedly have a wonderful time with your loved ones at this location, so make plans to attend. Aside from the seafood cuisine and human connections, take advantage of the park's covered picnic pavilion and have a picnic with the family.
9. Isles of Capri Marina
Consider using the services of Isles of Capri Marina now to have an outstanding experience that showcases the beauty of Marco Island. Why Should You Visit the Isles of Capri? Marina is a family-owned and operated low-cost rental organization dedicated to helping you make experiences that will last a lifetime.
This venue will fill your Marco Island holiday with fun-loving experiences that will have you coming back for more, from their famed Pontoon boats services to their one-of-a-kind kayak excursions. Consider signing up for their Backwater Kayak Adventure Tour to see the natural wonders of southwest Florida.
Final words
Now you know 9 free things to do in Marco Island. You can keep these activities in mind and plan your stay. It will help you to end up with getting the most enjoyable experience.