One of the nicest things about living in the Pacific Northwest is that you can get in your vehicle and go exploring whenever you want. A road journey across the Pacific Northwest is one of the most scenic vacations you'll ever take, so put it on your bucket list! If you are planning to go on a road trip, you should go through this Pacific Northwest Road Trip itinerary. Then you will get the best opportunity that you can secure out of the road trip.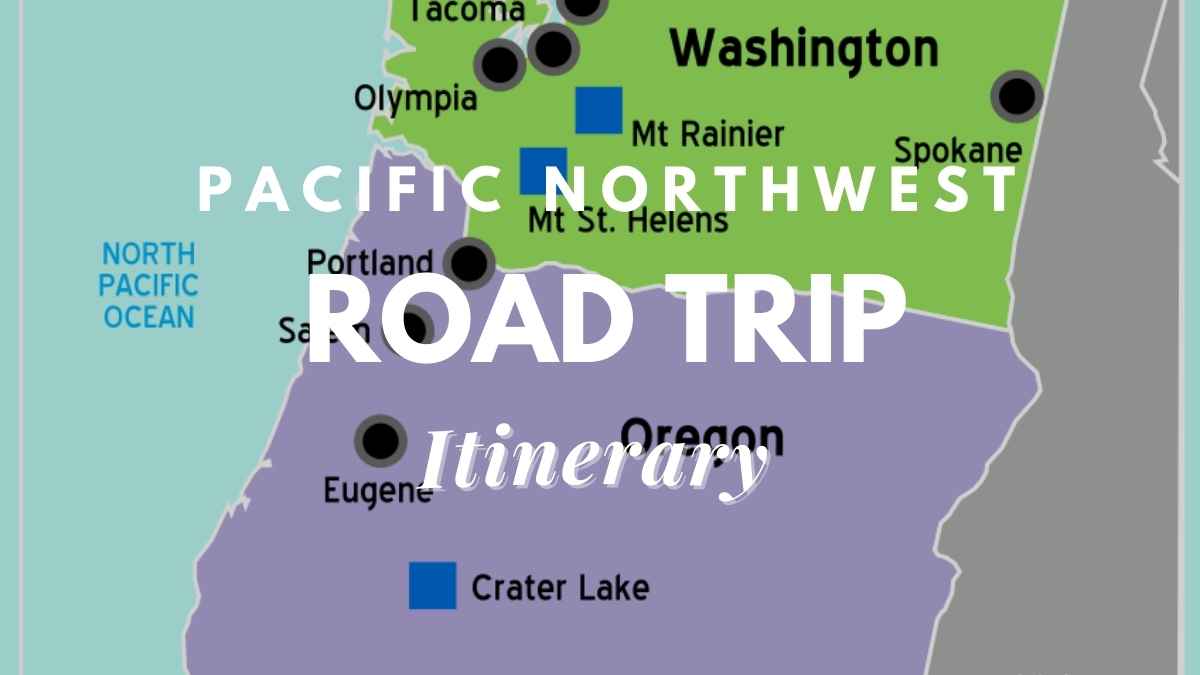 1. Diablo Lake in the North Cascades National Park
Explore the North Cascades National Park, one of Washington's finest national parks, to begin your Pacific Northwest national parks road trip. As you travel through America's version of the Alps, you'll witness the Cascades' rocky teeth, snow-covered mountains, and about 300 spectacular glaciers.
With all the things to do in North Cascades National Park, you'll discover adventure and serenity in some of the park's most stunning and isolated wilderness regions. From towering peaks and roaring waterfalls to old-growth woods, the views are breathtaking.
It's a sanctuary for mountaineers and trekkers, with almost 400 kilometers of paths and a plethora of glaciers. Spend some time exploring the North Cascades Day hikes, which are full of waterfalls and wildlife ranging from bald eagles to grizzlies.
In the winter, you can go skiing on Mt. Baker, and in the summer, you can trek Mount Shuksan. The major route into the park, however, is blocked throughout the winter and much of the spring, so consult the official website before planning your journey to the Pacific Northwest national parks.
Read: Is Traveling A Hobby? The Ultimate Guide To An Exciting Way Of Life Learn about the Downsides Of Traveling As A Hobby

2. Exploring Seattle
Take some time to relax and see Seattle before continuing on with the rest of your road trip. If you're just doing a 7-day Pacific Northwest itinerary, I've put up the best schedule for one day in Seattle to help you make the most of your time (or a 3 day Seattle itinerary if you have more time)
You'll be able to eat fresh seafood, sample world-famous coffee, enjoy sea kayaking, and much more. Whether you're visiting Seattle on a budget or searching for something to do on a wet day in Seattle, this stop on your Pacific Northwest Road trip itinerary has lots to offer.
Pike Place Market is home to the world's first Starbucks (but prepare for a long line if you actually want to order coffee from here). It's also worthwhile to take a stroll through the market, which is rich in history. Seattle's museums, notably the changing exhibitions, are also not to be missed. Another nice spot to roam around is the waterfront, which is also one of the greatest places to stay in Seattle. You may also spend the day on Bainbridge Island by taking the boat.
Green places abound in Seattle, including the Waterfall Garden Park in Pioneer Square and the massive Discovery Park. Take a trip to Kerry Park on Queen Anne Hill, which is one of the top Seattle Instagram places, if you're searching for spectacular panoramic vistas.
Between visiting the wild and great national parks, the city is a dynamic stopover. Relax and relax before continuing on to Olympic National Park, the next destination on your Pacific Northwest national park road trip.
3. Olympic National Park Visit Olympic National Park for a day
On your Pacific Northwest national parks road trip, you'll want to set aside some time to visit Olympic National Park completely. Olympic National Park is one of Washington State's top national parks, with a wide variety of habitats and scenery. It's crowned by glaciers, old-growth woods, moss-covered temperate rainforests, kilometers of shoreline, hot springs, and hiking paths.
Choose one of the gorgeous Olympic National Park hiking paths to enjoy the rainforest and magnificent vistas and truly appreciate the park's magnificence. At a height of roughly 5,200 feet, Hurricane Ridge is one of the park's most spectacular routes. It also has excellent ski terrain in the winter, which is uncommon in Northwest national parks.
If you have time on your road trip in the Pacific Northwest, book a guided tour to see the beautiful Hurricane Ridge. After your trek, relax in one of Sol Duc Hot Springs' natural geothermal pools. This location is also a popular family vacation destination in the Pacific Northwest.
Olympic contains mountains, a rainforest, and an ocean, making it one of the most unusual national parks in the Pacific Northwest. If your two-week Pacific Northwest Road trip allows you, I suggest stopping here for a few days to explore the whole Olympic Peninsula circle.
Read: Day Trip To North Captiva Island Itinerary
4. Mount Rainier National Park waterfalls atop Mount Rainier
Mount Rainier National Park is an alpine beauty that is home to one of the country's highest mountains, Mount Rainier. It's full of roaring waterfalls, flower-covered meadows, lush woodlands, and stunning glacier vistas.
During your visit to the park, take a ride on the Mount Rainier Railroad and Logging Museum's old steam train. To get to Mineral town, you'll take a trip down the Upper Nisqually River. Many people consider this to be one of the greatest national parks in the Pacific Northwest, and you'll get to see some stunning sights and spectacular mountain peaks along the journey.
Take a walk to explore the environs of this lovely park while you're here. One of my favorite walks on Mt. Rainier is the 5.5-mile Skyline Trail, which follows the Nisqually Glacier up to Panorama Point. You'll enjoy your stay here whether you're on a day trip to Mount Rainier or have more time.
Read: Perfect Day Trip To Ocracoke Island Itinerary
5. Climbing Mount St. Helens Mount St. Helens
Mount St. Helens is unlike any other area on the planet. It used to be a large volcano that erupted for the first time in nearly a century in the 1980s. With kilometers of gorgeous pathways to explore and magnificent vistas of the crater rim, it now draws over half a million visitors each year.
Those who are adventurous enough may walk Mount St. Helens all the way to the summit; however, permits are necessary for climbs over 4,800 feet. There's also a study center where you can learn more about Mount St. Helens and what occurred on the day it erupted. After you've done your Mount St. Helens trip, continue south into Oregon to see what Portland has to offer.
Read: Alaska Winter Itinerary (7-Day Plan)
6. Exploring Portland
Portland is the ideal spot to unwind and relax. Many Seattle residents go to Portland for a Seattle weekend vacation, and it's a favorite of theirs. If you have more time, you may explore the city's incredible culinary offerings during three days in Portland. One of the numerous food trucks spotted moving throughout town or stationed near the parks is a definite must-try. If you come across one, stop for a delicious meal or two to refuel on your Pacific Northwest Road trip — you won't be disappointed.
Portland is also known for its craft beer, including breweries such as the Baerlic Brewing Company and the Ecliptic Brewing Company. If you have some free time, go to the Portland Japanese Garden and roam about in peace and tranquility. There are several day excursions from Portland that you won't want to miss, so schedule a night or two and take advantage of them before moving on to the next site.
7. Crater Lake National Park
Crater Lake National Park is a must-see on any vacation to the national parks. The park is noted for its vast body of water, which was formed by a powerful eruption that carved a hole in the surface of the earth. Crater Lake is the only national park in Oregon and one of the most gorgeous in the United States.
Crater Lake has some of the greatest hiking routes surrounding the lake and along the water's edge, with some of the best vistas. You'll also get great views of Wizard Island, a little island inside Crater Lake that is one of the top things to do in Crater Lake.
Take a one-day drive around the rim of this gorgeous blue lake as part of your Pacific Northwest tour plan to get the most out of it. There's also the Cleetwood Trail, which is a great way to get to the lake's coastlines quickly and easily. There are additional camping choices to consider for your vacation to the Pacific Northwest.
If you want to stretch your legs, there are lots of hiking options, as there are in most national parks. Just keep in mind that this location receives snow until late spring, so bring micro spikes or snowshoes or schedule your walks for later in the summer. Consider arranging a stunning tour from Portland and taking a guided tour via Crater Lake on your Pacific Northwest Road trip if you want to expand your national park itinerary.
Read: Innes National Park Itinerary ( Planned Days And Printable Itinerary ) Learn about Enjoying your meals at Yorke Peninsula's Watsacowie Brewing
Final words
Now you are aware about the best Pacific Northwest Road Trip itinerary. You just need to adhere to it, and you will end up with getting the best experience possible.