No matter where you are from, visiting New York City is undoubtedly at the top of your list. And there are always beautiful experiences to have, regardless of the season. You may be sure that you will have a fantastic time if you decide to visit NYC. New York is referred to be the city that never sleeps because there is never a boring or peaceful moment there. But who would ever want to with all NYC has to offer?

New York City is among the most visited tourist destinations in the world for a reason. The top spots to see and eat in the Big Apple are frequented by millions of tourists each year and knowing these locations can help you enjoy the city to its fullest. That's exactly why we put up this in-depth guide to traveling to New York City. We really hope it helps in the planning of your next exciting journey! When you are visiting New York City, follow this guide and make sure to get the best experience.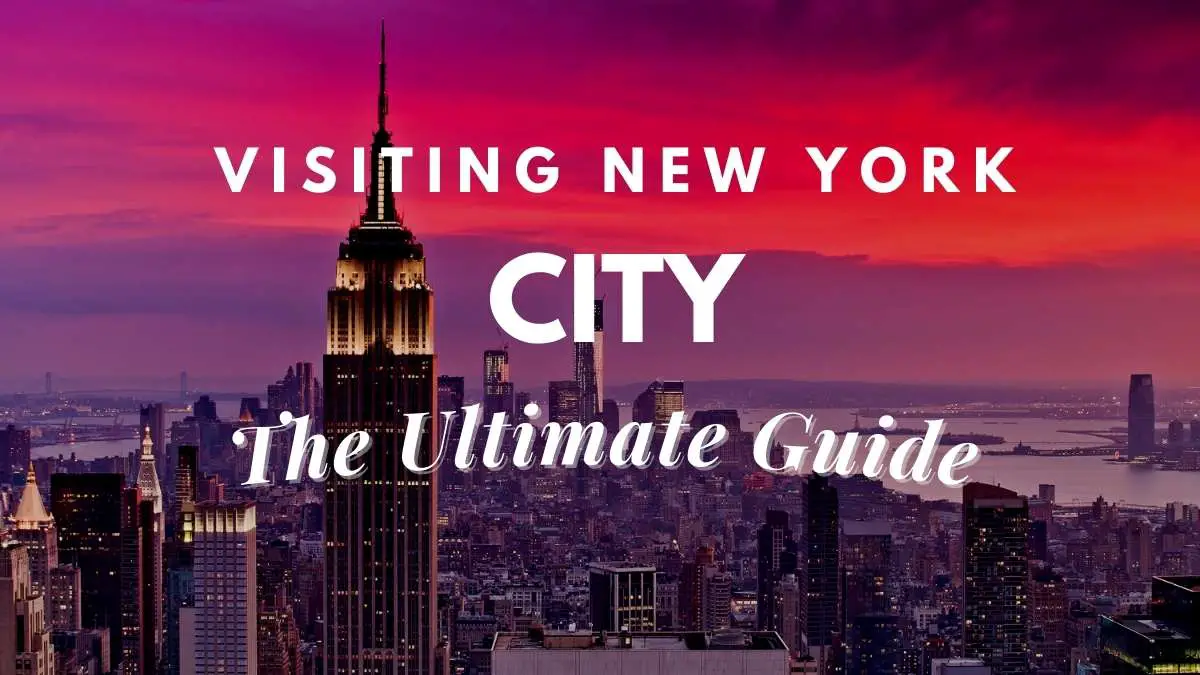 Exploring the history of New York City
The Lenape were the first occupants of what is now Manhattan, Westchester, northern New Jersey, and western Long Island before it became New York City. The Lenape's way of life was altered by the fur trade long before any permanent European immigrants arrived in this area.
The first European to approach the harbor was the Italian navigator Giovanni da Verrazzano in 1524, but the first effort at settlement occurred in 1624 with a party of immigrants sent by the Dutch West India Company. The majority of them traveled upriver to what is now Albany, while a small number of migrants stayed on Manhattan.
Fort Amsterdam was constructed as a defense for the little settlement. The Lenape engaged in a number of land agreements with the Dutch settlers, inadvertently "selling" them Manhattan's property. By the middle of the 1800s, New York, which was just the third-largest American port at the time of the American Revolution, had consolidated its position as the nation's dominant trading hub. New York became the busiest port in the world after 1900, a title it kept up until the 1950s.
After the 1960s, commerce moved to the New Jersey side of the river due to rising labor costs, but by the start of the twenty-first century, the Port Authority of New York and New Jersey still controlled the majority of the water traffic in the northeastern United States. New York has been the biggest and richest city in America for the last 200 years. Through its port, which saw more than half of all commodities and people entering the United States, change has become a constant in urban life.
There has always been hope in New York. New York formerly served as the state and national capitals, but it has now outgrown this role to become a metropolis of international renown for its business, culture, and iconic skyline. International terrorism also turned it into a target, most famously on September 11, 2001, when the World Trade Center was destroyed.
Read: Is Traveling A Hobby? The Ultimate Guide To An Exciting Way Of Life Learn about the Downsides Of Traveling As A Hobby

Navigating New York City
The New York City subway system is one of the biggest urban mass transit networks in the world, with 34 lines and 469 stations. You would need roughly 24 hours to reach every station (without exiting the transportation system)! Of course, the well-known yellow cabs are another choice. Here is how to navigate the city after you get there.
Using Public Transit (Subways & Buses)
Mass transit is the next-best means of transportation if you are unable to walk to your destination. The Metropolitan Transportation Authority (MTA), operating as MTA New York City Transit, is in charge of the city's rail and bus network. In addition to being affordable, ecologically friendly, and a terrific way to explore the attractions in all 5 boroughs, it is also open twenty-four hours a day, seven days a week.
The simplest option is to buy a MetroCard at a subway station from a booth operator or an automated machine. A single subway or bus travel costs $2.75 when using a pay-per-ride MetroCard, and transfers are free until you leave the turnstiles.
Be careful to check the most recent MTA service information at mta.info since subway lines sometimes alter their itineraries or briefly cease operation, particularly on weekends and late into the week.
Taxi
The NYC Taxi & Limousine Commission issues permits and enforces regulations for the city's fleet of yellow taxicabs and green Boro Taxis. When you're weighed down by sore feet, cumbersome baggage, or shopping bags, hailing a taxi might be the best option. Taxis on duty may be flagged down if their numbers are lighted up on top.
Depending on how quickly you're moving, the metered cost rises by 50 cents every 1/5 mile or every minute, starting at a minimum of $2.50. Additionally, there is a 30-cent improvement cost and a 50-cent MTA state surcharge every trip.
Monday through Friday, 4-8pm (excluding holidays), an extra $1 and a 50-cent fee are applied to the meter, respectively (8pm–6am). Cash, credit, debit, and prepaid cards are all accepted in cabs… also remember to leave a tip!
By Car
Use Google Maps to assist you navigate the streets of New York City if you want to drive around the area. The largest issue is parking, so be careful to know where you could find a space. To compare parking prices and locations, you may wish to utilize a mobile application like SpotHero. Plan ahead since parking costs may pile up quickly!
Top 10 Attractions in NYC
Prioritize your bucket list in a destination like New York City where you won't be able to visit everything in one trip. Here are a handful of our top "must-see" places to visit!
1. Take a High Line walk
Few locations are as delightful as the High Line on a beautiful day. One of Manhattan's most visited places is Manhattan's only elevated park, and it's not hard to see why. The High Line, once a rail route that was abandoned in 1980, was revived as a 1.45-mile open area in 2009 that stretches from Hudson Yards to the northern tip of Chelsea. Today is a relief from the grass and wildflowers-covered concrete jungle.
2. MoMA
The Museum of Modern Art is a temple to popular culture and the history of the 20th century, and you don't have to be an art enthusiast to enjoy it. Numerous pieces by some of the most important modern painters, such as Picasso, Warhol, Van Gogh, Dali, and Monet, are displayed on the walls. A high-end restaurant and bar are located nearby, as well as an associated movie theater, a sculpture park featuring pieces by Picasso and Rodin, and a cinema.
Adult admission is $25; children under 16 are admitted free. Open on Fridays from 10:30 am to 8 pm and Saturdays from 10:30 am to 5:30 pm. It's free to enter on Friday nights.
3. Memorial to 9/11
The 9/11 Memorial, a mournful but significant destination on any journey to New York, remembers the victims of the September 11th attacks. The Twin Towers' original location is now occupied by the glittering 104-story One World Trade. The nearby One World Observatory provides 360-degree views of the city.
Free and open to the public every day from 7:30 am to 9 pm. But admission to the adjoining 9/11 museum requires a ticket, which may be ordered up to six months in advance.
4. Tea on the Plaza in the afternoon
The afternoon tea served in the Palm Court of the venerable Plaza Hotel is regarded as a must-have New York experience. Although $90 per person is a significant indulgence, the luxury is unmatched. Tea, sandwiches, scones, and desserts are all on the set menu, and a glass of champagne is available to wash it all down. Make reservations well in advance, particularly if you're coming during the holidays.
5. Central Park
This enormous open green area beckons to anybody looking to set up a picnic, attend a performance or concert, or just take a walk among the diverse landscapes for a soul-soothing respite from the grind in pretty much all seasons. Central Park is a must-see if you're taking kids to Manhattan!
There are several Central Park entrances to choose from, ranging from the busy Columbus Circle to the more peaceful, tree-lined Central Park West or Fifth Avenue. Try to see some of the notable architectural sites, such as Strawberry Fields, the Conservatory Garden, the Loeb Boathouse, and Bethesda Terrace.
6. Ellis Island and the Statue of Liberty
One of the most recognizable images of America, Lady Liberty is an astounding 305 feet tall. Additionally, she has exceptional selfie-taking skills! Go meet her up close and personal by taking a boat. This is particularly significant if you have a relative who was one among the nearly 12 million immigrants who went through Ellis Island. The cost of admission includes admission to the Ellis Island Immigration Museum.
Adult and child tickets start at $18.50 and $9, respectively, although enhanced seats are also offered. The departure timings are posted on the webpage.
7. U.S. National Museum of Natural History
A fun family activity is visiting this museum. A popular exhibit is the Rose Center for Earth and Space, but you should also schedule time to see the dinosaurs, the Hall of the Universe, and the Butterfly Conservatory. There are over 32 million objects there, dispersed across four city blocks, twenty-five structures, and forty-five display spaces. Don't even attempt to see everything in a single day!
Although there isn't a specific entry charge, it is "recommended" that visitors pay an adult admission ticket of $22, a senior or student admission fee of $17, and a child admission fee of $12.50 for those aged 2 to 12. Every day from 10 am until 5:45 pm.
8. Chinatown
In Chinatown, Mott and Grand Streets are crowded with vendors offering unusual delicacies like live eels, square watermelons, and hairy rambutans, while Canal Street is glistening with jewelry and gift shops. Never forget to bring food! The top restaurants in New York City may be found here, including establishments serving food from Malaysian, Indonesian, Thai, and Vietnamese cuisines as well as practically every province of China's mainland and Hong Kong.
Wander through hot windows with Peking ducks hanging from them, summertime street vendors selling drinking coconuts, and innumerable eateries dishing you a range of delectable Chinese food. You'll undoubtedly leave stuffed thanks to the wonderful dim sum and dumplings!
9. The Rock at the Top
Want to see the city from the air? Instead of going to the Empire State Building, go to Top of the Rock. You may capture the Empire State Building in your photographs thanks to the amazing perspective of New York City from the Top of the Rock! Famous for its Today Show tapings (sometimes accompanied by free music in the summer), Rockefeller Plaza is also known for its giant Christmas tree and ice skating rink in the winter.
You may visit in a few different ways. If you don't want to spend $37 plus tax for the observatory on the 70th floor, go to Bar Sixty-five in the Rainbow Room, where a $20 martini will bring you identical views on the level below. Furthermore, you get to drink this way!
10. Brooklyn Bridge
This enormous suspension bridge, built over the course of 14 years in the late 19th century, served as a much-needed substitute for ferries between Manhattan and Brooklyn. It was the highest building in the Western Hemisphere at the time. Walking from Brooklyn to Manhattan with your back to the skyline is ideal.
Avoid sunset and go across in the early morning to avoid crowds and to obtain the greatest photos. Read the signs along the route that describe the bridge's intriguing history and geek out on engineering lore.
Final words
Now you are aware on what it is like to experience when you are visiting New York City. Follow this guide and you will be able to get the most thrilling experiences during your stay in here.