looking up to Half Dome's cliff-like granite face. admiring Old Faithful's towering water features. taking in the morning vistas of the Grand Canyon. Days spent visiting national parks are ideally combined with evenings spent at the top national park lodges. This is the stuff that family holiday memories are built of.

The big, nature-inspired lobby areas and dining areas, cozy guest rooms that combine backcountry grandeur with modern conveniences, and local construction materials ensure that you never lose sight of your surroundings are all features of these rustic hotels located around the United States.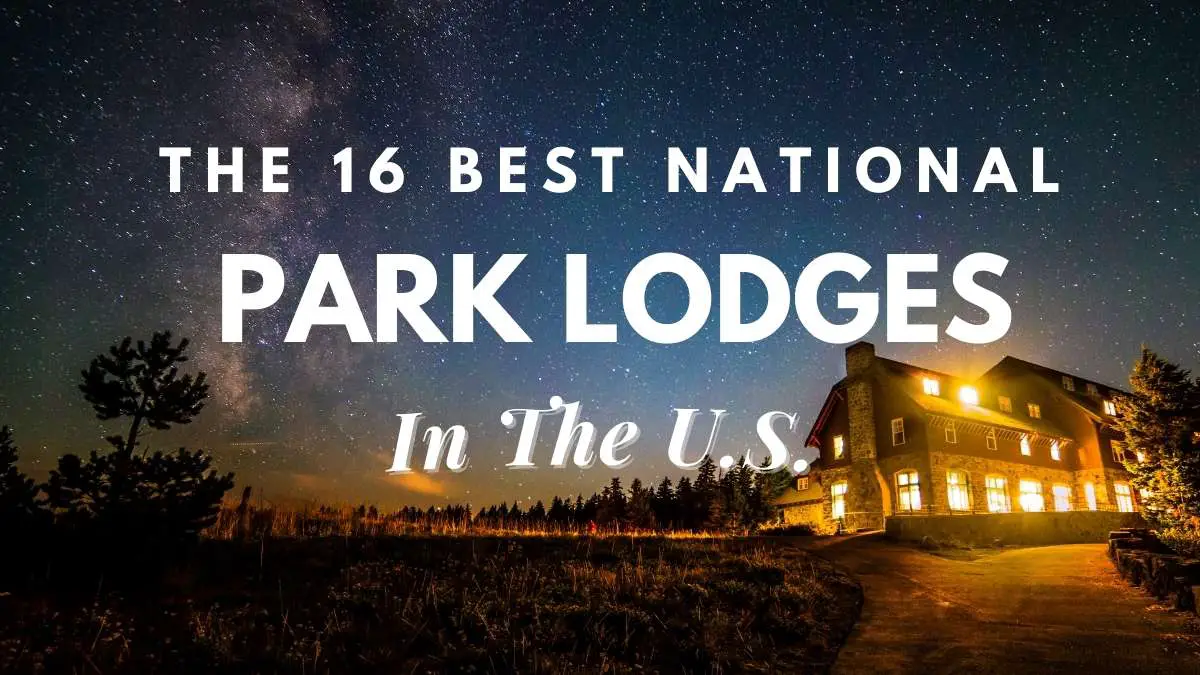 1. Old Faithful Inn at Yellowstone National Park, Wyoming
The Old Faithful Inn is a great example of the classic national park lodge design. The log-style building, constructed in Yellowstone National Park around the start of the 20th century, is regarded as a prime example of "Architecture." Many of the original fixtures and furnishings are still there in the structure, including the enormous fireplace made of local sandstone and the dining room's and lobby's mission-style furniture chandeliers.
Between early May and mid-October, you may book one of the more than 300 rooms at this lodge in Yellowstone National Park. For the whole experience, make sure to take a tour of the old hotel while you're there.
Read: Is Traveling A Hobby? The Ultimate Guide To An Exciting Way Of Life Learn about the Downsides Of Traveling As A Hobby

2. The Ahwahnee Hotel at Yosemite National Park, California
The Ahwahnee Hotel offers flair and opulence both inside and out thanks to its ideal location in Yosemite National Park's main valley, close to the foot of Half Dome. This Yosemite national park lodge, which was finished in 1927, combines a granite front and enormous stone hearths that mimic the surrounding scenery with log-beamed ceilings, Native American art, and a rustic-elegant design.
With welcoming public areas, even visitors can see what makes our hotel in Yosemite National Park unique. It's fair to say Ahwahnee is back—in name and spirit—and better than ever, even if this beloved California holiday destination may have temporarily lost its eponymous moniker (the hotel's name was changed to the Majestic Yosemite Hotel for a few years owing to legal considerations).
3. El Tovar in Arizona's Grand Canyon National Park
Visitors to the national park may enjoy traditional charm and iconic vistas at the historic El Tovar Hotel, which is perched on the brink of the majestic South Rim of the Grand Canyon. The iconic Grand Canyon national park lodge, which built in 1905 and was hailed as one of the West's most opulent lodges, has hosted notable visitors including Theodore Roosevelt and Albert Einstein. The 78 hotel rooms each have a distinctive design and layout, and there are also family-friendly suites available.
Look north if you want to escape the busiest Grand Canyon throng. The Grand Canyon Lodge North Rim, a smaller lodge in the Grand Canyon national park, is located on the North Rim. Generally speaking, getting a reservation is simpler here, and even if you have to put in a bit more effort to see those breathtaking vistas, it's still a fantastic Grand Canyon experience.
4. Oregon's Crater Lake National Park is home to Crater Lake Lodge.
The Crater Lake Lodge at Crater Lake National Park initially opened its doors in 1915, but due to piecemeal construction, the lodge was judged hazardous in the 1990s and had to be reconstructed. Though many of the original features of the Crater Lake lodge are still there, the lodgings still have that classic lodge feel of a national park, replete with blazing lobby fireplaces, a rustic dining area, and outdoor seating that takes advantage of the unmatched Crater Lake vistas.
5. Lodge near Lake Quinault in Olympic National Park
Despite being surrounded by thick Olympic National Park rainforest, Lake Quinault Lodge nonetheless exudes warmth and friendliness due to its opulent but relaxed design, cozy lakeside setting, and spacious front lawn. Stretch yourself on a leather sofa in front of the fireplace in the lobby or go to the hotel's veranda for a drink by the lake.
You're never far from the water thanks to the lake's boat and paddleboard rentals as well as the indoor pool, which offers fun rain or shine. Particularly on warm summer days, this hotel in the Olympic National Park is stunning, conveniently situated, and warm.
6. Bryce Canyon Lodge, Bryce Canyon National Park
The only in-park housing option in Bryce Canyon National Park, the Lodge at Bryce Canyon is not simply a lovely old lodge that many people like. The lodge, which sits on a mesa close to the canyon's edge, provides both a big yet rustic getaway and a great location for visiting the national park.
The structure was constructed in the early 20th century, as shown by the milled timbers, steeply pitched roofs, and substantial masonry. There are also apartments, lodge rooms, and cabin rentals available at this Bryce Canyon resort.
7. Glacier National Park's Lake McDonald Lodge is located in Montana.
You will know the moment you walk into Lake McDonald Lodge's lobby in Glacier National Park what a national park lodge should look like. After a long day of exploring the outdoors, the large fireplace, log-type architecture, open balconies that give the space a high sense, and arts-and-crafts style ornaments come together to create a rustic elegance that feels like an embrace.
The rooms at this Glacier National Park hotel, which was constructed in 1913 on the shore of Lake McDonald, nevertheless have a modest, rustic charm. There are cabin rooms in addition to the three-story main lodge, as well as two annexes: Cobb House includes opulent suites, while Snyder Hall is set up like a hostel.
Granite Park Chalet and Sperry Chalet are two other hut-to-hut hiking lodging options in Glacier National Park for those seeking a genuine experience. The National Park Service also offers guided day hikes all summer long for those who are just there for the day. There isn't always a historic lodge located within a national park. Here are two famous lodges that were constructed nearby their well-known parks.
8. Lodge at Grand Lake Colorado's Rocky Mountain National Park
Do you intend to spend the night at Rocky Mountain National Park? Reconsider: The park is one of the few national parks without accommodation inside the park. Fortunately, the surrounding towns of Grand Lake and Estes Park provide a wide variety of excellent alternatives. The Grand Lake Lodge is one of the alternatives that most closely resembles a national park lodge. A cozy main lodge structure with a restaurant and 70 cottages scattered across the grounds make up this century-old hotel.
9. Autumn at Acadia National Park in New England
Acadia National Park attracts millions of tourists every year with some of the most stunning and untamed coastline in the country. Although Acadia lacks resorts inside the park itself, there are many attractive and interesting places to stay in the surrounding towns of Bar Harbor, Mount Desert Island, and Village Green.
The Bar Harbor Inn, one of the most popular hotels surrounding Acadia, has many of the amenities one would expect to find in a traditional national park lodge. Stays at this home, which was established in 1887 but has many contemporary facilities, come standard with exceptional vistas, historical charm, and a magnificent presence.
10. Several Hotels in Glacier, Glacier National Park
The Great Northern Railway constructed this chalet-style lodge in 1914, and it was soon given the moniker "Gem of the West." Your first impression of this ancient inn will be its gorgeous four-story lobby. Its more than 200 rooms spread out along Swift current Lake's shore, with innumerable balconies and terraces affording panoramic views of the "American Alps" just across the lake.
Distance from the busy road: Many Glacier Hotel, located on Going-to-the-Sun Road, is a secluded alpine cathedral and a getaway that rivals any in the Rockies. The lodge is surrounded by trails, some of which go to Grinnell Glacier. Kayaks and canoes may be rented, and Red Bus excursions, boat cruises, horseback riding, and ranger programs all start just outside the resort's doors.
11. Denali National Park's Denali Backcountry Lodge
The 92-mile Denali Park Road, the sole entrance to the park, winds along an untamed path until arriving to Denali Backcountry Lodge, which is located deep inside the tundra of Alaska. It's one of the system's most isolated in-park lodges, and simply getting there is an experience to remember: You will travel to the remote resort by shuttle after leaving on a six-hour wildlife trip.
Once you get there, unpack in one of the 42 individual cabins, drop off your belongings, and then stop by the check-in desk to register for the week's events. In true Alaskan tradition, fly-fishing and gold-panning are also available, along with guided hikes for all skill levels, bike rentals, and botanical tours. You'll want to return to the main lodge in time for dinner, which is always made with fresh, regional ingredients and a touch of backcountry coziness.
12. Sunset pool at The Oasis in Death Valley
The Oasis in Death Valley, which has juxtaposition built into its name, is a place of opposites in the same way as Death Valley is. In the midst of the worst terrain in the nation, it offers a lush old Hollywood retreat with 3.4 million acres of vistas, private casitas, swimming pools, golf courses, and Spanish mission-style dining establishments.
The Inn at Death Valley and The Ranch at Death Valley have just undergone a $100 million makeover that has brought both locations closer to their original state, when famous people like Clark Gable would hide out in one of the ten rooms. But today, this once-exclusive retreat matches the magnitude and grandeur of its unusual (and exceedingly weird) surroundings with more than 300 guest rooms and casitas.
13. Grand Teton National Park, Jenny Lake Lodge
While Jenny Lake Lodge has little competition when it comes to pine-washed tranquility and semi-inclusive services, the vistas at the adjoining Jackson Lake Lodge—and its 60-foot windows—loom quite literally big.
The 37-cabin eco-resort, which was formerly a dude ranch, has perfected the smallest details, such as handwoven blankets and free wine with a game of croquet, combined with Wild-West elegance. Before sitting down to dinner, a weekly event with no less than five courses, go for a cruiser bike ride around the neighboring lakes, a trek on the trails just outside your front door, or choose a guided equestrian ride.
14. Hawaii Volcanoes National Park's Volcano House
The wildest, most dazzling view of any national park lodge may be seen at Volcano House, which is perched on the rim of the Kilauea caldera. Kilauea is one of the most active volcanoes in the world, and trails go directly from the meditation room into the native ohia lehua and along the caldera's edge, to boiling vents and huge, apocalyptic vistas.
There are 33 guest rooms in the lodge itself, while the adjoining Namakanipaio Campground also includes a few cabins and campsites. The main level is almost entirely made up of windows, giving you plenty of chance to relax with your morning coffee or evening beverage while doing nothing but soaking up the light.
15. Coney Island's Cabin and the New River Gorge National Park
You may do the inconceivable at the recently established New River Gorge National Park: You may lease a private island. You can reach your own sandy beaches and trails on your seven-acre hideout after a two-minute kayak or canoe journey. Three bedrooms, one and a half bathrooms, and space for up to 10 people are available in your cabin, which is the only one on the island in America's newest national park.
The New River Gorge has long been a popular place for paddling; for visitors to Coney Island, the cabin is located at the meeting point of the New and Greenbrier rivers, making it the ideal place to splash along one of the nation's oldest waterways.
16. National Park of the North Cascades, Ross Lake Resort
On the western shores of Ross Lake, twelve individual cottages (together with three bunkhouses) float on logs. Even though Olympic National Park has 2.5 million people annually, North Cascades only receives 30,000, making it an especially secluded hideaway. Visitors may either trek in or use the Diablo Lake Ferry since there is no direct road access.
The resort lacks communal spaces, such as dining rooms or restaurants, but it does provide several opportunities for boating, as well as one elusive amenity: unending isolation.
Final words
These are the best National Park lodges that you can find out there. Keep these in mind and you will be able to get the best possible outcomes at the end of the day.