Lake Texoma offers a variety of beaches and swimming spots throughout the summer months. Why not cool down in the lake's pleasant waters after a hard day of boating and fishing? Perhaps you want to take your family swimming and then have a picnic afterwards. Whatever the occasion, Lake Texoma has something for everyone!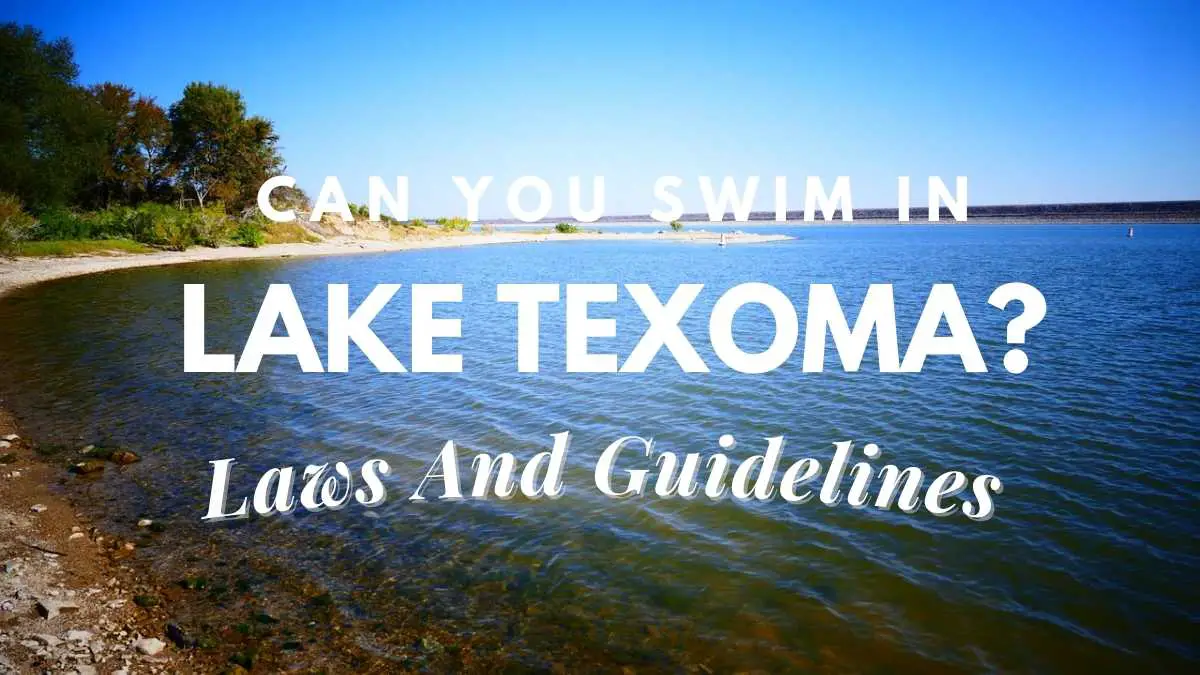 Is it possible to swim in Lake Texoma?
On both the Oklahoma and Texas sides of Lake Texoma, there are various coves to swim in. Off the boat, at various parts in the lake waters, deeper lake swimming is also an option. Swimming in a cove, however, is a great experience because it is isolated from the lake traffic.
Read: Is Traveling A Hobby? The Ultimate Guide To An Exciting Way Of Life Learn about the Downsides Of Traveling As A Hobby

Is it possible to swim near Eisenhower State Park?
There are several spots to swim and leave the water around Eisenhower State Park. In certain cases, traveling a certain distance to get to the swimming sites is necessary. Along the park, there are also several cave locations near the water. In Denison, Texas, Eisenhower State Park is located at 50 Park Road 20.
Is it possible to swim at Lake Texoma State Park?
Swimming is available at Texoma State Park during regular operation hours. This Park is well-known for its swimming opportunities (Google, 2020). For your convenience and enjoyment, there are beaches in the region. Lake Texoma State Park is situated near Kingston, Oklahoma at 6037 US 70 E.
Swimming is accessible at Island View Park in Pottsboro, Texas. This swimming spot is likewise well-rated, and it opens at 9 a.m. During regular operation hours, the park is open until 8:30 p.m. 87426 Preston Bend Road is the address for the park.
The chance to swim near your lakefront camping is one of the perks of Burns Run West Campground. For your leisure, the venue has a swimming beach, a covered playground area, toilets, and picnics spots. Cartwright, Oklahoma's Burns Run West is situated at 825 West Burns Run.
Yes, Caney Creek Recreation Area has a swimming pool as well as other facilities. Camping, a day-use shelter area, a boat ramp, a nearby dock, and a playground area are all available to visitors. 7420 Muncrief Road in Kingston, Oklahoma is the location of the recreational area.
Preston Shores Beach is another isolated swimming spot on Lake Texoma. Island View Park is close to the shore. A little distance southwest of Island View lies Preston Shores. The environment is serene and tranquil, making it ideal for family outings.
Examine Swimming Beaches and Locations Ahead of Time
It's a fantastic idea to get away with the family and unwind during this viral outbreak. Always double-check with the swimming location you intend to visit. When it comes to keeping you and your family safe, things might change on a daily basis.
What are the best beaches to swim in the Lake Texoma
In the summer, the lake is a great spot to cool down. We load our lake bag in the trunk of the car as soon as school is out and keep it there (until it stinks, of course) so that we may visit the Lake Texoma beaches whenever we want!
When you need a sandy beach but don't want to drive for 10 hours to get there, forget Florida. We spend a lot of time on Lake Texoma every year because it is our closest and dearest lake! Don't be fooled: the greenish-brown color of Lake Texoma's waters is due to massive amounts of silt deposited in the water following heavy rainfall, not because it's unclean. After all, it was built to prevent floods in the region! Remember that this is a functional water reservoir that is a crucial resource for the many animals and people that live in the area! North Texans know that Lake Texoma is the place to go for summer fun – and because we live so nearby, we go there almost every weekend throughout the summer!
Geographically, Lake Texoma is a fascinating body of water. It is part of two state parks and stretches across Texas and Oklahoma. It's no surprise that it attracts a large number of people throughout the year. Please dispose of all rubbish appropriately when visiting the area so that we may all continue to enjoy the lake!
1. Island View Park
This area is fantastic for families; however, it becomes crowded quickly during the summer. The beach is accessible for $7 per person (kids under the age of seven are free). For a price, primitive shelters can be rented, although most visitors carry their own sun protection. There are a lot of pebbles, so make sure your kids have water shoes on.
2. Juniper Point Public Use Area
This spot is popular for RV camping, but it's also a terrific place to go swimming. It's also near to some fantastic hiking paths! To prevent snake encounters, stay away of brushy regions! Ants may also be an issue in some regions (especially when food is out).
3. West Burns Swimming Beach and Public Area
This pool area is highly family oriented, and it's a terrific place to let the kids play in the water. The fee of using the space is $5 per car. Bring chairs, and make sure the kids are wearing shoes to protect their feet from pebbles and insects. We prefer West Burns over Burns Run East, which has a distinct port-a-potty odor when there is a strong breeze. We arrive early to grab a position away from the drop toilets when we visit that region.
4. Sunset Camp Public Use Area
This beach, however, a bit further north than the others, is a good choice for families. You'll want to get there early once more to obtain the greatest location. The Best Beach on Lake Texoma Eisenhower State Park is a park dedicated after President Dwight D. Eisenhow.
For good reason, Eisenhower State Park is immensely popular among residents. There are various picnic spots and excellent amenities. The Park costs $5 per adult to enter, and dogs are not permitted in the swimming area. Make sure to obey all speed limits! A penalty will be issued if you go more than 5 miles over the speed limit.
5. Sandy Beach
This gorgeous beach can't possibly be in Texas; it's clearly a wormhole leading to the Amalfi Coast. The stairs leading down to the hidden cove are thrilling and exciting!
Water shoes are required because there are some jagged pebbles along the water's edge. You can even go explore a lovely small cave! While it's excellent in the summer, it's also worth visiting in the off-season to get a sense for the place when it's pleasant and peaceful. Even though it's still busy in the fall, I managed to get in a quiet solo trek on a Saturday morning.
Other things you can do at Lake Texoma
Lake Texoma is not all about swimming. There are numerous other activities that you can do during your stay. Let's take a quick look at some of the most prominent activities that are available for you to do.
1. Charters and boat rentals
A trip to Lake Texoma wouldn't be complete without some time on the lake! Water taxis may take you away to the Islands for a day of beach fun, or you can charter a tow boat and ski, tube, or water board in the deep seas.
Rent a pontoon or a houseboat for some leisurely sailing along the shorelines. Make it simple by chartering a boat to take you on a private cruise or anchoring up in a quiet cove for some water fun — the captain does all the work, and you get to have fun.
Do you want to see a bit more action? Rent a jet ski and ride the waves surrounding the lake. Rentals of boats, jet skis, and wakeboards may be found in the Business Directory.
2. Go for a cruise ride
Lake Texoma is known for its stunning sunsets, and what better way to take in the scenery than on a dinner cruise on the Island Girl.
Reservations are necessary for the dinner and sunset cruises on Friday and Saturday nights. On Saturday afternoons, lake tours are provided. Other specialty excursions are offered throughout the year, including early morning eagle viewing cruises in the winter, fall foliage cruises in the autumn, and July 4th fireworks cruises. Cruises with a theme are also highly popular. Dates and hours may be found on the Lake Texoma Activities page.
For an afternoon getaway to a quiet cove or a tour of the lake, private charter services are also available. Float on the Red River while walking to a new beat. Charter services, water taxis, shuttle services, and boat rentals may all be found in the Business Directory.
The Compass Rose, an 1800s all-wooden brigantine ship docked at Grandpappy Marina, has traveled the oceans, sailed with other tall ships, and been featured in movies, documentaries, novels, and music. When you come to see her, you become a part of her legend! There are dock excursions, moonlight cruises, day sails, and private sails to choose from.
3. Lake sailing
Sailing with objects of interest is extremely enjoyable on Lake Texoma. You'll frequently see vessels fit for ocean seas 25 miles apart and covering 90,000 acres of water.
From March through October, sailing races are organized, with the Lakefest Regatta being the most popular, attracting hundreds of sailors to Lake Texoma each year. You don't have to be a sailor to enjoy the festivities; anybody may watch the races and attend the celebrations.
4. Go for swimming in one of the pools
Lake Texoma boasts miles of gorgeous beaches along its shores. Build sand castles, splash in the ocean, or start a beach volleyball game near the water's edge. It's important to remember that this is a LAKE, not a pool. The ground is uneven, there is underbrush that is not apparent from the surface, and there are unexpected drop-offs that can be perilous. When in the water, life jackets are suggested for people of all ages. It is critical to adopt the buddy system, particularly with youngsters. Swimming pools, exercise facilities, and spas are available at several resorts. Denison's Waterloo Pool is open all year. The Splash water park, as well as the Gainesville and Whitesboro pools, are open throughout the months of June, July, and August.
5. Fishing
For good reason, Lake Texoma is regarded as the Striper Capital. It's one of the few lakes in the world where these fish reproduce naturally, and they grow to enormous proportions! When one of these giants accepts your bait and the fight begins, it's time to bend rods and zing lines! Small and largemouth black bass, crappie, and catfish abound in Lake Texoma. A guided fishing excursion is recommended if you are unfamiliar with the lake.
Professional fishing guides know where the fish are most likely to be and what sort of bait works best for the season because this is a large lake. They fillet and bag the fish for you at the end of the day, so bring an ice chest to carry your "harvest" home. The majority of manuals provide some form of assurance. Do you want to know how excellent the fishing is? Check out the latest fishing reports from expert fishing guides on Lake Texoma.
6. Play golf
A golf course is nearby wherever you stay on Lake Texoma! These courses, designed by well-known designers such as Arnold Palmer and Jack Nicholas, among others, present a challenge to players of all skill levels.
7. Go on hiking
Hiking, biking, multi-use, and equestrian paths are available at Lake Texoma state parks and nature centers for discovering nature and enjoying the great outdoors. Bring your camera or smart phone and wear good sturdy shoes because these locations are ideal for birdwatching and wildlife photography. If you don't want to trudge on the grassland, Hagerman National Wildlife Refuge features an electric tram that runs on Saturday and Sunday. Binoculars should be brought or borrowed from the refuge.
Take a walk down the shore looking for fossils or try your hand at geocaching. Everyone who enjoys the great outdoors will find something to enjoy at Lake Texoma!
Rock Climbing/Bouldering at Eisenhower State Park Rock Climbing/Bouldering at Eisenhower State Park
The shoreline of Lake Texoma often gives way to jagged cliffs with caves and bigger boulders, making it ideal for rock climbing and bouldering.
Final words
Now you know how to go ahead with swimming in Lake Texoma and get the best experience. Keep these facts in your mind and you will never have to worry about anything at all.