Vermont is a popular destination for Americans wishing to get away from their hectic and stressful life in east coast cities like Boston, New York, and Philadelphia. It is known for its maple syrup, severe winters, and unequaled natural beauty. My family used to vacation in Vermont often when I was a kid, driving up from Maryland. We usually traveled in the winter since Vermont is famed for its excellent skiing, but it also has many beautiful waterfalls, virtually all of which are readily accessible. The following are 15 of Vermont's most spectacular waterfalls.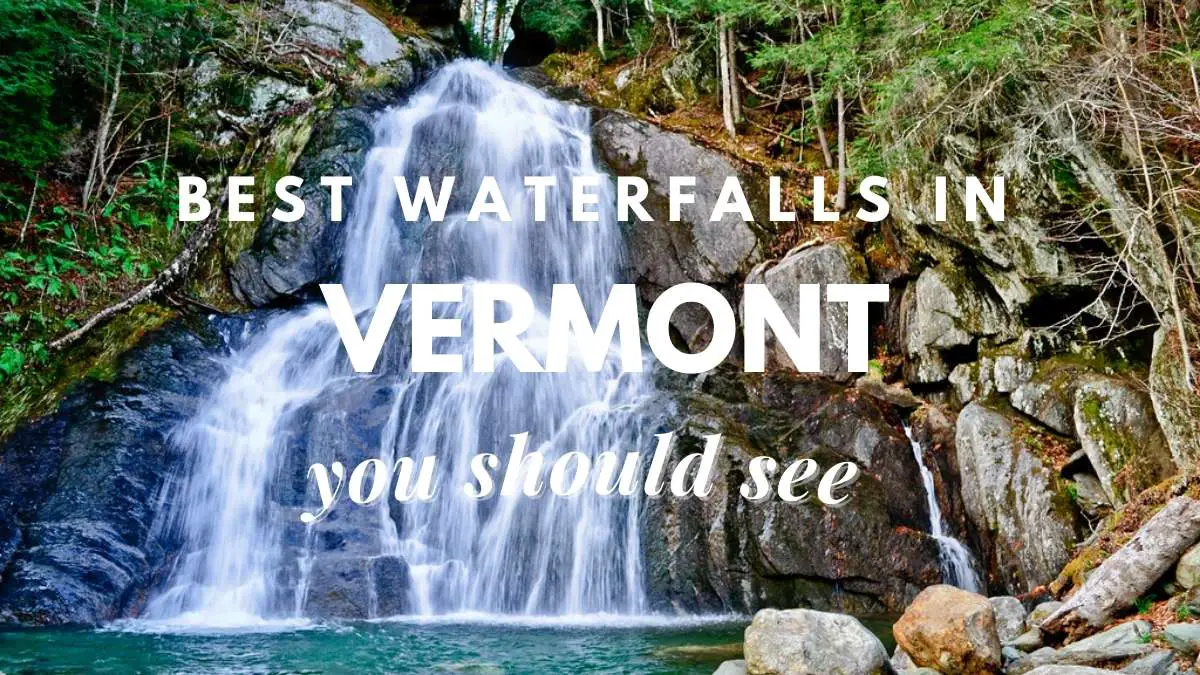 Moss Glenn
Moss Glenn Waterfall in Stowe, towards the top of the list for Vermont's biggest waterfall, is a stunning, multi-tiered fall nestled among lovely mountains.
It is approximately 125 feet tall and, like the majority of Vermont's waterfalls, is easily accessible.
Despite the fact that the water is very cold all year, residents and travelers who want to cool down in the summer go to the fall.
The pool may freeze up in the winter, and the flow can be limited in the summer, even though the pool is normally filled.
Allow some time to explore the town's restaurants, shops, and galleries before heading out on the road.
Read: Is Traveling A Hobby? The Ultimate Guide To An Exciting Way Of Life Learn about the Downsides Of Traveling As A Hobby

Lye Brook Falls
Lye Brook Falls is a waterfall located in the town of Lye.
Lye Brook Falls, at 125 feet, are one of Vermont's most spectacular, and they're located in Manchester's Green Mountain National Forest.
The falls are accessible after an approximately 5-mile journey that is somewhat tough despite its length.
The water cascades down hundreds of small stairs in the rock, making sharp, angular bends that give the falls their distinct appearance.
Because of its seasonal nature, the falls are best viewed in the spring, when the snowmelt from the neighboring mountains causes the falls to flow at their fullest.
Read: 14 Things To Do In Fall Stowe VermontLearn about the Smugglers Notch State Park
The Great Falls
Big Falls is located at Big Falls State Park on the Missisquoi River in Troy, only a short distance from the Canadian border.
Though the falls are only around 40 feet tall, its real beauty derives in their pure natural surroundings and the force with which the compressed water squeezes and roars its way down the tight, rocky ravine.
The park is located in a rural region of the state, so it may take an hour or two to get there.
However, there are few things more picturesque than a drive through the Vermont countryside, so fill up the tank and get going.
Fishing and bird viewing are among popular activities in the region.
East Willard Waterfall
East Willard Falls, as the name indicates, are accompanied by two spectacular covered bridges that are the ideal artificial counterpart to the river's natural grandeur.
They are located in the town of North Hartland in Windsor County.
Mill Road, where it crosses the Outquenched River, has the bridges and falls.
The falls are roughly 30 feet tall and run over dark brown granite.
They are beautiful at any time of year.
Because the bridges can only support one lane of traffic at a time, you'll need to locate a safe area to pull over before taking your camera out.
Bartlett Falls
Bartlett Falls is a popular tourist destination in the United States.
Bartlett Falls, located near Bristol, are readily accessible and appealing to swimmers trying to beat the summer heat.
They're just outside of town on Lincoln Road and can't be overlooked.
If swimming and splashing youngsters aren't your thing, go in the early spring or autumn, when the water isn't quite frigid enough to swim in.
The water of the falls pours over slightly crooked slabs of flat, stratified granite, giving them a distinct appearance.
They're on the New Haven River, and they're a wonderful fishing area, particularly in the spring, when the fish, starved after a long winter with nothing to eat, leap to life and gorge themselves on everything they can find.
This is a plunge cascade that reminds me of a little Niagara Falls.
For access, there is a walking trail beside the river.
It is a favorite swimming hole for locals and is located just outside the hamlet of Bristol on Lincoln Rd.
There is a shallow portion for small children as well as swimming beneath and behind the falls.
I brought my grandkids here to swim.
You may leap or dive into the water from the ledges on either side of the river.
There is a scarcity of parking.
You may either take a minor detour or park on the side of the road.
There are no amenities here, either, although Bristol is just a short distance away.
Check see the Bristol Cliffs, which are located immediately downstream from the falls.
If you want to see another magnificent waterfall, Bristol Memorial Park Falls is not far away.
Texas Falls
Though it's debatable if anything is larger in Texas, Texas Falls in Hancock, Vermont, are impressive in their own way.
This multi-tiered waterfall, at 35 feet tall, may be found in the Texas Falls Recreation Area on State Route 125.
The walk to the falls is a mile-long circle that is suitable for all members of the family.
Swimming isn't permitted, but you may still go near enough to appreciate the beauty of the falls.
On the plus side, since swimming is prohibited, the falls are frequently less busy than others, so you could just have the site to yourself.
Bingham Falls
Stowe is known as a winter paradise, with skiers flocking from all over the country to swoosh down the area's majestic slopes.
There are a few famous waterfalls in the area, including Bingham Falls.
The falls are 25 feet tall, are divided into numerous levels, and are surrounded by breathtaking natural splendor.
The trek to the falls is quite challenging, yet it is just a half-mile round trip.
The pools below the falls are ideal for swimming, although they may be a little perilous in the spring when the flow is at its highest.
When you've had your fill of communing with Mother Nature, check out the town's eateries and stores.
This is a five-tiered waterfall that drops 25 feet into a lovely lake at the bottom.
This is another fantastic swimming spot, surrounded by the natural splendor of the forest and waterfalls.
It is clearly signposted and has lots of parking on both sides of the road.
It is located on Mountain Rd or State Route 108.
The bottom of the falls is reached after a short stroll down a broad trail.
The last stretch of the walk is a tiny stone path, so be sure to wear hiking shoes.
This is not a nice swimming spot for little children.
There are no amenities here, although the mountain road is lined with eateries and petrol stations.
Smugglers Notch State Park is a short drive away after seeing this waterfall on Route 108.
If you wish to go waterfall chasing, Moss Glenn Falls (Stowe) is not far away.
Green River Falls
Some waterfalls are known for their stunning height, width, or sheer volume of water rushing over them, but not all are.
Green River Falls at Green River Reservoir State Park should be on your list of things to visit in Vermont before you die if you're like me and enjoy remote, off-the-beaten-path waterfalls.
On your route to the state park, make a pit break at the falls.
They're a lovely spot for some quiet reflection, a few photos, and some bird watching.
If you like camping and canoeing, the park has camping spots that can only be reached by canoe or kayak.
Glenn Falls
This Moss Glenn Falls, one of several called Moss Glenn Falls, is located near Granville and is not to be confused with the one in Stowe.
This Moss Glenn Falls is smaller than the other, at around 35 feet, but its beauty and accessibility more than make up for it.
It's also on Vermont Route 100, which is known for its undulating, forest-covered hills and mountains and is generally referred to as the state's most picturesque roadway.
If you're on a tight schedule, you can see the falls from the road, but parking is provided if you want to get out and stretch your legs.
Middlebury Falls
The vista from the footbridge below Otter Falls may make you feel as if you've traveled back in time a few centuries.
The falls, which are located in Middlebury, Vermont's Addison County, are among the most beautiful you'll ever view.
Their overall drop is slightly over 20 feet, but they're considerably broader, and they're framed by a couple of the town's buildings and a lovely, arched stone bridge that seems to have been there for a long time.
On the town's main street, there are a few restaurants and stores, so pick a parking spot and go exploring.
The falls are located on Otter Creek, a popular fly fishing area.
Warren Falls
The cold green water of the falls contrasts well with the surrounding grey stones.
They're a popular summer leisure site, so don't expect to have the area to yourself if you visit during that time.
They're readily accessible, and if you want to relax after a swim, there are plenty of paths that will take you to more distant regions with less foot traffic.
Lana Falls
The Falls of Lana, in Addison Country's town of Salisbury, descend approximately 100 feet down a stunning rocky and wooded gorge over Sucker Brook.
They're in the Moosalamoo National Recreation Area, and, like the rest of Vermont's waterfalls, they're free to see.
The falls are divided into three portions, each of which is accessible by a route that is less than a mile long.
Because of the terrible winter weather in the region, it's preferable to visit in the spring, summer, or early autumn.
The location is stunning all year, but especially so in September and October when the leaves begin to change color.
Hamilton Falls
It doesn't mean you should wear that ragged Bob Marley tank top you've had in your bottom drawer since your vacation to Och Rios just because the next falls on the list are in Jamaica.
The falls, which are located in the Hamilton Falls Natural Area in Windham County, drop approximately 130 feet over dramatic big slabs of grey rock, and are ideal spots to sunbathe and catch some rays if the flow isn't too high.
The journey to the falls is just around a quarter mile long.
This is an excellent spot for a family excursion.
Buttermilk Falls
The vista below Buttermilk Falls in Ludlow, in Windsor County, looks like a valuable watercolor unearthed in your grandmother's attic.
They're in Okemo State Forest, and they're made up of three separate sections that fall roughly 25 feet from top to bottom.
If you're concerned that such a little fall won't be worth the effort, think again.
The falls contain a number of pools that are all fairly accessible and swimmable, however the water may be frigid even in the summer.
If you have one, bring it with you since the region is known for excellent fishing.
Thundering Brook Falls
The Thundering Brook Falls are located near Killington, Vermont, which is known for its ski resort.
They're on the Appalachian Trail, a picturesque route that runs for thousands of miles across the eastern United States' historic mountain range.
The falls are made up of two separate falls, the lower of which has an 80-foot plunge and the upper of which has a total drop of over 125 feet.
There's an elevated observation platform that provides a good view of both parts of the falls, and the falls are readily accessible, making them a fantastic spot for a family trek and picnic.
Final words
Now you are aware about the best waterfalls in Vermont to explore. Keep these in mind and plan your visit accordingly to get the best possible experience.