Falmouth, Massachusetts is, in my opinion, one of the most beautiful spots in the United States to visit. This is a list of things to do in Falmouth, Massachusetts — maybe, it will persuade you to visit and experience for yourself what I'm talking about! If you are looking for things to do in Falmouth MA in winter, you are at the right place.

Falmouth, Massachusetts, is a delightful tiny town in Barnstable County, the gorgeous city of Cape Cod's second-largest municipality. It is a nice holiday spot and a water village on Cape Cod's southern point.

There are so many exciting things to do and see in Falmouth, Massachusetts. Visit the various sights, drink wine at the vineyards, shop and dine at the many stores and restaurants, or just relax on the white-sand beaches. We will share a list of activities that you can do and all you have to do is to go ahead with enjoying them.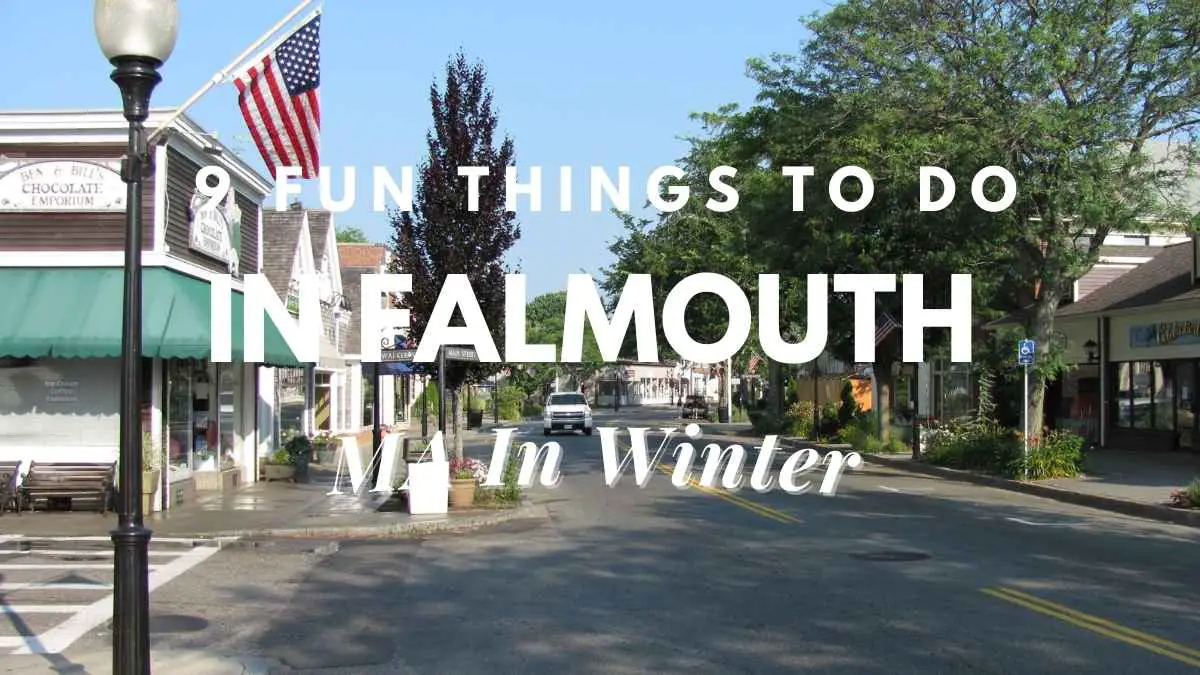 1. Climb to the top of the Nobska Lighthouse.
The Nobska Lighthouse, also known as the Nobska Point Light, is one of Falmouth's most magnificent sites.
The Nobska Lighthouse, which is situated between Vineyard Sound, Nantucket Sound, and Buzzards Bay, is a well-known Cape Cod landmark.
It is located on the extreme southwestern point of Cape Cod, separated from the beach by Nobska Road.
It was first constructed in 1826, with the first tower being rebuilt in 1876 with a 12.8m (42ft) tall iron tower.
After the final lightkeeper retired in 1985, it was automated.
The Nobska Lighthouse was also added to the National Register of Historic Places in 1987.
The architecture is stunning and one-of-a-kind.
The spiral staircase on the inside is also worth seeing.
It's a highly unique and complicated feature, and I believe it's photo-worthy.
Read: Is Traveling A Hobby? The Ultimate Guide To An Exciting Way Of Life Learn about the Downsides Of Traveling As A Hobby

2. Cape Cod Winery Truro Vineyards
Cape Cod Winery is next on my list of things to do in Falmouth, Massachusetts.
If you're planning a trip to Cape Cod and want to have a "Date Night," a visit to the Cape Cod Winery is a good option.
It's a rural vineyard and winery on Oxbow Road, less than 5 kilometers (3 miles) from the shore, with over nine kinds of great wines.
All of which are created right here in the United States and are guaranteed to give you a relaxing Cape Cod vibe.
We highly recommend it to everyone who are looking for things to do in Falmouth MA in winter.
With your wine, there's also a side menu of crackers with salami and cheese.
Make sure you sit outdoors and enjoy your time of leisure to take in all of the beauty of the surrounding area and its magnificent vistas.
3. The Knob in Falmouth, Massachusetts
I recommend exploring The Knob if you're seeking for things to do in Falmouth where you can spend a relaxing couple of hours with family and friends.
It seems to be one of the most popular Cape Cod nature treks.
The Knob is in Woods Hole, Massachusetts.
The Knob offers it all, whether you're looking for a beach picnic or a relaxing nature ramble in a bird refuge.
It's a hidden gem with the most spectacular views of Buzzards Bay and Quissett Harbor, making it an ideal spot to watch the sunset.
4. Martha's Vineyard is a Massachusetts
The island of Martha's Vineyard is open all year.
It's little under 11 kilometers (7 miles) off the coast of Massachusetts' Cape Cod.
Because there are no tunnels or bridges connecting the island to the mainland, the only method to reach there is via boat.
The trip from Falmouth to Martha's Vineyard takes around 40 minutes by boat.
Those who want to bring their automobile over to the island may utilize the Steamship Authority boat.
You may also take a bicycle or bus trip if you don't want to drive.
Six villages make up Martha's Vineyard, which is triangular in form.
It measures 40 kilometers (26 miles) in length and 12.8 kilometers (9 miles) in width.
Oak Bluffs, Edgartown, and Vineyard Haven, sometimes known as "down-island" communities, are wonderful for shopping, eating, and other activities.
These are the ones that get the most traffic.
Chilmark, West Tisbury, and Aquinnah are the smaller, more rural communities.
The monthly Farmer's Market and Agricultural Fair in West Tisbury, the fishing harbor of Menemsha in Chilmark, and the Gay Head Cliffs in Aquinnah are among the major attractions.
In the summer, take advantage of the island's laid-back vibes, which include world-class beaches, excellent seafood, farm-fresh veggies, and exciting cultural events.
There are a variety of outdoor activities to enjoy on the lake or in the woods while coming in the autumn or spring.
In the winter, Martha's Vineyard retains its allure, luring visitors back again and again.
5. Old Silver Beach
Old Silver Beach is a local favorite and one of Buzzards Bay's most popular beaches.
With its smooth white beach, the purest Caribbean blue sparkling seas, great for swimming in the bay, and the amazing vistas, it's the perfect place to kick back and watch the sunset at the end of a lovely day.
This beach is high on my list of the greatest things to do in Falmouth, Massachusetts.
The beach itself is divided into two sections: one for tourists and the other for Falmouth locals.
But don't worry, there's plenty of parking and public facilities for everyone.
There is also delicious snack food available.
After a day of sunbathing, the real show comes after the masses have dispersed from the beach.
On a clear day, the vista over Buzzards Bay to Mattapoisett and West Island is breathtaking, providing the perfect background for a romantic sunset.
6. The Shining Sea Bikeway
The Shining Sea Bikeway is a bike path that runs parallel to the sea.
Bike riding is one of the best activities to do in Falmouth, Massachusetts.
Get on your bike and ride!
This 17-kilometer (10.7-mile) paved trail, which was developed on a disused railroad right-of-way, is perfect for novice and casual cyclists.
It travels along the Vineyard Sound beachfront, starting at County Road in North Falmouth and ending at the Steamship Authority parking lot in Woods Hole.
You'll pass through Cape Cod tree varieties and flowers on this lovely, picturesque journey.
Follow the Old Colony train line through Sippewissett Marsh and via cranberry bogs to Chappaqua Beach.
You'll escape the summer traffic in Falmouth by taking this route, which runs along the coast and crisscrosses the Salt Pond Bird Sanctuary.
7. The Woods Hole Science Aquarium
Taking the kids to the Woods Hole Science Aquarium is next on my list of fun things to do in Falmouth, Massachusetts.
It is the country's oldest aquarium, having opened in 1885.
Although the Woods Hole Science Aquarium is modest in comparison to other aquariums, it is an excellent site to learn about local marine species.
In the Northeastern and Mid Atlantic seas, there are 140 species of marine life.
Every day at 11 a.m. and 4 p.m., the seals in the outdoor display are fed.
This is a lot of fun to watch with the entire family.
The "touch tank," where youngsters may reach into the tidal pools and touch starfish, crabs, or even a lobster, is a huge hit with the kids.
This is an ideal spot for a fun day of exploring, as the delights of our beautiful ocean come to you!
Read: 15 Things To Do In Bozeman Mt In Winter (Activity Ideas)
8. Visit the Woods Hole Historical Museum
Take a walking tour of the Woods Hole Historical Museum to learn about the town's culture and history.
It's a tiny museum with exhibits on both local history and marine life.
There are many intriguing objects on exhibit, all of which provide an excellent insight of Woods Hole's history and rich past.
There's also a one-of-a-kind yacht museum with a diverse collection of vessels.
So make a point of visiting the Small Boat Museum on your next trip.
9. Spohr Gardens
Spohr Gardens is located between Woods Hole and Falmouth's downtown area.
On the shores of Oyster Pond in Falmouth, there are six acres.
It doesn't have large lawns, but it does have a lot of paths and roads that connect to some lovely areas.
Charles Sphor, the first owner, was a ship bell and anchor collector.
As a result, Spohr Gardens has a distinct nautical flavor.
It's a great, kid-friendly attraction where our young ones can learn all there is to know about all things nautical.
There is no charge to enter, and in the springtime, all of the lovely flowers are in full bloom, providing us with the ideal setting for fantastic shots right by the lake.
Final words
Now you are aware about the best things to do in Fall Mouth MA in winter. Make sure that you take time to plan the trip accordingly, so that you can end up with securing the best possible experience at the end of the day.