The Green River in Utah, which flows through Labyrinth Canyon, is the epitome of a calm river ride. A calm, green river corridor, dotted with sandbars and lovely side canyons, is encased by smooth orange walls. This journey has no rapids, which is precisely why it is so enjoyable. The major draw is the landscape; the peace and stillness are the main event. The river gently leads you through a scenery that gets more gorgeous with each curve, giving you the opportunity to gaze, amaze, wonder, and absorb. This is a once-in-a-lifetime opportunity that should not be missed. Holiday discusses his five-day trip to Labyrinth Canyon and why it's sometimes best to avoid the rapids.

Hiking enthusiasts, persons wishing for a quiet, leisurely float, stand-up paddle boarding, history lovers, and families with young children (ages five and up) would enjoy this trip. Custom charter excursions for parties of 12 or more are available.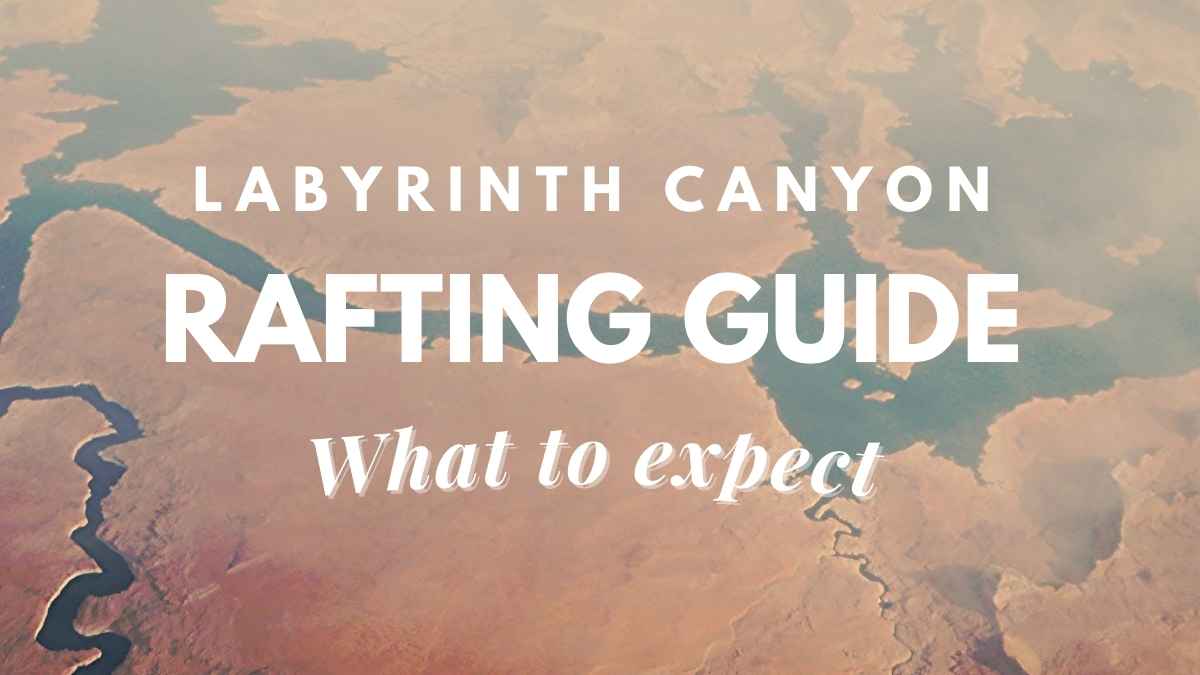 Highlights of Labyrinth Canyon
This journey might begin in one of two ways. The lengthier route begins at Green River State Park and takes you beneath Interstate 70 as well as the Denver and Rio Grande Railroad bridge. Spend a day meandering through the Green River Desert's spooky badlands, a purple and grey precursor to Labyrinth. Alternatively, launch 24 river miles downstream at Ruby Ranch, where the river is surrounded by buff and gold-colored sandstone.
The river is peaceful and smooth no matter where you start. This is a journey for those who like having no plans, nowhere to go, and nothing to do except float, walk, and ponder the ever-changing magnificence of time-worn sandstone. Swim besides the rafts, running your toes down the sandy bottom, or use a stand-up paddleboard to explore the river's margins. Along the banks, there's a lot of history. Ranchers, homesteaders, and miners created hard lives for themselves in this canyon, leaving behind cottages, hand-hewn roads, and equipment in their wake. Along with much earlier indigenous rock art, early river runners engraved their names onto the walls. Nature, though, is more important than history.
Cottonwood and Gambel's oak groves coexist with willows and tamarisk near the beach. Birds abound in this dense riparian vegetation. This corridor is home to great blue herons, peregrine falcons, beavers, big horn sheep, and deer. Perennial streams with minnows, crayfish, and cattails may be found in many side canyons. Above it all, the canyon walls rise higher and higher as you walk downstream. Smooth, uninterrupted slopes give way to blocky cliffs, with pillars and pinnacles protruding under the pale domes of the top rock strata. Labyrinth is under some of Utah's darkest sky, far from any source of light pollution, making it a great site to see the cosmos.
Read: Is Traveling A Hobby? The Ultimate Guide To An Exciting Way Of Life Learn about the Downsides Of Traveling As A Hobby

Things to keep in mind as you explore the region
It's worth noticing the opening sentence of Holiday's mission statement: The mission of Holiday River Expeditions is to protect our country's natural regions. It's not only about making the most money or offering the most enjoyable river excursion imaginable. It's a lot larger than that. We understand that our company would be impossible to run without these wild territories, and we also feel that wild places are essential not just for the health of our planet, but also for the health and well-being of our species.
The Emery County Lands Bill, an omnibus public lands package that tried to strike a compromise between proponents for wildness and advocates for broader access and development, designated Labyrinth Canyon as a protected wilderness area in March 2019—at least on the west side of it. The holiday commemorates Labyrinth's permanent protection of the Green River's western bank. But, true to our purpose, we'll continue to campaign for sensible, long-term land management policies in Labyrinth and anywhere else we perceive a need to voice and act on behalf of our country's wild areas.
Rafting in the Labyrinth Canyon
Step off the rafts into terraces of brilliant yellow mineral deposits and look for the small pipe that's constantly boiling over with cool, mineral-laden water at the Crystal Geyser. Perhaps you'll be fortunate enough to see one of the geyser's infrequent explosions.
Ranchers, homesteaders, and Native Americans have all left items to discover in McCarty Bottom.
Follow a perennial stream up the longest of three canyons that meet in a beautiful river bend, Trin-Alcove Bend.
The River Register is a short hike up a rock face where you can see hundreds of old inscriptions and some current rock art.
Hike up a dry wash into the Chinle rock formation and study the ruins of a uranium mine in Hey Joe Canyon.
Climb to a low saddle in the canyon wall for breathtaking views of the river wrapping around in a gigantic bowknot, just a few hundred feet from where it began.
Hell Roaring Canyon is one of two locations where Denis Julien, the enigmatic and famed French-Canadian fur trapper, carved his name.
Points of Departure and Arrival
Green River, Utah is the location of the meeting. Take the vans to Green River State Park for a fast three-minute ride or take the longer but more picturesque route down Floy Wash to Ruby Ranch. Regardless of where we start, the river travels generally south-west, pausing to take in the scenery as it makes its way into Canyonlands National Park. We'll exit at Mineral Bottom, right before the national park border. The journey out of the canyon, via a road practically cut out of the side of a cliff, may be the most adrenaline-inducing element of the trip! It's a two-hour trip back to Green River from the lip of the canyon, circling north and west around the vast gap over which we've just been floating.
Boats used for Labyrinth canyon rafting
Holiday employs oar-powered rafts in Labyrinth Canyon, as well as on every other part of river we operate. These are 18-foot inflatable boats with wooden frames and 10-foot oars that are steered and rowed by a single guide. Our rafts are custom-built to the criteria developed by Dee Holladay and generations of boatmen for optimal efficiency and comfort.
Depending on the party size and what folks want to do, we'll also bring an inflatable kayak or two, as well as one or two stand-up paddle boards. These are tiny personal watercraft that let you to go exploring on your own time, get some exercise, and enjoy some quiet throughout the day.
We don't have any motors with us. Holiday does not utilize motors on any of the river portions we run, but a motor looks particularly out of place in Labyrinth. The canyon walls and the slow-moving river are like a natural cathedral, requiring calm attention and contemplation. And, despite the fact that the river travels slowly, there's nowhere else we need to be. Every mile of the river has something amazing to offer, something worth seeing. The entire goal of floating in Labyrinth Canyon (and indeed, everywhere we float) is to go with the flow.
Tips to keep in mind as you go ahead with Labyrinth canyon rafting
Prepare for the heat. Throughout the summer months, temperatures may reach 100 degrees or more during the day, so bring sunscreen and appropriate clothes. Encourage you to take regular baths. (You can hang from your boat for kilometers since there aren't many rocks or riffles to get in the way.)
Make sure you bring lots of water. Filtration of water is difficult in the Green River since it is silty. We packed four five-gallon jugs for a seven-person excursion lasting three nights.
Bring insect spray with you. We didn't see the swarms of mosquitoes we were anticipating, although we did use pest spray during the peak sundown hour.
Be ready for a long journey. Labyrinth Canyon has no mobile service and is isolated from the rest of the world.
Prepare yourself for the tense path to take-out. The route from Mineral Bottom to the canyon's rim is narrow and crisscrossed with switchbacks. When the road is wet, it might be risky. The take-out location is nestled in a lovely grove of cottonwood trees, making de-rigging a pleasant experience. You won't be able to back a raft trailer all the way down the bank since it's steep and muddy.
Final words
Now you know what it is like to go ahead with Labyrinth canyon rafting. One of my favorite adventures is floating the Green River through Labyrinth Canyon. Though some hardcore boaters may find a class I float "boring," the landscape of the float, in my view, more than compensates for the lack of rapids. This might be Utah's greatest family-friendly river excursion, featuring beauty, history, and a slow-moving river.
The journey, on the other hand, is a bit of a challenge. It's usually floated from Green River to Mineral Bottom, a 68-mile journey, or from Ruby Ranch to Mineral Bottom, a 45-mile journey. If you're beginning from Ruby Ranch, I'd suggest three days at the very least, and four or more if you're starting from Green River. Lazy days at camp and a relaxed pace are ideal in the canyon.