Despite its youth, Cuyahoga Valley National Park is one of the most popular in the Parks system owing to its accessibility. In Cuyahoga Valley National Park, you may get a lot out of a quick visit, but if you dive deeper, you'll discover a practically limitless number of things to do.

Cuyahoga Valley National Park (CVNP) is located in northeast Ohio and spans over 33,000 acres. Along the Cuyahoga River, the site is about halfway between Cleveland and Akron. It has continuously been one of the top 10-15 most visited National Parks in the United States due to its near vicinity and easy access to many bigger cities.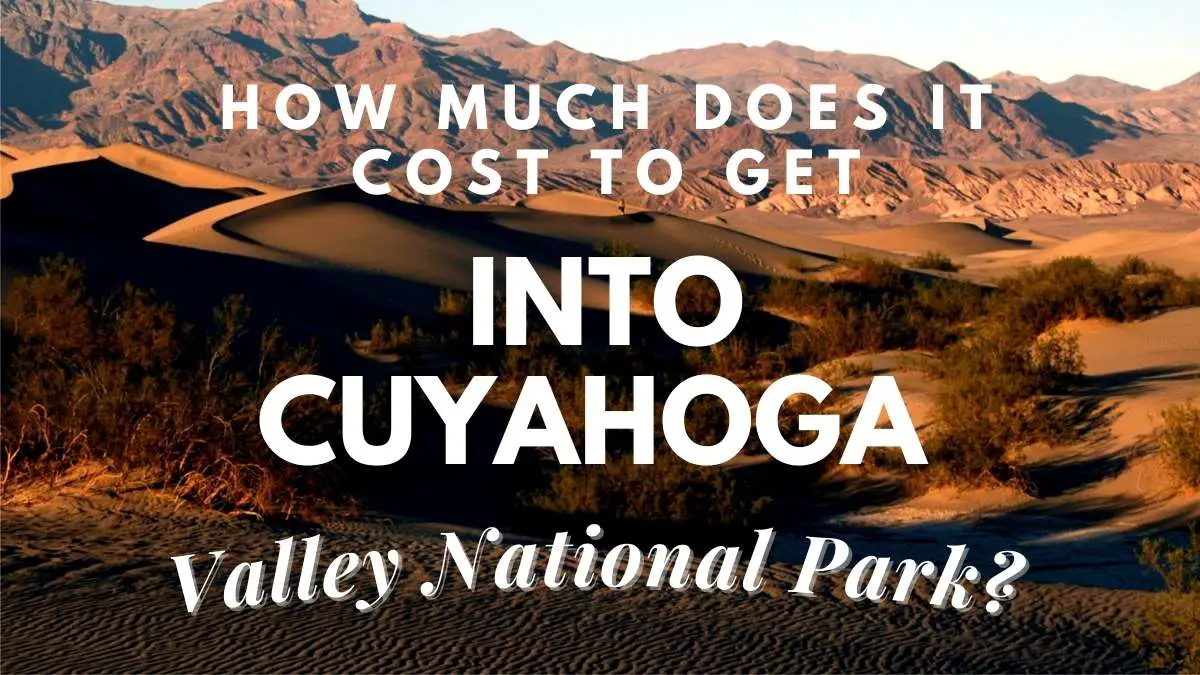 What is the history of this National Park?
To begin with, it is Ohio's only national park! While there are a few National Historic Sites and Monuments in the state, this one stands out.
CVNP is mostly recognized as an urban National Park.
The park is crisscrossed by roads, and traffic can be heard from the start of numerous hiking paths. Please don't let this dissuade you from coming.
Read: Is Traveling A Hobby? The Ultimate Guide To An Exciting Way Of Life Learn about the Downsides Of Traveling As A Hobby

What is the cost of a visit to Cuyahoga Valley National Park?
The simple answer is yes.
Nothing! This National Park does not charge an entry fee.
The majority of the hiking routes and important attractions are open to the public for free.
The Cuyahoga Valley Scenic Railroad is an exception.
You may ride the train in a variety of ways, each with a different price tag, but you must pay for tickets for this activity.
How to Get to and from CVNP?
Both Cleveland and Akron in northeast Ohio have easy access to this National Park.
For those of you who are unable to go by car, both of these cities have airports.
Once you've arrived in the region, you'll need a vehicle to drive around to many of the park's attractions.
Despite the fact that bicycle routes and the Cuyahoga Valley Scenic Railroad can bring you to many crucial places, driving is the best and most efficient mode of transportation.
Most of the park's locations are within a half-hour drive of one other.
Read: [One Day] In Sequoia National Park Travel GuideLearn about the General Sherman Tree
Cuyahoga Valley National Park has a lot to offer.
Cuyahoga Valley National Park is available to tourists all year.
Many of the items on this list are available all year, while a few are only available during certain seasons.
We hope you may use this list as a source of inspiration and a jumping-off point when organizing your next CVNP visit.
Here are some of the top activities to do and places to visit without further ado!
1. Start your journey at the Boston Mill Visitor Center.
The Boston Mill Visitor Center is an excellent starting point for a variety of activities in Cuyahoga Valley National Park.
This visitor's center may easily serve as the focal point for the majority of your CVNP activities, particularly if you only have one day to spend there.
Learn about the park's history and pick up park merchandise as well as a National Parks passport stamp.
You may start various walks from Boston Mill, see a sight of the Cuyahoga River, select a quest, or ride the Cuyahoga Valley Scenic Railroad (more on these later).
Here you may also speak with a park ranger about trail conditions and unique activities taking place during your stay.
Read: What Is The Best Time To Visit Capitol Reef National Park?Learn about Visiting Capitol Reef National Park in summer
2. Visit one or both of the stunning waterfalls.
A boardwalk leads to a viewing platform at Brandywine Falls, which is extremely near to the falls.
Though there are over 100 waterfalls in CVNP, there are two that have designated hiking paths and are particularly appealing.
With a height of almost 60 feet, Brandywine Falls is the largest and more well-known of the two.
A boardwalk-style promenade leads to different vistas at the falls.
Because this popular destination is quite packed during peak hours, we suggest going early or late in the day, or coming during the off-season if possible.
If the parking area is crowded, you may climb to the falls and explore the canyon from the Boston Mill Visitors Center.
This trek is around 5 miles round way.
Cuyahoga Valley National Park also has Blue Hen Falls, which is a beautiful waterfall to see.
You must now park at the Boston Mill Visitors Center and stroll along the Buckeye Trail to reach these falls.
The trek is around 3 kilometers round way.
Read: Best Time To Visit Katmai National Park ( Plus Reasons )Learn about Where You Can Go to See the Bears
3. Take a hike on the Ledges Trail.
The Ledges path, which is part of the Virginia Kendall Unit of the park, is another popular place to visit.
This site, also known as Ritchie Ledges, has been a park since the nineteenth century.
The track circles the rock formations for roughly 2 miles, but the trails snaking in and out of the nooks allow you to easily prolong your trek.
If you want to expand your hike to other terrain, there are many connections to other nearby trails.
Visiting and exploring the rock formations on the Ledges Trail is one of the top things to do in Cuyahoga Valley National Park.
Allow plenty of time to see all of these places!
Despite the fact that the route is just around 2 miles long, you may easily spend a few hours here.
Ice Box Cave and the Overlook are two unique elements of this walk, in addition to the rock formations itself.
Although the overlook location provides a beautiful perspective of the Cuyahoga Valley, it may become fairly crowded.
We suggest waiting your time, snapping a few shots, and then moving on.
The Ice Box Cave is not open to the public for exploration since it is home to bats that have been severely afflicted by the fungus that causes White-Nose Syndrome, which was introduced by unwitting tourists.
The cave's entrance may still be seen.
Even if you are unable to enter the Ice Box Cave, pay a visit to the entrance.
After trekking and exploring the area, there are shelters and picnic tables at the parking lot where you may rest, relax, and have a snack.
Read: Lassen Volcanic National Park Itinerary ( Printable Multiple Day Itinerary ) Learn about turtle exploration at Sundial Bridge
4. Visit Beaver Marsh to look for animals.
You will be treated to diverse vistas depending on the time of year you arrive!
This marsh restoration area, which was once an auto repair shop and junkyard before being acquired by the national park, offers something for everyone.
You could see the eponymous beavers, as well as other species like muskrats and otters, that call this place home.
The beavers do spend most of the winter in their burrows, but they do not hibernate and come out to feed.
Beaver Marsh is also a fantastic spot for birding, with everything from ducks to orioles to cardinals can be seen.
In the summer, turtles, and snakes like basking in the sun, while frogs may serenade you on sunny nights.
5. Go to a less-frequented location, such as the Tree Farm Trail.
There are 125 miles of hiking trails in the park to explore if you want to get away from the throng.
The Tree Farm route is a pleasant, quick trek that you should check out.
Take in the sights of the rows of evergreens that are ripening to be used as Christmas decorations.
This 2.75-mile hiking route includes a small side path to Horseshoe Pond.
In the winter, cross-country skiing is also accessible.
Read: Is Zion National Park Pet Friendly? (Our Findings)Learn about the Rules to adhere when you are taking your pets
6. Go to Hale Farm and Village
Visit the Hale Farm to get a sense of what life was like in the Cuyahoga Valley in the past.
It was once a working produce and dairy farm before being donated and converted to a living history museum in the 1930s.
Entry is only possible with a ticket.
Adult tickets are $12 for those aged 13 and over.
Children's tickets are available for $6 each.
Self-guided tours are popular here, and you may go at your own speed.
Glass blowing, pottery, and other crafts demonstrations may be seen around the grounds.
Take a stroll around the grounds and take in the scenery!
This settlement now consists of 34 buildings where you may study as well as shop.
Handcrafted items such as glass, ceramics, textiles, and candles, as well as local products such as maple syrup, honey, and wine, are sold at the market.
Read: Innes National Park Itinerary ( Planned Days And Printable Itinerary ) Learn about Enjoying your meals at Yorke Peninsula's Watsacowie Brewing
7. Get to Know the Ohio & Erie Canal's History
Because it was traditionally used to convey commodities between the Ohio River and Lake Erie, the Ohio & Erie Canal is properly called.
It is nearly 110 miles long and is one of only 49 recognized National Heritage Areas in the United States.
CVNP is traversed by an approximately 20-mile-long section of the canal.
Visit the Canal Exploration Center for a different viewpoint on historical living in the Cuyahoga Valley.
With the Center, the park has done an excellent job of replicating life during the Canal's peak activities.
The Canal Exploration Center is a hands-on experience that is suitable for people of all ages.
A functional lock is shown in front of the Center for a portion of the year.
Appreciate the presentation of functioning history!
Read: 19 Best Places In Shawnee National Forest To Visit 2023Learn about the Garden of Gods
8. Take a hike or a bike ride along the Towpath Trail.
The Towpath was formerly a canal track where horses or mules would physically pull vessels and barges up the canal.
They were critical for carrying products before the development of boat motors and railroads.
The old paths have long since been supplanted by this incredibly sluggish mode of transit.
Many of them have been turned into multi-use paths.
This one is no different.
About 20 miles of the trail's over 101 kilometers pass within CVNP.
Along the park's segment of the Towpath Trail, there are 11 trailheads with parking spots, and you may walk as much or as little as you choose.
Along the path, interpretive and educational signage explain the history of areas of interest as well as an opportunity to take a break! This path is available 24 hours a day, 7 days a week.
One of the many fantastic things to do at Cuyahoga Valley National Park is to bike the Towpath Trail.
Read: Great Basin National Park Stargazing (What To Expect) Learn about Where in Great Basin National Park Can You Go Stargazing?
9. Take a train ride via the Cuyahoga Valley Scenic Railroad.
The Cuyahoga Valley Scenic Railroad offers two distinct ways to get on board.
Choose the National Park Scenic Journey ticket for a relaxing ride across the Cuyahoga River Valley.
The trip is 2.5 hours from January to April, and it is extended to 3.5 hours during the summer and autumn.
Ticket costs for this option vary from $15 to $35 for adults and $10 to $30 for children, depending on seating positions.
Another way to see the railroad is to ride it with your bike!
You may buy a one-way "Bike Aboard" ticket for $5 and ride your bicycle along the Towpath Trail the opposite direction.
We recommend taking the train to the finish and then bicycling back to avoid having to worry about missing a pickup.
The Cuyahoga Valley Scenic Railroad's Bike Aboard option is a terrific opportunity to see both sides of the park without seeing the same sights again (either out and back on the train or bike path).
It's also a terrific opportunity to experience the whole Towpath track on a bike without having to commit to a 40-mile ride.
Plus, the $5 admission price is an added benefit!
Read: Congaree National Park ItineraryLearn about the massive Loblolly Pines trees at the park
10. Take a lovely drive along Riverview Road.
Travel Riverview Road if hiking or biking aren't your thing, or a trip on the Cuyahoga Valley Scenic Railroad isn't in your budget.
This route passes through National and Metro Parks for around 15 km.
Many areas of interest and trailheads are accessible through Riverview Road.
Many of the other things on this list may be done at your leisure.
Final words
Despite being one of the smaller national parks, Cuyahoga Valley National Park is jam-packed with diversity. Enjoy a relaxing day of history and sightseeing or an action-packed weekend filled with outdoor activities. This list should assist you in planning all of the activities you want to do in Cuyahoga Valley National Park on your next visit.
Read: Visiting North Cascades National Park (What You Should Know)Learn about Where to Camp in the North Cascades National Park