A beach lover's dream with stunning landscapes and a lively environment, Rosemary Beach, Florida also attracts foodies and art lovers. An underappreciated vacation destination on Florida's Gulf Coast, it offers golf courses, stunning architecture, coastal food, and a welcoming environment for families. Look into these best Rosemary Beach vacation rentals if you want to extend your stay and feel right at home. You can go through the list of Rosemary Beach Florida rentals and pick the best one out of them.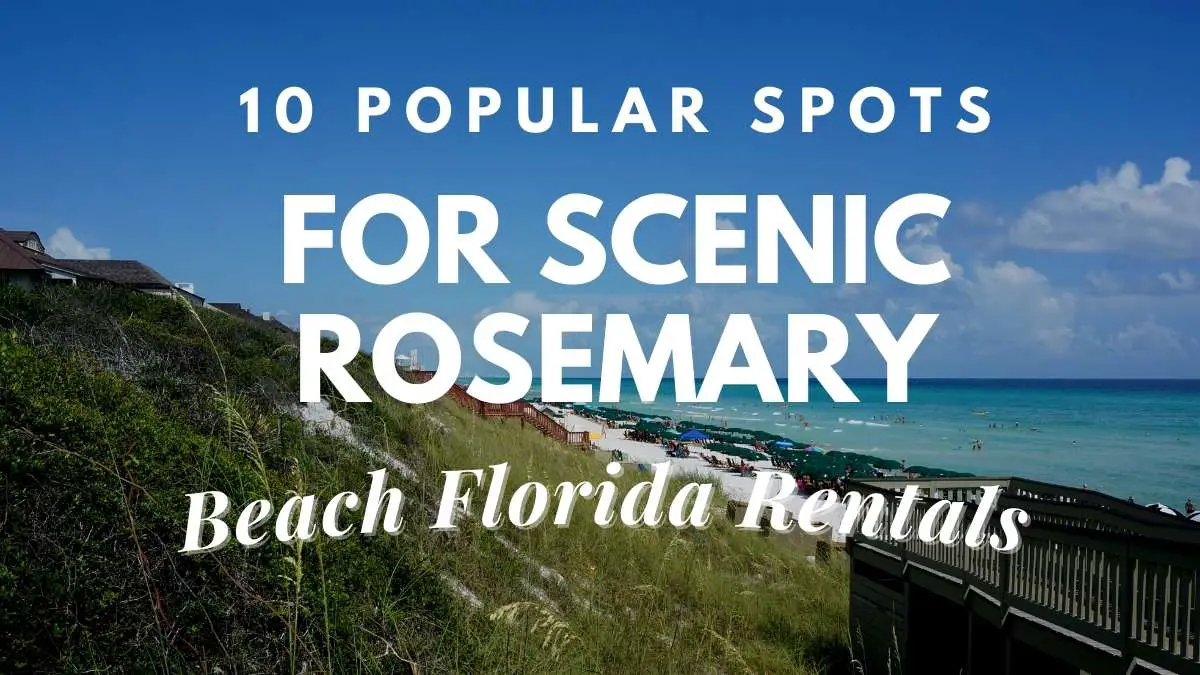 1. Main Street's Rosemary Penthouse, next to the Pearl Hotel
This 1,500 square foot, highly rated VRBO home may accommodate up to four guests. It is ideal for families since it contains two guest bedrooms and two bathrooms. It takes up the full third and fourth levels and is on Main Street. Take advantage of the 400 square foot private balcony, large kitchen and dining space, and master bedroom with a terrace for watching the sun set. A washer and dryer, WiFi, flat-screen TVs, one dedicated parking spot, and off-street parking are also available at this residence. Additionally, visitors get access to the swimming pool and enjoy stunning gulf views.
Read: Is Traveling A Hobby? The Ultimate Guide To An Exciting Way Of Life Learn about the Downsides Of Traveling As A Hobby

2. Pearl Carriage House in Abaco
Up to five people may stay in this contemporary home, which is 750 square feet in size. It is about a minute away from Beach Walkover A or B and features two bedrooms and 1.5 bathrooms. Two complimentary bikes are available, the Coquina Pool is just a minute's walk away, there is a wide balcony with seating, a kitchenette with stainless-steel appliances, and a washing and dryer are all features of the VRBO property. Four community pools, a playground area, a spa with a variety of body treatments, a fitness facility, eating options, and shopping can all be found in the neighborhood where this property is situated. Both children and long-term tenants are welcome here.
3. Belize Carriage House
A fantastic Rosemary Beach vacation rental is The Belize Carriage House. It is 660 square feet in size, contains one bedroom, and one bathroom, and sleeps four people. It is roughly 700 feet from the shore and situated on the gulf side of Highway 30A next to the Coquina Pool. Along with the fully furnished kitchen, little washer, and dryer, and complete, easily climbed stairway, you'll enjoy the views of the Emerald Coast. A designated parking place in a garage, two balconies, a patio with a table, and Wi-Fi are additional benefits.
4. Rosemary Beach getaway retreat
You'll also like this 750 square foot cottage, which has two bedrooms and one bathroom and sleeps four people. It includes a balcony that wraps around it, free beach chairs, two bikes, and a red wagon. Wi-Fi, a complete kitchen, and a variety of cooking supplies are all included in the price of your stay. Pets that are at least three years old and weigh 45 pounds or fewer are also welcome, as are children. While living here, you'll also have access to a washing and dryer and a pool.
5. Bontemps Outside South of 30A
This Rosemary Beach pet-friendly lodging choice has one bedroom and 1.5 baths and can accommodate six guests. The 700 square foot cottage offers a wraparound porch, two vehicle garage parking, and 700 square feet of living space. It is close to both the town center and the Gulf of Mexico, and it features a fully furnished kitchen, a washer, and a dryer. Dogs need permission in advance. There are communal pools, a private beach, walking paths, a fitness facility, and 24-hour security available to guests.
6. South Side-Steps to the Beach with Outdoor Courtyard
Also take into account this Rosemary Beach home with 620 square feet and four beds. It features two different sleeping quarters, a patio outside, and two bedrooms and one bathroom. Garage parking, a first-floor walk-in shower with excellent lighting, and a washer/dryer are further conveniences. A second cottage is also offered here on VRBO for bigger events. Otherwise, book a stay here for your next romantic break or family vacation because kids are permitted. The distance between downtown and the seaside is two minutes by foot.
7. Carriage House at Rosemary Beach
This elegant beach carriage house is close to the beach and offers a fully equipped gourmet kitchen, separate king bedroom, and beautiful bathroom. Here, the management offers free use of a cart, beach towels, and umbrellas. There are many pools available to guests, one of which is inside. This area, which is 576 square feet, is perfect for a couple.
8. Carriage House outside of Land and Sea
Staying here will provide you four persons 700 square feet of room and great gulf views. One bedroom and one bathroom are present. The beaches are just two houses away, and you may take pleasure in the area's distinctive architectural features. It offers a separate entrance, guest seats, a kitchen that is completely furnished, a private bathroom, and a couch bed for visitors. You can stroll to Barbados Pool, Rosemary's restaurants and stores, and the beach from here. The private porch, a laundry and dryer, and a dog-friendly area with advance consent are additional advantages. Four communal pools, a fitness center (with a surcharge), tennis courts, and beach umbrella and chair rentals are all available to guests.
9. Pet and family-friendly cottage
This holiday home has roughly 800 square feet of area and sleeps up to eight people, so bring your kids and dogs along. The main level has a couch, bunk room, and complete kitchen, making it ideal for lounging and eating. There is a queen-sized bed and a complete bathroom on the second level. Even with bigger groups taking showers, guests appreciate the consistently hot water here. The distance to the beach and downtown Rosemary are both just a few minutes' walk away. The property also has a hot tub, a shared pool, and a washing and dryer. This place charges $150 for per pet.
10. A luxurious home with a pool and an outdoor fireplace
This Rosemary Beach VRBO home has three bedrooms, 3.5 bathrooms, and accommodates eight guests. This house is the perfect place for a family holiday and is more than 2,200 square feet. The private pool, morning kitchen, outdoor fireplace, and proximity to the beach are all appreciated by the guests that stay here. The apartment has a lovely kitchen and dining space where you can prepare your own meals. The second floor also has a washer and dryer that you may use. You may also hire the nearby carriage house if you want extra room for up to 12 guests. The private pool may be heated so that it transforms into a hot tub with benches throughout the winter.
Why should you be visiting the Rosemary beach?
One of the greatest vacation spots in Florida is Rosemary Beach. We like this lovely coastal town so much. In contrast to crowded, party-focused Florida locations like South Beach and Fort Lauderdale, Rosemary Beach maintains a small-town atmosphere even at the height of the tourist season. There are so many good reasons to adore this distinctive 30A region, but these are our top 8:
1. Delicious food
The Gulf coast is home to numerous outstanding restaurants, and Florida's coastal food is fantastic. There are several highly acclaimed fine and informal eating restaurants to visit, even in the relatively tiny settlements along 30A. Many of the great eateries in Rosemary Beach highlight the local cuisine's specialty: local seafood. Restaurant Paradis is a contemporary American seafood restaurant with mouthwatering drinks and a mouthwatering cuisine. Enjoy a fantastic date night there. For their renowned scallops, you might also go to Edward's Fine Food and Wine. We also like Pescado, an exorbitantly priced yet outstanding restaurant with a stunning rooftop bar.
2. Charm of a small town
The quaint, small-town atmosphere that Rosemary Beach exudes is distinctive in some way. In many respects, Rosemary Beach seems a different, uninhabited realm that is somehow set away from the bustling world beyond. It seems tiny and remote but is really quite accessible, especially if you have relatives or friends visiting from out of state. If you need to fly in or out, there are two airports close by that are just a short drive away from this location along Florida's gorgeous route 30A. And Rosemary Beach is close to many other similarly gorgeous coastal communities, including Watercolor, Seaside, and Grayton Beach, all of which are distinct and well of a separate visit.
3. Shorelines
The beach must be included in any list regarding Rosemary Beach else it is not comprehensive! After all, Rosemary Beach makes for an excellent holiday destination because of its stunning beaches. The Emerald Coast has crystal-clear sea, white, silky sand, and distinctive natural features that are only seen in America, like coastal sand dunes. Without a day at the beach or a moonlight promenade at night, a trip is not complete.
4. Bike riding
The ease of transportation in 30A is one of its outstanding features. You can usually fully forgo the vehicle and go by bicycle. Actually, the most often used kind of transportation has two wheels. There are several bike pathways and trails, and parking a bike is considerably simpler than a vehicle. We even provided all the information you want in a blog post on getting around 30A on the 30A blog.
5. Lots of entertaining activities
We have some news for you if you thought a trip to the 30A is simply endless days spent relaxing on the beach and getting burned. There are a ton of enjoyable activities around. When planning a trip to Rosemary Beach, there is entertainment for everyone, from bicycling and hiking to outdoor experiences like scuba diving, fishing, and even cold springs eco-tours. On our blog, we've written a lot about activities to do along the 30A.
6. Excellent for families and groups
Rosemary Beach is the ideal location, whether you're taking the entire crew or just the two of you for a romantic weekend break. Families of many generations like this location since it is kid-friendly, offers restful activities for adults as well as engaging activities for children. You will enjoy spending time creating memories along 30A, whether it is family bike trips or grilling on the terrace.
7. The climate in Florida
There's a reason it's dubbed "The Sunshine State." There is never a poor time to visit Rosemary Beach since it has good weather for the bulk of the year. Golf aficionados won't want to miss the world-class courses that are close by.
8. Feelings of Florida
Florida's relaxed atmosphere is one thing we like. The leisurely beach pace creates a tranquil atmosphere. Because Rosemary Beach lacks the hectic, hurried pace of the city, the scene is ideal for a restful snooze in a hammock or a satisfying book beneath a beach umbrella. The ideal setting for relaxation and decompression. Roll down the windows and enjoy the wind in your hair as you cruise down Highway 30A along Florida's west coast, letting the breeze from the Gulf of Mexico carry your worries away.
Final words
Now you are aware about the best and the most popular rosemary beach Florida vacation rentals available out there for you to consider. It is up to you to take a look at these and plan your visit to stay in the best one out of them. Do you see yourself unwinding in a Rosemary Beach cottage? Looking to book a Rosemary Beach home rental with a stunning view of the Gulf? From one of these Rosemary Beach villas for rent on VRBO, take in everything that Florida has to offer. Booking a cottage vacation rental, where you'll discover welcoming facilities like sparkling pools, free bikes, and easy access to the picture-perfect beachfront, is one of the finest ways to enjoy Rosemary Beach's laid-back beach environment.