Consider some of the greatest winter activities to do on Cape Cod if you're planning a winter holiday in New England. Winter on the Cape is slower, more relaxed, and less crowded, making it ideal for a peaceful break from New England and the East Coast. On this article about fun things to do in Dennis Port MA in winter, you can figure out how to get the most out of your stay.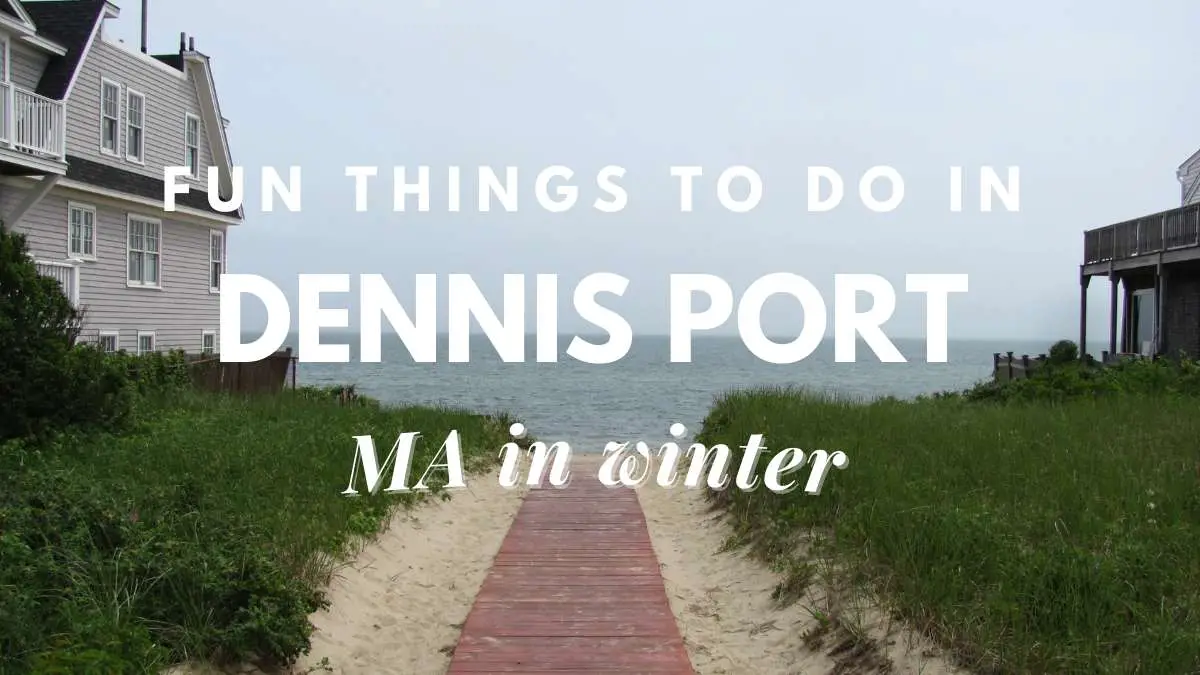 Cape Cod's Winter Weather
Despite the fact that the temperature on Cape Cod lowers in the winter, the bay water actually warms the peninsula. In reality, everyday temperatures hover around 40 degrees Fahrenheit, with nighttime temperatures hovering around 29. The nicest thing about visiting Cape Cod in the winter is that there are less people, so you can enjoy a peaceful, cozy vacation if you like.
We've compiled a list of what we believe are the greatest winter activities on Cape Cod. From November through March, we've compiled a list of activities and locations to visit. However, many of the finest winter activities on Cape Cod are not seasonal and may be done at any time throughout the winter months on the island.
Read: Is Traveling A Hobby? The Ultimate Guide To An Exciting Way Of Life Learn about the Downsides Of Traveling As A Hobby

1. Beaches and Nature Centers on Cape Cod
Spending time outside in the winter on Cape Cod is one of the nicest things to do before it gets too cold. While you'll still need some additional clothing, the temperatures in November aren't as cold as they are in January.
The Cape Cod National Seashore is a must-see destination regardless of when you visit the Cape. It spans from Chatham to Provincetown along the outer coast. It boasts 40 miles of sandy coastline, ponds, marshes, and uplands, all of which sustain a variety of animals.
Within the Cape Cod National Seashore, the Salt Pond Visitor Center in Eastham is open all year. It features a museum and a theater where award-winning orientation films and other films are shown. A few more trails, like the 1.5-mile Nauset Marsh Trail, are close by.
You might also visit the Wellfleet Bay Wildlife Sanctuary, which includes a trail network that runs through a pine forest, salt marsh, and sandy barrier beach. The refuge contains a nature center with aquariums and displays that is open to the public.
2. Experience beautiful sunsets
Beautiful sunsets may also be seen from one of the Cape's more than a dozen light stations in the winter. The towers are strewn along the coastline, from Nobska Light at Nobska Beach in Falmouth to Chatham Lighthouse across from Lighthouse Beach in Chatham to Race Point Lighthouse at the point of Race Point Beach in Provincetown. If you take an island day excursion to Martha's Vineyard or Nantucket Island, you may see additional lighthouses.
3. Winter Cycling on Cape Cod Trails
Check out one of Cape Cod's riding routes if you're like cycling. The Shining Sea Bikeway connects North Falmouth with the Woods Hole ferry port with 10.7 miles of off-road and paved pathways. It goes through beaches, through the Salt Pond Bird Sanctuary and marshes, and past harbors and cranberry bogs, following the historic New York, New Haven & Hartford Railroad route.
Another alternative is the Cape Cod Rail Trail. From West Yarmouth to Wellfleet in the northeast, this 27.6-mile paved trail passes through seven communities. It follows the same original train path, but at various locations, and each town along the way is simple to visit.
4. Winter Holiday Events in Cape Cod
Many communities on Cape Cod provide interesting things to do in the winter by celebrating the holidays throughout December. With a tree lighting ceremony, horse-drawn carriage rides, baked cookies, and caroling, the Christmas Stroll in downtown Chatham has become a holiday tradition. A Christmas Parade is also held in Falmouth, as well as a lighting ceremony for the Lobster Pot Tree in Provincetown.
5. Museums in Cape Cod
Many Cape attractions, apart from the cities, get into the festive atmosphere. The Sandwich Glass Museum, for example, is a historical institution with a range of displays, including a Christmas show. In December, the Heritage Museum & Gardens hosts the Gardens Aglow festival. This event features a stunning display of Christmas lights around the expansive grounds that transports you to a winter paradise.
Other historical museums on Cape Cod to visit include:
Mashpee's Cape Cod Children's Museum
Whydah Pirate Museum in West Yarmouth John F. Kennedy Hyannis Museum in Hyannis
Yarmouth Port's Edward Gorey House
Dennis' Cape Cod Museum of Art
Cape Cod's Performance Arts
The lovely voices of the Skylark Vocal Ensemble, which often presents winter concerts, may be heard. The Brazen Belles Burlesque company, Cape Cod's first and only burlesque ensemble, will perform a Winter Spectacular burlesque performance. The Falmouth Theatre Guild also produces world-class, Broadway-style musicals.
6. Cape Cod's Polar Express Train Rides
Furthermore, every weekend throughout the month, the Cape Cod Central Railroad runs The Polar Express train trips. A visit with Santa Claus, Christmas music, dancing waiters, and a reading of Chris Van Allsburg's "The Polar Express" are all included in the 1 to 1.5-hour excursion. Hot cocoa and freshly made cookies just sweeten the bargain.
7. Holiday Shopping on Cape Cod
Throughout the Cape, there are several shopping choices. Unique seasonal gift stores may be found on Main Street in Falmouth, Water Street in Woods Hole, and Lemon Tree Village in Brewster. Commercial Street in Provincetown, on the other hand, is one of the most well-known shopping destinations on Cape Cod. Almost everything may be found in its shops.
Cape Cod is getting ready to ring in the new year as January approaches. First Night celebrations in Sandwich, Chatham, and Provincetown are enjoyable to attend. But that's only the start of the month. There will be much more to accomplish in the coming weeks.
8. Cape Cod ice skating
Why not spend some time on the ice now that you're dressed for the season? Every Sunday, the Charles Moore Arena in Orleans provides affordable public skating hours. Ice skating is also available at the Tony Kent Arena in Dennis.
9. Cape Cod Afternoon Tea
After a day of visiting the Cape, relax with a nice cup of tea. Sandwich's Dunbar House is a charming tearoom and wine bar. Delicious soups, salads, and huge platters are on the lunch menu. Tea with scones, jam, cream, finger sandwiches, fruit, and delicious desserts are included in the afternoon tea meal. There are vegetarian and seafood alternatives.
Warm yourself in a relaxing setting with a nice cup of tea and excellent meals at Molly's Tea Room in Falmouth. It offers black, green, herbal, and flavored teas, as well as coffee, hot chocolate, and other drinks. Sandwiches, soups, salads, quiches, and luncheon alternatives are available on the menu.
10. Antique Stores in Cape Cod
After you've had your afternoon tea, there are some fantastic antiquing chances. Every hamlet on the Cape has a rich history, but many predate the American Revolution, so there's a good possibility you'll come across some fascinating artifacts.
Sandwich Antiques Center, near Sagamore Bridge, is one of the top antique stores. It has one of the most outstanding collections of nautical-themed antiquities on the peninsula. With over 100 consignors and merchants specializing in furniture, glass, weapons, and more, the Antiques Center of Yarmouth is one of the biggest antique co-ops on the Cape. It is constantly stocked with antiques and treasures.
11. Bakeries and Cafes on Cape Cod
If you're seeking for additional ways to indulge your sweet craving, the Cape offers plenty of bakeries and cafés to choose from. White Lion Baking Company in Mashpee is a respected and certified gluten-free bakery that specializes in gluten-free brownies, cakes, cookies, muffins, and custom baked items. It creates biscuits, crackers, crusts, and granola on the savory side.
Scapicchio's Bakery in South Yarmouth provides American and Italian cakes, cookies, pastries, and pies. Sicilian-style pizzas and Italian breads are also available. Eat Cake 4 Breakfast in Brewster creates delectable cakes such as cheesecake, decadent flourless chocolate, chocolate mousse, and fruit tarts, as well as pies such as blueberry, cherry, chocolate cream, and lemon meringue. Cookies, quiche, and a variety of other baked goodies are available.
Biscotti, cupcakes, hand-cut doughnuts, and other pastries are served with gourmet coffee at Eastham's Hole in One Bakery & Coffee Shop. Relish Bakery & Sandwich Shop in Provincetown has a variety of coffee cakes, cookies, muffins, and scones. Breakfast and lunch sandwiches are also available on the menu.
12. Cape Cod Wine and Beer Tastings
Cape Cod's environment yields fruits that generate distinct wine characteristics. Cape Cod Winery, First Crush Winery, and Truro Vineyards are three wineries on the peninsula where you may visit the premises and sample the wines. You may either organize your own tour of all three or order a tour package with Tap Tastings. The trip may be entertaining as well as romantic. Here you may find out more about Cape wineries and wine tastings.
There are several excellent brewers on the Cape. On the peninsula, there is Aquatic Brewing in Falmouth, Cape Cod Beer in Hyannis, Devil's Purse Brewing Company in South Dennis, Hog Island Beer Co. in Orleans, and Provincetown Brewing Co. in Provincetown. Visit Bad Martha Farmers Brewery on Martha's Vineyard or Cisco Brewers on Nantucket Island if you decide to take an island day excursion.
Final words
As you can see, you will be able to have a great time in Cape Cod during winter. Just make sure that you plan your day and activities accordingly, so that you can end up with getting the best experience during your stay.