When it comes to recreational water activities, kayaking in Oklahoma keeps our family active and fit. We reside in Oklahoma City, so we're well-versed on the top kayaking places in the state. Do you think of Oklahoma when you want to go kayaking? Oklahoma boasts some of the most magnificent river and water panoramas while keeping Type II rapids. Check out these incredible kayaking spots in Oklahoma, whether you're seeking for a more adventurous adventure or the serenity of calm waters. Let's take a look at the greatest Oklahoma float tours and begin arranging your vacation to the state.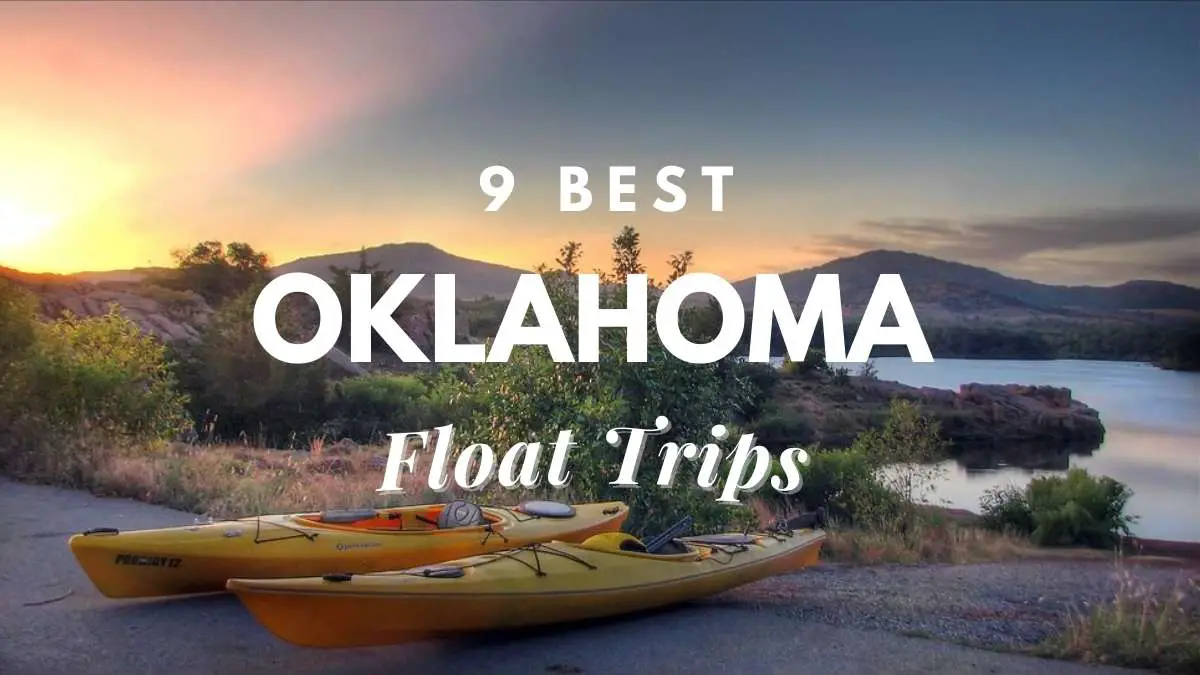 1. Beavers Bend on the Broken Bow River
Near Broken Bow, Oklahoma, the Mountain Fork River provides beautiful landscape and quiet waters. The Mountain Fork River runs south from southern Oklahoma to Arkansas, supplying Broken Bow Lake. If you are searching for the best Oklahoma float trips, you should consider this without keeping any doubt or second thought in mind.
Below the lake, the river is known as the Lower Mountain Fork River. One of the most popular summer kayaking places on the Lower Mountain Fork River is the 2-mile loop at Beaver Bend State Park, north of the Re-Regulation Dam. The Highway 70 Bridge, which extends south along the river, is a great place for people to visit. There are roughly 15 kayak rental shops along the Lower Mountain Fork River. The river is usually calm throughout the summer, but following rainstorms and dam releases, it may reach Type II rapids.
Read: Is Traveling A Hobby? The Ultimate Guide To An Exciting Way Of Life Learn about the Downsides Of Traveling As A Hobby

2. The Lake of Arbuckles
You may kayak around Davis and Sulphur to see some of the most beautiful water features. Tubing is more popular on the Washita River, which is closer to Davis, than kayaking. The Chickasaw Recreational Area includes the Lake of the Arbuckles. Just south of Sulphur, the Lake of the Arbuckles provides some stunning vistas and kayaking options. Water access is prevalent on the lake's east side.
The Buckhorn Campground loops C and D, as well as the Buckhorn Boat Landing, are all good places to land on Buckhorn Road. Do you have any doubts about your ability to swim in a large body of water? North of the Arbuckles Lake lies Veteran's Lake. This lake, despite its small size, is ideal for family entertainment. A well-kept walkway surrounds the lake. On the north side, a well-equipped playground will keep the kids amused. Because kayak rentals are few at the Lake of the Arbuckles, you'll need to carry your own.
3. OKC Riversport
Riversport Rafting, kayaking, and floating are all available at OKC White Water Rapids. Kayaking opportunities exist along the portion of the Oklahoma River that passes through Oklahoma City's downtown district. In Oklahoma City's Boathouse District, the calm water is excellent for beginners and families who just want to enjoy the water.
Along the river lies Riversport OKC, an adventure park that offers whitewater rafting, kayaking, and tube floats down their man-made river.
4. Kayaking at Stinchcombe Wildlife Refuge
Kayaking adventures are provided well beyond the downtown region of Oklahoma City. In Oklahoma City's northwest district, where there are two lakes, kayaking is a terrific family activity. One of our favorite sections of the Canadian River is at Lake Overholser.
The Stinchcombe Wildlife Refuge, located on the north shore of Lake Overholser, allows kayakers to see a variety of birds and animals in their natural habitat. The sight of a crane standing among the water reeds takes your breath away!
5. Hefner Lake
Lake Hefner lies northeast of Lake Overholser, but northwest of Oklahoma City. For everyone, this lake offers a little bit of everything. Lake Hefner provides kayaking for the entire family in addition to golfing, boating, fishing, and hiking paths.
You may launch from the Lake Hefner River Sport Sailing Center, which is near the Northwest Expressway on the lake's southern shore.
6. Lake Watonga
One of Oklahoma's lesser-known kayaking sites is Roman Nose State Park, located just west of Watonga. Roman Nose State Park lies in the western section of the state, north of Interstate 40 and west of Oklahoma City. In Roman Nose State Park, there are two lakes: Lake Boecher and Lake Watonga.
Lake Watonga is the most significant aquatic feature, with the majority of hotels and water activities. On the western side of the lake, there are put-ins. Animal sightings surrounding Lake Watonga are spectacular. Observing the muskrats at the General Store is one of our favorite pastimes.
7. College Town River Run
Enjoy superb tubing conditions on the Illinois River between Kansas and Tahlequah as it runs through limestone cliffs for more than 20 miles. Throughout the summer, the river is typically crowded with college-age tubers and a happy, party atmosphere. Swimming up to your neck in deep pools alternates with frothy rapids.
Rent a tube at the top of the river at Spencer Ridge Resort, where camping and cottages are also available, or hire a tube at the bottom of the river from Green River Floats and have your car waiting for you at the end of your float adventure. If you're going down the river in your own tube, you'll need to buy a river user wristband for each trip. Glass and Styrofoam are not allowed on the river. This is among the Oklahoma family trips, which are ideal for families. If you plan to have a great time with your loved family members, you may go ahead with this trip without keeping a doubt or second thought in mind.
8. River Kiamichi
To enjoy bouncy rapids in a rural atmosphere away from the partying throngs, jump on the Kiamichi River at Moyers in the state's southern corner. The river meanders through the Kiamichi Mountains, passing through the ruins of an old railroad bridge and a few small waterfalls along the way.
The best time to raft the river is during the summer, not only because of the low water temperature, but also because spring and autumn rains may make it too turbulent for safe rafting. Rent tubes and take a shuttle to K-River Campsite, where you may finish your journey with an overnight stay in a rustic cabin or campground with hot showers, laundry, and Wi-Fi.
9. Mountain Fork River
Dodge your way through a shallow rock garden, bounce down rapid-laced chutes, and whoosh over small waterfalls on a 4-mile stretch of the Lower Mountain Fork River near Broken Bow. Ambush Adventures rents tubes at the river's most popular length, with shuttle service available to the top.
The river is situated in the southeast portion of the state and is just 60 miles from the Kiamichi River run, making it ideal for a weekend of tubing. Is it a good idea to go kayaking in Oklahoma?
Will you travel with a tube if you have one?
You'll find plenty of locations to float your tube all around the state. On streams rated as Class 2 on the International Scale of River Difficulty, you'll discover bouncy rapids that don't need professional steering skills. Rivers with water 3 to 5 feet deep are often floatable during summer dry seasons, enabling you to stand up and walk when navigation is essential.
American Whitewater provides a nationwide database of rivers, as well as directions to river access locations, on their website, making it easy to find a tubing river near you.
Do you wish to go kayaking in a stunning environment?
Take a peek at the attractions of Tahlequah, Oklahoma, near the Illinois River. With over 10 lodges and launching places, this well-known Oklahoma river resort has something for everyone. There are several different sorts of water in the Illinois River. Depending on your tastes, you may select from calm seas to more challenging Type II rapid segments. You may kayak on the Illinois River without needing to use a resort if you use public launching locations. The unique experience that you have with this would remain in your memories for years to come.
Final words
Get in an inner tube and float through energizing rapids to cool down during the warm Oklahoma summers. Nearly a dozen rivers in the state provide excellent tubing conditions, with 4- to 9-mile courses with shallow water and modest rapids. Outfitters on a few rivers rent inner tubes and arrange transportation to river access points, allowing you to relax and enjoy the ride without having to do any work. Keep the list of the greatest Oklahoma float tours in mind as you go on your journey. You will undoubtedly fall in love with all of the exciting experiences that await you.