St. Simons Island is an ideal and practical vacation destination for both impromptu weekend getaways from various origins throughout the Southern United States and week-long family getaways from hometowns close or far. It is less than five hours' drive from Atlanta, Georgia, and situated halfway between Savannah, Georgia, and Jacksonville, Florida.

St. Simons Island is the major center of coastal Georgia's Golden Isles, which also comprise the barrier islands of Jekyll Island, Sea Island, and Little St. Simons Island as well as Brunswick on the mainland. The area lacks any discernible annual snowfall and has mild temperatures year-round. Any time of year, the charming island group provides a worthwhile getaway. No of the time of year, the classic beach holiday is a reality in these little towns along the coast of southeast Georgia! Continue to read and we will help you figure out the best time to visit Sea Island Georgia.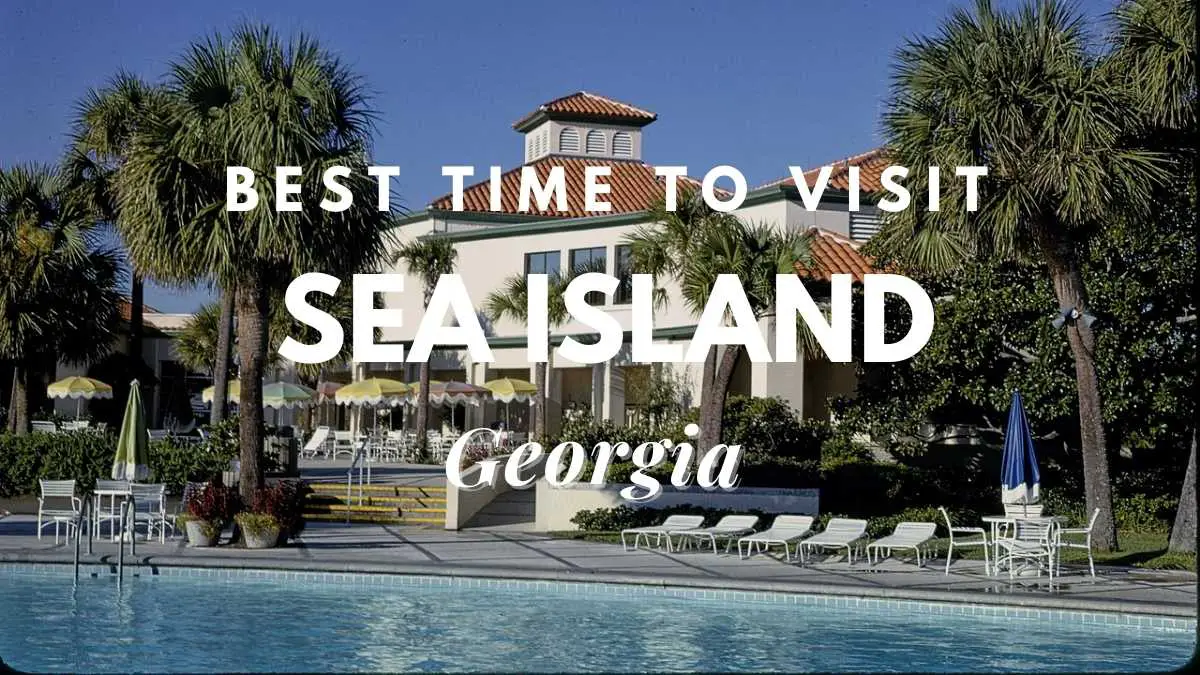 Visiting Sea Island Georgia in spring
Warmer temperatures and increasing humidity cause highs from 85°F to 66°F from March to May. It rains a fair amount. St. Simons Island typically has moderate winds, but the springtime—particularly in May—is the windiest time of year there. Although spring is the second busiest season for travel, there are still plenty of open doors and accessible establishments.
Now is the ideal time to explore the city by foot! On St. Simons Island alone, there are more than 30 miles of bike trails to discover. Alternatively, you may take your explorations to the ocean by renting a kayak at East Beach. Visit Pier Village at Beachview Drive to experience the best of island living at Neptune Park as well as a wide variety of unusual stores and seafood eateries.
Don't miss the fresh life that is rapidly emerging around the shore! At the northern end of the island, along the shore, is one of the greatest places to view birds. On the gorgeous trolley tour around the island, see a little bit of everything and learn from the locals!
Read: Is Traveling A Hobby? The Ultimate Guide To An Exciting Way Of Life Learn about the Downsides Of Traveling As A Hobby

Visiting Sea Island Georgia in summer
Conditions are pleasant and rather warm from June through August, and precipitation is at its maximum. Early to mid-August is often the hottest season of the year, with highs consistently reported to be above 91°F and lows seldom falling below 76°F at night. On a yearly basis, mid to late August is when it will most likely rain.
Since this is St. Simons Island's busiest time of year, hotels will fill up quickly, and lines for restaurants and attractions will become longer as the season goes on. All four seasons are pleasant, but summer is when the beaches are at their best. Wide shorelines and huge sand dune ridges make St. Simons Island's beaches ideal for beachcombing, beachcombing games, and strolls after dusk.
The most well-liked family beaches on the island are Gould's Inlet and Coast Guard Station Beach. Along Market Street and the Redfern Village neighborhood, there are a ton of unique boutique stores and eateries to keep you engaged in island culture when it's time to seek shade from the heat.
Visiting Sea Island Georgia in fall
Daily highs vary from 87°F to 68°F from September through November, with sporadic rain possibilities. Visitors may enjoy a calm, serene getaway during these months since there is little to no tourist traffic. September is a great month to take advantage of the last of the summer's allure and the dwindling crowds as people return to their regular schedules at school.
Similar to spring, this is a fantastic season for outdoor excursions and amazing island discoveries! Think about visiting nearby historical locations like Christ Church, the Bloody Marsh Battle Site, and Fort Frederica National Monument.
Taking advantage of one of the area's premier golf courses, like the Sea Island Golf Club or the King and Prince Beach and Golf Resort, or mini-golf for those who want a little whimsy in their game, is also a fantastic idea at this time of year due to the mild temps. As you participate in a treasure quest for the fabled tree ghosts concealed amid the Spanish moss-draped live oak trees of our coastal landscapes, see the island's best example of autumn color.
Visiting Sea Island Georgia in winter
The conventional beach-goer will not find the temps to be as tempting from December through February, thus there are not as many visitors. Even though tourists aren't likely to go to St. Simons Island in November, those that do have wonderful chances! The typical high temperatures fall between 68°F and 61°F. With a moderate humidity of 76 percent, November and December have the lowest risk of precipitation. On the island, February is the month with the lowest humidity levels.
Seasonal advice: St. Simons is much calmer during the winter, the beaches are almost deserted, and there are seldom any lines at the neighborhood restaurants and attractions. To celebrate a southern coastal Christmas or the start of a new year, go to The Golden Isles.
Final words
Now you know about the best time to visit Sea Island Georgia. Take advantage of the Jekyll Island Scavenger Hunt throughout the months of January and February. where there is also an ice skating town on the seashore.