Vashon Island is a great place to visit if you want to get away from Seattle for a while but don't want to drive too far. You'll be whisked to a gorgeous island in less than 30 minutes, ready to be explored. You'll find much to do on Vashon Island during your visit, from hiking to wonderful eateries. If you are looking for the best things to do on Vashon Island, continue to read.

For a day vacation or weekend excursion from Seattle, you may simply catch the boat to Vashon. While Vashon Island isn't the largest island, there's enough to do there during your visit. Many of my friends come here on weekends for a day trip, which is convenient since it's so nearby.

On a recent lovely spring day, we decided to do the same and checked up the ferry schedule, packed the vehicle, and drove to Vashon Island for a day vacation. Despite the fact that I've lived in the neighborhood for decades, it was my first visit to the island, and I'm pleased I did!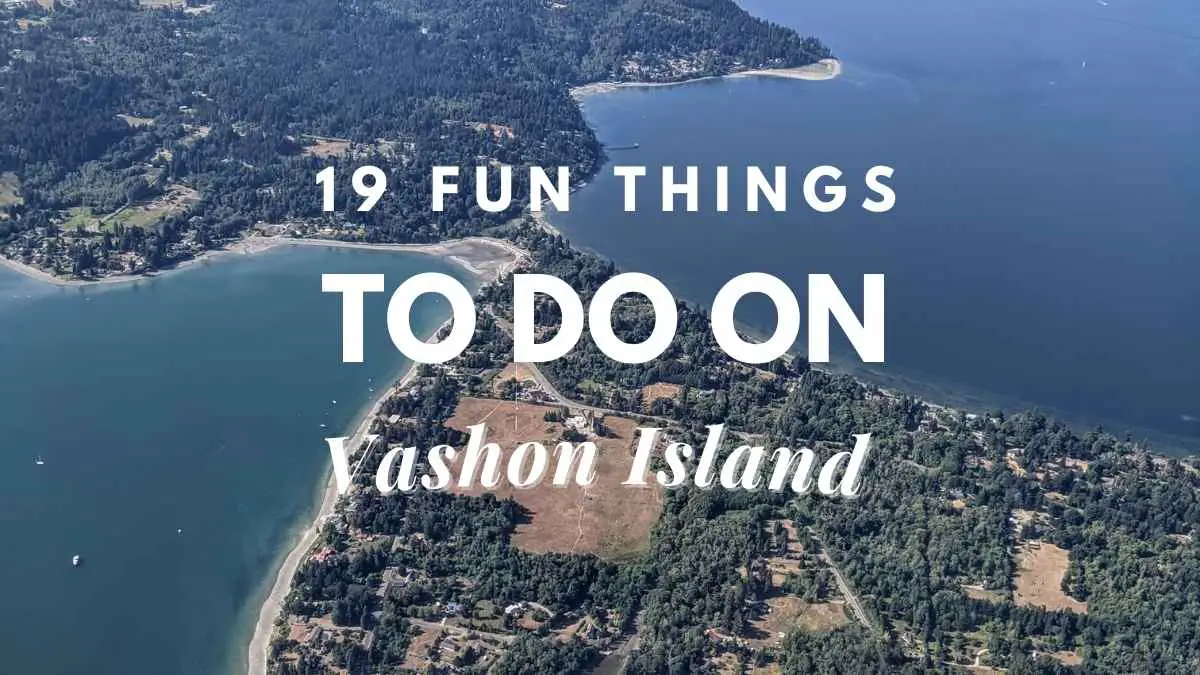 1. Take a walk around the Shinglemill Creek Preserve.
Shinglemill Creek Preserve is a natural area that spans more than 160 acres on Vashon Island's northern tip. If you're searching for outdoor activities on Vashon Island, here is a good place to start. This is among the best things to do on Vashon Island as of now.
A 3-mile journey through the beautiful green forest will bring you to a beach opening. You can hear and watch hundreds of salmon swimming around the river during salmon season, which is a once-in-a-lifetime event. Keep an eye out for slick mud along the trip, particularly if it has just rained!
Read: Is Traveling A Hobby? The Ultimate Guide To An Exciting Way Of Life Learn about the Downsides Of Traveling As A Hobby

2. Take a look around Dockton
The magnificent blue waters of Puget Sound encircle Maury Island. The island is connected to Vashon Island by an isthmus built by residents in 1913, so if you're searching for things to do on Vashon Island, I suggest driving across.
Dockton Park, on Maury Island, includes a beautiful picnic spot as well as a swimming beach. Take a leisurely stroll around town to discover more about the town's history via interpretive signs and numerous displays located at several stations.
3. Visit Burton for Coffee
Burton, a tiny hamlet on the isthmus (a thin strip of land), provides all of the basic essentials for the island's people, including a post office and several types of general businesses.
Burton Coffee Stand, known for its coffee and friendly environment, is located in this suburban village. Locals are always willing to begin up a discussion, particularly with visitors or new inhabitants on the island, and you'll be welcomed with pleasant grins.
The Harbor Mercantile, often known as the Burton Store, is also situated in Burton. The convenience shop, which has been around since 1908, sells fresh vegetables, snacks, beverages, toys, and tools. Stop by the Burton Store for a drink and a delicious lunch.
Read: 3 Best Amelia Island Kayak Excursions
4. Take in the sights at Jensen Point Park.
Spend a portion of your Vashon Island Day trip at Jensen Point Park, where you may participate in a variety of water-based activities. When you're looking for low-key things to do on Vashon Island, you may rent a kayak or swim in the shallow sea. Picnic tables with charcoal grills border the beach, allowing you to prepare a fantastic barbeque.
Because the park is tiny and private, you can spend quality time with your family and friends there. The sound of water and the sight of seagulls will help you relax.
Read: How To Get To Coronado Island (3 Easy Options)
5. Do a little shopping
Vashon provides guests with a comprehensive selection of shops from which to pick, enabling them to buy a wide range of things. They're all in close proximity, making it easy for visitors without a vehicle to find things to do on Vashon Island.
Read: Dauphin Island Visitors Guide
6. Look through the Gather Gallery.
Visiting the Gather gallery and developing your creative side is a fantastic way to feel Vashon's essence. Gather is a small art gallery that exhibits the work of local artists. It is available to the public even when it is not holding an event.
Vashon is home to a number of stunning historical sites. These locations have been designated as environmentally significant and are among the greatest places to visit on this diverse island.
Read: Perfect Day Trip To Ocracoke Island Itinerary
7. Pay a visit to the Point Robinson Lighthouse and Park.
Point Robinson Park, which encompasses 10 acres on the east side of Maury Island, is one of the most popular Vashon Island attractions. If you want to get a decent photo, come around sunset to capture the warm glow washing over the lighthouse.
Built in 1914, the Point Robinson Lighthouse looms above the park and is a popular photo site. Since 1885, it has served as a nighttime lighthouse for watercraft. The sandy beach beachfront stretches around the island's curvature, providing spectacular views.
In the autumn and winter, you may see resident orcas hunting salmon close to the coast. The park's walking routes enable you to explore the highland forests. Kites may be flown on a windy day. A grassy space is available for picnics with family or friends. If you want to venture out on the sea, you may also rent kayaks.
Read: 9 Best South Padre Island Vacation Rentals
8. Take a trip to Maury Island Marine Park.
Get your opportunity to experience nature in its purest form at Maury Island Marine Park, which is open to all nature enthusiasts. Many animal species may be seen in the park, including bald eagles and great blue herons, which are two of the most beautiful things to view on Vashon Island if you're fortunate!
Relax while admiring the seashore and breathtaking views of Mount Rainier, the Cascade Range, and the East Passage. Explore the hiking paths that wind among the evergreen Pacific Madrone trees and wetlands on Vashon Island if you're seeking for active things to do.
Read: Anna Maria Island VS Siesta Key- What's The Difference?
9. Take a break in Lisabeula Park.
Lisabeula Park, on the west side of Vashon Island, is a lovely park with a 5.5-acre beach. Play spaces, picnic tables, a hand-carry boat launch, and a dedicated campground have been added to the coastline.
It's a great place to spend quality time with your family while letting the kids run about, making for a memorable Washington family vacation. A forested ravine and slope on the east side of the property provide picture-perfect panoramas.
Read: Day Trip To North Captiva Island Itinerary
10. Take a stroll in Fern Cove
The Fern Cove is a landscape made up of an estuary, forest uplands, two streams, and the Puget Sound coastline on Vashon Island's northwest side. When seeking for things to do on Vashon Island, this is the ideal activity.
The Belle Baldwin House, which was formerly home to Washington's first female physician and is now a unique holiday rental, is also on the grounds. In reality, the state of Washington offers a plethora of beautiful treehouses and cabins to choose from.
Read: 17 Things To Do In Anna Maria Island In 2023
11. Burgers and Treats at Island Queen
Island Queen features an old-school diner ambiance with a diverse cuisine that caters to a wide range of tastes. You may customize your burgers or buy specialty burgers, sandwiches, and onion rings. Delicious ice cream varieties and malts are also available. The ambience is reminiscent of the 1950s, and the staff is kind and pleasant.
Because it received so many positive ratings online, this was the first place I ate on Vashon. I had a delicious burger, fries, and milkshake that kept me going for the remainder of the day. Island Queen is a popular destination for both residents and visitors, and I can understand why so many people return to the island only to eat at this restaurant.
Read: Best Time To Visit Sea Island Georgia
12. Bramble House
Bramble House is a gourmet restaurant run by chef Lia Lira that serves Pacific Northwest cuisine. The restaurant is without a doubt one of the greatest on the island. Lira employs artisan skills to provide her visitors with a farm-to-table eating experience.
Read: Can You Drive To Captiva Island?
13. Patty's Place
Patty's Place is a Vashon hidden treasure that delivers a delicious combination of Hispanic and Asian food. The Tamale Huevos Rancheros is a highly recommended breakfast meal. Patty's is noted for its fusion cuisine and practical packing that enables you to take your meal box with you wherever you go.
Read: Assateague Island- Best Time To See Horses
14. The Hardware Store
The Hardware Store, named for the structure in which it is situated, is one of Vashon's oldest structures. It began as an island hardware shop and has now evolved into a popular lunch restaurant serving American cuisine. Make a reservation in advance to enjoy elegant American food that includes delectable burgers, salads, and buttermilk fried chicken strips.
Read: How To Get To Ocracoke Island
15. Visit Snapdragon
Snapdragon, a bakery, bar, and restaurant all in one, is a bread lover's paradise. It seems to be a conventional bakery at first appearance, yet a quick peek at their menu reveals a vast range of vegetarian food and pastries. You'll find yourself wanting to return again and time again.
16. Visit wineries and Breweries on Vashon Island
Do you want to go wine tasting? Vashon Island also has several fantastic vineyards and breweries with fantastic tours. Taste the luscious grapes, take in the scenery, and meet the proprietors of these exceptional estates.
If you have some spare time, you should add visiting these fantastic wineries, breweries, and cideries to your list of things to do on Vashon Island. Note that some of the vineyards and breweries may be closed during the off-season or on weekdays, so check their websites ahead of time and make an appointment if necessary.
17. Camp Colvos Brewing Co
Camp Colvos, which is conveniently located across from Snapdragon, attracts a large audience with its colorful outdoor seats. Guests may socialize as they drink their beer and eat their delicious pies.
They're also a terrific kid-friendly brewery, so if you're out with the entire family, this is a nice stop. This was a nice area for us to take a break with our child who refused to sit still. We could be outdoors, and if he became restless, one of us could accompany him down the sidewalk without going too far.
18. Palouse Winery
Palouse Winery is open all year and allows members access to a unique porch where they may sip their delicious wine. The Winery offers breathtaking views of the Olympic Mountains and the woodlands. Don't worry if you aren't a member. As a non-club member, you may visit the Winery on a Sunday and use the porch.
19. Maury Island Winery
Maury Island is the place to go if you want to see a vineyard that grows its own grapes. Bill Riley and his family own and operate a small vineyard in the area. Every year, he and his wife, Jan, manufacture around 150 cases together. They're only available for tastings throughout the summer, and you can see their opening and closing timings on their website.
Final words
These are some fun things to do on Vashon Island. Take a look at all the activities and come up with a proper itinerary. Then you will not encounter any challenges as you go through experiences offered in this island.