On the Alabama state seal, you can observe a vein-like network of lines. These are key river systems that have sustained Alabama's people and fueled its towns, cities, and industries. In addition to their practical significance, rivers have motivated people in this region to respect nature for its capacity to help us relax, enjoy ourselves, keep well, and connect with others. While keeping that in mind, let's take a look at the best overnight canoe trips Alabama.

Every spring, the state's rivers, streams, lakes, and Gulf waters beckon paddlers to explore. Alabama offers it all: alligator-infested bayous, furious rapids, slow-moving blackwater rivers, and balmy Gulf water. A 631-mile paddling path connects the highlands to the sea.

Local boaters, groups, and state authorities have designated particular routes, campgrounds, and facilities accessible along Alabama's canoe and kayak "trails." Whether you're interested in day outings or longer paddling expeditions, this fast and dirty guide will send you in the right way with highlights of numerous major water routes in the state.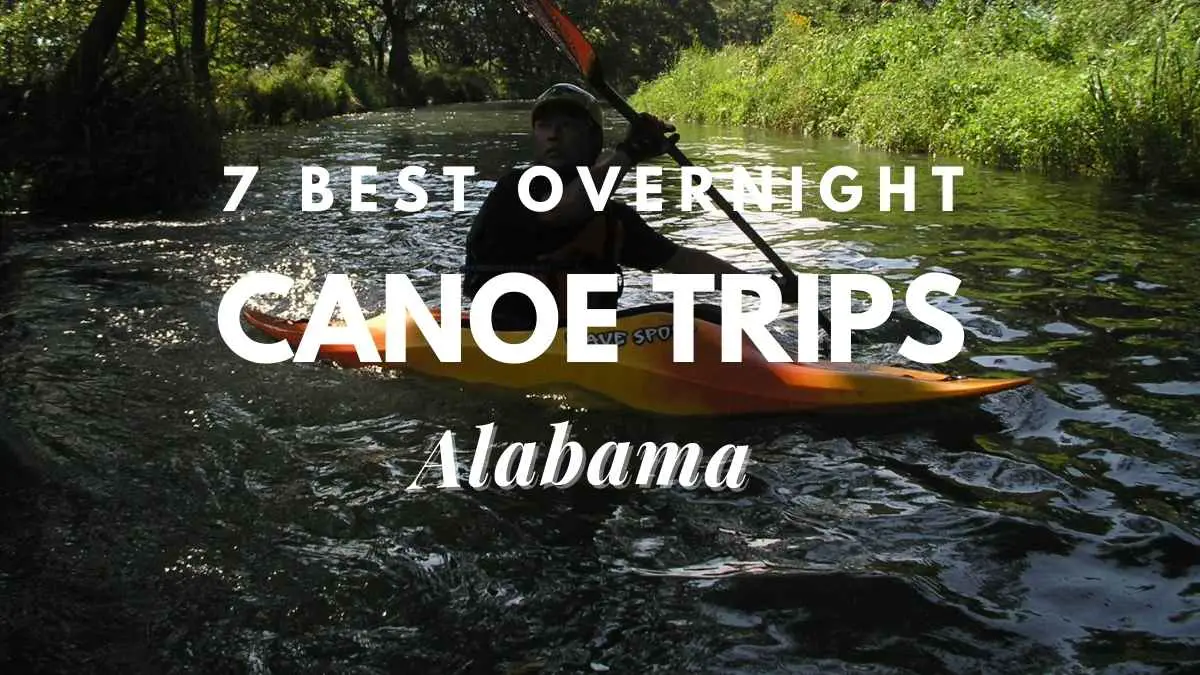 1. Alabama Scenic River Trail
The 631-mile Alabama Scenic River Route (ASRT) is the longest river trail in a single state, according to the NPS. This is a genuine adventure that will challenge your abilities and stamina. The Coosa River has some enjoyable shoals and a boulder-strewn stretch with Class II/III rapids near Moccasin Gap. Relax as you paddle along the shores of picturesque Lake Martin, across the Mobile-Tensaw Delta, and into the thundering surf of the Gulf of Mexico. You can "section paddle" the ASRT if you don't want to complete it all at once.
Read: Is Traveling A Hobby? The Ultimate Guide To An Exciting Way Of Life Learn about the Downsides Of Traveling As A Hobby

2. The Mobile-Tensaw Delta
The Mobile-Tensaw Delta encompasses 100,000 acres owned and administered by the state and available to the public. Paddlers may explore this vast wilderness by following the 200-mile Bartram Canoe Trail, which includes six day-use and six overnight paths.
Among the bayous, sloughs, and lakes are 50 unique and endangered plant and animal species. The habitat contains bottomland hardwood woods, stunning cypress-tupelo swamps, an isolated Indian mound, and wildlife-rich estuary marshlands. Hundreds of American alligators will be "watching" you while you paddle. To add to the adventure, floating campsites allow you to sleep under the stars.
3. Canoe Hatchet Creek
Hatchet Creek, a picturesque river with several swift shoals, feeds the Coosa River and Mitchell Lake. The Hatchet Creek Canoe Trail connects Goodwater to Rockford via County Road 18.
Locals recommend paddling the river in the spring when the mountain laurel blooms and late May when the rare Cahaba Lily blooms with its snowy white pedals. After the spring rains, the stream has some spectacular drops and a Class II rapid that runs over a rocky bottom. The walk passes the historic Goodwater Train Trestle and the Old Grist Mill. This is among the most popular overnight canoe trips Alabama.
4. Trail Perdido
The Perdido River Path is the newest addition to the state's canoe trail network. On this 19-mile stretch of the Perdido River, bald eagles and red tail hawks swoop high above you in the clear blue sky. Visit one of the numerous white sand bars that flank the river's path to the Gulf for lunch or a dip in the cold sea.
Alternatively, you may sleep on the sandbars in front of the trail shelters or stay at one of the four trail shelters along the way. Two landings divide the trail in half, allowing for more leisurely paddling.
5. Canoe Orange Beach
The Orange Beach Canoe Trail on the Alabama Gulf Coast offers saltwater kayaking. This coastal path surrounds numerous islands where the sunsets are stunning, and the dolphins are lively. The circle is 15 miles long, but with 10 launch stations, you may customize your journey. It's also near to restaurants, hotels, and entertainment, making it ideal for a weekend paddling excursion.
6. Sepulga Canoe Trail
A little-known canoe path in south Alabama is gaining popularity. The 42-mile Sepulga River Canoe Trail from Travis Bridge to Brooklyn is full of surprises. There are plenty of places to eat and swim. You'll cross limestone shelves and little caves on the river, so plan to stop and explore. You may locate fossils from the area's old ocean. You'll also cross a historic iron railroad bridge, the Bull Slough railroad bridge.
Several minor waterfalls flow down the river's stony banks, and there's even a Class I rapid, rare in the state's generally flat south. It is possible to extend or shorten the trip by choosing from five separate launches.
7. Canoe & Kayak Limestone County
The Elk River flows through Elkmont, Alabama, on its way to the Tennessee River, becoming the Limestone County Canoe & Kayak Trail. Paddle through gorgeous hardwood forests, where dogwoods blossom white and pink in the summer and hardwoods turn flaming red in the autumn. You'll see rolling farmland and meadows hugging the riverbanks.
Along the path there are five launches, so you may pick and choose how far you wish to paddle. It's also a dependable river. Because the TVA dam regulates the water levels, you may paddle even in the summer heat.
How to plan your overnight canoe trips Alabama?
Nothing beats the sound of water lapping on a coast, canoe, or kayak, or thundering down a narrow rocky chute or smashing on a pristine white beach. If you've ever paddled or kayaked over these noises, you know how relaxing they can be. Imagine being lulled to sleep by these sounds while camping by the water.
An unforgettable camping experience includes camping alongside a slow-moving blackwater river, a rushing stream, or a sandy coastline. Whether you're a first-time paddler or an experienced boater, there are procedures you must follow to guarantee a successful overnight paddle excursion. Here are six key points to consider.
1. Pick a Good Trip
The best overnight canoe excursion is one that suits your interests and ability. Select a route with natural beauty, history, animals, and maybe a few obstacles, but keep it realistic. To imagine canoeing amid alligators in the dark bayous of the Mobile-Tensaw River Delta (dubbed "America's Amazon") is fascinating, but it is also dangerous.
The best excursion is one that suits your ability level. Beginners might consider joining an experienced group or outfitter for their first paddling campout. Time requirements must also be considered. Consider your travel time to the put-ins, take-outs, lunch, swimming, etc. That will assist calculate travel duration. Begin with easy journeys and work your way up to more difficult ones. It's just as exhilarating to paddle shorter distances on smaller bodies of water.
2. Expertise matters
Find a river that appeals to you using a paper map or an internet map. Then utilize the internet to identify local clubs and outfitters in the region. From whitewater to the salty waters of the Gulf of Mexico, an outfitter's expertise is invaluable, says Jim Felder of Alabama Scenic River Trail (ASRT). "They can show you stuff you would never learn otherwise."
Outfitters can suggest the optimum times of year to paddle the canal, as well as potential launch and takeout points. They may also point out potential campsites and locations prone to log jams and portages. The weather is also a factor. As well as being alert of storms, understanding how weather impacts rivers is critical. Water levels downstream are affected by heavy rain hundreds of miles north. Paddlers downstream of a storm may find themselves in rapidly rising water. Also, remember that paddling on a flooded river is risky.
Many Southeast streams and creeks are seasonal, and rain dramatically impacts water levels. During heavy rain, streams may flood, making paddling dangerous. During a drought, your boat may not float, so you'll have to pull it constantly. Before you go, check with an outfitter, American Whitewater, or another resource to see whether the conditions are safe.
In an emergency, you must find speedy escape routes. "With Google Earth and other satellite mapping services, you should never run out of locations to get out of the water," Felder adds. If a road crosses a brook, get out.
3. Pre-select campsites
So, you've discovered your river. So, how about a camp? Many individuals believe any river, creek, or stream is public. You may be alright paddling that river, but unless sanctioned campsites are developed, you may be trespassing on private land. If a shoal or sandbar in the river includes trees, it's presumably neighboring landowner's property. You're probably OK if there are no trees. Again, local outfitters and paddling groups can help. You may also rely on ASRT, which has logged hundreds of campsites around the state's rivers.
4. Gearing Up: Keep it Simple
Keep in mind the phrase "keep it simple" while collecting your camping goods. There's no need to go all out and buy pricey gear. Generally, you should aim to carry a light burden. Remember to bring it everything. Your canoe or kayak's capacity limits your load, and if you have to portage, you must physically carry it all. Of course, additional weight and how it's loaded might affect your boat's balance.
While packing light is a wonderful idea, don't forget basics. BYO PFD and food/water/fire/first-aid kit/flashlight/sunscreen/maps/navigation equipment. Consider taking a tent if you paddle during mosquito season or if it rains. You may also opt to sleep beneath the stars.
Final words
Now you know how to get the most out of overnight canoeing trips Alabama. Keep these facts in mind and plan your vacation accordingly.