Are you planning a trip to Crater Lake for a much-needed weekend getaway? I've got you covered! Continue reading for information on not just what to do at Crater Lake, but also when to go, where to stay, my favorite hikes (with the most breathtaking views), and where to dine. Enjoy!

The shortest route from Seattle to Crater Lake is 6.5 hours, although it may easily take 8 hours due to daily traffic in Seattle and Portland. We didn't have high expectations for the route until we understood that adding 0.5-2 hours to it would turn it into a true experience!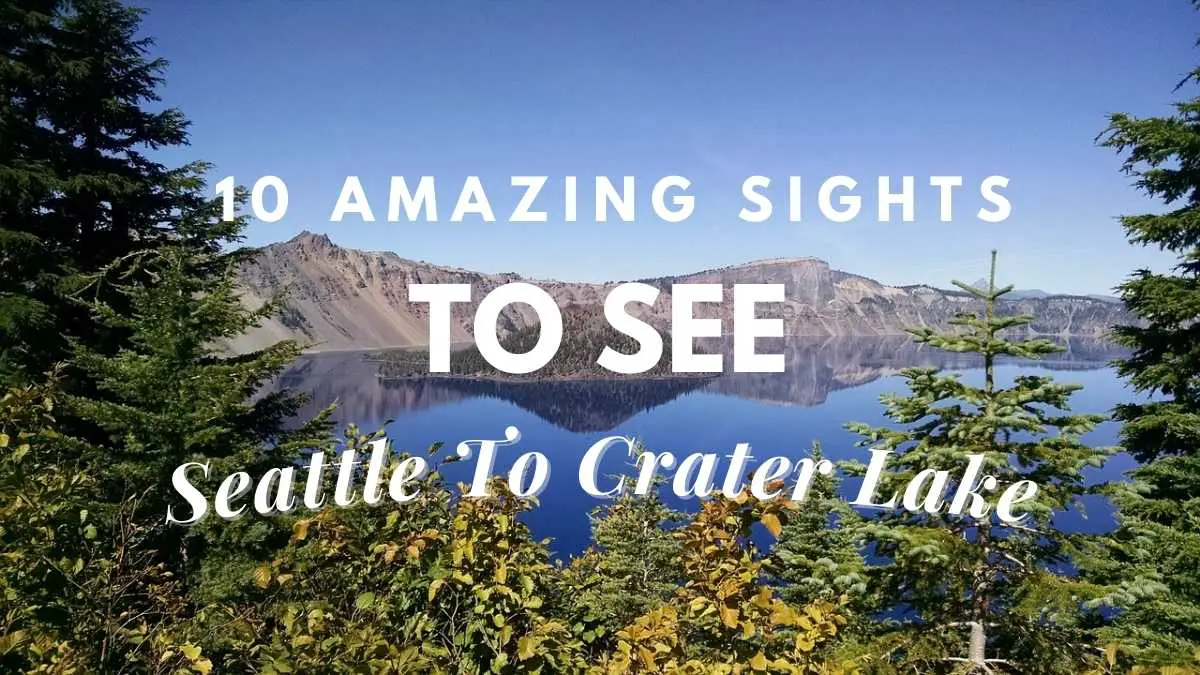 Why should you visit Create Lake from Seattle?
Crater Lake National Park is one of the most enthralling places I've ever visited. You'll never forget your vacation to Crater Lake, with its tranquil bright blue waters, gorgeous roadways, and amazing starry night sky. That's a guarantee! The Park begs to be explored, and there are so many things to do at Crater Lake that you'll never be able to see it all.
Are you planning a trip to Oregon and want to know what there is to do in Crater Lake?! Click through for the greatest hikes, best perspectives, where to stay, and what to eat in Crater Lake – all you need to know to organize your own trip!
Crater Lake is located in southern Oregon and may be reached by flying into Portland (PDX) and driving 4 hours south. Do you live on the west coast and don't want to spend the money on an airline ticket? Make it into a road trip! The lake is around 6.5 hours from San Francisco, 4 hours from Redding, and 4 hours from Sacramento, so take your pick! When you have a long weekend vacation, I recommend going to Crater Lake for three days (including travelling to and from the park) will be plenty!
Read: Is Traveling A Hobby? The Ultimate Guide To An Exciting Way Of Life Learn about the Downsides Of Traveling As A Hobby

What's there to enjoy during your tour?
When faced with such beautiful, deep blue water, the logical next question is: can you swim in Crater Lake? And, fortunately for you, the answer is a resounding yes! However, there is just one area in the park where you may swim securely and legally, and that is from the Cleetwood Cove Trail (read on for more about this awesome location and what to expect).
So, how did Crater Lake come to be? Perhaps even more fascinating than the color is the way it was made. Mount Mazama, a 12,000-foot-tall volcano, erupted and fell some 7,700 years ago, forming the lake. The lake currently rests in the caldera of that extinct volcano, and tourists may see a variety of unique volcanic phenomena throughout the park. What is the location of Crater Lake?
Crater Lake National Park is roughly 8 hours south of Seattle and a little more than 4 hours south of Portland in southern Oregon. Bend, located 1.5 hours northeast of Crater Lake, 3.5 hours southeast of Portland, and 6.5 hours southeast of Seattle, is an excellent place to explore.
Read: What To Wear Hiking In Seattle (Practical And Safety Clothing)
Can you visit Crater Lake now?
While you may enjoy some amazing snow sports in Bend and snowshoe or ski at Crater Lake, the ideal time to perform the outdoor activities we've highlighted in this piece is during the summer months of July, August, and September. If you go from Seattle to Crater Lake during the spring or autumn shoulder seasons, you should expect certain snow-related restrictions. Crater Lake, in fact, is one of the snowiest spots in the United States, with an average yearly snowfall of 43 feet.
If you're planning a trip to Crater Lake in the spring, this is a fantastic place to start planning, and this website will keep you up to speed on current conditions and restrictions. The weather was just wonderful when we went in late July! How much time should you devote to Crater Lake?
In comparison to other national parks, you may have visited, Crater Lake National Park is unusual in that you don't need a lot of time there to feel like you've seen a lot. It takes only one or two days to see the attractions around the lake from various vantage points. Allow three days if you really want to slow down and take it all in, or if you want to undertake a variety of treks. However, traveling down from Seattle is a bit of a trek, so if you're able to break up the journey with some stops before and after, we encourage it! That is exactly what we did, as you can see in the itinerary below. We went on Friday afternoon and came home on Tuesday, and it felt like a perfect amount of time to go from Seattle to Crater Lake and back. However, if you have more time, there is lots more to do in the neighborhood, and we've included some more recommendations at the bottom of this piece that you should check out!
Before you go, here are some quick facts and history.
After a huge eruption around 7,700 years ago, the volcano known as Mount Mazama collapsed, forming Crater Lake. This eruption altered the terrain everywhere around the volcano, creating a caldera (basically a crater created by the collapse of a volcano) that is now filled by Crater Lake.
Yes, an eruption is possible in the future (despite the fact that it has been dormant for nearly 5-6,000 years), and Mount Mazama may reappear.
Are you planning a trip to Oregon and want to know what there is to do in Crater Lake?! Click through for the greatest hikes, best perspectives, where to stay, and what to eat in Crater Lake – all you need to know to organize your own trip!
Crater Lake is the world's tenth-deepest lake, with a maximum depth of about 600 meters (1,949 feet). It's also the country's deepest lake! Crater Lake's amazing vivid blue hue is largely owing to its immense depth and outstanding purity. Because there are no other bodies of water flowing into the lake, the waters are crystal clean, with little to no contamination!
When is the best time to visit Crater Lake from Seattle?
Summer and winter are the two different seasons that characterize Crater Lake weather. Summers are short, and winters are long, so prepare early if you want to visit Crater Lake when it isn't frigid!
Summer: July, August, and September are the best months to explore Crater Lake. This will guarantee that the park roads remain open throughout your vacation, and you will not likely freeze to death (nights do get chilly though).
These are also the busiest periods to visit Crater Lake, but don't worry; the park is huge enough that you'll still be able to enjoy some peace and tranquility.
We went to Crater Lake over Labor Day weekend, and we were well prepared for the park to be packed the whole time. We were surprised to find the park pretty quiet, and we even had a few trails to ourselves at times. Maybe people were scared of the smoke, or maybe I'm simply used to crowds at other parks nearby (ahem, summer, I'm looking at you).
Best places to stop when traveling from Seattle to Crater Lake
1. Cape Horn Lookout
The first stop (pullout) we took after Seattle was Cape Horn, which is located east of Portland. I could put many more brakes on the route "From Seattle to Portland," but traffic in both cities is terrible, and we strive to get out as quickly as possible.
2. Waterfalls in the Columbia River Gorge
One day, I'll propose that Oregon be renamed the "Land of Falls." In Oregon, there are at least 238 waterfalls. The famed Columbia River Gorge National Scenic Area is home to 90 of them. Many waterfalls, such as Wahkeena Falls and Multnomah Falls, are accessible from the scenic route and need no hiking or only a short walk:
Multnomah Falls is about halfway between Seattle and Crater Lake. You may drive by, stop for a few minutes, or spend the entire day in the Gorge.
3. Turner, Oregon's Enchanted Forest
If you have little children, take them to the Enchanted Forest, a fairyland. The Park is open from April to September, however Covid has an impact on the hours and operations.
4. Trail of 10 Falls
The route of 10 Falls is deserving of its own post:). We only saw two waterfalls, but they were spectacular! Middle North Falls, depicted below, will always be my favorite: The woodland is thick and lush. Despite the long weekend, it was rather quiet. The hike to the Upper North Falls was simple and quick. At the Trail of 10 Falls, we stayed around 2 hours.
5. Fields of Christmas trees
Oregon is a major Christmas tree supplier in the United States. We were driving to Portland when we came across fields and fields of Christmas trees. In front of certain farmhouses, there were massive ornaments:). It was a magical drive since there were so many trees all the way to the horizon:
In this location, some sequences from the film "Leave No Trace" were shot. 44.9350917, -122.6790639 are the coordinates for this location.
6. Massive lave fields along the road
You'll cross enormous fields of lava along the route if you opt to visit the picturesque Sahalie Falls and Clear Lake (more about them below). Suddenly, a wide region covered with hard rocks appears among the lush evergreen forest: If you want to delve further, Oregon has several "lava"-related places: caverns, buttes, lands, flow, and so on.
7. Clear Lake
Clear Lake is a great place to go fishing, kayaking, sleeping, and picnicking. We had a two-hour break at Clear Lake. The setting is beautiful, and the lake is very clear — the fish seemed to float! You may stay in one of the lakeside cottages, bring your kayak and fishing rod, and even hire a boat there:
8. Sahalie Falls
For us, Sahalie Falls became one of our favorite routes in Oregon. You'll be thrilled if you enjoy waterfalls and vegetation. Beautiful landscape and the perfect duration (1-2 hours) for a family hike: Despite the fact that our visit was somewhat crowded, we had a great time.
9. Three Sisters, Three Volcanoes
When driving past, the "Three Sisters," three volcanic peaks that are closely placed, are difficult to miss. North, Middle, and South Sisters provide a beautiful background for wheat fields. Each mountain rises to a height of more than 10,000 feet (3,000 meters):
You'll pass through Sisters, a beautiful town with 1880 facades. We enjoyed the city and only drove through it, but we'd want to go for a walk around its streets.
10. Crater Lake i
Our bucket list includes a visit to Sparks Lake. We didn't go since we didn't have time, but we will definitely return. Sparks is one of Bend's most popular picture shoot sites. The countryside reminds me a lot of Canada.
11. Odell Lake
We came upon Odell Lake as a quick pit break to stretch our legs and quickly fell in love with it. I couldn't help but be envious of the individuals who were vacationing in the lakeside cabins! Odell Lake is also a popular spot for camping and trekking.
12. Oregon's Natural Wonders Salt Creek Falls
Salt Creek Falls is a short walk from the parking area and offers breathtaking panoramic views. We could have gone on a longer trek through the forest, but we simply wanted to take in the scenery: There is some open area where children may run about and stretch their legs. We were reminded a lot of Makahiku Falls (Maui, Hawaii) by Salt Creek Falls.
Final words
If you've ever looked at images of Crater Lake, you've probably noticed its deep blue hue. But do you have any idea why it's that hue, or how this stunning lake came to be? At 1,943 feet deep, Crater Lake is the deepest lake in the United States. Its deep blue tint, as well as its purity, are linked to its brilliant blue color. Rain and snow are the only sources of water for the lake. There are no inlets from other water sources, allowing it to maintain its status as one of the world's cleanest and purest lakes. The best method available for you to explore this beauty is to visit the Crater Lake from Seattle. Follow the guide we shared and you will end up with securing an unforgettable travel experience at the end of the day.