Hattiesburg, Mississippi, is a fantastic foodie destination. There are approximately 200 local eateries with a limitless variety of meals to choose from. Following a 48-hour stay in Hattiesburg, here is my own list of ten things to eat and drink.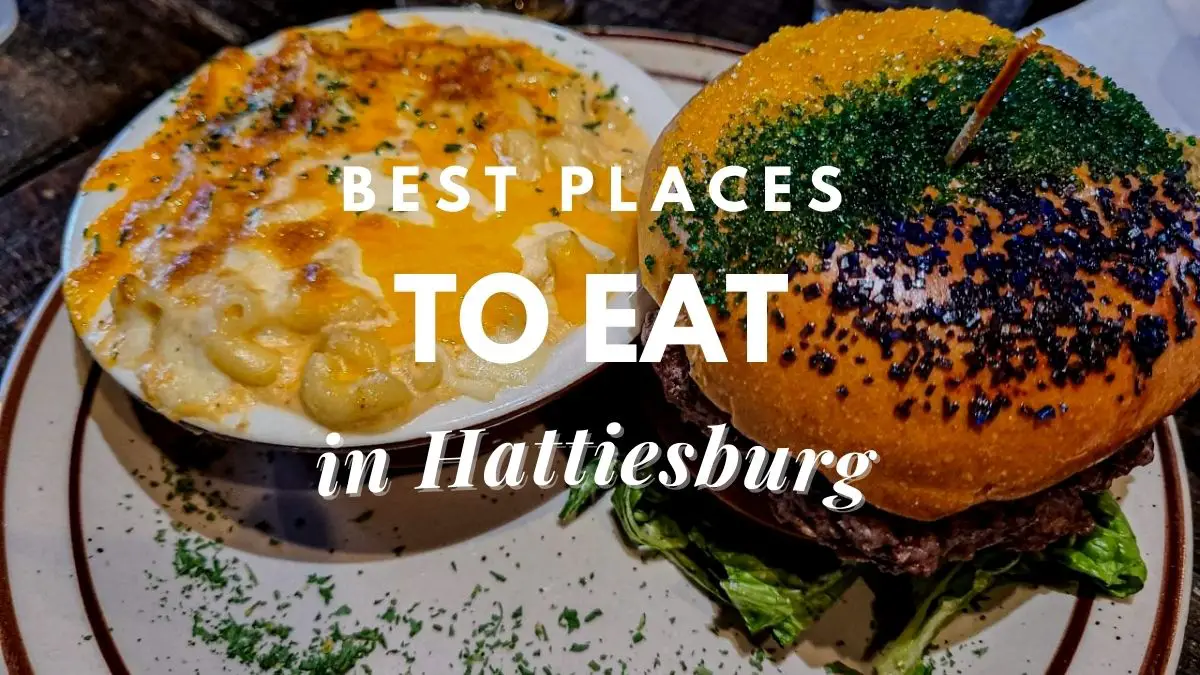 1. Depot Kitchen and Market's Bru's Breakfast Bowl
A Cheddar biscuit is topped with sausage gravy, bacon, scrambled egg, and cheddar cheese in the Bru's Breakfast Bowl. Breakfast bowls don't get much cozier than this. It's a full meal that's well worth the $11 price tag.
The Depot Kitchen and Market is a neighborhood restaurant near the Hattiesburg Train Depot (Station), making it an excellent choice for train enthusiasts, Amtrak travelers, history fans, and anybody else hungry.
The restaurant provides a welcoming atmosphere, and the staff is knowledgeable in Southern hospitality. While I prefer the Bru Meal Bowl, my husband was pleased with his breakfast. The Downtowner – two eggs, bacon, toast, and smoked gouda grits for $9, particularly the grits. Also worth noting is that the decaf coffee is among the greatest I've ever had.
The Depot Kitchen and Market is open for breakfast and lunch every day at 209 Buschman Street. Monday through Saturday, 8 a.m. to 4 p.m., and Sundays, 9 a.m. to 2 p.m.
Read: Is Traveling A Hobby? The Ultimate Guide To An Exciting Way Of Life Learn about the Downsides Of Traveling As A Hobby

2. The Midtowner's Skinny Elvis
Whole wheat bread, sliced bananas and strawberries, and blueberries and honey for a skinny Elvis breakfast. The Skinny Elvis costs $8 and consists of whole-wheat toast, peanut butter, banana, honey, fresh berries, and granola. I was really shocked by the amount of food provided, and for the first time in my life, my spouse completed his meal before I did. This is a terrific recipe for when you want something nutritious but yet want to feel satisfied.
The Midtowner is a new retro-style café. From the black and white photographs on the walls to the comfortable booths, you'll feel transported back in time.
It's a completely local eatery that takes pleasure in offering authentic meals. The Midtowner is situated at 3000 Hardy Street, Suite 10, near the Hotel Indigo, and is conveniently accessible from and to the University of Southern Mississippi (aka Southern Miss). The restaurant is open from 7 a.m. to 2 p.m. seven days a week.
3. The Art of Roux
While the name suggests that this is a Louisiana restaurant, it is all Hattiesburg. Hattiesburg's food truck, The Art of Roux, is locally owned and managed. Despite the fact that the menu varies regularly, there is always something delectable to order. If you're fortunate, you'll find them serving their flawlessly fried catfish with a side of French fries. The Art of Roux is open on Friday, Saturday, and Sunday on the premises of Southern Prohibition Brewing Company.
If you are searching for fine dining experiences in Hattiesburg, this is a great overall restaurant available out there to consider. You will appreciate the efforts that the restaurant staff puts in delivering a perfect service to you. You just need to go ahead with the service, and you will surely enjoy what you are getting at the end of the day.
4. Southern Prohibition on Craft Beer Brewing Business
Hattiesburg's Southern Prohibition Brewing has been brewing beer since 2013. It's like eating your cake and sipping it, with their Oreo Crumble Cakewalk Beer. It's a creamy, somewhat sweet beer. The Imperial Stout Oreo Crumble Cakewalk includes notes of crumbled chocolate cream wafer cookies, vanilla, cocoa nibs, and marshmallow. When you can have this with or after your meal, there's no need for dessert.
5. The Birdhouse Cafe
The Birdhouse Cafe demonstrates that you can eat healthy and tasty food. Everything on the menu is healthy, and you can feel good about eating everything you want. The Hubert ($8) is a sprouted bread sandwich with turkey, avocado, spinach, and chipotle paleo mayo, served with a side. It makes for a delicious, light meal, particularly when served with fruit as a side dish.
Chef Katie Dixon is enthusiastic about good food, which shows in her restaurant. The restaurant is incredibly intimate and is situated within the B & S Appliance shop at 6763 US-98. The Birdhouse Cafe is open from 8 a.m. to 4 p.m. Monday through Friday (until 6 pm on Mondays only). This is the place to go if you're seeking for healthy alternatives for breakfast, lunch, coffee breaks, and so on. They also provide delectable gluten-free treats!
6. The Porter
Stop into The Porter at 201 West Pine Street and purchase The Holiday Spirit if you find yourself in Hattiesburg over the holidays (and you should!). Vanilla vodka, coffee liqueur, and butterscotch schnapps are mixed with heavy cream and garnished with toasted cinnamon zest in this unexpectedly pleasant drink. This is something I could see myself ordering again and over again.
The Porter is located in a historic building downtown and feels like going into a warm den; there's no need to dress up to enjoy the fantastic beers and pub fare. But if you want to go all out, that's OK as well. The Porter is open from 11 a.m. to 11 p.m. Tuesday through Saturday.
7. Chicky-Chicky Wit Fries
You'll need to eat something while enjoying your favorite alcohol at The Porter. A platter of their Chicky-Chicky Wit Fries ($10.50) may be shared by many folks. This meal is a must-order for anybody who like hand-cut fries topped with grilled chicken, bacon, and their house-made Wit Sauce. If you are a fan of meat dishes, this is a great restaurant available to consider as of now. If you take a look at the customer reviews, you will notice how gleaming they are. On the other hand, you will also figure out how excellent the service offered by this restaurant is. It is possible to get a firsthand experience of it by visiting the restaurant. It is a decision that nobody would regret about.
8. Crescent City Grill
Crescent City Grill is a Creole cafe that specializes on fresh seafood and has a large beer and wine list, with an homage to New Orleans, which is just an hour and a half away from Hattiesburg.
The Cajun Popcorn is $13.99 and consists of fried crawfish tails, jalapenos, and banana peppers with remoulade. Please do dip the "popcorn" in the remoulade; you will thank me later. This creole appetizer is perfect for shrimp lovers.
I can testify that Crescent City Grill's shrimp and grits are among the greatest I've ever tasted, and I definitely should have included it in this list of Hattiesburg restaurants. However, I included a dessert from their menu since it was delicious and sometimes you need a little indulgence.
Crescent City Grill's bread pudding has to be the greatest I've ever tasted. It's wonderfully creamy, rich, and smooth. If you don't share it with the people you care about, they will never forgive you.
9. Cotton Blues
Cotton Blues' cheesecakes are so amazing that Delish and MSN named them Best Cheesecakes in America. You can get a piece of pizza for $6.40 in Hattiesburg. Plain, blueberry swirl, strawberry swirl, and caramel swirl cheesecakes are available. You may get one and have it mailed to your house if you can't make it to Hattiesburg. I was able to experience some of Hattiesburg's offerings thanks to Visit Hattiesburg. It was enough to convince me that I needed to return for more.
How to find the best restaurants?
Examine feedback from a number of sources.
This is obviously self-evident, but it's where I begin. I check TripAdvisor or Google to see what other people have said about eateries. There are numerous places to do this, but I check online and, in guidebooks, and publications if I'm traveling with them. In guidebooks, I've discovered some true jewels!
Unhelpful, negative reviews should be identified and ignored.
My "professional" advice is to filter through the negative reviews from folks who have unreasonable expectations. "They couldn't seat my group of 12 at 6:30pm on a Friday night!" says someone who gives it a one-star rating. "I shall never return to this place!" or "I ordered cheesecake and discovered it included dairy and gluten, which was not disclosed on the menu!" On a Friday night, I wouldn't expect any restaurant to be able to handle a group of 12, and whomever purchased a cheesecake expecting it to be dairy-free has other problems. As a result, I'm going to disregard such evaluations.
Look for reviews that include meal quality, service, menu items, or the restaurant's personality.
"Food took 45 minutes to arrive on a Tuesday at 4:30pm," or "Waitress was unpleasant, and we discovered glass in our salad," are examples of feedback I'll check for. But I'm looking for features that are distinctive to the location: "Amazing view right by the ocean!" or "Live music, incredibly romantic!" or "The best steak I've ever eaten, with salad AND soup." I'm looking for a restaurant that offers both amazing cuisine and a memorable experience. I check for reviews that will tell me whether I can get both at this location.
Browse through social media
Social media networks are an excellent option available for you to look around for hotels and restaurants in Hattiesburg as of now. That's because almost all of them are on social media, and they tend to advertise their services for people who are looking for dining experiences. It is possible for you to browse through the restaurants and learn more about the dishes and ambience. Along with that, you will also be able to learn more about the customer service that the restaurants offer. Information that you see on social media will eventually help you to make the right choice in finding a restaurant in Hattiesburg. 
Final words
There are some outstanding restaurants located in Hattiesburg. You should be careful to go through different options available and pick the best one out of them to get a hassle-free dining experience. You will surely appreciate the quality of food as well as the overall dining experience that such a restaurant is capable of offering you. Keep these options we shared about best places to consume food in Hattiesburg and enjoy your stay.