Do you ever give Lake Walter E. Long a thought? That's not a trick question at all; in my experience, despite the lake's proximity to downtown and the vast expanses of public parks that surround it, many people just overlook them. Except if you want to fish, in which case you undoubtedly already know about its well-stocked population of bass and other species.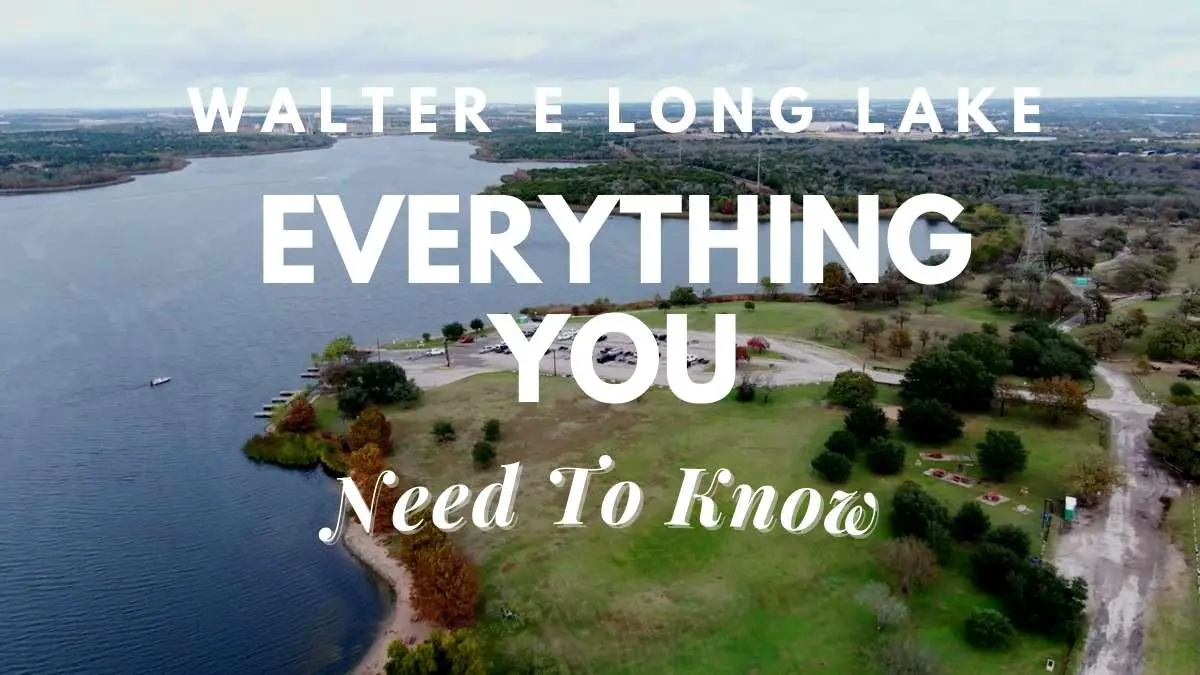 What is Walter E Long Lake?
One of Austin's top lakes for sports is Lake Walter E. Long! This lake is conveniently located about 25 minutes away and is available from 8 am to 7 pm for all your outdoor activities. Everyone has plenty of space with 1200 acres available!
Lake Walter E. Long is a cooling reservoir for a power station along Decker Creek, which is different from the other lakes. The lake, which is run by the City of Austin, supplies water to the electricity-generating turbines. The lake is also utilized by American forces as a training ground for airborne and water rescue exercises.
This lake is well-known among local anglers for its quantity and diversity for fisherman! Has populations of both hybrid and big mouth bass. There have been fishing competitions held at the lake in the past. Many visitors come to go boating, jet skiing, or swimming for the day. There are walking and bike routes, barbecues, and picnic spaces on land! Notably, there are a few sand volleyball courts as well! Playgrounds and facilities are available in Lake Walter E. Long Metropolitan Park as well.
Read: Is Traveling A Hobby? The Ultimate Guide To An Exciting Way Of Life Learn about the Downsides Of Traveling As A Hobby

Exploring the history of the lake
Since its creation in 1967, when Decker Creek was dammed to build a cooling reservoir for a power station, Lake Walter E. Long, often known as Decker Lake, has been kicking it in Ora Houston's Council District 1. Water poured from the Colorado River helped the lake quickly and dramatically change the surrounding area. Together with the 3,695 acres of parks that surround it, the 1,165-acre lake that results represents an area of city-owned land that is approximately seven times bigger than downtown Austin.
Of course, this huge parcel of land didn't just appear out of nowhere; the city bought it from nearby farmers, sometimes at less than fair prices when they could get away with it. As the item on the left implies, some anglers just couldn't wait for the park and its stocked lake to open to the public in 1970.
However, as the Town Lake / Lady Bird Lake Nomenclature Schism of 2007 showed us, old names have a habit of hanging around, so you could sometimes still hear it referred to as Decker Lake. The lake was formally renamed after local civic leader and historian Walter E. Long back in 1973. Don't stress yourself out too much!
Why was the Walter E Long Lake created?  
The purpose of this historical distraction, however, is to offer the required context for the site's mostly untapped potential. But I'm thinking of a bigger picture — trails, playgrounds, event centers, frisbee golf, whatever. The Travis County Expo Center leases a relatively small 128 acres on the corner of the tract, so you are technically taking advantage of Walter E. Long Park whenever you get wasted on Coors Light at Rodeo Austin.
This was the park's original design when it was being put together in the 1960s and 1970s, and at the time, media coverage of the location was consistently upbeat about its future. The money allotted for the park's renovation, however, kept being transferred to other projects owing to some clever bookkeeping on the part of the Parks and Recreation Department, and beyond a few improvements until the end of the 1970s, the park hasn't really altered much since.
It's not that it's horrible, exactly; among the park's current features are paths, a number of picnic sites, and two beach volleyball courts in addition to the aforementioned good-ass fishing. On the north side of the parks, there are also two enormous areas designated as nature preserves, a shooting range, and a place for flying remote-control airplanes.
However, it's difficult not to question if this area is really being used to its fullest extent after seeing these photographs. This leads me to my main point: Forget about all the earlier ideas; the Parks and Recreation Department is presently seeking community feedback on a brand-new master plan for Walter E. Long.
Things that you can do around Walter E Long Lake
The development possibilities of Walter E. Long Park is shown in a presentation slide from the first community involvement meeting. City of Austin, Texas the first of the master plan's four public participation sessions was held by the city last month, and the next one will take place in June. We don't have any specific information about what will appear in this master plan, but we can at least check out the results and see which ideas are popular. Although I'm slightly skeptical of the method's effectiveness, the goal of these meetings is to gauge community sentiment and determine which amenities people want at the park. In addition, the city polled residents earlier this year in order to prepare for the meeting last month. Click to see these findings in more detail. City of Austin, Texas
The main takeaway from the meeting's thorough response is that the participants were enthusiastic about trails of all kinds, including those for jogging, cycling, nature hiking, horseback riding, and other activities. People are also interested in utilizing the lake for leisure, which is something I can support. Popular proposals include an upgraded bathing beach area and prospective kayak and canoe rental services.
Golf is widely favored by the community when it comes to Walter E. Long Park's revenue-generating choices. City of Austin, Texas. It turns out that a sizable portion of individuals want the city to develop a golf course here, which shocked me somewhat. This facility has maybe the highest support from this population. The availability of golf has been a difficult topic at this location for a time, and because the Lions Municipal Golf Course may not be there for much longer, a new municipal facility could be an alternative.
As long as we aren't simply giving the area away for free — not that we'd ever contemplate doing anything as ridiculous as that, certainly – a few hundred acres for a golf course wouldn't necessarily be a tremendous sacrifice.
Is this a good place for fishing?
Hill Country Bass Coach will lead your fishing trip on Walter E Long Lake in Austin, Texas, to ensure you have the greatest experience possible if you're hoping to create some priceless memories and have a wonderful time. Walter E. Long Lake, sometimes known as Decker Lake, is a stunning reservoir that is stocked with largemouth bass and hybrid striped bass. Ray is a fantastic fishing guide, so fishing here is wonderful.
Hill Country Bass Coach is available to take you out on Walter E. Long Lake as a fishing guide at any time of the year since its consistently high temps make it an excellent lake for autumn and wintertime fishing! Walter E. Long Lake, a short distance from Austin International Airport, has excellent bass fishing chances. Based in Leander, Texas, Hill Country Bass Coach is available by phone or click to be your knowledgeable fishing guide for an amazing day filled with fish and enjoyment on Walter E. Long Lake.
Austin, Texas's Lake Walter E. Long is a reservoir used for cooling power plants. The reservoir, which was formally impounded in 1967, serves to provide water to turbines used to generate energy from fuels derived from petroleum. The City of Austin is in charge of maintaining the dam and the lake. (Wikipedia)
Black bass (largemouth bass), hybrid striped bass, catfish, sunfish, and crappie are the main fish species in the lake.
Capt. Jess has discovered that the crappie fishing on this lake is really rather fantastic, despite what many experts may have you believe. Capt. Jess has pulled out some very good limits of enormous crappie from this lake on multiple occasions, and his customers have also unintentionally caught some magnificent black bass and big catfish.
How easy is it to fish in Walter E Long Lake?
There is a lot of bulrush around this lake used to cool the power plant. There is also a lot of submerged aquatic vegetation some years (most commonly hydrilla and pondweed species). There are no private boat docks or homes visible along the water's edge since the majority of the coastline is owned by the City of Austin, but there are distinct stream systems, drop-offs, and underwater tank dams in certain areas of the reservoir. If the power plant is running, the water stays warm throughout the winter. A portion of the discharge canal is accessible for boat-based fishing. (TPWD).
Paddling in the Walter E Long Lake
Decker Lake, also known as Lake Walter E. Long, is a popular fishing spot that is near to downtown Austin. Austin's Lake Walter E. Long Recreational Park surrounds the lake and is a nice area for locals to unwind on the weekends or even after work on weekdays. The little flatwater lake is perfect for standup paddleboarding in addition to having excellent fishing. Due to the near vicinity to the city of Austin, the sport has grown fairly popular in this area. Even though the lake is tiny, it's a great area to relax on the water.
Despite being a tiny lake, it is accessible. It's ideal for calm family canoe excursions and standup paddleboarding. Since it's nearby, you can go for a brief paddle there when you have other plans.
Final words
There are several outdoor recreational opportunities available at Lake Walter E. Long Metropolitan Park. The 1,200-acre lake has open areas for swimming, boating, jet skiing, beach volleyball, a splash pad, and swimming. Our fishing community loves Lake Long because it has so many different kinds of fresh water fish. The freshwater stocks provide boat launching locations and bank fishing spots for fishing enjoyment.
On this 1,200-acre lake, you and your family may go boating, jet skiing, kayaking, or swimming. At the end of the entry road, there are docks and a boat ramp for your enjoyment. The boat docks provide secure vessel boarding; see photographs. Sand volleyball courts, picnic spots, tables, shelters, and grills are all present at the park. Running, hiking, biking, kite flying, and other activities are all possible with lots of space.
This park and lake, in my opinion, are adorable. They were calm and quiet, and there weren't many visitors during the week, so if you're seeking to avoid the crowds, this is a terrific spot to take your family. The volume of boats seemed to be acceptable. But if there's a big event going on, I've heard it can become rather packed. At the gate, several individuals have been turned away. So far, I have not discovered any Lake Walter E. Long-related event entries on any websites. I am aware that this park has hosted triathlon competitions in the past.
The park was well-kept, manicured, and tidy. There were plenty garbage cans available, and the picnic tables were kept in good condition. The park's scattered temporary bathrooms bothered me, and the road could need some maintenance.
About 10 miles (or 26 minutes) from Downtown Austin, Texas, is where you'll find this lake, which appears to be one of Austin's best-kept secrets. If you've been to Town Lake, you'll understand what I mean when I say that it's growing more crowded and difficult to rent a paddleboard or kayak. While keeping these facts in mind, you may think about visiting the Walter E Long Lake. Then you can end up with getting the best possible experience out of your stay.