Most people associate Orlando with Disney World and family holidays. But there's plenty for elders in Orlando. However, there are numerous things to do in Orlando for seniors. If you are a senior or if you are traveling to Orlando with one of the seniors, it is important to be aware of what these activities are. Then you will fall in love with the experiences that you can secure as you enjoy your time in Orlando.

Orlando, nicknamed The City Beautiful, contains rivers, natural parks, leisure facilities, trails, nurseries, and wildlife refuges. There's something for everyone in Orlando, from crowds and roller coasters to quieter pastimes like museums and art galleries. Finally, Orlando has seven senior community centers that provide activities and tools to assist seniors stay active. Orlando's temperate winter weather makes it ideal for outdoor activities unless in the hottest summer months. There's much for seniors to do in Orlando while getting some fresh air outside the city, from wildlife preserves to outdoor movies.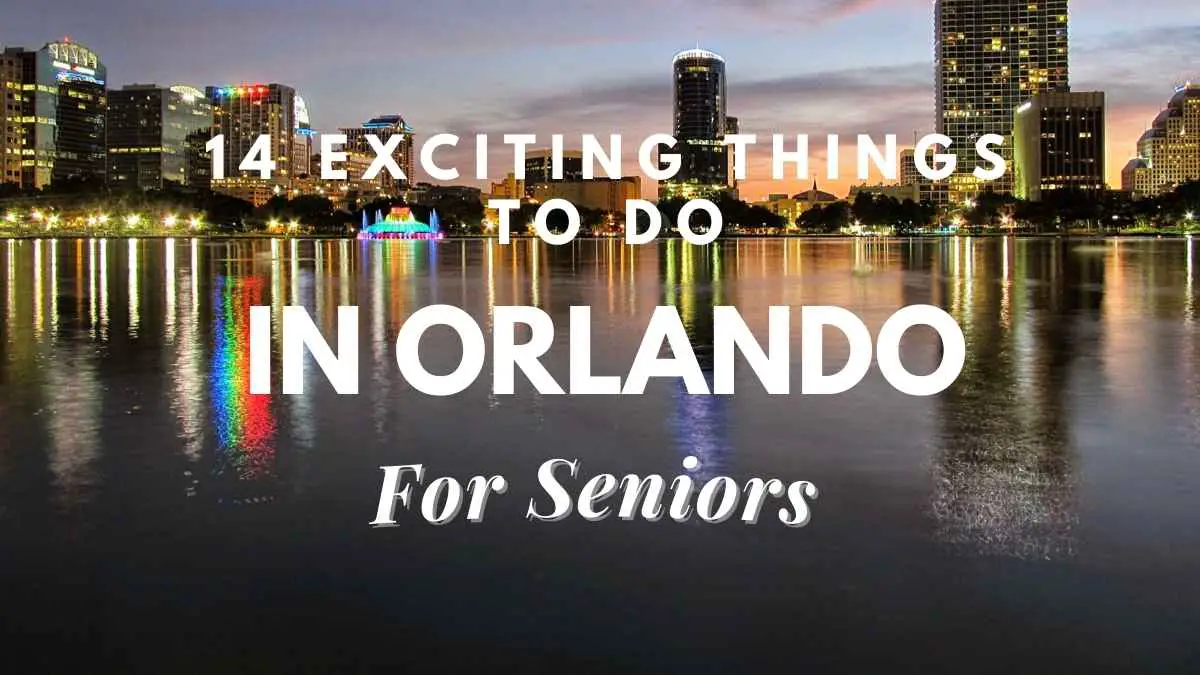 1. The Lake Tibet-Butler Nature Preserve
The Lake Tibet-Butler Nature Preserve is a fantastic location to start. The 430-acre Winter Garden grounds are full of natural beauty and animals. Enjoy exotic bird viewing or simply take a walk through this vast natural park.
Read: Is Traveling A Hobby? The Ultimate Guide To An Exciting Way Of Life Learn about the Downsides Of Traveling As A Hobby

2. Wekiva
Visit Wekiva Island for additional action in your outdoor excursions. Wekiva Island in Longwood provides paddle-boarding, canoeing, and river hiking. Many venues provide live music while having a beverage or sip of wine. Enjoy an alcoholic drink while listening to live music in a cabana at this Orlando treasure.
3. Lukas Nursery & Butterfly Encounter
Lukas Nursery & Butterfly Encounter is a family favorite. The nursery destination in Oviedo, just outside of Orlando, is known for its butterfly conservatory. Bring your family and friends to appreciate the butterflies and Florida's lovely environment. Fun ceramics and home décor are also available for purchase in the nursery.
4. Harry P. Leu Gardens
The Harry P. Leu Gardens botanical facility, only minutes from downtown Orlando, has butterflies. The 50-acre natural environment has over 15,000 native Florida trees, flowers, and foliage, as well as palm and bamboo gardens and a butterfly conservatory. Visit the Leu House Museum for a free tour. Harry P. Leu and Mary Jane Leu gave their house to the city of Orlando in 1961.
5. The Bok Tower Gardens
The Bok Tower Gardens, often known as the "Singing Tower," is another unique location that has been delighting the crowds since the 1930s. The 205 ft gothic tower is a stunning sight with the 60-bell carillon resounding in the backdrop. Visit the Pines Estate, a 20-room Mediterranean mansion, and the Preserve Trails. Special activities include a summer hot pepper exhibition, monthly yoga workshops, and art exhibits.
6. Visit one of the parks in Orlando
Orlando is a huge city full of events and entertainment for seniors all year round. If you prefer tacos, yoga, beer, wine, and empanadas, check out the Orlando Main Street website for upcoming events. Just outside of Orlando, Downtown Winter Park provides a charming and historic promenade with wonderful restaurants, shops, and wine bars.
7. Visit the Disney World
It's hard to discuss interesting things to do in Orlando without mentioning Disney World or one of the numerous theme parks. Disney World includes rides for all ages and thrill levels. Consider traveling on non-student holidays to avoid crowds and making dinner reservations in advance since the top restaurants tend to book up fast.
There's a lot of walking involved, so consider renting an electric wheelchair at the park. The annual International Food & Wine Festival at Epcot allows seniors in Orlando to sample food from across the globe. While the celebration usually runs from July to October, attendees may enjoy savory and sweet treats all year long.
8. Disney Springs
Disney Springs is the place to go for a Disney experience with less crowds, no roller coasters, and plenty of shopping and restaurants. Disney Springs provides more than simply lunch and supper. It has a movie theater, bowling, and specialty shops. Disney Springs is a fun night out with organized activities and large-scale eateries.
9. Senior Activity Centers
Looking for a cheaper alternative to Disney tickets? The Mayor William Beardall and L. Claudia Allen Centers. Many enjoyable group activities are available at both leisure facilities (just to name a few). They offer shuffleboard and bridge clubs.
If you want a comparable group structure with a focus on fitness, we recommend the Marks Street Senior Recreation Complex. A senior cardio kick, strength training, sensorics, and an overall fitness center membership provide a feeling of camaraderie as well as physical health. Outdoor movies are a great way for seniors in Orlando to spend time together. From classic drive-ins to "Popcorn Flicks in the Park" in Winter Park, Orlando seniors and their families can enjoy second-run films for all ages. Bring a lawn chair or a beach blanket and enjoy free movies on the second Thursday of every month, weather permitting.
10. Visit Orlando Senior Restaurants and Bars
Orlando's bar and restaurant culture reflects the city's eclecticism. There are plenty of social and gastronomic events for seniors in Orlando, both within and beyond the city boundaries. Here are some suggestions:
It is renowned as "Orlando's Farmers Market" and has freshly prepared dishes, local merchants, attractive picnic areas, and a pet-friendly atmosphere. Enjoy a fresh crepe or fruit smoothie while listening to live music.
Baldwin Park has a few upmarket alternatives with a mini-city atmosphere. Baldwin Park features sushi, Mexican, and modern American restaurants. The Bulla Gastrobar serves tapas, small plates, supper, and a superb brunch menu with endless mimosas or sangria. We love the Osprey's interior and outdoor eating options. Gourmet pizzas, small plates, and New American dishes are available at Sixty Vines.
Baldwin Park is a gorgeous and less congested alternative to downtown Orlando for a romantic night or a pleasant stroll.
11. Explore Orlando Art
See Art Orlando (SAO) is a non-profit organization that supports local artists. With eight permanent modern public artworks surrounding Lake Eola in downtown Orlando, including one in adjacent Heritage Square.
The Polk Theater in Lakeland is a piece of Central Florida heritage. The Polk Drama has hosted music, movies, and theater since 1928. The theater routinely screens old films and hosts live events like Russian Ballet Orlando.
12. American Art  Museum Charles Hosmer Morse
The Louis Comfort Tiffany collection is housed in the Charles Hosmer Morse Museum of American Art in Winter Park. This ancient museum is a must-see for its art glass, ceramics, and paintings. It is one of the greatest and most economical things to do in Orlando for seniors.
13. KSC Visitor Complex
If you prefer science and space over art, a visit to the Kennedy Space Center Visitor Complex at Cape Canaveral, roughly an hour from Orlando, may be worthwhile. This is an outdoor display, so anticipate wandering between buildings to visit the numerous exhibits, including the Hubble Space Telescope Theater and the NASA space shuttle Atlantis, which has a rich history of our nation's spaceflight.
14. Lake Wales
Established in 1972 to conserve and promote art in Lake Wales. The council organizes yearly events like the Sidewalk Art Show to promote creative culture while improving the city. Visit their magnificent headquarters in a historic Catholic church erected in 1927, little over an hour from Orlando. If visiting any of these exciting locations appeals to you, consider becoming a Papa Pal.
These are the best things to do in Orlando for seniors. Make sure that you focus on these activities and get the best experience as a senior.