Arizona has quite a dry weather. As a result, most people say that it is not the best state for playing golf. But when you deep dive and take a look, you will figure out that there are quite a few impressive golf courses located throughout Arizona. In fact, there is a total of more than 300 golf courses scattered within the state. Hence, you might feel overwhelmed when you are trying to find the best Arizona golf course. This is why we thought of sharing a list of the top golf courses that you can find in Arizona as of now.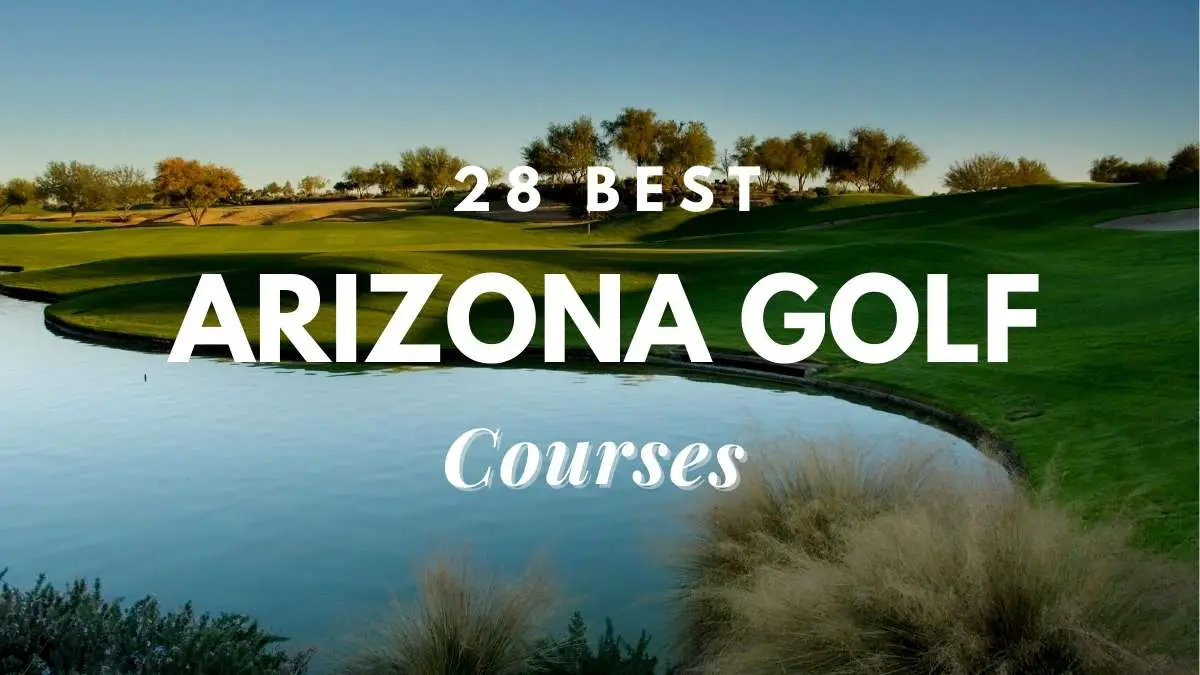 1. Grayhawk Golf Club
Grayhawk Golf Club may choose between two excellent, though distinct, courses. The Raptor was made feasible by Tom Fazio's inspiration in 1995, while the Talon was created by Graham & Parks International in 1994.
The Raptor is often favored out of the two, and here you will find a more conventional test of golf. The fairways are spacious, but the course also has deep greenside bunkers and strategically placed water hazards. When compared to other courses, The Talon has a real desert motif that is best shown by a number of deep box canyons on the back nine and various wastelands that will snag an errant shot.
The golf greens of the Grayhawk Golf Club are among the finest managed in Arizona, and it offers golfers playing on either of its two courses varying degrees of difficulty. In addition to being one of the most prominent golf clubs in the state, this club is also known for its well-known "Phil's Grill" restaurant, which is named after Phil Mickelson and a favorite of professional athletes.
Read: Is Traveling A Hobby? The Ultimate Guide To An Exciting Way Of Life Learn about the Downsides Of Traveling As A Hobby

2. TPC Scottsdale Golf Club
The renowned TPC Scottsdale, which is surrounded by the Sonoran Desert, is home to two magnificent courses: the Stadium and the Champions, with the former serving as the yearly host of the Phoenix Open. The Stadium is described as a traditional desert-style course and is always kept up to PGA TOUR standards, so anticipate quick greens and lush fairways. The par-3 16th, sometimes known as "The Coliseum," is the hallmark hole since it is the only completely enclosed hole on the PGA TOUR when grandstands are set up during tournament week.
Randy Heckenkemper created the Champions Course at TPC Scottsdale, which was finished in 2007. With picturesque vistas of the McDowell Mountains, the layout more than holds its own and offers the challenge you'd anticipate in the Scottsdale region.
The Tom Weiskopf and Jay Morrish course, renovated in 2014, is where the annual Waste Management Phoenix Open is held. During the competition, the iconic par-three 16th hole is a crowd favorite. Both professional and amateur players will enjoy the course's immaculate greens, expert upkeep, and McDowell Mountain backdrop. Golfers of all skill levels will find beautiful surroundings and challenging play on the TPC Scottsdale's Champions Course.
Although The Boulders' tee times can be pricey, every golfer should play here at least once in their lifetime. Golfers will see how the enormous granite boulders have been uniquely blended into practically every area of the property as they go around. Even inside boulder complexes, there are greens that provide players with an additional obstacle by significantly increasing the level of difficulty!
3. Quintero Golf Club
One of the finest golf experiences in the Southwest can be found at Quintero, a course that was painstakingly carved out of a densely forested area of Arizona desert. This Rees Jones-designed course delivers a challenging but fair test of golf, with vistas over the rocky, mountainous desert terrain adding to the experience. It has clever bunkering and multi-level bent grass greens.
The par-3 ninth hole, where the tee shot must be played over a lake to a green perched on a rock wall, is sometimes regarded as the trademark hole (or at least the most memorable). Quintero consistently ranks as the greatest place to play in the state, which makes sense.
This semi-private course was created by Rees Jones and contains bentgrass greens, major elevation variations, and a natural setting with a variety of local cactus. Quintero, which is a short drive from Phoenix Sky Harbor Airport and is surrounded by federal territory, has a feeling of seclusion.
4. Troon North Golf Club
Troon North Golf Club is a must while visiting the Scottsdale region. The Monument and Pinnacle, both with 36 holes, are tough to decide between. Few golf courses give such scenic enjoyment while delivering a strong challenge of your game, and Pinnacle Peak completely surrounds this course. These courses are the product of the first cooperation between Tom Weiskopf and Jay Morrish – who drew direct inspiration from the former's 1973 Open Championship triumph at Royal Troon in Scotland.
The Sonoran Desert is depicted on two 18-hole courses, Pinnacle and Monument, which include bentgrass greens, natural ravines, granite rocks, cactus, and maintained fairways. In 2018, Tom Weiskopf, the original designer, updated greens and bunkers while upgrading the original layout.
One of the top golf courses in the Phoenix region, this British Open-inspired layout is famous for its high greens, which are present on the Pinnacle and Monument courses. Hell's Bunker, often known as hole 9, is a notoriously tough yet rewarding experience. Troon is a highly different golf course that welcomes visitors from all over the globe to play its original and distinctive courses.
5. Southern Dunes of Akchin Golf Club
On 320 acres of the Ak-Chin Indian Reservation, Ak-Chin Southern Dunes provides breathtaking 360-degree views of Arizona's vast desert. Prior to the community acquiring control of the site, the course—an Australian Sand Belt-style layout created by Brian Curley and Fred Couples—belonged to a private club. It often hosts U.S. Open qualifying rounds and is a top desert golf course. Ak-Chin Southern Dunes is a must-play if you're searching for a golfing challenge on a site that is covered with a rich history.
6. We-Ko-Pa Golf Club
The We-Ko-Pa Golf Club is situated on Fort McDowell Yavapai Nation territory, which is a region that is shielded from commercial development so that the surrounding ecosystem is never jeopardized. All who play the two courses, Cholla and Saguaro, constantly have great things to say about them.
The Cholla flows through arroyos and desert ridges while being flanked by mountains. The Saguaro was cut into the natural scenery, elevation changes, and additional mountain vistas are all part of the circuit, which was constructed with walking in mind to improve the experience of this difficult arrangement.
The Saguaro and Cholla golf courses at the resort are both highly regarded. The shorter Saguaro Course, created by Ben Crenshaw and Bill Coore, has bigger fairways and greens placed close to the next tee, making it perfect for strolling. The public can play on the Cholla Course, which has a stunning Sonoran Desert setting and unimpeded views of the mountains surrounding its fairways.
7. Wickenburg Ranch Golf Club
The Wickenburg Ranch Golf Club's desert theme is both a celebration of its surroundings and a tantalizing challenge. Bill Brownlee created the Big Wick course, which debuted in 2015.
It has won multiple awards since it opened, the finest of which was its fourth-place finish in Golf Digest's list of the Top 10 New Courses in North America. Wickenburg Ranch is the focal point of the Wickenburg neighborhood, with expansive mountain vistas, lush, immaculate bent grass greens, and pin placements that call for exceptional ball-striking.
8. The Dove Mountain Golf Club
The Golf Club at Dove Mountain is a collection of three nine's (Saguaro, Tortolita and Wild Burro) all of which were created by Jack Nicklaus, and as a guest you have the option of whatever 18-hole combination you would want to play. From 2009 to 2014, the location served as the site for the WGC Accenture Match Play, which Jason Day won there in its last year. The courses have varying elevations, with some holes reaching 3,000 feet above sea level and offering bizarre vistas of the valley below.
The third hole on the Tortolita is the highest height on the course, while the Saguaro is situated against the background of a Saguaro cactus forest to the West. The Wild Burro, which offers stunning views of the Tortolita Mountains, is Nicklaus' favorite course.
9. Golf & racquet club in Ventana Canyon
The Ventana Canyon Golf & Racquet Club is situated in a breathtaking setting, encircled by the Santa Catalina Mountains. Two fantastic yet very distinct courses were designed by Tom Fazio.
The third hole of The Mountain, which is the most attractive of the two courses, is located at the top of the golf club. The Canyon plan will take you down a different path while keeping the stunning Esperero Canyon in your line of sight. The spacious fairways and stunning scenery on both award-winning courses are hallmarks of Arizona golf.
10. Seven Canyons Golf Club
Eight miles north of Sedona in the Coconino National Forest, Seven Canyons Golf Club has a genuinely beautiful location with the severely eroded Vermilion Cliffs enclosing it on three sides. The Tom Weiskopf-designed arrangement flawlessly melds with the surrounding landscape.
The 18 holes include rocky cliff walls, old pine trees, strategically placed bunkers, and natural arroyos. A solid score is based on accuracy, smart thought, and some risk/reward. If you're in the Sedona region, a day spent in Seven Canyons is a must.
11. The Boulders North Course
The Boulders North Course and the Boulders South Course, two Jay Morrish-designed golf courses, are both located amid the Sonoran Desert's undeveloped landscape. Bobcats, rabbits, coyotes, and javelinas are a some of the animals that golfers may come upon. The elder of the two, featuring views of Black Mountain and boulder formations, is the North. Additionally, the South Course has distinctive "Boulder Piles" and "Rosie's Rock" boulder formations.
12. Camelback Golf Club
The two 18-hole championship courses at Camelback Golf Club are surrounded by native vegetation, have rolling fairways, and offer views of the surrounding mountains. The Jason Straka-designed Ambiente Course has five sets of tees and meanders along Indian Bend Wash through a Scottsdale neighborhood. Wide fairways, gently sloping terrain, trees, and a difficult overwater finishing hole are all characteristics of the Padre Course.
13. Phoenix Biltmore
The opulent resort has two courses, both of which include lakes and stunning landscape. The Adobe offers players vistas of both downtown Phoenix and the Phoenix Mountain Preserve. The more recent Links Course snakes its way between Phoenix homes while showcasing undulating fairways, lakes, and lofty pine trees.
14. Wildfire Golf Club
The Faldo Championship Course and the Palmer Signature Course, both 18 holes, are available at Wildfire at the JW Marriott Phoenix Desert Ridge Resort. The Faldo course has roomy greens, deep pot bunkers, mountain vistas, and century-old cactus. It also has large fairways. The lengthier Palmer course has longer fairways, undulating greens, and vistas of North Phoenix in addition to its other amenities.
15. Club de golf Papago
In the center of Phoenix, this city-owned golf course is surrounded by natural desert flora. The William Francis Bell-designed course provides vistas of downtown Phoenix, Papago Buttes, and Camelback Mountain. The golf teams from Arizona State University call Papago their home course. While looking for the best Arizona golf course, this is an option that you shouldn't ignore.
16. Vistancia's Blackstone Country Club
The exclusive Blackstone Country Club at Vistancia, located in Northwest Peoria, offers a one-of-a-kind private club experience in a stunning location with breathtaking Sonoran Desert and mountain vistas. Members have access to a 30,000 square foot clubhouse designed in the Hacienda architectural style, which features casual and fine dining, an outdoor cantina bar, a 3,000 square foot 24-hour fitness center, four lit tennis courts, bocce courts, a pool with private cabanas, a lap pool, a children's play area, and year-round events and activities.
The championship Jim Engh-designed golf course has elevation changes on each hole, expansive mountain vistas, gorgeous saguaros, and a plethora of desert fauna. It was influenced by the links courses in Ireland. Equity Golf, Equity Social, and Non-Equity Junior Golf Memberships are all available at Blackstone Country Club.
17. Resort at Loews Ventana Canyon
The resort has two 18-hole championship golf courses that Tom Fazio created to integrate with the Santa Catalina Mountains' natural characteristics. Landscape features include scenic canyons, desert cactus, and enormous rock formations. The third hole on The Mountain Course is a 107-yard par three that requires players to traverse a deep ravine. The final hole of the Esperero Canyon's Canyon Course has a towering waterfall and a mostly island green.
18. Golf Resort & Spa in Tubac
This opulent resort, located just south of Tucson in the foothills of the Santa Rita and Tumacacori Mountains, served as the backdrop for the movie "Tin Cup." Robert Lawrence created the course's original layout in 1959, and it underwent an overhaul in 2006 that included nine new holes. Three courses are now available on the grounds. The Otero Course has the original first nine holes. The par-three island green on the Anza Course's last hole offers vistas of the mountains. The Santa Cruz River's banks are where the Rancho Course is located.
19. Los Angeles Country Club
Seven sets of tees are available on this 27-hole, private Jack Nicklaus Signature Design golf course, which also has lush fairways and Bermuda greens. Golfers may reach the highest point on the course by playing the Canyon nine. The Ridge Course faces the Santa Catalina Mountains and offers views of the city, while the Hill nine features expansive fairways. Access to the course is available to visitors at the Westin La Paloma Resort.
20. Pine Canyon Golf Club
Pine Canyon, a Jay Morrish-designed course, with a mountainous backdrop, several elevation changes, thick pines, and expansive fairways. Panoramic vistas of the San Francisco Peaks offer the background for this remote course.
21. Forest Highlands Golf Club
Two Tom Weiskopf championship courses wind through the area, which is covered in thick pine trees and offers sweeping mountain vistas. Ten of the holes on The Meadow Course, a conventional walking course, are located around a sizable meadow. Tom Weiskopf and Jay Morrish designed the Canyon Course in 1996. It has seven sets of tees to suit players of all skill levels.
22. Oakcreek Country Golf Club
Robert Trent Jones and his son, Robert Trent Jones Jr., created the course. The classic design is surrounded by the red rocks of Sedona. The course is both lovely and difficult, with high greens flanked by greenside bunkers and fairways bordered with trees. With three lakes, at least five of the holes include water.
23. PGA Sedona Resort
This stunning public course offers a difficult and picturesque golfing experience among the red rocks of Sedona. The par-71, 6,646-yard course layout makes the most of Sedona's breathtaking scenery.
24. The Dove Mountain Golf Club in Marana
Given that Jack Nicklaus himself created it, The Golf Club at Dove Mountain is one of Arizona's most well-known and respected golf courses. The World Golf Championships-Accenture Match Play Championship, which included the top 64 players in the world, was held there for five years between 2009 and 2014 as well. There are 27 holes on this Marana course, and it has even been played on by greats such as Tiger Woods.
25. Eagle Mountain Golf Course
This course has an incredible variety of scenery, with desert, mountains, and canyons all present, with elevation variations of up to 300 feet from the tee to the fairway! Players of all skill levels may play on its difficult but manageable greens, and its distinctively shaped fairways, which are molded into a kind of bowl, provide for fewer stressful turns on the course. One of the best golf clubs in the state is Eagle Mountain, which is the ideal location to practice your swing on a crisp fall day.
26. Casino Del Sol's Sewailo Golf Club
Notah Begay III, a Native American former PGA Tour player, and Ty Butler, a golf course designer, built Tucson's best golf course, Sewailo Golf Club. When they built it, they made sure it was representative of the desert's natural beauty. Despite being next to one of Tucson's busiest casinos, this golf course maintains a relatively tranquil atmosphere all around. Additionally, it's one of the state's most difficult and thrilling courses.
27. Tubac Golf Resort and Spa
The popular movie "Tin Cup," starring Kevin Costner and Don Johnson, was shot on location at this lovely 27-hole course in the little town of Tubac, just south of Tucson. The resort itself is gorgeous and relaxing to stay at for a long weekend, and the very golf holes that were used in the movie are clearly labeled!
28. Golf Club at Talking Stick
The two different championship golf courses at Talking Stick Golf Club, which were created by renowned designers Ben Crenshaw and Bill Coore, provide stunning views of the desert and provide remarkable experiences. The O'odham Course (formerly North Course), with its wide, angular holes, promotes deliberate play by increasing the number of alternatives in accordance with one's level of ability. Running as well as aerial attacks are encouraged by the low profile, somewhat crowned greens, and close-cropped approaches.
With its tree-lined fairways and rising greens that are protected on the sides, the Piipaash Course (previously South Course) provides a more basic style of play. It communicates the problem and its approach in an unambiguous and transparent way.
Final words
Based on information we shared through this article; you can figure out the best Arizona golf course out there. Make sure that you pick a golf course that matches with your preferences. Then you can end up with finding the best golf course, where you would love to have a great time with your favorite game. We can highly recommend all these golf courses for golf lovers out there.