Are you going to Indiana? Kayaking and canoeing are excellent ways to explore the lovely area at Turkey Run State Park. Splash, splash, row. The rapids need caution since they might be rather dangerous. But you really must go kayaking at Turkey Run National Park. Sugar Creek is one of the greatest, most thrilling rivers you may tackle in this stunning piece of nature.

Although the park itself provides a staggering variety of outdoor pursuits and experiences, river kayaking, and canoeing is undoubtedly the biggest draw. For their excursion, the majority of tourists to Turkey Run hire a kayak or canoe. However, if you want to go paddling more often, you may locate a fantastic fishing kayak that won't break the bank. Continue to read this article and we will be sharing all information you need to know about Turkey Run canoeing.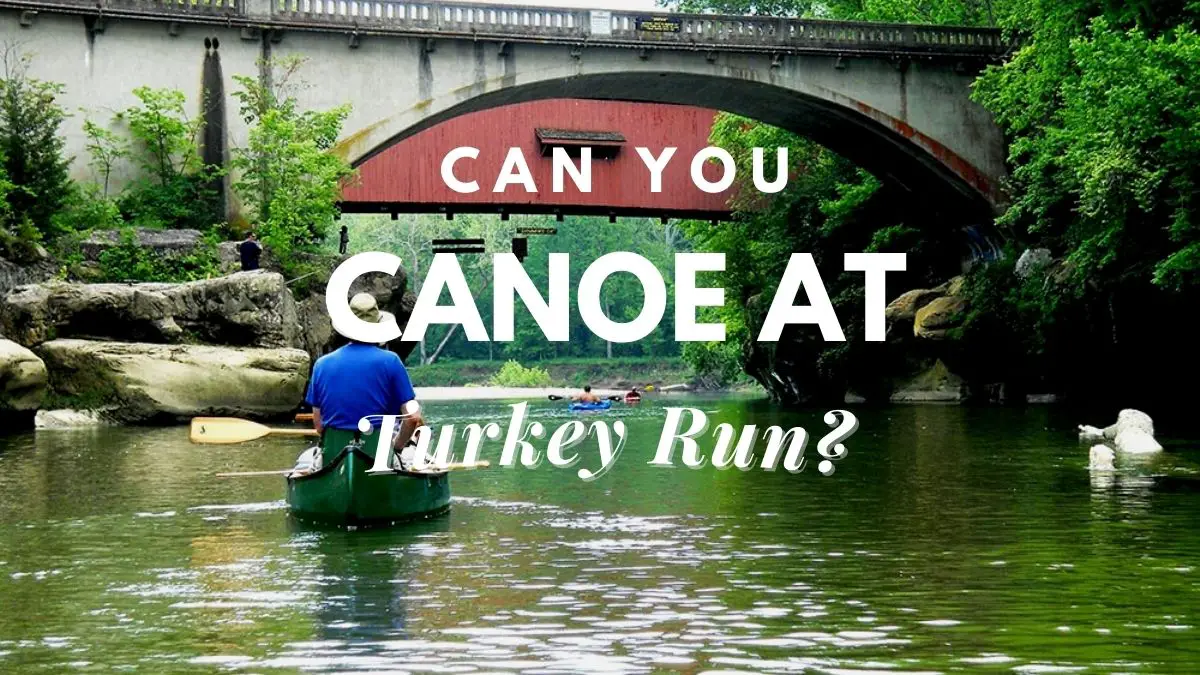 What You Should Know About the Turkey Run
You got your companions all pumped up and are prepared for your aquatic adventure, so it's time to rock and roll. It's important to carefully plan your epic canoeing vacation. For example, how long will you stay? What number of pals should you invite? Of course, you must also consider how to enjoy the experience of a lifetime.
You may relax knowing that we have your preparations handled. Everything from rentals, costs, and trip lengths to some advice on how to make it all go successfully. You can put together the ideal kayak and Sugar Creek Indiana canoe excursion with the aid of all of this and more.
Read: Is Traveling A Hobby? The Ultimate Guide To An Exciting Way Of Life Learn about the Downsides Of Traveling As A Hobby

Turkey Run Kayak Tours & Rentals
Having trouble finding or purchasing a kayak quickly? Don't worry; there are various businesses that provide guided tours and kayak rentals for the Turkey Run.
These nearby canoe liveries consist of:
Turkey Run Canoe and Camping at Clements Canoes Sugar Creek Campground
The cost of your rental will vary depending on the livery you choose and the duration of your journey (both in terms of time and distance).
Turkey Run Canoe and Camping is your best option if you want to hire a kayak and go off on your own. However, beautiful, planned canoe rides are available at Sugar Creek Campground and Clements Canoes.
Every trip has a specified departure time and other details. Consequently, it is advised to come at least 30 minutes before to your reservation.
Depending on how you're feeling that day and how excited you are for the adventure ahead, you may choose your tour. Here, the majority of kayak journeys are between 3.5 and 15 miles long. Therefore, renting a kayak and organizing your vacation will be a snap thanks to the variety of possibilities given here.
Kayaking is the ideal sport for you and an adventurous friend since you may select between single and tandem kayaks. Just keep in mind that you'll need some additional cash since reservations for extra guests and deposits are all somewhat more expensive. To minimize any possible disappointments, always attempt to contact or make reservations in advance.
Take careful care of your kayak since it will be your means of traversing the stream. Remember that you are at fort of making sure your kayak gets back to you safely. Respect it and give it the attention it deserves. It will soon reveal itself to you and crack a few nice jokes!
Rental Canoe at Turkey Run
For those who want a more traditional experience, the liveries listed above also provide canoe rentals and excursions in addition to kayaks. You may choose your poison and enter the water with your favorite vessel since the rentals and excursions operate in the same manner as the kayaks.
As long as your phone before or make other preparations, renting a canoe or kayak is rather simple. It's advisable to be proactive and reserve your watercraft a few hours or days in advance, if possible, since the Sugar Creek canoe rentals may get snapped up pretty fast, especially on weekends.
Prices for Canoeing and Kayaking on Turkey Run
We've put up some estimates of your Turkey Run canoeing and kayaking costs all set and ready for those who intend to hire a canoe or kayak. Please be aware that based on the trip and livery you choose, all pricing may change.
A brief journey down the stream will only cost you approximately $22 for a canoe and about $17 for a kayak if you make a reservation with Sugar Valley Canoes. This grows if you use a tandem kayak and if you have additional participants. For the longest journeys, prices may go as high as $34 per canoe, $26 for a single kayak, and $36 for a tandem kayak. Be mindful of the deposit charge as well; it often costs $20.
Turkey Run Canoe Trips & Kayak Adventures with Guides
There are several truly outstanding guided trips offered by Sugar Valley Canoes that are ideal for various occasions. Turkey Run has you covered whether you want short and sweet or like to mess about for the whole day. The guided trips are divided into portions that each cover increasingly greater land while also include all of the preceding river sections. The many tour choices are broken out here.
The first choice is the 3.5-mile Turkey Run trek. 3 Mile Short and Sweet. This is the main path, giving you the best experience with the least amount of fuss. The route of this journey is via the park and two covered bridges. Depending on your pace, the whole canoe ride should take between one and one and a half hours.
Jackson Bridge's five-mile in-between excursion is the next in line. This breathtaking route passes through a remote area of the stream, ideal for lone wolves! Two covered bridges will be visible, one of which being the storied Jackson Covered Bridge. The whole journey takes about 4 hours.
We now go on to the lengthier segments, starting with the 11-mile Jackson Bridge crossing. Here, you may take in the picturesque views of Turkey Run and the serene lower reaches of Sugar Creek. With a total travel duration of roughly 5+ hours, you will come across all three bridges thus far.
The 15-mile Shades and Turkey Run tour is our last option. This tour through this splendor passes via Turkey Run and Shades State Park. Although it is the whole experience, plan to set up 5 to 7 hours of your day for it. This one is for those who are more physically fit since paddling all day might be exhausting.
Turkish Run Tubes
You may go tubing at Turkey Run State Park to top off your adventures on the water. This exhilarating ride is usually a hit, particularly if you bring along a few pals! If you have the stomach for it, bumpy waves, a sick jump, and some lethal slides are all on the menu.
For just $10, you can hire a tube and cruise down the stream. Everything will be OK as long as you have a good time and remember to dunk your pals. Kayaking and canoeing on Turkey Run are thrilling, enjoyable, and beneficial to your health. The most crucial guideline, though, is that they should always be done in a group with friends. It's not only wonderful exercise to gather a group of friends and go to the water. You may think back on it as an enjoyable and unforgettable event for years to come.