Robbers Cave State Park in southeast Oklahoma's Sans Bois Mountains, close to Wilburton, is a tranquil retreat for individuals seeking to re-establish a connection with nature. The park, which covers 8,246 acres and provides an additional 189 lake acres when Lake Carlton, Lake Wayne Wallace, and CoonCreek are merged, is named after the infamous outlaw cave that is concealed in a combination of sandstone hills and cliffs that range in height from 300 to 1,500 feet. Use this overview to plan your trip to Robbers Cave State Park and use it as an insider's guide to the best places to camp, hike, and visit while you're there. If you wonder about things to do at Robbers Cave State Park, continue to read this article.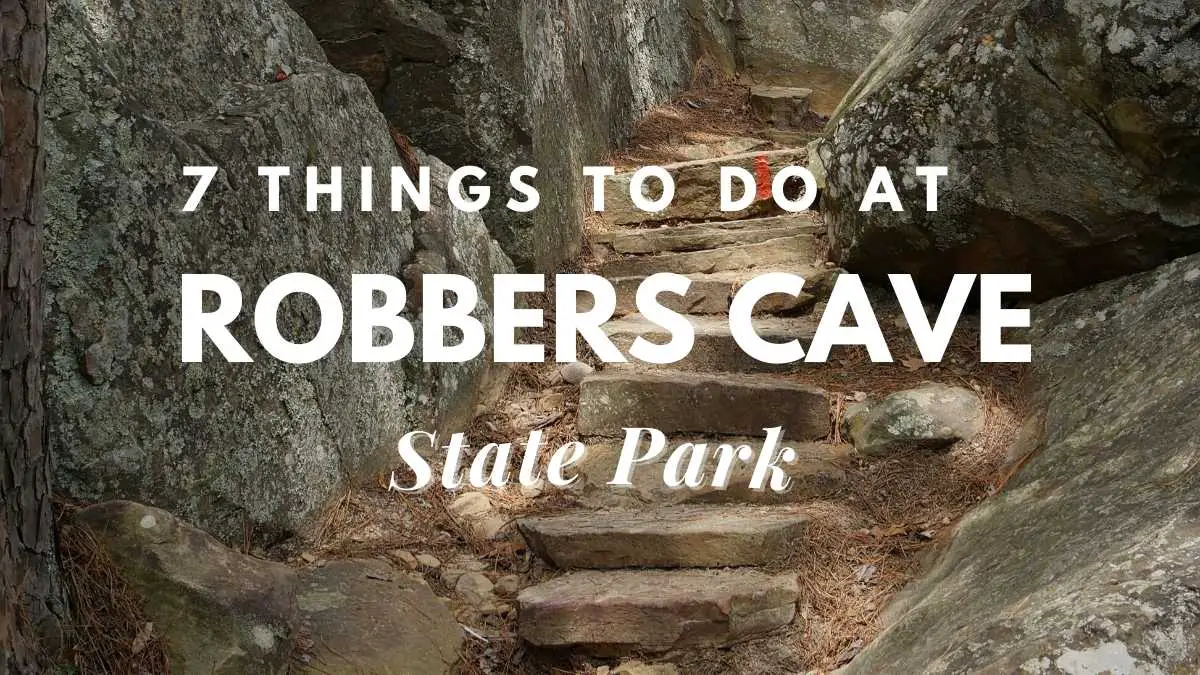 How to get to the Robbers Cave State Park?
Highway 2 travels north and south through Robbers Cave State Park. For those traveling from the south, Wilburton is a little town where you may resupply before continuing to your cabin or camping. The state park's neighboring, densely forested Robbers Cave Wildlife Management Area will be traversed by travelers coming from the north.
Read: Is Traveling A Hobby? The Ultimate Guide To An Exciting Way Of Life Learn about the Downsides Of Traveling As A Hobby

Office for the Park and Tent Camping
Turn south on Park Cabins Road from Highway 2, through the Horseshoe Bend and Bobcat Tent Campgrounds, and continue down the twisting road until you reach the park office, which is housed in the old lake cabin. If you're renting a cabin, stop by to get information, brochures, and to check in. Additionally, you may rent golf carts, bicycles, surrey bikes, pedal bikes, horseshoes, fishing poles, volleyball sets with nets, and disc golf equipment at the park office.
Things to do at Robbers Cave State Park
Anyone looking for a campground may choose any open area and build up camp there once they get there. You may expect a park employee to come around and take your money. Alternately, reserve your campsite in advance and pay online.
1. Old Circle and Whispering Pines Campgrounds
There are 17 campsites available in the Whispering Pines Campground, which is just across the street from the park office. Sites 1 through 12 are modern sites, meaning they are fully wired for electricity, water, and sewage, whereas sites 13 through 17 are semi-modern sites, meaning they are simply wired for electricity and water. There is one pull-through spot that is disability accessible at number 12. The entrance to the 2.5-mile Coon Ridge Trail is just a short walk away, as are a restroom facility and a picnic area.
Before reaching the Old Circle Campground, go beyond the Whispering Pines Campground and go through a guarded entry and a dump station. There are a total of 23 campsites, six of which are pull-throughs. The remaining sites are semi-modern, with eight being modern. electric connections of 30 or 50 amps each day, depending on the location. The Old Circle Campgrounds are completed with a conveniently situated restroom, and a short trek will bring you to the Lake Carlton Nature Center and Gift Shop.
2. Lodge & Cabins at Robbers Cave
From the park office, go straight until you reach a "Y" in Park Cabins Road. The Robbers Cave Lodge, which has 20 rooms with views of Coon Creek Lake and the wooded valley below, may be found by turning left. Two double beds, a coffee maker, microwave, small fridge, and satellite television are amenities included in each non-smoking room. Up to four people may stay in a room at the lodge, but dogs are not allowed there.
The cottages are only a short drive from the parking area of the resort. There are a total of 26 cabins available, and some of them accept dogs. Each cabin sleeps two to six people. There is a fireplace, a stovetop, a microwave, a coffee maker, plates, cutlery, pots and pans, cooking utensils, linens, central heating and air conditioning, a shower, and satellite TV in every cabin. Book Cabin 101, commonly known as the Honeymoon Suite, for a romantic escape to enjoy one of the park's greatest vistas.
3. Coon Creek Campground
Coon Creek Campground is the first of four backcountry camping places in Robbers Cave State Park. On the east side of Coon Creek, this campground is situated north of Coon Creek Lake. Campers may access the path from the park office and trek for approximately 3/4 miles, with substantial elevation changes midway through. The Coon Creek Dam, constructed in the 1930s by the Works Progress Administration, is a must-see location on this trek. Please be aware that a permission, available at the park office, is required for any backcountry camping.
The park continues on the west side of Highway 2, so go back the way you came and exit at that intersection. There are a number of tent-only campsites where you may pitch up camp in reasonable seclusion, starting on the southwest part of the park. There are undeveloped campsites without connections available at The Quarry Campground, Dogwood Campground, Deep Fork Campground, and Younger's Bend Campground. Except for the Quarry Campground*, which is little over a mile away from the Deep Fork Campground, all of the campgrounds are readily accessible.
The CCC removed a portion of the hill in the 1930s to get rocks needed to construct parts of the park's pathways, dams, and building structures. This area of the hill is known as the "old quarry." Along the walk, there is a secret spring that used to serve as a villagers' water supply.
4. ATV Zone
The ATV Area is located on the east side of Highway 2 just across from the Deep Fork Campground. 250 acres of terrain are available for you to explore on your own ATV or side by side. There is a daily admission charge, and the ATV riding area is available from 8 am till dusk. Please be aware that the park does not provide ATV rentals.
5. Yurts & Activities at Lake Carlton
On Highway 2, keep going north until you reach the next west turn, which will lead you to Lake Carlton. The Carlton Tent Campground, canoeing, kayaking, swimming, a boat ramp, hiking, a playground, picnic pavilions, an amphitheater, miniature golf, a swimming pool, disc golf, numerous rest areas, and the nature center, which provides naturalist programs and exhibits, are just a few of the activities available here. Remember to phone the park in advance of your visit to check its hours of operation since some of the attractions here are run by concessionaires and are only open during certain times of the year.
Additionally, there are two yurts in this location that are spherical, tent-like constructions designed to be permanent. Queen-sized bed, full-sized sleeping couch, small fridge, and microwave are among the yurt's facilities. Enjoy the breathtaking view of Lake Carlton while lounging on the terrace. A little distance away, at the Carlton Campground, are restrooms.
6. Horse camping grounds
On Robbers Cave Road/Park Road, which runs parallel to Highway 2, turn north from Lake Carlton. The Equestrian Campground, two picnic pavilions, a playground, a handicapped-accessible restroom, and a dump station are all located there. There are five dedicated tent sites and 45 RV sites available at this park. The remaining sites just have water and power hookups, whereas sites 17 and 18 have water, electric, and sewage connections. Sites 17, 18, 19, and 40–45 also have 50 amp electric service. Reserve site 14, the only pull-through site in the campsite, for simple access. It's also close to one of the region's two horse trailheads, which is a nice addition. The Equestrian Campground's tent sites are offered on a first-come, first-served basis, while all of the RV sites may be rented in advance online.
7. Additional tent camping areas, Robbers Cave Stables, and Lake Wayne Wallace
Ash Creek Road is reached by continuing north on Robbers Cave Road/Park Road. Turn left and go northwest on Ash Creek Road from this point. Lake Wayne Wallace, the Lake Wayne Wallace Tent Campground, and a boat launch are all located to the left of this location.
Final words
Now you are aware about the best things to do at Robbers Cave State Park. The Robbers Cave Stables are only a short drive up Ash Creek Road, near the intersection of Ash Creek Road and Starr Trail. This well-liked attraction provides a petting zoo, guided trail rides, overnight cowboy camping experiences, and u-lead pony rides. There are five trail rides offered, ranging from the Cave Ride, which lasts two hours, to the 30-minute Colorado Kid ride for elderly and small children.