A trip to Florida with your family is one you will never forget. There is something for everyone with so much to see and do. However, this might make planning more difficult at times. Taking the time to research the finest possibilities can assist you in creating an itinerary that will appeal to everyone. If you are interested in kayaking Wekiva Springs, continue to read this article and we will share all things you need to be aware about.

Wekiwa Springs State Park, with its outstanding activities and accommodations, is a terrific alternative for visitors to Florida. You will save money and avoid losing out on something you really want to see or experience if you plan beforehand. This guide to Wekiwa Springs should provide you with all the information you want if you are considering a vacation to Florida with children.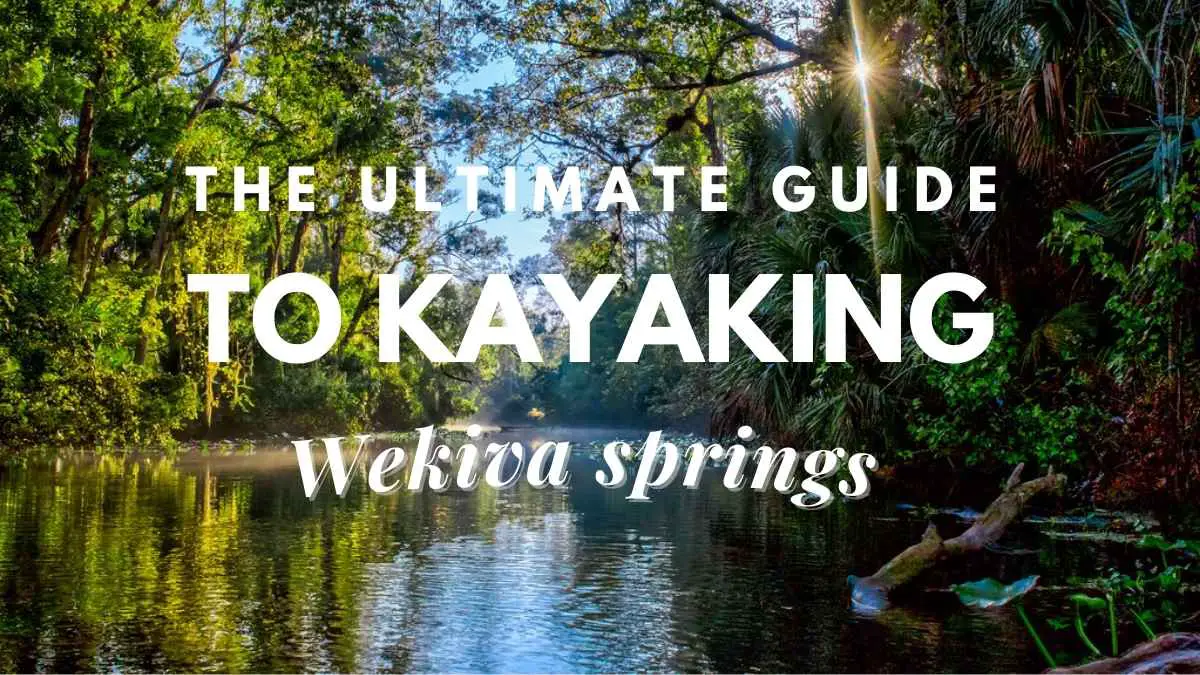 How Much Does a Trip to Wekiwa Springs Cost?
Your budget is one of the most important elements that will decide the kind of vacation you take, where you stay, and what you do. With alternatives to suit all budgets, you'll be able to prepare ahead of time to avoid unpleasant surprises or hidden fees. Admission to the park is just $6 per car, with a maximum of eight guests. Pedestrians are $2, while motorcycles and scooters are $4.
The cost of camping is $24 per night, plus a $6.70 non-refundable reservation charge. Bungalows, boats, yurts, cabins, and RVs will be charged an extra $7 utility fee. Camping in the wild is just $5 per night, while organized youth camping is only $1 per night for adolescents and $5 for adult chaperones. As a result, a trip to Wekiwa Springs is far less expensive than other central Florida attractions!
Read: Is Traveling A Hobby? The Ultimate Guide To An Exciting Way Of Life Learn about the Downsides Of Traveling As A Hobby

Kayaking Wekiva Springs
Canoeing and kayaking are excellent activities for active families, and you'll be able to visit locations that are only accessible by water. Bring your own or look into the canoe and kayak rentals that are available. There are many Wekiva River trips varying in length from one to ten miles, however you must carry your canoe or kayak at certain spots.
Only two National Scenic Rivers run through Florida: the Loxahatchee in South Florida and the Wekiva in Central Florida. I like my initial wild stomping grounds, Rock Springs, and the Wekiva River since I grew up in Winter Park. The Wekiva River Valley, like most locations in Florida, was once a lovely, rural, Cracker paradise. Veterans of the Vietnam War hid themselves and their squatters' shacks deep in the swamps and sloughs that lead into the river, sunlight barely breaking through the dense forest canopy, and veterans of the Vietnam War hid themselves and their squatters' shacks deep in the swamps and sloughs that lead into the river. Nowadays, the allure of the valley's environs is rapidly fading.
Cracker fish camps have been replaced by McMansions owned by non-fishers, Hurricane Charlie knocked down a slew of trees, and the Vets have relocated to the less-congested Ocala National Forest. The good news is that local and state conservation organizations have acquired and conserved enormous swaths of land along the river's entire length, ensuring that the enchantment returns once you're on the water. Few rivers have the ability to transport you so far and so quickly: after paddling the Wekiva, a large number of individuals have told me that they felt like the first explorers of the region.
Read: Guide To Kayaking Fernandina Beach In 2023
Is it difficult to go kayaking?
Don't worry if you only have one day to paddle since there are three day cruises that cover the whole length of the river. The upper eight-mile section between King's Landing and Wekiva Marina (Rock Springs Run) is the busiest, so avoid it on weekends if possible. As soon as your boat's hull strikes the gin-clear water, you'll understand why it's so popular. The river's white sandy bottom twists through jungle-like black hammocks before opening out to vast swaths of wild rice, spatterdock, and water lettuce; paddlers on this section of the river also pass nine Timucuan Indian middens. Over 7500 years of eating on snails and other shelled creatures has left these mounds. The takeout is just beyond the 1957 "Bridge to Nowhere" on the right bank.
The 11-mile middle part extends from the Wekiva Marina to the old Katie's Landing at Highway 46; it's broader than the upper half, thanks to the combining of Wekiva Springs and Rock Springs, and is marked by several small islands. Here has always been the greatest position for seeing the odd black bear and the occasional alligator, and if you're a birder, this is the place to be! Wilson's Landing Park on the right, just before the Highway 46 bridge, or the former Katie's Landing site, about a mile beyond the bridge on the right, are two options for take-out.
From the old Katie's Landing to the Highbanks Road ramp, the eight-mile lower portion has been my favorite. Paddling this section of the river enables you to pass by or paddle up Blackwater Creek and the Little Wekiva River, which are both well worth the upstream effort. The main river returns to the hardwood swamps, where the water darkens due to tannin buildup and the air is significantly colder. This specific section of water is popular with kayak anglers. Head north, or left, after you reach the St. Johns River, and stick close to river right to avoid powerboats. The cement boat ramp on the right, next to the wonderful Swamp House Grill, is where you'll get your takeout.
Another reason this section of river has become my favorite is due of this fantastic watering spot. Nothing like a nice beer and fresh fish served overlooking the river to cap off a day of paddling.
Take the opportunity to paddle a few more miles up the St. Johns River to Blue Spring State Park if you're feeling adventurous. The park is to the right, and if you go in the winter, you may see the manatee migration, which cannot be well described in words and should not be missed.
When should you go to Wekiwa Springs?
Wekiwa Springs State Park may become crowded when the weather is great since it is so close to central Florida and Orlando. The months of March and May, as well as October and December, are often quieter, with nice weather but fewer visitors. Other advantages of coming at off-peak seasons include lower pricing at local attractions and less people around Florida.
Read: A Complete Guide To Kayaking Yellowstone Lake In 2023
What rental options are available?
Many people may bring their own canoes, kayaks, and paddleboards, but renting them when you get to Wekiwa Springs State Park can be a lot simpler. During the months of June, July, August, and September, you will be able to rent paddleboards, canoes, and kayaks from the moment they open until 6:30 p.m. For the remainder of the year, rentals end at 3:30 p.m.
Rentals must be returned by 8 p.m. throughout the months of June, July, August, and September. During the remainder of the year, rentals must be returned by 5 p.m. If you arrive after closure time, you will be charged $1 per minute, so don't be late!
FAQs
Is it possible to purchase alcohol at Wekiwa Springs?
Wekiwa Springs State Park's concession booths now serve beer and wine.
Is it possible to bring your pet to Wekiwa Springs?
Dogs are permitted in some sections of Wekiwa Springs State Park, such as the hiking routes. They are, however, forbidden from sunbathing and swimming. At all times, dogs must be kept on a leash that is no longer than 6 feet long.
How long ahead of time can I book a campground at Wekiwa Springs?
You'll need to make a camping reservation, and the earliest you may do so is 60 days before your scheduled arrival date.
At Wekiwa Springs, how deep is the water?
Wekiwa Springs' water depth is usually between one and five feet. At the source, there is a deeper portion that runs down to a depth of twenty feet.
Is it OK to carry a cooler into Wekiwa Springs State Park?
Wekiwa Springs allows coolers to be brought in. You must follow park laws about where you may drink and dine. For tourists, this is prominently marked.
Read: Ichetucknee Springs Kayaking Guide 2023
Final words
Wekiwa Springs State Park is ideal for family holidays because of its diverse range of activities and accessible location near most central Florida attractions. Visitors may camp, swim, paddle, walk, horseback ride, bike, or just relax in the wonderful natural splendor of Wekiwa Springs. Wekiwa Springs has many of activities for guests, whether they wish to kayak the Wekiva River or Rock Springs Run, or just relax and soak up the sun.
Now you have a solid understanding of kayaking Wekiwa Springs. Keep these facts in mind and go ahead with your kayaking adventures. The experience that you get will never disappoint you, and you will fall in love with it.