Comfortable, dry, and warm clothing are essential for having a good time on the slopes while learning or developing your skiing abilities. To assist you in preparing for your school ski trip, we have created an easy-to-follow school ski trip packing list that includes all of the basics. If you wonder what to be included in the school ski trip packing list, you can continue to read this article. We will share everything that should be included to make the ski trip an enjoyable one for your little one.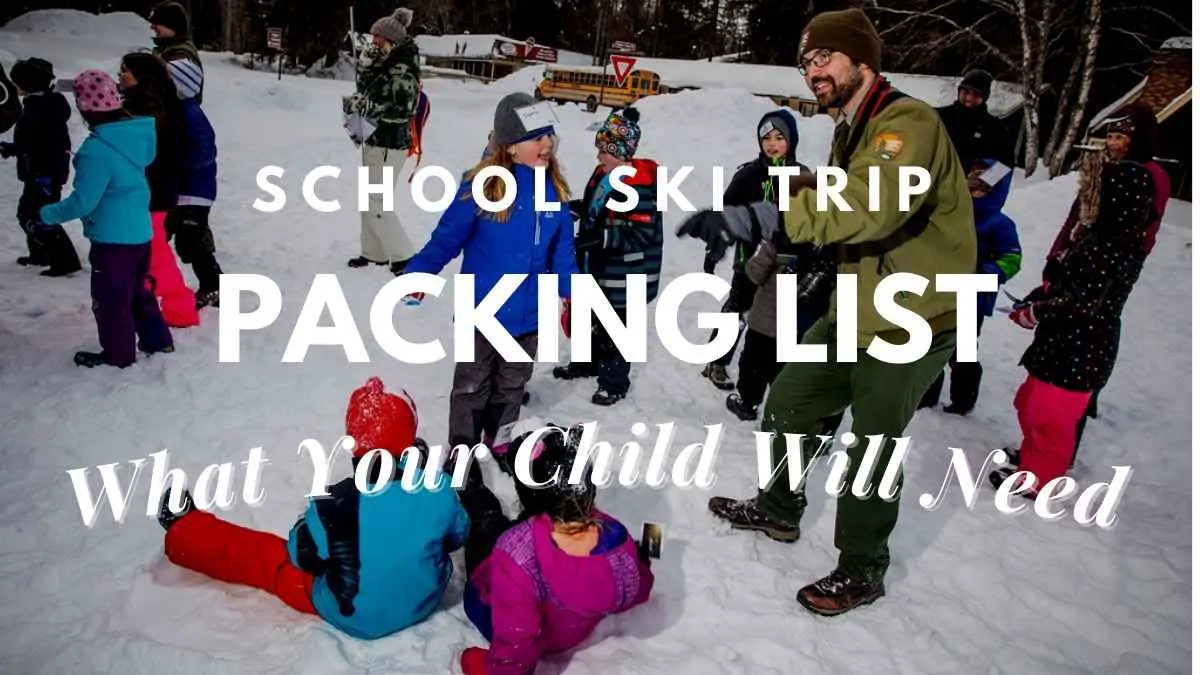 1. Jacket for skiing
A waterproof and windproof ski jacket will be an important piece of equipment for any ski vacation.
2. Trousers for skiing
Because ski trousers, also known as 'salopettes,' are wind and waterproof, they will keep you warm and dry.
Read: Is Traveling A Hobby? The Ultimate Guide To An Exciting Way Of Life Learn about the Downsides Of Traveling As A Hobby

3. Gloves for skiing
Ski mittens with insulation are preferable to gloves because fingers retain body heat better while in touch.
4. Winter hat
Wearing a thick winter hat that covers your head and ears helps keep you warm and protected from the wind. Even better if you have a fleece-lined wooly cap.
Read: What To Pack For First Ski Trip ( Don't Skip These Things )
5. Ski socks
Thermal ski socks that keep your feet toasty while also wicking away moisture. One pair each day is ideal since they can become a little stinky.
6. Thermal base layers
Thermal base layers, such as merino wool bottoms and long sleeve shirts, will keep you warm while also allowing you to breathe.
7. A warm hoodie or a fleece
When skiing, it might become hot while you're moving yet cool once you stop. It is critical to keep warm, and the best approach to control temperature swings is to layer. Wear a fleece or warm hoodie over your thermal base layers and t-shirt that can be readily removed if you feel too hot.
8. Scarves
Scarves that flap and get in the way when skiing will be more useful than neck warmers or gaiters.
9. Lip balm and sunscreen
It may not be evident, but you will have some beautiful sunny days on the slopes, and you will need to protect your skin and lips from UV radiation, so bring at least factor 30 sunscreen and UV-protective lip balm.
10. Ski goggles or sunglasses
On snowy days, ski goggles will protect you and let you see better, while sunglasses will be a wonderful choice on sunny days.
11. Comfortable winter boots
After a day of skiing, wear winter boots or decent waterproof walking shoes or boots to keep your feet toasty and dry while out and about in the resort. It's critical that they have adequate grip in order to prevent sliding.
You won't have to worry about ski boots, skis, poles, or helmets since these can be rented at the resort, where shop staff will help you pick the perfect ones based on your height and weight, as well as teach you how to properly fit them. This school ski trip packing list is intended to assist you in determining what equipment and gear you will need on the mountains.
Don't forget to include the essentials for any trip overseas, such as slacks or jeans, shirts, sweaters, nightwear, underwear, socks, camera, travel adapter, toiletries, and, of course, your wallet and passport.
We strongly advise making a copy of your school ski trip packing list so you can use it to prepare your luggage for travel. It will also come in handy when it's time to pack your possessions and return home, so you don't forget anything.
Final words
Ski resorts are situated at high altitudes, thus staying hydrated is essential to avoiding altitude sickness. So, carry a proper hydration system or whatever it takes to convince your family to drink more water. Because the cold depletes mobile phone batteries, you'll want to bring a pocket charger with you on the mountain to ensure that you can remain connected. Hand warmers placed near your phone might also be beneficial. They also keep you a little warmer as a bonus.
Don't forget to have sweets in your pockets to give the youngsters some additional energy or to serve as a motivator while skiing. Granola bars are often sold at the lift ticket offices at high-end slopes like as Vail and Beaver Creek. The greatest family ski resorts include heated pools and hot tubs right on the slopes, which are a lot of fun in the winter. After a thrilling day on the slopes, soaking in warm water with snowflakes falling is the ideal way to conclude the day! So don't forget to bring your swimming suit! Make sure that you pay attention to all these tips and your kids will never end up with worrying about anything during their ski adventures.