Are you looking for free things to do in Dodge City KS? Then you will come across numerous outstanding opportunities. To make life easy for you, we thought of sharing a list of the best free activities that you can possibly engage with as of now.

Dodge City, Kansas, is a Wild West-inspired city. This little town with a rich history draws visitors from all over the globe. It's 150 miles west of Wichita in southwest Kansas. Wyatt Earp, Doc Holliday, Big Nose Kate, and Clay Allison were all either residents or visitors to Dodge City. That this now historic and must-see town was once known as the evilest town in the Old West?

Dodge City is a community steeped in western heritage from the moment you arrive. See our selection of the top things to do in Dodge City.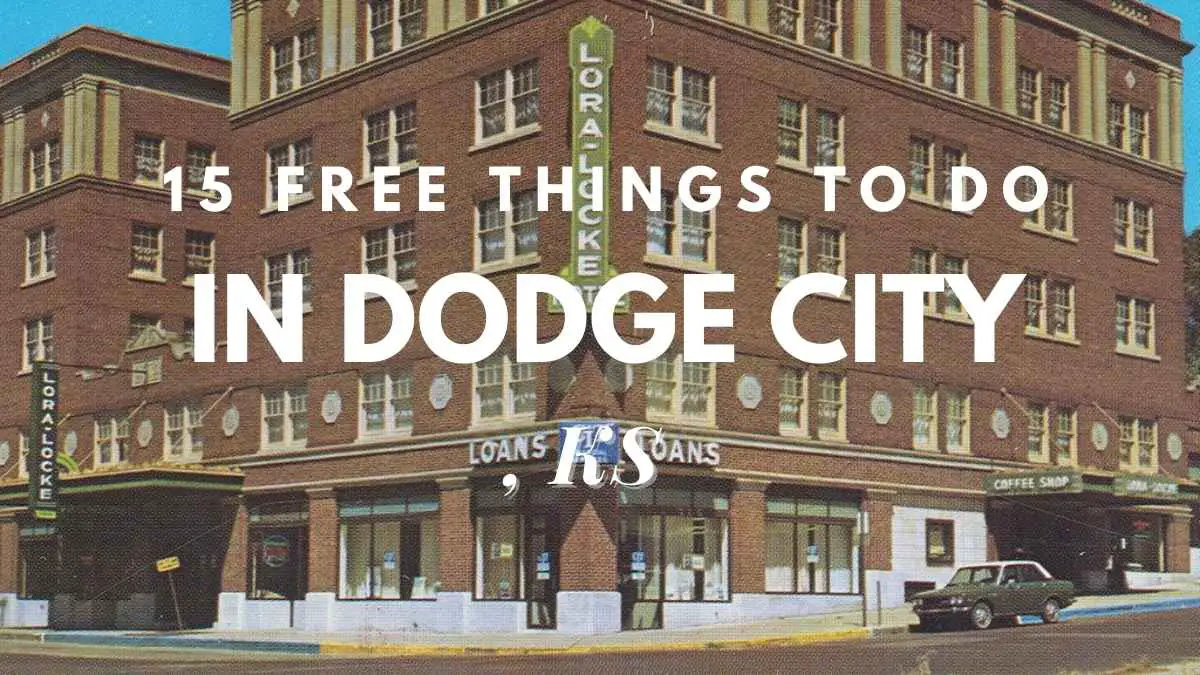 1. Boot Hill Museum
Boot Hill Museum is a favorite Dodge City destination. It contains items from Dodge City's past, including antique weapons. It also has entertainment, such as mock gunfights and saloon acts. Family fun!
Read: Is Traveling A Hobby? The Ultimate Guide To An Exciting Way Of Life Learn about the Downsides Of Traveling As A Hobby

2. Stone Mueller-Schmidt House Museum
This Dodge City historical monument is a limestone home near downtown. Why is it unique? Because it is the oldest structure in Dodge City and the only limestone home surviving. It is now a museum with educated tour guides who can teach you everything about the history of the home and the surrounding.
Did you know that just two families owned this ancient home? John Mueller, a bootmaker from Dodge City, opened a business. His firm prospered to the point that he invested in a bar. Then he became a rancher. He lost all his cattle due to a snowstorm in Dodge City. His thriving footwear business was destroyed in a fire. For these reasons, he and his wife returned to St. Louis.
Adam Schmidt was the home's second owner. Schmidt had two unmarried children till 1960. They sold it to Ford County in 1965, and the Ford County Historical Society now maintains it. From June through August, the Home of Stone is available for viewing. The rest of the year it is closed, but you may make an appointment to see the home.
3. Explore the Dodge City Route
This Dodge City route is on the National Register of Historic Sites. Wagon wheel rut patterns from the nineteenth century may be seen all over the interesting track. That's why it's called the Dodge City Ruts. Finally, a road bridge over the Missouri River was erected to link eastern markets to the Dodge City cattle route and Colorado coal mines, inspiring the creation of Kansas City, Kansas. This is something that we highly recommend to people who look for free things to do in Dodge City KS.
4. Cattle Feedlot View
This is another fantastic stop with amazing city views. The vista at one of the city's entrances is worth seeing. Explore the area's history and read the storyboard explaining the importance of the cattle industry to Dodge City.
There are a lot of cows here, 6000 animals each day are processed. Basically, if you've never been to a feedlot, you should go see one.
5. Dodge City Fame Trail
The Doge City Trail of Fame is modeled after Hollywood's iconic Walk of Fame. This historic walk recognizes renowned and notorious persons who formerly lived in Dodge City. Burt Reynolds is one of them. It's one of the coolest sights in Dodge City.
This path is worth walking since it is full with monuments. Signs and markings help you navigate the route, and some youngsters like finding them. This facility also has a steam engine and a coal vehicle. Visitors recommend taking a camera to document the location where Wyatt Earp, Bat Masterson, and Doc Holliday walked.
6. Visit the Carnegie Center for the Arts
The Carnegie Center for the Arts, or DCAAC, is located in the 1907 Carnegie Library. Dodge City is recognized for its classic Western architecture, and its library is on the National Register of Historic Places. The Carnegie Center for the Arts is renowned as Dodge City's creative hub, allowing local artists to exhibit their work. The exhibits are on the second floor. It's a nice circular place for this. You may also purchase a keepsake from the on-site gift store, which features works by local craftsmen.
7. Dodge City Santa Fe Depot
Dodge City Santa Fe Depot was the city's railway center in the late 1800s and early 1900s. Its Roman-like architecture is still appealing today. Among the structures was a hotel and a restaurant called Harvey Houses after the owner, Fred Harvey. Train stations and passenger depots also existed. These buildings now hold company offices and a passenger waiting space. Most visitors come to see live performances at The Depot Theater Company. Explore the whole complex and observe the original 1900s fittings.
8. Dodge City Trolley
Dodge City Trolley provides trips to historic places from the Old West period. This trip gives you a glimpse into the life of the villagers in the 1800s. The ride takes you through historic locations like Gospel Hill and Longbranch Saloon, but the Santa Fe Trail is the highlight. If you don't know, the Santa Fe Path was the first commercial trail in the nation to be obsoleted by the train. The Dodge City Trolley Tour will teach you all about this vital commerce route.
9. Distillery Boot Hill
Boot Hill Distillery is atop what was formerly Boot Hill Cemetery. The corpses were moved to the municipal cemetery in 1878, and a schoolhouse was erected on the ground. It was later demolished to make way for the Municipal Building, which held a courthouse, police station, prison and judge's chambers. The distillery is proud of its lengthy heritage. But you'll probably go for the beverages, not the history lesson. Visit the Tasting Room to sample their artisan spirits made exclusively on-site.
10. Educators' Hall of Fame
Learn about the instructors who have made a difference in the community. The Kansas Teachers' Hall of Fame provides this information. More than 400 instructors' images and anecdotes are included. This fascinating museum also has old school tables from early schools. If you like books, you'll like browsing the selections here. The Kansas Teachers' Hall of Fame is a terrific spot to spend a day and learn a lot.
11. Zoo Wright Park
When Dodge City acquired two black bears and raccoons in 1926, the plan was to exhibit them at Wright Park. This was the beginning of the zoo, which now has 126 creatures from all over the world. Despite being one of the state's smaller zoos, it attracts over 60,000 people yearly for its history and animals. Explore the whole facility for about an hour and you'll discover something intriguing that makes the trip worthwhile.
12. Dodge City Raceway
Dodge City offers more than just historical sights. Dodge City Raceway Park is one such site for race fans. The park's dirt track has hosted World of Outlaws and Sprint Car Nationals races. Dodge City Raceway Park is a fun location to spend a day. Check out their website's event calendar to see what's coming up.
13. Lagoon Long Branch
How about a fun-filled family day? Long Branch Lagoon has it all. This western-themed waterpark debuted in 2016. From the relaxing Cowboy Creek lazy river to the exhilarating Wrangler Rapids wave pool, there's something for everyone. The park's most popular feature is Doc's Plunge, a twisting waterslide that will excite even the most casual visitor. You may also relax by the pool or sunbathe on the poolside terrace. Long Branch Lagoon is a nice spot to relax and unwind.
14. Dodge City Brewery
The moniker Dodge City Brewing could make you assume it's all about beer. Their speciality is beer, and they have a great assortment of craft beers, but more on that later. This establishment is well renowned for its perfectly prepared pizza. But don't miss the beer! Larry, the proprietor, is a BJCP certified beer judge and brewer. So you will receive the finest. Locals adore Dodge City Brewing because their beer goes well with their pizza. Their Spruce Street IPA and Pete's Brown Ale go nicely with their Cowtown Queen pizza or A Pizza With No Name.
15. Dodge City Brewing
It is located in the state of Kansas. This is the location for movie buffs, particularly classic westerns. Even if you aren't into it, this is a location that should be explored. There is something for everyone in this town rich with historical landmarks and museums. Visit Dodge City now and be surprised!
Final words
Now you are aware about a list of free things to do in Dodge City KS. You may go through all these attractions if possible because you will not be asked to spend money out of your pocket. Hence, it can deliver an enjoyable overall experience to you.