The 1,874-acre Lake Thunderbird State Park is located in Cleveland County, Oklahoma. It is located on State Highway 9 on the east side of Norman, Oklahoma. Lake Thunderbird State Park gives access to the lake for recreational purposes. Lake Thunderbird State Park is a picturesque state park in Norman, OK that offers family camping, fishing, boating, biking, equestrian paths, and archery hunting in select sections. From this Lake Thunderbird camping guide, we are looking forward to providing much-needed assistance to you with securing the best camping experience at the lake. All you have to do is to follow the details we share and plan your stay in the lake accordingly.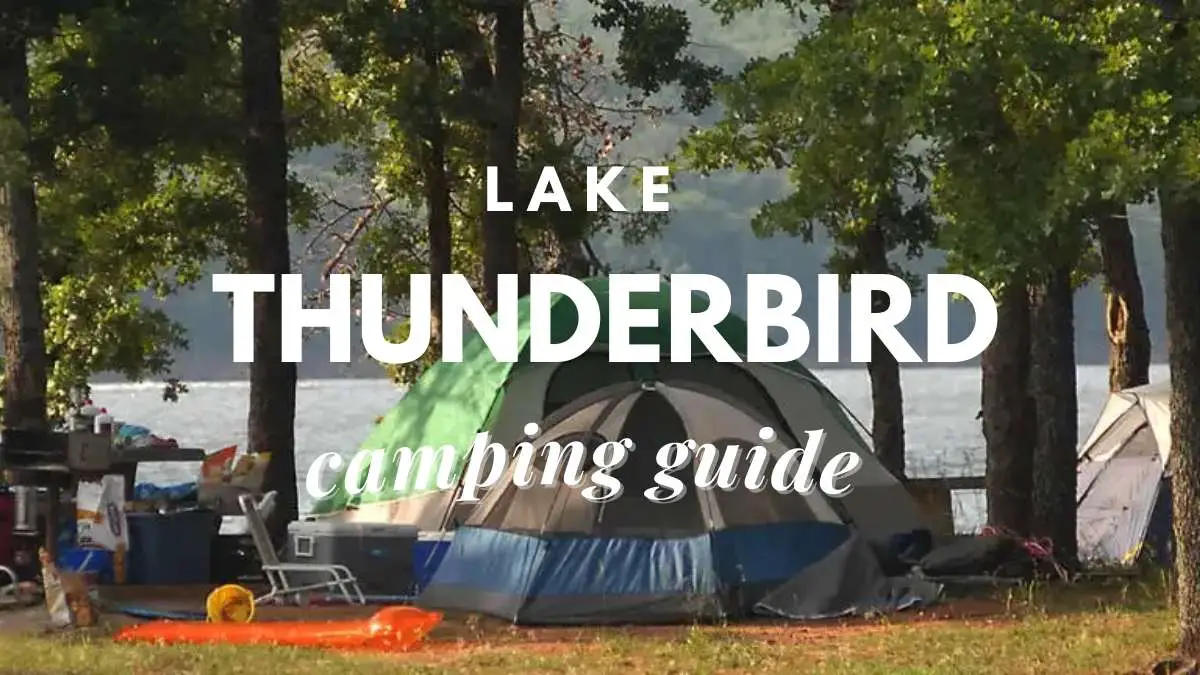 What is the Lake Thunderbird all about?
On Lake Thunderbird, there are two marinas (Calypso Cove Marina and Little River Marina), nine boat ramps, and two swim beaches. Over 200 RV parking spots, including 30 with full hookups, are available at the campground. Lake Thunderbird State Park also has bathrooms, playgrounds, picnic shelters, rustic campsites, and a seasonal restaurant.
The Discovery Cove Nature Center at Lake Thunderbird State Park is open from 9:30 a.m. to 4:30 p.m. Thursday through Saturday. The Discovery Cove Nature Center in Lake Thunderbird State Park is closed Sunday through Wednesday.
Read: Is Traveling A Hobby? The Ultimate Guide To An Exciting Way Of Life Learn about the Downsides Of Traveling As A Hobby

7 Reasons to Visit Lake Thunderbird State Park
1. Lake Thunderbird State Park is a great place to go eagle watching.
The bald eagle winter migratory route passes through the state park. From December through February, bald eagles may be seen. The Crow's Secret Nature Center also offers a guided eagle tour!
2. Search Lake Thunderbird for the Lake Monster.
While the existence of the Lake Monster is yet unknown, a freshwater octopus is said to live in the man-made lake. If you happen to get a look, Animal Planet will undoubtedly want to watch your footage!
3. Lake Thunderbird Trails for Biking
Biking is permitted on all of the routes around Lake Thunderbird. Mountain bike routes in Lake Thunderbird State Park are fairly steep, which is a good break from central Oklahoma. You'll gain a whole different perspective on the State Park and cover more land in the same amount of time as a regular trek.
4. Lake Thunderbird Fishing – Norman OK
Lake Thunderbird is an excellent location for casting a line and spending some time fishing. Largemouth bass, crappie, sunfish, channel catfish, white bass, and sockeye are all abundant in the lake. After a day on the lake, we like hearing our visitors' fish stories.
5. Lake Thunderbird boating
Whether you're an experienced boater or a novice, Lake Thunderbird State Park provides everything you need to have a fantastic day on the lake. There are two marinas and a boathouse where you may discover a variety of boats that are ready to sail. You may learn to sail, compete in sanctioned races, or even attend a regatta.
6. Thunderbird Lake State Park Hiking
Hiking the trails is a terrific opportunity to get out and stretch your legs while also getting a good overview of the state park. You'll get to see some amazing animals as well as stunning views of the lake. And if you time your trek well, you'll be treated to a spectacular sunset.
7. Lake Thunderbird State Park in Norman has equestrian trails
The Discovery Cove Nature Center and equestrian paths are situated in the Clear Bay portion of Lake Thunderbird State Park. The four-mile equestrian paths, which are available from sunset to dawn Wednesday through Sunday, include 12 challenges.
Lake Thunderbird camping – How to get the best possible experience?
There are 271 campsites dispersed over 11 campgrounds in Lake Thunderbird State Park. A disposal facility is available at each campsite. There are thirty campsites with full hookups. Throughout the park, there are restrooms with flush toilets. Each of the 11 campsites has a strategically situated bathhouse with heated showers. Hiking, biking, and horseback riding routes wind their way around the lake and into the natural landscapes that surround it. Lake Thunderbird is the park's main attraction for most visitors. Largemouth bass, crappie, sunfish, channel catfish, white bass, and saugeye are all plentiful.
1. Watch out for bugs
If Lake Thunderbird camping has a disadvantage, it is that standing water may attract a variety of mosquitoes and pests. Mosquitoes, in particular, flourish in still water, but they aren't the only bugs interested in a bite. An easy option is to camp a little distance from the water. Finding a spot with a little incline will be good since there will be less bugs in this location. Packing things like Citronella candles might be useful if you're camping right close to the Lake Thunderbird.
2. Look for the Best Water
More water, more water, more water! Water is plentiful, but there isn't a drop to drink unless you pack a filter! You should always filter or treat Lake Thunderbird water with a UV purifier to eliminate bacteria, protozoa, and other pollutants that may make you ill, no matter how clean it seems. If possible, get your water from flowing streams that flow into or out of the Lake Thunderbird. Moving streams carry less particle and biological debris, which tends to collect near the Lake Thunderbird's margin. If you need to get water from the Lake Thunderbird, either wade out as far as you can or use a water filter with a long input line that you can throw farther out into the Lake Thunderbird. It will be better for you if you filter it more.
3. Locate Wind Protection
If you're planning a summer camping trip, keep in mind how powerful the wind might be in your location. When you're Lake Thunderbird camping, you'll want to choose a spot with some wind protection. Even in the summer, the breeze from the ocean will be refreshing, and you'll want to keep your back to it as much as possible. You may have to set up and break down your campground a few times before you discover the right setting, but it will be worth it once you do.
4. Maintain Order
It's crucial to be organized while camping, but it's much more critical when you're dealing with the prospect of stuff washing away. Packing up your belongings after you're done with them is the easiest method to ensure that you leave with everything you brought, particularly if you're camping with a big group. Bringing a piece of baggage with a lot of pockets is a good idea, but keep in mind that it could be jumbled up if it rains or if someone miraculously wanders into the water (funny how those things happen). Packing your belongings in large plastic storage tubs is always a good idea for keeping them safe from water and vermin. Bring plenty of plastic bags to keep any items you don't want to get wet!
5. Choosing a Camping Spot
Even more crucial than picking the ideal place to pitch your tent is selecting the correct campsites. In fact, your choice of campsites may make or break your vacation. Here are some suggestions for selecting the best one:
Choose a campsite that caters to families with small children if you're camping with your family. People who choose to camp in their RV have the same option. Find a campsite that caters to your favorite camping style. Look for campsites that have immediate access to water, such as a local river or Lake Thunderbird. It's a simple truth that camping near water is more enjoyable.
Make sure there's a fire pit and a picnic table! For improvised storage and dining, a modest table might be extremely useful. When choosing a campground, aim for one that is upwind, since you don't want to spend the night next to your neighbor's campfire. If you don't want bugs to be your buddies, avoid any campground with dead trees and shrubs. This also applies to cabin rentals!
6. Bring the following items with you to make camping a breeze.
Store your toilet paper in a coffee or oatmeal container to keep it safe. This is particularly useful if it rains or if you spill your goods by mistake. Create a portable light by securing a headlamp to a gallon jug of water and placing it in the tent's center. They give out a lot of light and are simple to dispose of when it's time to pack up.
When camping, there's no need for boring food; put some spices into little mint containers for a portable spice rack. Keep your following day's clothing in your sleeping bag for convenient access. This will keep them warm till the next morning, which is particularly beneficial in the winter. Almost anything can be cooked in foil. Anything goes, and you may prepare a variety of tasty dishes, such as three cheese potatoes, burgers, sausages, nachos, and even pineapple upside down cake! Camping, whether in a cabin or a tent, is a terrific way to reconnect with nature. So, what do you have to lose? Reserve your camping site now!
Final words
A weekend camping trip on the Lake Thunderbird is the ideal way to spend quality time with family and friends "but it can also be the ideal way to find yourself in trouble. The beautiful tranquility of wide sea, blue sky, and a fresh wind is accompanied with muddy disasters, alien critters, and a water-logged smartphone floating along the beach. We've compiled a list of four recommendations to help you get ready for your next camping trip. These pointers can help you make better judgments when setting up camp, ensuring that your next vacation is stress-free.
Lake Thunderbird State Park provides a wide range of water sports and entertainment opportunities. Two marinas (Calypso Cove Marina and Little River Marina), nine boat ramps, and two swim beaches are available in the park. The experience starts at the Lake Thunderbird Nature Center, which is situated in the Clear Bay region.
During the appropriate seasons, deer archery and waterfowl hunting are accessible in approved locations. Lake Thunderbird State Park also has a variety of hiking, mountain biking, equestrian, and wildlife paths. Over 200 RV sites, including 30 full hookup sites, restrooms, and basic campsites, are available. Playgrounds, picnic tables, an archery range, and a seasonal café are also available at Lake Thunderbird State Park. The park also has ten group picnic shelters and eight family shelters (only in the Little Axe campsite), which may be rented at the park office. We strongly recommend anyone to follow this Lake Thunderbird camping guide and figure out how to go ahead with securing the best camping experience at the lake. You will surely enjoy the amazing experience that comes with it.