The dunes and beaches of Silver Lake are famous for being close to Lake Michigan and being a relatively unpopulated location. With miles of hiking paths, breathtaking dunes, an off-road park, and acres of wildlife, the dunes near Silver Lake and Hart, Michigan, are must-see Michigan favorites. This area offers unique views and sensations that you won't find anywhere else.

Many local Michigan residents and visitors from throughout the state choose Hart, Michigan as their beach vacation location because of the small-town charm and uniquely beautiful surroundings.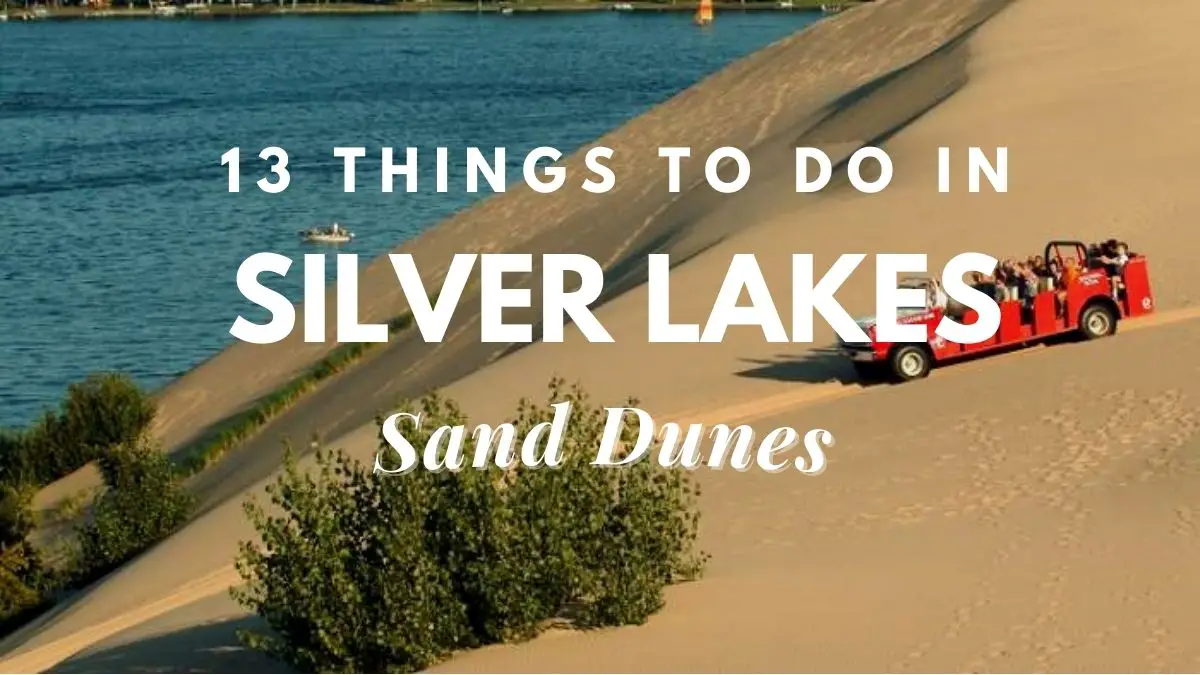 1. Enjoy the summer's fresh, clean air.
Even on the dunes, rainy days might happen, so it's typically a good idea to include some inside activities as a fallback.
Some of the top activities in Silver Lake, Michigan are listed below:
Silver Lake Sand Dunes: stroll there
Quad bike riders at the Silver Lake Sand Dunes
The Lawrence of Arabia-like Silver Lake Sand Dunes beckon visitors to explore their huge expanse of sand dunes, access 2,000 acres of virgin golden sand, and take a boat across Silver Lake. You may be thrown off balance by these towering dunes, so prepare to climb back up!
This walk traverses a section of hills that link Silver Lake to Michigan Lake; it is a travel from one side to the other in the silver Lake backcountry. You have another 3/4 of a mile to go, after which you may stop and take a break to rest.
Read: Is Traveling A Hobby? The Ultimate Guide To An Exciting Way Of Life Learn about the Downsides Of Traveling As A Hobby

2. Visit the Mears Museum and learn about transportation history.
Visit Mears to see dune buggies, railways, a station, farm trucks, tractors, horse-drawn carriages, and other antique vehicles. Families of all ages, with varying degrees of enthusiasm, will find this museum to be a wonderful way to spend the day. This region is heavily wooded, which makes it the perfect place for a camp. Each location has a fireplace, picnic table, and police presence.
Visit Mears to learn about the evolution of transportation, including the use of agricultural vehicles, tractors, horse-drawn carriages, depots, railway trains, and more.
3. Visits to this historical region are breathtaking.
A must-visit attraction in Michigan's Adventure Amusement Park is the 2-in-1 theme park at Wild Water Adventure Park. This location is wonderful for a family day out where everyone can enjoy the variety of thrill levels. Despite being a smaller theme park than some of the other Cedar Fair parks, Michigan's Experience still has a lot of rides. Communities in Oceana, Hart, and silver Lake counties have a strong cultural heritage.
The Little Point Dunes Lighthouse's position was crucial to the Lakes International supply network even though it was based on the lumber trade.
4. Driving across Silver Lake's dunes
One of the most well-liked attractions in Silver Lake is the 450-acre off-road driving area. As long as they have an ORV license and a ten-foot orange flag, tourists are permitted to drive their own 4x4s up and over the dunes. Additionally, visitors may rent off-road vehicles built to handle the particular difficulties of racing on sand.
Only the Silver Lake sand dunes in the territory east of the Mississippi allow visitors to drive their automobiles across the varying topography. However, Silver Lake's ORV zone is only accessible from April 1 through October 31.
5. Enjoy Lake Michigan's Fun Water Activities
Silver Lake offers fantastic opportunities for swimming, surfing, and fishing (especially salmon and trout). Sand is available for play and for creating different sand sculptures. Crossing the dunes will get you to Silver Lake's 690 acres of considerably warmer and smoother diving when Lake Michigan becomes too chilly or windy. One of Mears' water sports outfitters can help you rent a kayak, paddle, speedboat, or powerboat.
A variety of water sports equipment is available at Wave Club Water Sports Services, which is located amid the stunning Silver Lake Sand Dunes. On Silver Lake's surface, you may go skiing for the day, or you can go to the Sand Dunes for volleyball, sandboarding, or simply a day in the sun. You may hire yachts, wave racers, boogie boards, ski boats, sand surfers, and float boats.
6. Climb the Little Stable Lighthouse
The Little Stable Lighthouse is a great choice if you want to have a beach picnic and watch the sun set over Lake Michigan. Ship captains and laborers have relied on lighthouses to lead them around perilous shoals. The Little Sable Point Lighthouse is a magnificent 100-foot-tall red brick structure with a far-reaching light.
The lighthouse keepers' residence next to the lighthouse was kept up until 1954 by a number of lightkeepers. Apartments for the lighthouse keeper were formerly located in the white-painted lighthouse. Now, it stands alone, its 107-foot height and exterior's caramel hue towering above the Lake Michigan shoreline.
7. Feel the Rush of Adrenaline at Craig's Cruisers
In Silver Lake, Michigan, there are more exciting adventures than the beach. In Craig's Cruisers at Silver Lake, you may operate bumper boats, go-karts, cable cars, mini-golf, and arcades. The nearby Silver Lake Jellystone Park provides modern camping conveniences, horse-drawn carriage rides, basketball and volleyball, chess, ping-pong, and other family-friendly activities.
You may take use of services like water, power, or sewer sites in addition to these carriage trips and field game facilities. Families wishing to escape the city and experience farm life will love the inland coast's hundreds of acres of picturesque farmland, farms, and woods. A real dairy farm, Country Dairy offers tours, a playground for kids, ice cream made right there on the premises, a full-service café, a shop, etc.
8. Participate in the National Artichoke Festival
From the first spring blossoms until the first fall frost, this silver Lake location hosts a variety of events, including the National Artichoke Festival is held in June. Visit the Oceana Country Fair in the early fall to take part in cookery competitions.
Plan beforehand since the weekend of July 4th is the busiest of the season at the RV park. There are many events for the entire family to enjoy during the weekend. Thankfully, the West Michigan campsite is well located close to all the excitement! The Silver Lake region and the dunes camping host a number of Fourth of July events every year. For a little price, guests may climb the tower to enjoy breathtaking views from a high vantage point.
9. Consider riding a bike or taking a walk along the 22-mile Hart-Montague Rail Trail.
This ten-foot track is wide and well-paved, and it passes through attractive woods and lovely farmland. Here, autumn is vibrant and interesting. It looks nicer because of the flowers' and trees' colorful foliage. Along the way, there are many locations to unwind or have a delectable meal. Start your excursion from the trail and downtown to have a fantastic tour of the beautiful area. Investigate Silver Lake and Hart Lake. Bring your kayak or canoe to experience the allure of the area from a different vantage point.
Both Hart Lake and Silver Lake have accessible boat facilities. Enjoy the lovely White River while participating in a variety of on-site activities at Happy Mohawk Canoe Livery. The greatest freshwater hill deposit on earth is in Lake Michigan. One of the sandhills east of the Mississippi River where you may drive a personal motor vehicle is the Silver Lake sandhill. To distinguish between two separate sorts of landscape is excessive. There are never-ending dunes, abrupt straight-line and woodland beginnings. According to legend, the dunes first emerged when some of the forest was cleared.
10. Explore the city's historic sites.
Enjoy the little lakeside area's dining and shopping by taking a walk around Hart's downtown. The Genealogical and Historical Society of the Oceana region has aggressively defended the history of the region. The Hart Railroad terminal and the Glover Railroad caboose are two nearby historic buildings. This region is heavily wooded, which makes it the perfect place for camping.
A picnic table, a fireplace, and police patrols are available at each location. It is beautiful to go to this historical location. Along with enjoying the dunes, take your off-road vehicles to the stunning 450-acre Silver Lake State Park. From May to September, visitors may approach the 107-foot Little Sable Point Lighthouse.
11. Have an off-road experience
This park is a vacationer's paradise with magnificent dunes, camping, hiking, fishing, and woodland walking opportunities. Visit this park whenever you are at the lake to enjoy the lovely off-road trails.
Visit the Hart-Montague William Bike Trails This paved rail-trail covers 225 acres and 22.5 miles between Hart and Montague. Because of its closeness to Lake Michigan, it is well-known. The Trail is also well-known for its safe, serene, and absence of motorized traffic. The stunning natural surroundings serve as a stimulus for artists working in a variety of media, and the silver Lake region is well recognized for its art. Families of all ages should visit this beautiful location to spend the day.
12. Visit the Silver Lake to Enjoy Delectable Cuisine
In Silver Lake, there are several eateries serving delectable food. Food is skillfully prepared and flavorful. You may sample a variety of meals based on your preferences; this part of the feast combines flavor and pleasure.
You may order any number of pizzas, burgers, dogs, deli sandwiches, fresh salads, or authentic Mexican food, regardless of who else is traveling with you. There are now more stunning locations to pick from than ever before in Silver Lake, which is going through a gastronomic revolution. The same hangouts that tourists from across town drive an hour to see are frequented by locals.
It is better if you can start exploring the different restaurants that are located around you. Make sure that you take a look at all those restaurants. Then you will be able to end up with getting the best dishes in the region as well. There is something for every food lover in the region, and you will never be disappointed by the unique food experiences that are offered on your way.
13. Join the Silver Lake Events!
Lake camping is made more fun and thrilling by fireworks on lakes that provide really beautiful displays. Excellent colors, reflections, and atmosphere. The days from June 2 through June 5 are fantastic for engaging in enjoyable activities like Jeep invasions, etc. Enjoy a relaxing vacation when several jeeps assault dunes.
On July 2nd, you may start your weekend celebrations with Hart Sparks, which is another wonderful occasion. Around 4,000 people attend the yearly fireworks show and entertainment event, which is becoming more and more well-liked. Along with paint booths, art contests, snack stalls, and more, various musicians and bands like The Blue Rooster Band provide live music!
Final words
In times of extreme heat, Michigan residents visit the beach and vacation spots like the imposing Silver Lake Sand Dunes. On over 3,000 acres of Lake Michigan beachfront, there is Silver Lake State Park. While sugar-sand dunes comprise most of the area, there is also a four-mile Lake Michigan beach, an interior lake called Silver Lake, woodland hiking paths, a campground with boat launches, and a soaring lighthouse. The town of Mears, which has a variety of extra hotel choices and tourist activities, is close to the state park. The Silver Lake region is ideal for Michigan-style family vacations throughout the summer.
One of the greatest venues to engage in indoor, outdoor, and retail activities is Silver Lake. Anyone who travels there with the intention of having a great time and some fun will undoubtedly fall in love with this amazing location. Therefore, if you're organizing a vacation or hangout, put it first on your schedule.