There are so many hidden treasures in North Alabama, and despite being born and raised here and having lived here for years as an adult, I'm continually discovering new local activities and attractions. We just found all of the great things to do in Gadsden, Alabama's Noccalula Falls Park. And I must say, that was the perfect family outing! In this article, we will share a list of best things to do at Noccalula falls as of now.

There are so many things that make Noccalula Falls a terrific destination to visit for the entire family: there are trails and outdoor adventures, exciting activities for youngsters, and the park is accessible to everyone in the family thanks to the paved pathways. From Huntsville or Birmingham, it's a terrific day trip. Here are some of the exciting activities available at Nocallula Falls Park! Before you go, double-check the park's hours. The park's and select attractions' dates and hours are subject to vary throughout the year. During the months of January and February, the park is usually closed.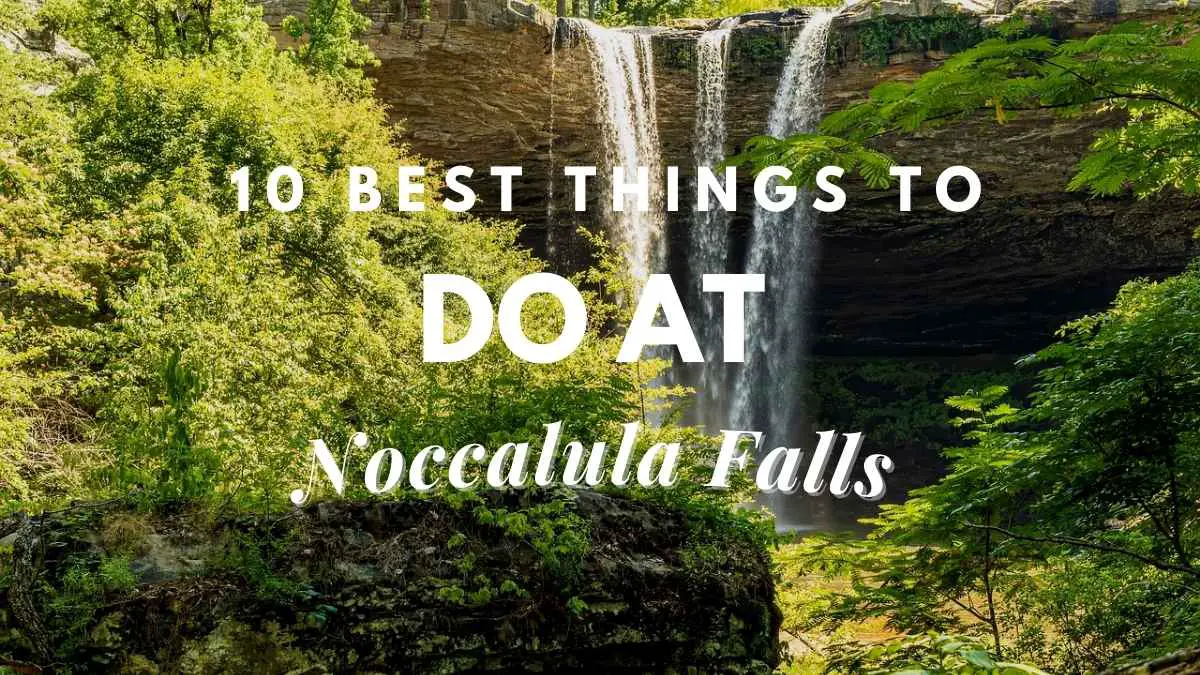 What is the location of Noccalula Falls Park?
Gadsden, Alabama, is home to Noccalula Falls Park, which is situated in northeast Alabama.
Huntsville is roughly an hour and a half away, while Birmingham is a little over an hour away.
The park is built around a 90-foot waterfall and offers a variety of family-friendly activities, making it an excellent day excursion.
Best things to do at Noccalula Falls.
Read: Is Traveling A Hobby? The Ultimate Guide To An Exciting Way Of Life Learn about the Downsides Of Traveling As A Hobby

1. Take a look at Noccalula Falls
The first must-do in Noccalula Falls Park is to see the cascade that bears the park's name!
This 90-foot waterfall is named after the mythology of Nocallula, a Native American princess who opted to leap to her death rather than marry someone she didn't want to marry.
From the gorge's rim, you can view Noccalula Falls.
Take a walk around it to see it from various angles.
It's also safe for family members of all ages since it's entirely walled in.
It's also worth noting that you don't have to pay to visit Noccalula Falls.
On the north side of the park, there is a parking area with public access for viewing the falls.
It intersects with the paid access area (you'll see where it's blocked off), so be sure to look at both sides!
2. Taking the Train
Riding the little train that circles the park was a highlight for our child.
Riding the train is an excellent way to get a sense of the park before you begin exploring it.
There are stations at the gift store, near the Gorge Trail's entrance, and near the Kiwanis Pavilion's playground.
It circles the park on a one-mile track.
Riding the train is free with park admission, and you may ride it as many times as you like.
If there are people waiting at the gift shop station, however, everyone must exit and rejoin the queue if you wish to go around again.
Because it is a tiny train, some adults may find it difficult to board, and if you have a stroller, you will need to fold it.
Read: 11 Best Kayaking Spots In Alabama
3. Pioneer Village is worth a visit.
A pioneer town is located in the heart of Noccalula Falls Park.
The structures will transport you back in time with pioneer living exhibits.
The majority of the rooms in the building are sealed off, so you can only look in rather than enter.
However, children will enjoy roaming about in this area, which also has swings and chairs for adults.
There's also a beautiful covered bridge!
Read: 7 Best Overnight Canoe Trips Alabama
4. The Gorge Trail
The Gorge Trail is the best way to get up and personal with the waterfall.
You may even go behind Noccalula Falls on this route, which leads down into the Gorge.
The Gorge Trail begins at Pioneer Village, just across from the second railway station.
The Black Creek Trail, which begins near the wedding chapel and leads to the Gorge Trail, is also accessible from the park's free area.
If you prefer hiking, Noccalula Falls offers a variety of pathways to choose from.
Here's a link to the trail map.
If you're looking for more fun in North Alabama, look no further.
Check out these 30 Things to Do in Huntsville with Kids!
5. A Visit to the Botanical Gardens
Another family-friendly destination is Noccalula Falls' Botanical Gardens.
In addition, for accessibility, the majority of it has paved walkways.
A bridal pergola and a new sensory garden at the Botanical Gardens enable youngsters experience the world through their five senses.
Also, I'm not sure whether the pathways connecting Pioneer Village and the Botanical Gardens are considered villages or gardens, but they were a lot of fun to walk around (and have lots of shade).
And, let's be honest, the Botanical Gardens area isn't really large.
It is, nonetheless, a charming small location to visit.
6. Play Fat Man Squeeze
The Fat Man Squeeze is a great entertaining small spot to explore near the Botanical Gardens.
You sink through the fissures and crannies of the rocks just below ground level.
See what you can get away with!
And here's a hint: on a hot day, this spot is a little cooler than the others! If you're feeling hot, this is a terrific location to cool down.
7. Play a round of mini golf
Noccalula Falls Park features a mini golf course, which is just what I'm looking for when it comes to family fun!
The mini golf course is a short distance from the park's major attractions, with its own parking lot accessible from the gift shop parking lot.
Adults pay $5 for mini golf, while children and seniors pay $4.
Before you go, double-check the hours of operation (they may be different from the rest of the park).
Mini golf is usually closed throughout the winter months, from November to February.
8. Camping
You may go camping at Noccalula Falls if you want to make more than a day excursion out of it! The campsite is immediately north of the park, with easy access to most of the hiking trails.
Tent camping, campers, and RVs are all welcome.
More information may be found here.
They also offer two log cottages near the campsite if camping isn't your thing.
Two bedrooms, a kitchen, a fireplace, and a screened porch (a must for me with porches in the South!) are all included in the cabins.
Here's where you can learn more about the cottages.
9. Observation on the Petting Zoo
Noccalula Falls has had a petting zoo with a broad range of animals for years.
Unfortunately, the petting zoo barn caught fire in 2021, and the park's petting zoo is now closed.
However, this was a popular park area, and we hope to see it reconstructed in the future.
If we hear anything new regarding the reconstruction and reopening, we'll attempt to keep this article updated.
10. Visit a winery
Wills Creek Vineyards & Winery is a winery and vineyard located in Wills Creek, California.
Duck Springs, Alabama is close by. North of I-20, Wills Creek is one of three operational wineries.
The vineyards are located in the Duck Springs Valley's peashell hills, in the heart of the Duck Springs nature refuge.
Wills Creek Vineyards has a long history of producing muscadine, fruit wines, and grape wines, as well as a family heritage of winemaking that began with the winemaker's grandfather in Switzerland.
Winery Jules J. Berta is another great winery to visit.
In Albertville, Alabama, on top of Sand Mountain.
The vineyards, which cover five acres on a 22-acre property, are mostly made up of Chardonnay, Cabernet Franc, Merlot, and other varieties.
Fruit wines and Muscadine wines produced by local Alabama farmers are also available.
Maraella Winery is a winery located in the town of Mara.
Hokes Bluff, AL is nestled in the scenic foothills of the Appalachian Mountains.
Their vineyards, which were established in 2005, provide estate-grown and bottled Cabernet Sauvignon.
Visitors may choose between classic vinifera varieties and traditional Alabama fruit wines at Maraella.
A wide variety of cheeses and wine novelties are available at the gift store.
Visit the winery for a free wine tasting and tour.
M-W 11 a.m.-6 p.m., Th-Sa 11 a.m.-7 p.m. Tasting room open M-W 11 a.m.-6 p.m.
Only by appointment on Sundays.
Hours and Costs of Noccalula Falls Park
Before visiting, always check their website for further information on hours and price, since they are constantly subject to change.
The park is open from March through October, as well as on weekends in November.
Christmas at the Falls, a spectacular Christmas lights show, with special tickets available throughout December.
During the months of January and February, the park is closed.
Adults pay $6 to enter the park, while children and adults pay $4.
Children under the age of three are free.
Final words
Now you are aware about 10 best things to do at Noccalula falls. Make sure that you plan your stay in Noccalula falls correctly, so that you will never regret about coming all the way to here.