There aren't many natural phenomenon that can astound as an ice cave, and the Last Frontier is home to a number of them. Geologists refer to two distinct formations as "ice caves": The first is a bedrock cave that becomes ice-covered as a result of subterranean water vapor freezing. A granite cave is transformed into a scene from Disney's Frozen when the ice melts and changes into blue sheets.

The second kind of ice cave is created when water leaks from a glacier's interior crevasse. This category includes Alaska's ice caves, which are breathtaking to see. Please be aware that ice caves and glaciers may be unstable and hazardous. Please take precautions when you go there. These are the top Alaska ice caves to visit as of now.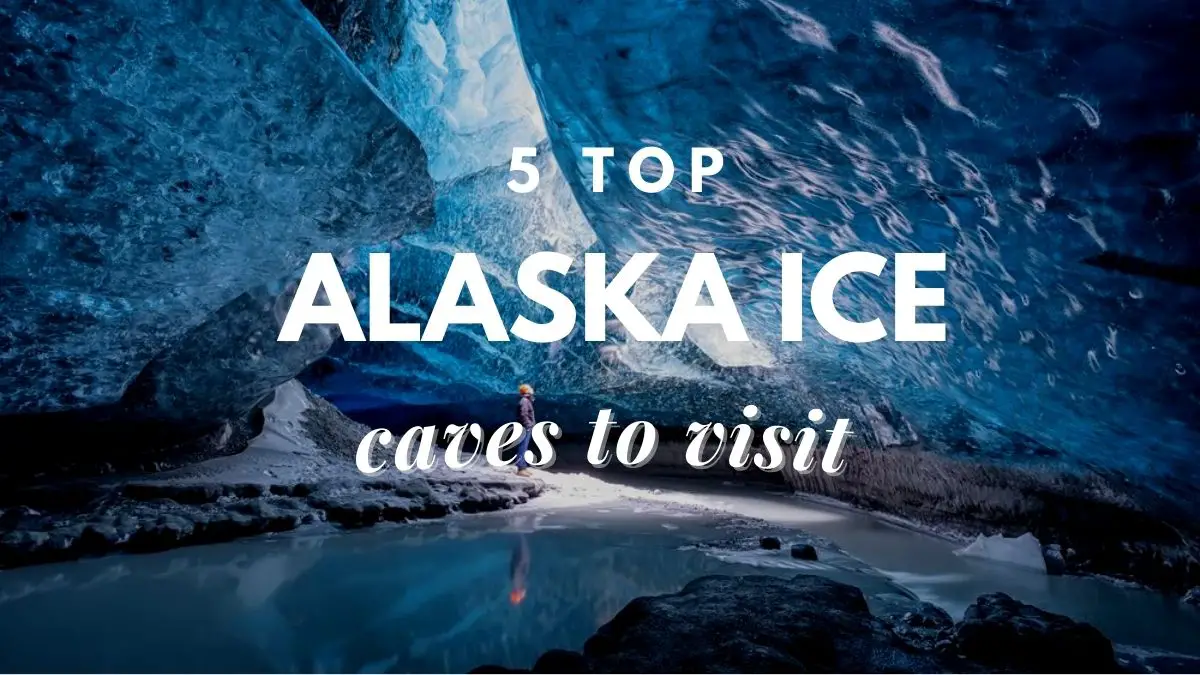 1. Mendenhall Ice Caves
The Mendenhall Glacier is located in the Mendenhall Valley, about 12 miles from Juneau, the state capital of Alaska. The 13-mile-long glacier is located in the Mendenhall Glacier Recreation Area, a section of the Tongass National Forest.
The ice caverns have a somewhat similar appearance to wandering under a frozen river with waves and glistening blue domes. Exploring it may be as spooky as it is beautiful. It might be challenging to reach one of the caverns, thus hiring a guide is strongly advised.
There are multi-hour hiking trips available to get there, and the most include the required crampons and axes. It's a good idea to bear in mind that they might endure for six hours or more, and the terrain can be quite hazardous. To get to the cave openings on other excursions, you may have to paddle across the lake. If you want assistance picking a local tour guide, Tongass park staff may provide it. If you decide to explore the ice caves on your own, it's crucial to inform someone—a park ranger, a family member, or hotel staff—of your plans and the time you anticipate returning.
With their spooky, expanding blue domes that resemble the underbelly of a swift river that has been flash-frozen, the Mendenhall Glacier ice caves are among the most beautiful in the whole world. They are located in the wet Tongass National Forest in southeast Alaska, yet when you get there, you can mistakenly believe that you have left Alaska and are now in a faraway dream country.
These caverns need a lot of ability to locate, much like buried treasure, hence hiring a guide is highly advised. Mendenhall-Ice-Cave Reaching the famous cave requires a six to eight-hour climb and the proper glacier-travel gear, including crampons and an ice axe. Unmarked and sometimes treacherous, the ground path is quite steep. However, the caverns may be reached by lake if you are skilled in paddling in frigid water.
Consult the Tongass park staff for information on reliable local tour operators that can transport you there. If you're one of the experienced and daring explorers who chooses to go alone, let someone know where you're going and then boast about it after you've returned.
2. Spencer Glacier Caves
Beautiful ice structures may be seen within the Spencer Glacier ice cave, which is close to Anchorage, Alaska. Spencer Glacier rises 3,500 feet from Spencer Lake and is about 60 miles from Anchorage. The peaks and headwalls of the glacier are located south of the Turnagain Arm within the Chugach National Forest. The area's breathtaking mountain views and glistening waterfalls never fail to wow visitors.
The Alaska Railroad is the only way to reach the glacier and its caves. The Spencer Whistle Stop railway station is usually the starting point for either a hiking excursion or a kayaking tour to the Spencer Glacier Ice Caves. In order to select a safe ice cave or crevasse to explore, the tour guides will use their best judgment. Like any glacier, exploration carries some risk. Spencer Glacier really has the name of a railroad worker who vanished in 1905 after setting out on an ice trip.
This enormous glacier is located in the Chugach National Forest, south of the Turnagain Arm region of the Kenai Mountains, approximately 60 miles from Anchorage. With views of the surrounding alpine mountains, Spencer Lake serves as the glacier's terminus.
The USDA Forest Service collaborates with the Alaska Railroad to provide views of Spencer Glacier via hiking or kayaking trips that depart at the Spencer Whistle Stop, which is only accessible by rail. Visitors may investigate glacial features like crevasses and ice caves and learn more about them. Again, use cautious since the glacier has the name of a railroad worker who vanished in 1905 while hiking on the ice.
Take the Prince William Sound 26 Glacier Cruise, which leaves from Anchorage, if you want to see glaciers from a safe distance and would like to learn more about the many varieties of glaciers in Alaska.
3. Matanuska Glacier Cave
The Matanuska Glacier, which is 27 miles long and around 100 miles from Anchorage, is the biggest glacier in the United States that is accessible by automobile. Off Glenn Highway, you may locate the Matanuska Glacier State Recreation Site. There are paths and a small campsite at this 229-acre property.
As a dynamic glacier that advances around one foot each day, Matanuska's characteristics are constantly evolving. The ideal way to explore the ice caves is on a guided trip, which will allow you to make sure you are safe and have all the essential equipment. All year long, excursions are offered, and many of them include a shuttle from downtown Anchorage.
The S Glacier Park Road, located at mile 102 off of Glenn Highway not far from Palmer, Alaska, allows you to drive directly to the glacier. On Glenn Highway, around mile 101, there is a breathtaking view of the glacier if you don't want to go through the ice and would rather simply have a good look at it.
4. Root Glacier Caves
You may reach Root Glacier in the 13.2 million-acre Wrangell-St. Elias National Park & Preserve, the nation's biggest national park, after traveling about 7 hours from Anchorage.
A visit to Root Glacier offers the opportunity to see the glacier's tidal pools, deep ravines, and moulins in addition to the fantastic views of Donoho Peak. (Moulins are ice holes created by water melting.) You may enter a blue ice universe by entering the Jumbo Creek ice cave!
A 1.5-mile journey will take you from Kennecott, a former mining town, to Root Glacier. Wearing crampons is advised since the route directly accesses the glacier, which may be hazardous. The required equipment will be supplied by a touring company. Additionally, stay away from the glacier's edge since the ice there might be highly fragile. Bears are often observed around Root Glacier, so before going outside, review your bear protection procedures in Alaska.
The 13.2 million-acre Wrangell-St. Elias National Park, which is America's biggest national park, has the charming Root Glacier. Views of Donoho Peak and the rocky Kennicott Glacier, which may not seem to be a glacier but is really coated with ice, may be seen from Root Glacier.
You may explore tidal pools on the glacier's surface, ice caves, deep ravines, and moulins—holes that melting water has carved into the ice—while visiting Root Glacier. The Root Glacier's Jumbo Creek Ice Cave allows you to enter a stunning room covered in blue ice.
The primary visitor center for Wrangell-St. Elias National Park is just four miles away from Copper Center, Alaska, which is located approximately three hours northeast of Anchorage. From Kennecott, an abandoned mining town where you can also explore a historic mill, you may take glacier excursions.
5. Kendall Glacier Cave
The neighboring Kennicott Glacier, which stretches from Mount Blackburn (Alaska's fifth-highest mountain!) to the Kennicott River, is likewise situated in the Wrangell-St. Elias National Park. The Kennicott Glacier may not seem to be much at first sight, yet there is plenty of blue glacial ice hidden behind the mud and boulders.
Given that Kennicott and Root Glaciers are constantly shifting and changing, it is preferable to tour them with a guide. The stability of the ice caves may change quickly, so a guide will assist you decide which ones are safe to visit. Nearly 310 miles separate Kennicott Glacier from Anchorage, and McCarthy Road leads to it. You must either take the shuttle to town or cross the Kennicott River on foot after parking.
Final words
Alaska's Glistening Ice Caves Won't Last Forever Due to climate change, it is doubtful that these glacier caves will still exist in the future, thus it is best to see them as soon as possible. The Mendenhall Glacier has retreated over two miles since the Juneau Icefield Research Program began tracking it in 1929, and the retreat is expected to continue for the foreseeable future. If you wish to see an Alaskan ice cave, going to the Last Frontier should be at the top of your list of things to do!