Pigeon Forge is regarded as the Smoky Mountain tourism mecca. Thousands of people visit the Smoky Mountains to get away from it all and enjoy the calm air and spectacular sights that the mountain town proudly offers. Dinner shows, comedy performances, you name it, they're all popular here. Do you know what travelers and attractions have in common? Pigeon Forge knows how to pay homage. There are hundreds of hotels and restaurants open 24 hours a day, providing all your favorite dishes. The objective of this article is to share fun places to eat in Pigeon Forge.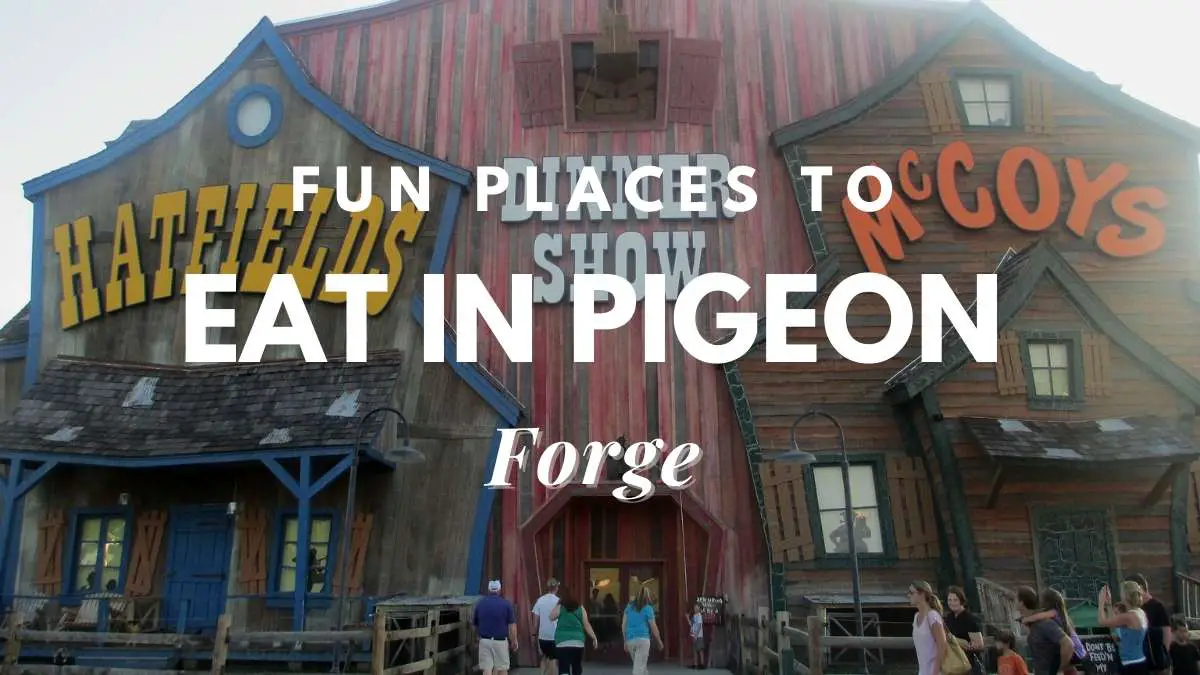 1. Burgers and Wings from Blue Moose
The Blue Moose is Pigeon Forge's only family-friendly sports pub. It's one of the most popular restaurants in the neighborhood, thanks to its excellent service and athletic atmosphere. When you combine it with their delectable cuisine, you'll quickly make this a favorite stop when visiting the Smokies.
As a sports bar, the restaurant offers plenty of televisions to keep you up to speed on football, the NPL, the NBA, and other sports. Enjoy delicious sandwiches, burgers, and pretzels that are a neighborhood favorite. The restaurant serves delicious wings in 18 distinct varieties to tempt your taste buds.
Off Teamster Road, The Moose is in the same commercial complex as Tropical Smoothie Cafe and Three Monkeys Photo Emporium. Find the Bluefish Grill or Carino's Italian for an easier time; the Blue Moose Burgers & Wings is behind them.
Read: Is Traveling A Hobby? The Ultimate Guide To An Exciting Way Of Life Learn about the Downsides Of Traveling As A Hobby

2. Pigeon Forge's Margaritaville Restaurant
With a beach island ambience that resembles a Miami beach restaurant, Margaritaville is a refuge for beverages and cuisine. The restaurant has a beautiful view of the Little Pigeon River, making it ideal for a date or a peaceful evening. The restaurant's plating and island-ism ambiance are greatly influenced by Jimmy Buffet.
As you approach the restaurant, you're greeted with loud music, a huge dining room, and the always-polite hosts. A tiny aircraft was even suspended from the ceiling. There's also a massive blender that dispenses liquor—imagine that.
Margaritaville is well-known for, well, margaritas. With so many options on their drink menu, you can never go wrong. Enjoy a variety of margaritas, craft/can beers, and wine as a great way to wash down the flavors of your recent meals.
3. New American Restaurant, Local Goat Pigeon Forge, Tennessee
Local Goat is a family-friendly restaurant that serves scratch-made farm-to-table cuisine. All of the produce is fresh from the local market, which helps to support the local economy while also providing tasty and healthy cuisine. They specialize on tasty cuisines that many people like, such as pretzels, doughnuts, and burgers, all at reasonable pricing. Your plate will be filled with a well-detailed dish, including gigantic chicken wings, appetizers, and salads. The Local Goat Bar also serves artisan beer and drinks while providing stunning views of Mt. Leconte.
The setting, which is just across the Mountain Valley Vineyards, is ideal. It's between the first and second traffic signals on the major parkway route, past the Titanic Museum Attraction.
You may make appointments for up to an 8-person party at the restaurant at any time, but seating is limited. To reserve the restaurant for big events, call ahead and match the menu to your guest list.
The Local Goat does not provide to-go meals since they like to have the freshest cuisine delivered to their customers. The chef may prepare bespoke orders for you based on your dietary restrictions. However, this is contingent on timeframes and kitchen traffic.
4. Pigeon Forge's Mellow Mushroom
Mellow Mushroom established its first location in Pigeon Forge in 2010, near Starbucks on the major parkway route. Since then, they've worked hard to establish a second facility on the island, between the third and fourth lights on Island Drive. Under the brick and blue wood panel framework of the second site, art flows. It's connected to Dude Daiquiri Bar and has an open dog-friendly terrace, making it a one-stop shop for pet owners.
Mellow Mushroom is recognized for serving tasty pizza slices that aren't your typical Chicago-style pizza seen at most restaurants. They specialize in gourmet pizza, a southern-style pizza slice with a dough that will leave you wanting more.
All pizzas are hand-tossed and cooked on a hot stone, using Appalachian Mountain water in the dough. The product is a thin crust with fresh local toppings and meat on top. Bring your family to gorge on their enormous menu, which includes pretzels, bruschetta, and a rotating selection of beers on tap. Because the pizzerias are family-run, you can anticipate a friendly greeting and wonderful meals. On the Island, take a spin on the observation wheel to take in the breathtaking scenery of the Great Smoky Mountains. Also, snap a couple shots for Instagram of the fountain show in the middle.
5. Paula Deen's Home Cooking
Paula Deen's Kitchen is a well-known restaurant franchise in the United States. She created a hit program on Food Network and brought the family chef mentality to the rest of the nation. To give that scent of uniqueness and freshness, all meals are made in a southern way. Every meal is based on Paula Deen's original recipes from her Food Network program. To achieve it, they save every spice and combination, much as Paula would on her TV program.
The dining room is located upstairs and offers family-style service. Your table will get the same entrée and sides. Some would consider this a drawback of a traditional restaurant menu, but Paula Deen's restaurant capitalizes on the family dining experience. Your meals are designed to resemble a typical home dinner. It also means that you may eat as much as you like, and the staff will replenish your meal if necessary. Thankfully, they provide a dessert of your choosing, which provides some relief.
After your lunch or while you're waiting, go to the first floor and browse the retail store for cookbooks from the popular Paula Deen's Cook program. Purchase more southern artifacts and kitchenware for use at home, or better yet, a gift card for your loved ones to enjoy the restaurant's outstanding family supper.
6. Alamo Steakhouse
While the term Alamo is well-known in Texas, it is associated with sacrifice in this country. The restaurant was named after the 2000 soldiers who fought in the Mexican War between 1846 and 1848. The meat at Alamo Steakhouse is cooked on an open fire grill using oak wood to maintain the flavor and aroma of barbecue. As you smell the inviting aroma of grilled steaks prepared to order over an open fire, prepare to drool. It's like home cooking, only the effort is done by a BBQ pitmaster.
The restaurant provides southern steak meals for lunch and supper (11 a.m. to 3 p.m.) (3 pm till late). To ensure quality and preserve the grilling process, their meats are aged and hand-cut in-house. All seasonings are made in-house, preserving natural flavors that pair perfectly with the steaks. It's no surprise that TripAdvisor awarded the Alamo Steakhouse the Traveler's Choice award for 2021! Don't forget to shop the online store for seasonings and merch to bring a piece of the South home with you: hot sauce, steak sauce, branded mugs, glasses, and shirts.
How to find the best restaurant in Pigeon Forge?
Now you are aware about some of the best places to enjoy your meals in Pigeon Forge. While keeping these options in mind, you will need to figure out the best one out of them to have a great time with your meals.
Obviously not all these restaurants would be ideal for your personal dining preferences. This is why we encourage you to go through their reviews in detail. The reviews that these restaurants have been able to receive on the internet clearly explain the dining experiences that they are capable of delivering. You should then compare that dining experience with what you are getting. Based on that, it will be possible for you to decide whether you should be visiting the restaurant or not.
In the meantime, it is a good idea to be brave enough to explore a restaurant as well. You will never regret about the idea of exploring any of these restaurants. We guarantee that all the restaurants are so great with what they are capable of offering. Hence, there is no need for you to worry about anything at all at the end of the day. You will be able to proceed with the dining experiences and collect a bunch of new and wonderful experiences every single day.
Final words
The cuisine you consume may either make or break your trip to Pigeon Forge. Fortunately, the Smokies provide fantastic hospitality and restaurants that cater to all of your culinary desires for meals, sides, steaks, and snacks. Get a hunk of tasty pork from a southern BBQ place, and you'll be looking for the cookbook in the future. Enjoy a delectable Pigeon Forge experience!