Valentine's Day is almost coming, and lovers everywhere are trying to come up with the ideal plan for creating lasting memories with their special someone. Fortunately, there aren't many places more romantic than Steamboat Springs for individuals who find themselves in the Yampa Valley. Steamboat is a true snow paradise in February. The afternoon may be spent relaxing in natural hot springs, the evening wandering through a city brimming with brightly lighted stores and restaurants, and the morning taking in views of beautiful snowcapped peaks from a Nordic route. In this article, we will share some romantic things to do in Steamboat Springs CO.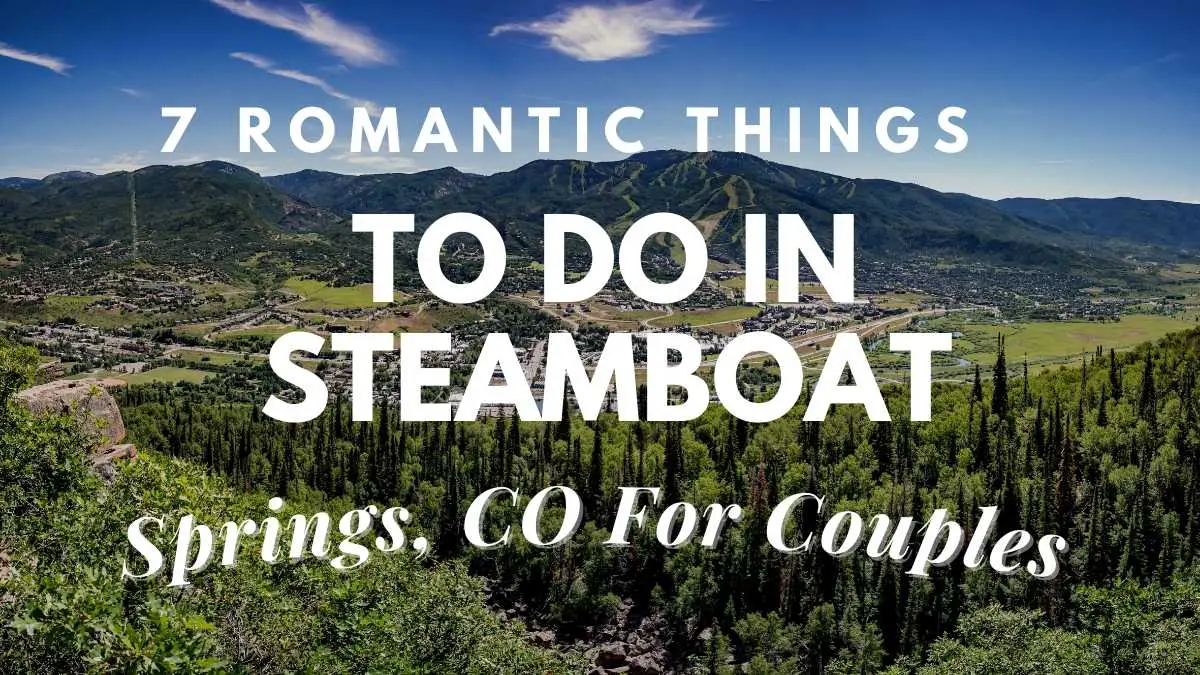 1. Dinner for Two in the City
Make a reservation for a table for two at one of the numerous fine dining restaurants in Steamboat's downtown. Before heading out beneath the glistening downtown lights, stop by the Steamboat Whiskey Company for a locally made handmade beverage. Take a seat at Mahogany Ridge Brewery and Grill for a delicious piece of steak and some locally made beer. Try Aurum on Yampa Street for live entertainment, award-winning food, and a riverside location. Alternatively, Mambo and Mazzola's both provide delectable Italian fare if you want to replicate the spaghetti scene from Lady and the Tramp.
Read: Is Traveling A Hobby? The Ultimate Guide To An Exciting Way Of Life Learn about the Downsides Of Traveling As A Hobby

2. Go on a snowshoe tour at night.
Take the gondola up to Thunderhead where you will meet a Steamboat Ambassador who will lead you on an evening snowshoe trip of the stunning Mount Werner. Enjoy a tranquil stroll across the beautiful silver snow as you see the Yampa Valley below and the lights of the moon and stars above. After the trip, you'll drive back to Thunderhead for a meal at Hazie's restaurant and a few drinks. It is advised to make reservations.
3. Hide out at Strawberry Park Hot Springs
Park Strawberry Did you know that Hot Springs offers overnight accommodations in addition to being a well-liked destination for both residents and tourists? By renting one of the many cottages offered on the site, you may turn your date night into a quick retreat at the hot springs. You may call in advance to make a reservation for a side-by-side couples massage after taking a winter dip in the hot springs. A car with 4WD and snow tires should be brought, otherwise you may use the shuttle that often operates between the hot springs and town.
3. Take a pottery class to learn how to throw.
Learn something new with your date—what could be more romantic than that? Enroll in a class at Warehome Studios and make some ceramic presents for one another. They provide private settings in their small sessions that are ideal for quality time spent with a loved one. Your ceramic creations and memories will be cherished for a long time.
4. Nordic skiing and beer and pizza
Cross-country skiing is available at Haymaker Nordic Center next to the stunning Catamount Lake. The day may be spent exploring the gently sloping, manicured landscape and taking in the stunning mountain views. Once you've built up an appetite, go into town for some delicious pizza and locally brewed beer. The ideal pairing of Storm Peak Brewery and How Ya Doin' Pizza can be found on the West side of town. You may also visit Mountain Tap Brewery in the city, which offers distinctive pizza made in the Neapolitan manner.
5. Start a short backcountry journey.
Don't allow the fact that you and your spouse are skiing at different skill levels prevent you from spending time in nature together. Consider renting some snowshoes and visit the Howelsen Hill or Rabbit Ears Pass paths. Along with Fish Creek Falls, the Steamboat Ski Touring Center offers 30K of trails. For a beautiful winter picnic, don't forget to bring food and a thermos!
6. Honor beauty, art, and creativity.
t's possible that you don't like being outside. Whatever the case, Steamboat's downtown is full of art galleries that will engage your right brain. Visit the Potter's Wheel to paint ceramics with your loved one once you've been inspired.
7. Plan a massage for the couple
Couples massages in Steamboat are available at Life Essentials Day Spa. While lying side by side, you and your loved one may each have a 60 or 90 minute massage. Treat your partner to a surprise they won't soon forget by scheduling a massage here in Steamboat! Even body oils are available for purchase in the spa so you may continue your own private massage there.
Final words
Whatever you choose, Steamboat Springs, Colorado, is a great place to discover your love mojo. It is clear from this list of Romantic things to do in Steamboat Springs CO. Any relationship may become hot and heavy when you spend time with your beloved in the great outdoors.