Are you a person who is interested in exploring canyons? Then you will be provided with numerous options to consider. Bryce Canyon and Antelope Canyon are two of the most prominent options out of them. Finding the right tourist attraction to visit out of them can be challenging. That's why we thought of sharing a guide on how to pick a tourist attraction based on these.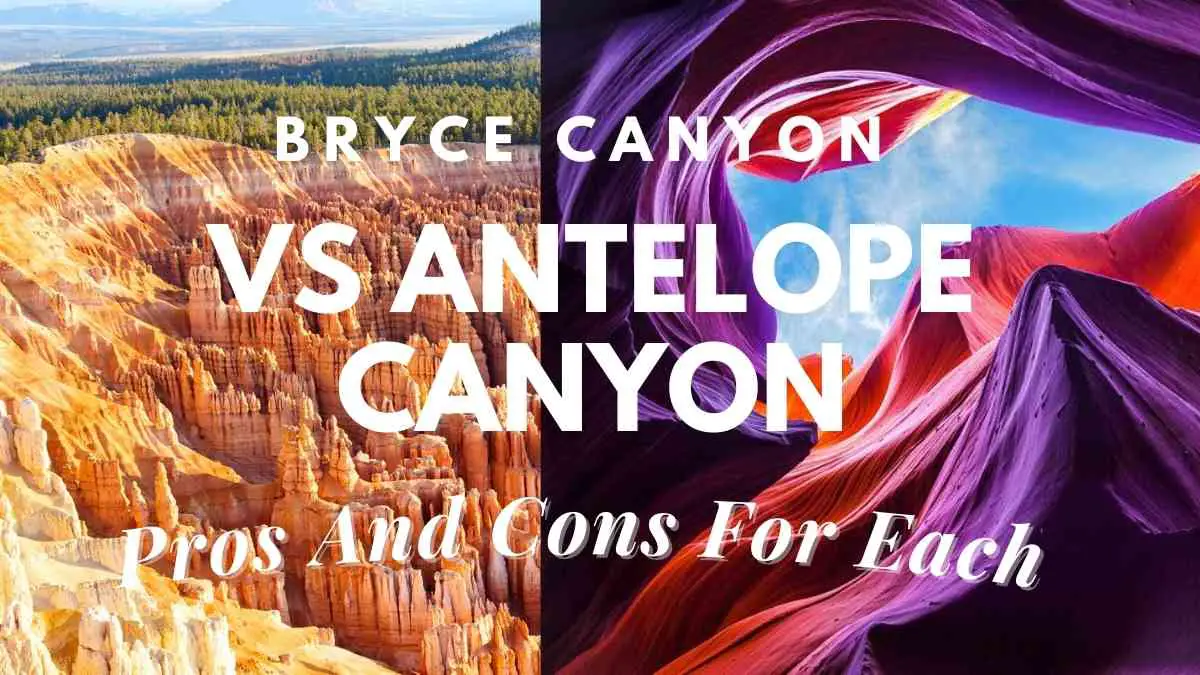 Visiting the Bryce Canyon National Park
Bryce Canyon National Park, named for one of the area's early Mormon pioneers, is one of five magnificent national parks in southwest Utah.
Bryce Canyon is less than three hours from the Grand Canyon and roughly two hours from Zion National Park, yet it is often overlooked by visitors who prefer its larger, more accessible neighbors.
However, those who put in the effort will be rewarded handsomely.
Photographers are mesmerized by the Martian vistas of pillar-shaped red rocks at sunrise and sunset, high alpine meadows and woods entice hikers along twisting routes, and one of North America's darkest night sky is enough to make most stargazers drool on their telescopes.
Read: Is Traveling A Hobby? The Ultimate Guide To An Exciting Way Of Life Learn about the Downsides Of Traveling As A Hobby

Why should you go to Bryce Canyon National Park?
Bryce Canyon National Park is a collection of bizarre geological formations cut onto the edge of an alpine plateau, saturated in tones of red, orange, and pink.
The gnarled trunks of the world's oldest living trees, the bristlecone pine, punctuate a bizarre landscape of red-rock amphitheaters, natural bridges, and peculiar rock pillars known as hoodoos.
During the day, hikers and horseback riders traverse a maze of paths to reach stunning panoramas.
Due to the park's distant position and air quality, stargazers shift their attention skyward at night, when the cosmos' brilliance erupts into view.
Winter brings cold temperatures and consistent snowfall, allowing snowshoers and cross-country skiers to explore a snow-covered red-rock environment.
Scenic roads connect trailheads, taking tourists through meadows and woods of scented pion pine, home to mule deer, foxes, and bobcats.
Many people come to Bryce Canyon National Park to get away from the crowds in Zion and the Grand Canyon, but those that stay become lifetime lovers.
It's more than a choice; it's a whole distinct environment full of unexpected twists and turns.
Read: How To Get To Antelope CanyonLearn about Where is the Antelope Canyon?
Bryce Canyon National Park Activities
1. The Hammer of Thor
Thor's Hammer, the park's most iconic hoodoo—a towering, hammerhead-shaped rock supported by a slender spire—is stunning for its form and remoteness.
The Silent City, a maze of hoodoos and densely packed fins nearby, is a popular tourist attraction.
Bring your camera because the shot of Thor's Hammer is one you won't want to miss.
2. Wall Street
Wall Street weaves trekkers through a tight path between soaring rock fins and centuries-old Douglas-fir trees, making it one of the park's few slot canyons.
Despite its amazing beauty, this area should be approached with caution: Wall Street has the most rockfalls of any section in the park; in 2006, a fall buried a 60-foot piece of route beneath 15 feet of rock, forcing the park to close for more than a year.
3. Bryce Canyon Amphitheater
The Bryce Amphitheater is the park's most famous and frequented attraction, and with good reason.
This vast bowl, which drops down from the rim and is a kaleidoscope of color at dawn and sunset, is home to several of the park's greatest attractions, including Thor's Hammer, the Three Wise Men, and the slot canyon known as Wall Street.
It's crammed with hoodoos, some as little as a few feet tall and others as large as ten stories.
Hiking routes wound their way around the park's biggest amphitheater, allowing close-up views of everything it has to offer.
Read: Is Antelope Canyon Worth It?Learn about the Guided Tours of Upper Antelope Canyon
4. Enjoy the sunrise and sunset
These perspectives combine pink cliffs, hoodoo labyrinths, trail access points, bird-watching, desolate slopes, and bristlecone pines to make them the park's main attractions.
Highway 63, the park's 18-mile scenic byway, connects them all.
Catch the park's shuttle service, which operates from 8 a.m. to 6 p.m. in the spring and autumn, and 8 a.m. to 8 p.m. during the busy summer months, to avoid traffic and reduce your carbon footprint.
Catch a breathtaking sunrise perspective of Boat Mesa, perched above Fairyland Canyon's hoodoos, and the Sinking Ship, a series of skewed boulders that serve as a constant reminder of the area's catastrophic tectonic activity that began more than 15 million years ago.
Thor's Hammer, the Silent City, and the Pink Member (where manganese oxide deposits give the rock pink and purple colors) may all be seen from Sunset Point.
Take the Navajo Loop Trail down into the canyon for a closer look and keep an eye out for the birds that flit between the hoodoos—violet-green swallows, cliff swallows, and white-throated swifts.
The Silent City, as well as bleak hillsides covered with gnarled bristlecone pines, may be seen from Inspiration Point's three-tiered view of the Bryce Amphitheater.
It's ironic that you won't want to miss the sunrise at Bryce Point.
The tops of hoodoos are lit fire in blazing oranges and reds as the sun's first rays splay across the amphitheater.
5. Navajo Loop Trail
This famous 1.4-mile climb begins at Sunset Point and descends steeply amid hoodoos in a canyon drenched in color.
The route is wide and simple to follow at first, but it narrows as it approaches Wall Street, a narrow hole jammed between towering cliffs.
The cliffs open up to a large valley at the bottom, where sunshine penetrates through tall Douglas-fir trees.
The eastern half of the route provides a spectacular view of Thor's Hammer.
If you want to go for a longer hike, join this short path with the Queen's Garden Trail or the Peekaboo–Navajo Connector, either of which adds three miles to your hike.
6. Bristlecone Loop Trail & Mossy Cave Trail
These short, picturesque walks are ideal for families.
Mossy Cave Trail is a 0.8-mile out-and-back trail where Mormon pioneers constructed an irrigation canal from the East Fork of the Sevier River in the early 1890s.
It has a tiny waterfall and Mossy Cave, a grotto produced by an underground spring with a moss-covered overhang in the summer and icicles in the winter.
The one-mile Bristlecone Loop Trail runs through the park's highest point, reaching 9,100 feet in elevation as it meanders through spruce and fir woodland and through 1,800-year-old bristlecone pines.
7. The Under-the-Rim Trail
The Under-the-Rim Trail, a 22.7-mile, three-day hike through amphitheaters, hoodoo-dotted valleys, and deep woodlands, is ideal for dedicated trekkers hoping to avoid the crowds.
It's a north-to-south path that starts at Bryce Point and ends at Rainbow Point (or vice versa), with the park's shuttle service connecting the two points.
The advantages include peace and quiet, rugged scenery, scented pion pines, and Creekside willows.
The drawbacks include a scarcity of pure water.
Before you go, make sure you have enough of water and that anything you discover is boiled.
Otherwise, take advantage of this under-appreciated corner of the park.
8. Stargazing
Due to its absence of light pollution and exceptional air quality, Bryce Canyon has been dubbed "the last major refuge of natural darkness" by the National Park Service.
Since 1969, the park has held nocturnal viewing programs conducted by astronomy-trained rangers.
These guides, sometimes known as "Astronomy Rangers", organize stargazing sessions for guests interested in learning more about the night sky.
Visitors may see the Milky Way's flowing hues up close, as well as shadows created by Venus and Jupiter's brilliance.
Stargazers may attend the park's annual astronomy festival, which is sponsored by the Salt Lake Astronomical Society (SLAS), while lunar aficionados can visit during a full moon and participate in ranger-led full moon walks.
Visiting the Antelope Canyon?
In the American southwest, Antelope Canyon is the most photographed slot canyon.
It's also one of the world's most well-known slot canyons. What makes it unique?
There are several reasons for its popularity.
Continue reading to learn about a handful of them and discover for yourself why Antelope Canyon is so revered.
Why should you go to Antelope Canyon?
Antelope Canyon is comprised of two distinct slot canyons, Upper and Lower Antelope Canyon, and is located near Page, Arizona, in the Leechee Chapter of the Navajo Nation.
Both slot canyons were produced naturally over many years by water erosion, with walls built of beautiful, polished sandstone in a variety of formations.
Over time, the walls continue to alter shape.
One of the reasons Antelope Canyon is so popular is because of the summer light beams that stream through its walls.
During other seasons of the year, it has lovely shifting lighting that provide for some amazing Antelope Canyon photos.
Upper Antelope, commonly known as "the Crack," is 660 feet long and has walls that rise 120 feet above the Canyon's streambed, adding to the natural beauty.
Antelope Canyon was even named one of the Top Unbelievable Places in the World by Mysterious World.
Lower Antelope Canyon, often known as "the Corkscrew," is a popular tourist destination.
It measures around 1,335 feet long and rises 120 feet above the streambed.
It's a more dangerous canyon to explore than Upper Antelope, and it's not as well-known among photographers.
Antelope Canyon is located at a height of around 4,000 feet.
Antelope Canyon Activities
1. Grand Canyon National Park
In Phoenix, Arizona, we begin our journey.
We meet at 8 a.m. with our guides, and after a quick briefing and introductions, we proceed north from Phoenix into the Sonoran Desert and into Arizona's high country.
Before our last picturesque 90-minute journey to Grand Canyon National Park, we'll stop in Flagstaff to stretch our legs and eat lunch.
From a spectacular perspective on the South Rim, we get our first glimpse of the Grand Canyon.
As we stroll along the Rim Trail to Yavapai Point before taking a shuttle to Mather Campground, our home for the next two nights, the panoramic views continue to unfurl.
We settle together for our first dinner under a canopy of glittering stars as darkness descends.
Lunch and supper are included in the price.
2. Hike into the Grand Canyon on the Bright Angel Trail
As we rise to greet the day, the scent of pine trees and wood smoke fills the air.
Breakfast has been provided by our guides to help us prepare for the difficult journey down (and back up) the Bright Angel Trail.
The Bright Angel Fault, as one of the key geologic fault lines bisecting the Canyon, has given animals and people passage into and out of the Canyon for ages.
The Havasupai Indians, early miners, businessmen, the National Park Service, and the Civilian Conservation Core all had important roles in the development of this excellent path, which includes water, shade buildings, and even trailside restrooms.
Our climb today rewards us with spectacular vistas and historical information offered by our guides, as well as a sense of accomplishment at the end of the day.
We return to our comfy tent after our expedition, relax, and tell stories around the campfire. All meals are included in the price.
3. Hike the South Kaibab Trail
Elk in the national park have gotten acclimated to humans, allowing us to get up up and personal with them in the early morning hours.
While we enjoy our coffee or tea and prepare for another amazing trip into the Grand Canyon, they meander around our campground in the gentle morning light.
With daypacks full of water, food, and supplies for the day, we headed off on the South Kaibab Path (Kaibab is the Paiute name for canyon and means "mountain laying down"), which is often regarded as the most spectacular trail in the Grand Canyon.
We climb down about two miles to Cedar Ridge, where we have lunch and reflect on the enormous geological forces that sculpted the magnificent scenery that lies before us.
We board our vehicle and begin the trip to Lake Powell, the next fascinating destination on our ultimate adventure, after rising back to the rim. All meals are included in the price.
4. Paddle on Lake Powell
We start the day with a trip to Antelope Canyon, one of the most picturesque slot canyons on the planet.
Renowned for its swirling sandstone formations and the palette of colors created by the sunlight that filters into the slot, a trip into Antelope is a highlight for the photographers, aspiring geologists and canyon lovers among us.
This afternoon, we jump into our kayaks for a paddle exploration of Lake Powell.
Appearing like a mirage amid the surrounding desert, Lake Powell, the second‐largest man‐made reservoir in the nation, combines the magic of water with the red‐rock glory of the desert Southwest—a stunning juxtaposition of lake, stone and sky.
We return to our camp at Wahweap late today and have time to shower, chat with our traveling companions or just relax before dinner is served.
All meals are included in the price.
Final words
Now you have a clear understanding about the differences between Antelope Canyon and Bryce Canyon. Based on the information we shared, it will be possible for you to select the best destination out of them. If possible, we encourage you to visit both these attractions and get the best experience.